[ # ] Today's on how fast food is trying to kill us: Dunkin' is selling a just bacon side
February 27th, 2020 under Fast Food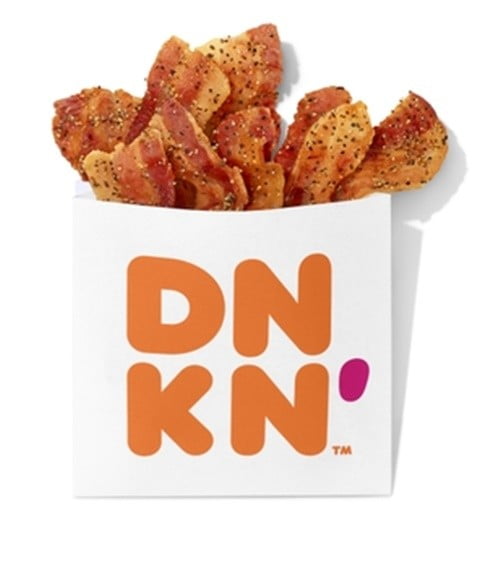 It seems like every day, fast food is coming up with new ways to kill us with yummy mashups like the KFC fried chicken sandwich that uses glazed donuts for bread. Well, Dunkin' doesn't need a mashup for their latest mouth-watering, fattening idea.
The donut shop that is no longer just about donuts is selling 8-half slices of bacon for us to enjoy as a snack. Their "Snackin' Bacon starts its journey smoked with natural cherrywood. It's then treated to our sweet and savory blend of brown sugar and black pepper seasoning." If you like the pig meat from the Sweet Black Pepper Bacon Breakfast Sandwich, then you don't have to order the whole sandwich anymore to get the taste of the bacon. You just have to order their new side.
Now, I am going to knock the industry every time they come up with a new scrumptious sounding idea like this one. Mainly because I must try everything they put out there. I want a sleeve of bacon to enjoy as a snack. What person who eats bacon doesn't? Well, my doctor will not want me to eat it when I go in for my checkup. She always gets mad when I go to get my blood tested, and I have a breakfast sandwich in my hand. Imagine how she will feel when I come in with just this? And not share because every piece is only my piece. I am not a sharer when it comes to bacon! Who is?
---