Can you do Arby's Diablo Dare?
January 18th, 2022 under Fast Food. [ Comments: none ]
Arby's has a new sandwich, and it is hot. As in, literally. How hot? They are giving away a free vanilla shake with each one.
But wait, you haven't told us about it. So, it is called the Diablo Sandwich, and you order it with chicken or brisket. It comes with ghost pepper jack cheese, fiery seasoning, fire-roasted jalapenos, pickles, lettuce, mayonnaise, and a Diablo BBQ sauce on a toasted red chipotle bun.
Now, you get why they are giving away the shake. And that is where the challenge comes in. They want to see if you can eat the whole sandwich without taking a sip of the shake. Sounds easy, but plenty of people are failing?
I hope I don't fail when I try it. Do you think you can pass?

---
Taco Bell is giving away 30 days of tacos for $10
January 7th, 2022 under Fast Food. [ Comments: none ]
Taco Bell has come up with a subscription service for the food that is the first part of its name. And that news just rang my bell.
For just $10, you get 30 days of a free taco. Each day, you can choose one of these seven tacos: Crunchy Taco, Crunchy Taco Supreme, Soft Taco, Soft Taco Supreme, Spicy Potato Soft Taco, Doritos® Locos Tacos, and the Doritos® Locos Tacos Supreme.
"There's no better way to kick off 2022, especially Taco Bell's 60th anniversary year, than by inviting our fans to enjoy our most iconic tacos every day for 30 days, all while underscoring our commitment to digital innovation and value," said Zipporah Allen, Chief Digital Officer at Taco Bell. "Tacos are in our DNA, and we're thrilled to offer our most ordered menu item through the Taco Lover's Pass. It's a fun way to continue offering unique ways to reward our most loyal fans through our digital access points."
How do you sign up for this yummy deal? All you have to do is download the app, join their rewards program, and then click on "Get the pass." It is that easy.
I already signed up, and I cannot wait to get my first taco. And while I am there, I am going to try their crispy chicken wings that are available until January 12th.

---
Fat Joe gets sloppy for White Castle
January 6th, 2022 under Fast Food. [ Comments: none ]
White Castle teamed up with Fat Joe for the month of Joe-nuary. During this month, they are selling Sloppy Joe Sliders in his honor. There is the Sloppy Joe, the Smokey Joe, the Spicy Joe, and Sloppy Fries.
They all look so good. I want to know where Harold and Kumar are so that they can take me to the White Castle on Bruckner Blvd. It is times like this that I miss being in NYC and having White Castles near me.
As someone who is from The Bronx like Fat Joe, I would love to hear how people say, Bruckner Blvd. There are some words only New Yawkers can say in their special way, and that is one of them!

---
Mariah Carey went to McDonald's to order from the Mariah Menu
December 23rd, 2021 under Fast Food, Mariah Carey. [ Comments: none ]
Mariah Carey teamed up with McDonald's to give away a free item from their menu during the month of December.
While she was driving around in Aspen with her kids, Roc and Roe, the singer saw a MickeyD's. So she asked the driver to go through the drive-thru to get something off Mariah Menu. Then she went inside in a red gown, much to the delight of the workers and the customers.
Even though she probably went into the restaurant for the first time in decades, we still haven't seen her eat anything from the fast food giant.

---
Taco Bell is getting into the chicken wings business
December 20th, 2021 under Fast Food. [ Comments: 1 ]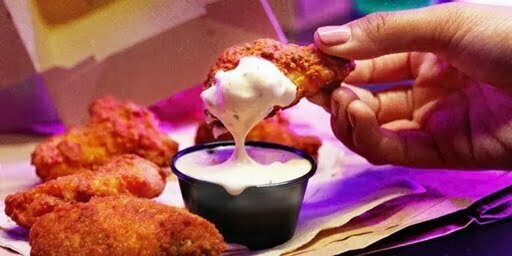 Just when it seemed like all of the fast food restaurants are getting into the chicken sandwich business, Taco Bell changes things up. They are going to be trying out wings for one week, starting on January 6th.
Your order will come with five fried and juicy chicken wings coated in Mexican queso seasoning and served with spicy ranch dipping sauce. If that sounds like something you want, then you better get them before they fly away.
What won't be flying away as quickly are their new menu items. They are a Chipotle Cheddar Chalupa, which is served with a creamy chipotle sauce, a Beefy Melt Burrito, and Fiesta Veggie Burrito. They will be available for a limited time starting on January 23rd.
I can't wait to try them all. I love running to the border.

---