Denny's is giving away a meal a deal for a year for the price of a shirt
November 24th, 2022 under Fast Food. [ Comments: none ]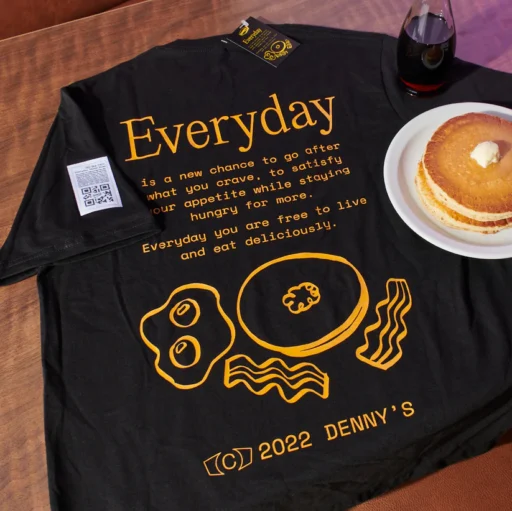 Denny's came up with a creative way to celebrate Black Friday. For the price of $5.99, you can buy a shirt that will allow you to get an Everyday Value Slam every day for a year. That is a value of $2,186.
The Everyday Value Slam comes with two buttermilk pancakes, a slice of french toast, a biscuit with gravy, two eggs, and two slices of bacon or sausage links. I recently ordered one when T-Mobile gave one away for free, and it is delicious.
So, if this sounds as tempting to you as it does me, then you better hope to be one of the 150 people who gets one at 12m EST tonight at DinerDrip.com.

---
Would you eat stuffing made with White Castle Sliders?
November 23rd, 2022 under Fast Food. [ Comments: none ]
For years, I have said that my friend makes the best Thanksgiving stuffing. But I don't think I can say that anymore. That is because White Castle shared a recipe on how to make stuffing with White Castle Sliders.
My mouth is so wet because I need to have it. Sadly, that might be all I have this year. Because when I told my food snob friend to make it for me this year, he disinvited me from Thanksgiving dinner. Does anyone want to feed me on Thursday? I will bring the White Castle Sliders!
If it sounds as good to you as it does me, then to see the recipe click here!

---
Starbucks is already in the holiday spirit
November 2nd, 2022 under Fast Food. [ Comments: none ]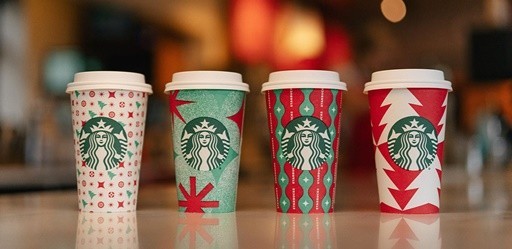 We are not even 72 hours into the month of November, and Starbucks has already declared it is Christmastime. Therefore, starting tomorrow, you can buy their holiday drinks in one of their festive cups.
Those cups are:
Gift-Wrapped Magic
Wavy ribbons and shimmering sparkles give this red and green cup a magical vibe, all wrapped up like the perfect gift.
Frosted Sparkle
Retro starbursts and diamond shapes adorn on this frosty mint green cup for a merry moment of holiday joy. 
Ornament Wonder
Designers started with the iconic white Starbucks cup and wrapped it in a delicate micro-pattern of colorful holiday motifs like festive ornaments.  
Cozy Evergreen
This bold red cup features white evergreen trees in a graphic pattern, sure to warm the hands and the heart on a cold winter's day. 
What can you put in them besides their regular coffee and tea drinks? This season you can pick from Peppermint Mocha, Caramel Brulée Latte, Toasted White Chocolate Mocha, and Chestnut Praline Latte. If you are like me and prefer a cold drink, then we can choose between the Iced Sugar Cookie Almondmilk Latte and Irish Cream Cold Brew.
With all of that to choose from, I am going to be spending a lot of time at Starbucks. Too bad there isn't one on almost every street to make it easier to dine at one.
BTW Can you believe it has been 25 since this holiday tradition started?

---
McDonald's is retiring the McRib
October 24th, 2022 under Fast Food. [ Comments: none ]
McDonald's is evil. First, they made us happy by giving us adults a Happy Meal of our very own. Then they brought back the Halloween Happy Meals pails.
It was all to soften the blow. Today, they announced that the McRib will be back on October 31st. That is the good news.
"The McRib is back! It starts with seasoned boneless pork dipped in a tangy BBQ sauce, topped with slivered onions and dill pickles, all served on a toasted homestyle bun. When everything combines you have BBQ pork sandwich perfection." And this is where the bad news starts, "Get one while you can because this is the McRib Farewell Tour. Order yours in the McDonald's app for delivery or pick up before you say goodbye on 11/20/22. Enjoy our famous pork sandwich as if it's your last!"
Hold me. I need to be held. I look forward to the annual tradition of the McRib every year, and now I have nothing to look forward to anymore. Not my birthday. Not Christmas. Not Halloween. Not the Nathan's Hot Dog Eating Contest. Nothing. Nada. Zilch.
Who else wants to protest McDonald's decision with me? I will be at the Toluca Lake store, eating a McRib while I can and holding a sign saying, "Long live the McRib!"

---
McDonald's is bringing back the Halloween Pails
October 7th, 2022 under Fast Food. [ Comments: none ]
McDonald's is on a roll when it comes to nostalgia! First, they created a(n overpriced) Happy Meal for adults. Now, they are bringing back the Happy Meals that come in a Halloween Pail!
So all of us kids, at heart, are getting our coronaries clogged with the grease from eating all of those Happy Meals. Good thing the adult ones are sold out, so that adds a day to our lives because we can't get one.
The McBoo, McPunk'n, and McGoblin will be available for a limited time starting on October 18th. Get your cholesterol checked now before you go to MickeyD's every day to stock up on all of their toys!

---