Do you want a fire log that smells like KFC fried chicken?
December 5th, 2019 under Fast Food. [ Comments:

none

]

For the second year in a row, KFC is selling a fire log at Walmart.com that smells like their restaurant. For $18.99, you can have a fat free way to enjoy fried chicken.
However, it comes with a warning, "May attract bears or hungry neighbors." I wonder if you burn it on December 24th, then Santa Claus will leave you a few extra gifts? Especially since the Enviro-Log is made from 100% recycled material. That is a nice thing.
The log is the perfect gag gift to get for someone who is on a diet and really loves fried chicken. The temptation will be strong for that person! And with that, I was just put on that naughty list…again. Yet, it is worth it.
---
Did you guess the Oreo mystery flavor?
December 3rd, 2019 under Fast Food. [ Comments:

none

]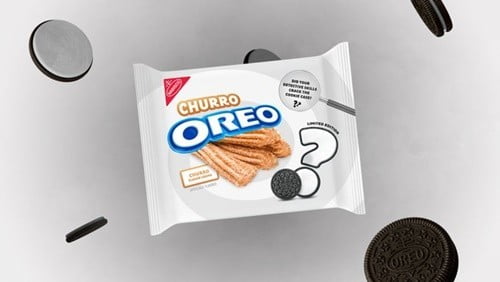 For the second year in a row, Oreo released a Mystery flavor cookie. They they asked us to guess what they tasted like.
Last year, it was Fruity Pebbles. This year, I thought it was Cinnamon Toast Crunch because I was keeping the cereal theme going on. I was close, but not close enough. The answer was Churro.
Did you guess it right? Would you get them again? I would not. However, I wish they would bring back the Flintstones' flavored one. Those were even better than the cereal.
---
Oh no, there is a french fry shortage
December 3rd, 2019 under Fast Food. [ Comments:

none

]

It looks like we won't be hearing, "Do you want fries with that?" That is because Today is reporting there is a shortage of the potatoes that make them.
Due to the cold weather, farmers produced fewer potatoes and the ones they did produce were shorter. Thus, leading to the shortage.
What will restaurants do? They will serve less or charge more. I guess we will have to try other sides until this national disaster ends.
If this was 1992, then we could have blamed Dan Quayle for the lack of potatoe (get it?) supply. Sadly, it is not.
---
KFC ruins Mrs. Butterworth and Ghost
December 2nd, 2019 under Fast Food. [ Comments:

none

]

In 30 seconds, Kentucky Fried Chicken found a way to taint three things that I have loved I since was a child. Those things are Mrs. Butterworth's syrup, fried chicken and the movie Ghost.
They took that infamous Unchained Melody scene from the film and replaced Demi Moore and Patrick Swayze with Mrs. Butterworth and Colonel Sanders. What happens next is something even a pornody would not touch. At least they have not yet. Give them time.
But don't give me any of KFC's chicken and waffles because I will not be eating either item for a long time. Which, I wonder if that is how long Sanders can go? Why did I wonder about that? See what they did to me?
---
Are you ready for Pringles® Turducken Friendsgiving Feast?
November 7th, 2019 under Fast Food. [ Comments:

none

]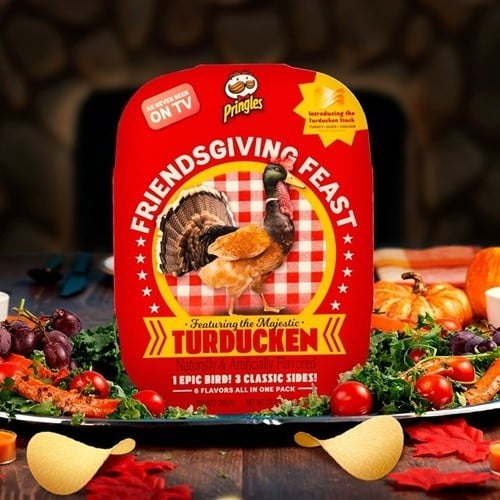 You never know what flavored potato chips they are going to come up with these days. Well, Pringles might have one the most original chip so far and it is Pringles® Turducken Friendsgiving Feast.
What should we expect from it? It has six unique flavors that are perfect for Turkey Day. The flavors are Turkey (obviously), duck, chicken, stuffing, cranberry sauce and pumpkin pie.
Part of me thinks that sounds absolutely disgusting, the other part of me wants it now. Who knew you could have Thanksgiving in a can, but it turns out you can. All the good things about the holiday. Especially because it means no family fighting or cooking. I am all in!
---