Is this the sexiest Jack in Hollywood?
September 20th, 2023 under Fast Food. [ Comments: none ]
https://twitter.com/JackBox/status/1704584928220880969
There are several famous, hunky Jacks like Jack Black, Jack Wagner, Jack White, and Jack Nicholson. And there is one more, and he's vying to be People's Sexiest Man of the Year.
Who is he? He is Jack in the Box! I never thought of him as sexy, but I always thought he looked good enough to eat.

---
Ice Spice gets her own drink at Dunkin'
September 15th, 2023 under Fast Food. [ Comments: none ]
Ice Spice has made it. Dunkin' reached out to her and asked if she wanted a drink named after her.
Actually, they didn't ask her. Ben Affleck did. And he didn't listen to what she was saying.
"Pumpkin spice season has gotten a bit predictable lately, so we sought help from our friends Ben Affleck and Ice Spice to create a new pumpkin obsession that only Dunkin' can offer," said Jill McVicar Nelson, Chief Marketing Officer at Dunkin'. "The result? The collaboration you never knew you needed: Pumpkin Munchkins and Frozen Dunkin' Coffee, blended together to create the Ice Spice MUNCHKINS® Drink. It's fun, it's delicious and it's not your ordinary pumpkin drink!"
The Ice Spice MUNCHKINS® Drink blends Dunkin's smooth, creamy Frozen Coffee with Pumpkin MUNCHKINS® Donut Hole Treats, topped with whipped cream and caramel drizzle. Think of it like Boba tea but with Munchkins.
Does it sound good to you? Then get it while you can.
And now, let's talk about how Affleck sounded to the singer. He is married to a woman from The Bronx; you would think he would know how to speak to one. But he doesn't. J-Lo needs to do better.

---
Wendy's gets into the pumpkin spice business
September 6th, 2023 under Fast Food. [ Comments: none ]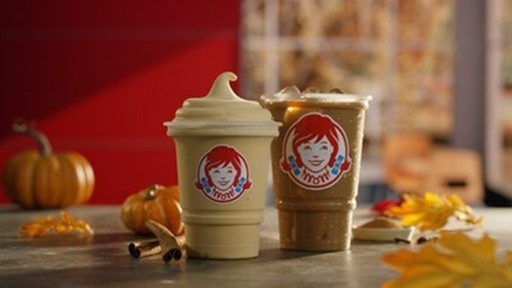 All of the big donut and coffee shops have gotten into the Fall spirit with pumpkin spice drinks. And now Wendy's is getting into the action with a Pumpkin Spice Frosty and a Pumpkin Spice Frosty Cream Cold Brew.
"Wendy's is helping turn our fans' cravings into reality this fall by introducing our new Pumpkin Spice Frosty," said Lindsay Radkoski, U.S. Chief Marketing Officer for The Wendy's Company. "From our summertime Strawberry Frosty to last year's holiday Peppermint Frosty, and now our fall Pumpkin Spice Frosty, we are all about meeting our Frosty fans where they are by bringing familiar, and iconic, seasonal flavors to the menu. We can't wait for our fans to get their hands on this new go-to sweet treat this fall."
So when can you get your hands on one? Mark your calendars because September 12th is the date. And I will be there to try both! I am a pumpkin spice addict who loves Frostys.

---
Do these Wienerschnitzel slippers also remind you of a vajayjay? 
September 5th, 2023 under Fast Food. [ Comments: none ]
So, I am going through my Twitter feed, and these Wienerschnitzel slippers caught my attention. Why? Isn't it obvious? They look vajayjays!
Like this is the perfect gift for the man in your life who has always wanted to use his foot down there. Now, he can finally live out that fantasy without you.
Plus, it goes great with all of my phallic tchotchkes.
The only problem is they are not for sale. You have to win them by ordering via their app. So I am going to be sucking on a lot of hot dogs to get the prize! And so far, that hasn't worked out for me.

---
Wendy's gets into the taco business
August 25th, 2023 under Fast Food. [ Comments: none ]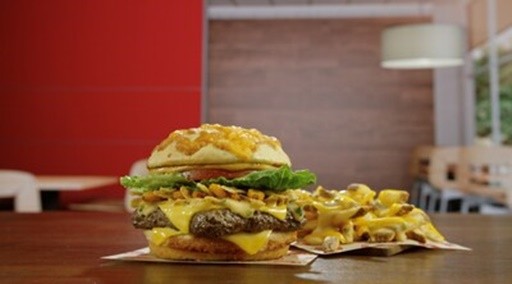 It used to be that you would go to a burger joint to get a burger, a chicken place to get chicken, and a Mexican restaurant to get a taco. But not anymore. Now, everyone is mixing it up.
Case in point, Wendy's is selling a Loaded Nacho Cheeseburger or chicken sandwich. Wendy's star player, the classic, fresh never frozen* square beef patty or chicken breast, is generously crowned with melty cheese, roasted poblano queso, spicy corn, and tortilla strips, topped with a tantalizing spicy chipotle sauce, lettuce, and tomato. The all-out blitz of flavors and spices are sandwiched between a towering jalapeño cheddar bun that packs a zesty taste with a kick of spice, creating an unforgettable culinary experience for fans.
And if you are not in the mood for a sandwich, they are also selling Queso fries. The fries are topped with roasted poblano queso and shredded cheddar cheese.
Forget Del Taco or Taco Bell. I am going to Wendy's for my nacho fix. But I cannot wait too long because they are only available until November 12th

---