KFC's Finger Sporks are licking good!
June 20th, 2022 under Fast Food. [ Comments: none ]
We know that Kentucky Fried Chicken is finger licking good, but what about their sides? Now, we can find out when we order the KFC Side Lovers meal that includes 3 large sides. That is because they will give you KFC Finger Sporks with each order.
So if you have been wanting to lick your fingers after you eat their Mac & Cheese or Cole Slaw, now you can find out what it is like. Plus, you can use it on any side anytime you want to lick your fingers after you gobble down the yummy food. Imagine how much fun they will be on Thanksgiving?!?

---
Would you wear nail polish that smells like Velveeta cheese?
June 8th, 2022 under Fast Food. [ Comments: none ]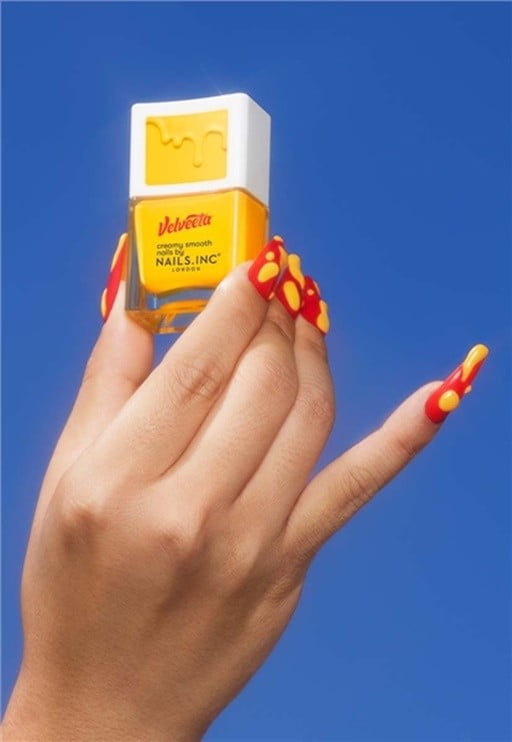 Yesterday, I posted about a nail polish that is the color of Raising Cane's sauce. Today, I am going to tell you that Nails, Inc. teamed up with Velveeta to release two nail polishes, one red and one yellow, that smell like Velveeta cheese when it dries.
"VELVEETA is known for its rich, creamy texture and cheesy, melty goodness, so what better way to bring this to life for our fans than with something equally as rich and creamy — nail polish," said Kelsey Rice, Senior Brand Communications Manager at The Kraft Heinz Company. "Our VELVEETA Pinkies Out Polish gives pleasure seekers everywhere an irresistible new way to show the world that they are living 'La Dolce Velveeta' by living pinkies out."
So now, KFC will be known as finger licking good, and Velveeta will go by fingernail licking good. Because you know you are going to want to lick it to see if it tastes as good as it smells.
BTW I am afraid to ask what they are going to come up with next because at this rate, you know they are going to top this. The question is how.
If the nail polishes that come as a set seem appetizing to you, then you get them for just $15!

---
Would you wear nail polish the color of Raising Cane's sauce?
June 7th, 2022 under Fast Food. [ Comments: none ]
Today is a big day in Burbank, California; Raising Cane's finally opened up its restaurant today, Well, I decided to check out their Facebook page, and I saw they just released a nail polish that is the same color as their sauce,
While it is a pretty color, I couldn't wear it because it is there same shade as my skin. While that is me, would you wear it? If you would, then you can buy it for $6.99.

---
Jack Harlow is getting his own KFC meal
June 2nd, 2022 under Fast Food. [ Comments: none ]
Jack Harlow has officially made it because Kentucky Fried Chicken asked him to create a meal with them.
So what is in Jack's meal? You get a KFC Spicy Chicken Sandwich, Mac & Cheese, KFC Secret Recipe Fries, and Lemonade.
Does that sound finger licking good to you? Then you can order it starting on June 6th.
BTW Am I the only person who doesn't know who Jack Harlow is and wondering when he became so popular? Can someone send me the memo I missed about him?

---
Popeyes disses the food portion size at the Barker/Kardashian wedding!
May 25th, 2022 under Fast Food. [ Comments: none ]
In case you hadn't heard, Travis Barker and Kourtney Kardashian got married over the weekend in Italy. Several people flew to attend their nuptials, and they were expecting to be wined and dined.
They were wined, but they were not dined. So the guests whined about the forkful of spaghetti that they were served at the reception.
Well, as soon as Popeyes saw that, a lightbulb went off! So, the fast food restaurant decided to get into the wedding business for Hollywood stars and posted a photo of one chicken nugget on a plate and wrote, "Catering at celebrity weddings be like."
And that is why they have the best fried chicken sandwich in the biz. And soon they will have the best catering business in showbiz.
I hope the other fast food giants do this too. White Castle, the ball is in your court first.

---