Have you ever dreamed of having Cheetos on your KFC sandwich?
June 20th, 2019 under Fast Food. [ Comments:

none

]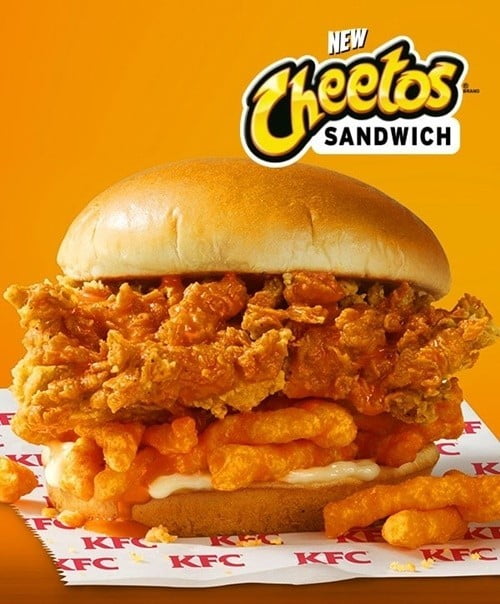 Someone hold Britney Spears back because starting on July 1st, KFC is going to be selling a Cheetos sandwich for the whole month. The extra crispy chicken sandwich not only includes Cheetos, it is also covered in Cheetos sauce and mayo.
In case you are wondering why Donald Trump is a little more orange next month, it is not because of the sun or his fake tan or whatever causes him to be that odd shade. It will be because he will be eating these sandwiches by the truckload. You know he will love them as much as a nice story written about him or a porn star who does not ask to paid afterward.
But it is not about him, it is about the crunchy orange sticks on top of the yummy Kentucky Fried Chicken sandwich. What will they come up with next? Taco Bell has Fritos and Doritos. Sonic mixes it up with Oreos. Hey Carl's Jr, how about you do a Funyuns BBQ burger? Jack in the Box, what about adding a burger with Munchos to your late night menu? McDonald's, how good would a chicken sandwich be with Pringles Ranch potato chips be?
Anyone else craving a salty snack? I guess we will have to settle on that until July 1st. Then we can get the good stuff from KFC that is finger licking good! I am already drooling for it.
---
BTWF: Dee Wallace for McDonald's
June 5th, 2019 under Before They Were Famous, Fast Food. [ Comments:

none

]

Before Dee Wallace was a Scream Queen, she was smiling for McDonald's. She looks the same now as she did when she was 29 in that 1978 commercial.
---
For some reason I am craving a drumstick, a breast and biscuits from KFC!
April 25th, 2019 under Fast Food. [ Comments:

none

]

We are used to hot men being called beefcakes, but now we will know them as Chickendales. That is because Kentuck Fried Chicken hired the Chippendale dances to do a commercial for them.
Well, actually they wanted them to tempt the moms out there to buy their Cinnabon Dessert Biscuits. I might not have any kids, but I know I am craving their sticky sweet biscuits. I just want to bite down on that tight round biscuit. Which gives new meaning to finger licking good!
It still amazes me that my teachers told me I never could go into advertising because I would create ads like this. Boy were they right.
---
Carl's Jr. is selling a burger with CBD oil on 4/20!
April 17th, 2019 under Fast Food. [ Comments:

none

]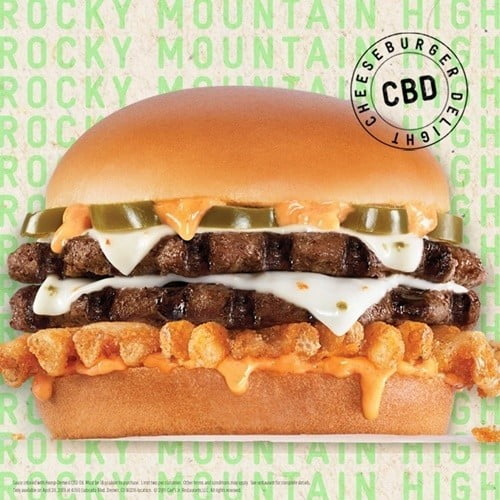 The good news is that Carl's Jr. is selling a cheeseburger with CBD oil on 4/20 for $4.20. The bad news is that they are only selling it one store in Colorado.
According to KUSA, The Rocky Mountain High: CheeseBurger Delight (CBD) includes two 100% charbroiled beef patties paired with Carl's Jr. signature Santa Fe Sauce infused with CBD, pickled jalapeños, pepper jack cheese, and Crisscut fries to give the burger the extra crunch– all between a premium bun.
If you live near 4050 Colorado Boulevard in Denver, then stop by to try it anytime after 6a this Saturday until supplies last. I hope it does so well, they make a nationwide thing because I so want to stick my teeth into it. Doesn't it so yummy? You don't need the THC to get you high after eating that.
---
50 Cent thinks the Burger King's coffee price is about him
March 20th, 2019 under 50 Cent, Fast Food. [ Comments:

none

]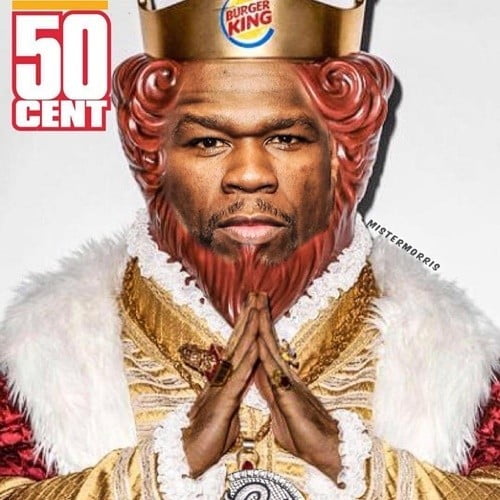 Burger King got into the coffee business and they are charging just two quarters for a cup of Joe. When 50 Cent heard about that, he thought it was in honor of him.
Therefore, he photoshopped his face onto the Burger King and wrote, "Yeah so you should go get 50cent coffee from Burger King.🤨because I'm bigger than Starbucks. Get the strap #lecheminduroi"
You know what, they should make him their mascot. I know you are saying but clowns are McDonald's thing. Sorry, it was too easy not to go there so I went there!
---