I don't think Taco Bell will use Lance Bass' song as their jingle
August 27th, 2021 under Fast Food, Lance Bass. [ Comments:

none

]
I guess Lance Bass is bored waiting for his twins to come around Halloween. Therefore, he is taking his old *NSYNC songs and reworking them as jingles for popular fast food restaurants.
His first attempt is taking Tearin' Up My Heart for Taco Bell and changing it to Tearing Up My A$$.
Do you think Taco Bell will make a run to his house to buy it so they can use it for their commercials? I think not. However, I will be singing it every time I eat their food and make a run to the bathroom.

---
Fall is coming very early to Dunkin Donuts
August 11th, 2021 under Fast Food, Mila Kunis. [ Comments:

none

]
If you live in a location that doesn't have seasons as I do, then you go by when the coffee and/or donut shops bring out the pumpkin spice for Fall and peppermint flavors for Winter.
Therefore according to my calendar, aka Dunkin Donuts, Fall starts on August 18th, instead of September 22nd. That is because that's when they introduce their Autumn menu.
To see what new and returning delectable food and drink items are on the board this season, then click here!

---
Pringles gets into the Chicken Sandwich fight
July 27th, 2021 under Fast Food, Junk Food. [ Comments:

none

]
As we know, there is a huge war going on in the fast food industry over who has the best Chicken Sandwich. Now, Pringles has entered the fight with Wendy's on their side. That is because, for a limited time, they are selling Wendy's Spicy Chicken flavored potato chips.
They sound yummy, but are they delicious? The duo from Party Shirt tried them out and then followed them up by eating the actual sandwich. How did the chips compare to the real thing? To hear what X and Ivy thought, then click here!

---
Dunkin' takes Boba Tea to a whole new level of awesomeness
June 16th, 2021 under Fast Food. [ Comments:

none

]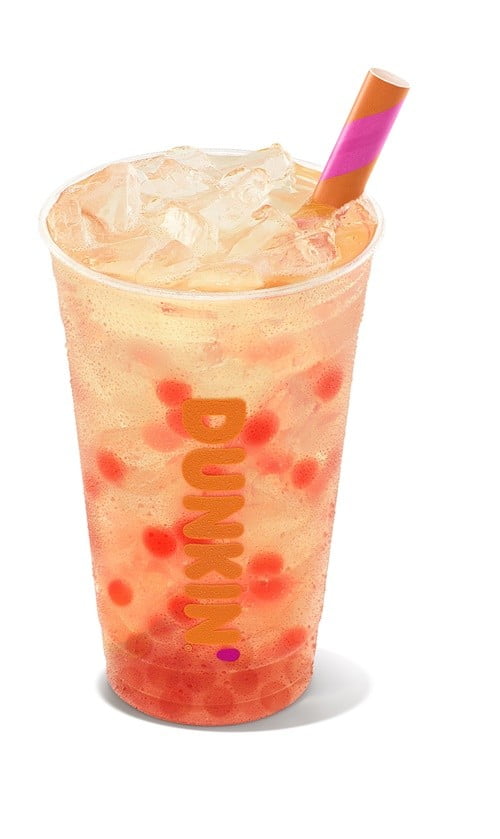 Are you like me and love Boba Tea? I love sucking up those balls. But once they are in my mouth, they just sit there. Not anymore. Starting on June 23rd, you can add strawberry-flavored Popping Bubbles to your drinks at Dunkin'. That's right; the bubbles literally pop in your mouth, giving your drink the pizzaz it has been needing.
To make it even more fabulous, you can add them to any of their cold drinks and sip them up with one of their new pink and orange wide paper straws.
Who needs fireworks when you can have Popping Bubbles?

---
Did you know that some McDonald's still sells birthday cakes?
June 15th, 2021 under Fast Food. [ Comments:

4

]
I am old enough to remember when kids used to have their birthday parties at McDonald's. I used to look forward to eating that sugary sheet cake. I assumed that was something that only lives in yesteryear like the McDLT. However, like the McRib, they are secretly back at some McDonald's, according to Kayleigh Weeks.
Unfortunately, there is no way to know which Mickey D's has it. I called a few to get one for my friend who has a milestone birthday today. So far, I can't find one of the $9 cakes. So if anyone knows a McDonald's that is selling one in the Burbank, California area, let me know. I would love to surprise him with one.

---