Have we been saying Jake Gyllenhaal's name correctly?
April 8th, 2022 under Jake Gyllenhaal, Saturday Night Live. [ Comments: none ]
For years, I thought that we pronounced Jake Gyllenhaal's last name as Jill-in-hall. But then I was told it is pronounced as Gill-in-hall. So which one is it?
The actor cleared it in a promo for his appearance on Saturday Night Live this week. And it is Jill-in-hall.
However, now I am wondering if we have been pronouncing first correctly. Is it Jake or Ya-kay? What? We need to debate something about his surname since we now know how to spell it and say it.

---
Susan Lucci brings back Erica Kane for a good reason
May 2nd, 2020 under Frat Pack, Jake Gyllenhaal, Jimmy Fallon, Susan Lucci, TV Soaps, Will Ferrell. [ Comments: none ]

It has been nine years since Susan Lucci said goodbye to her iconic All My Children character, but yesterday she transformed into Erica Kane for Jimmy Fallon's The Longest Days of our Lives.
What is that? It is a weekly soap opera that airs on The Tonight Show, and it stars Fallon, Will Ferrell, and Kristen Wiig. Yesterday, they had some special guest stars like Lucci. She was not the only soap star because it also included Days' Mary Beth Evans, General Hospital's Maurice Bernard, and Dynasty's Heather Locklear. There was some guy named Jake Gyllenhaal that was also part of it.
Anyways they all did it to help raise money for the Actor's Fund that supports actors and crew members who are out of work due to COVID-19.
To see the full segment, then click here!

---
Taylor Swift becomes Jake Gyllenhaal
February 27th, 2020 under Jake Gyllenhaal, Taylor Swift. [ Comments: none ]

In the past, Taylor Swift wrote at least one song about her ex Jake Gyllenhall. Now, she has taken it to a whole new level by looking like him for her new music video The Man. In it, she depicts many of the things women hate about men.
Therefore, you have to wonder if it was her idea which man she would look like as Tyler Swift, or the makeup department came up with all on their own. Since she directed it, I think you can we all assume the answer to that question.
When it comes to the song, it is another one of her catchy tunes I cannot get out of my head.

---
Even Jake Gyllenhaal can't say his own last name
June 28th, 2019 under Jake Gyllenhaal. [ Comments: none ]
https://twitter.com/i/status/1144396394901303296
Saying Gyllenhaal is almost as hard to pronounce it as it is to spell. However, you would think that Jake Gyllenhaal would be able to say it without a problem. Yesterday, when he was talking about Spider-Man Far From Home with Extra, she said he was the best Gyllenhaal. He asked her to "say it a little lower because there are a couple of other Gyllenhaals" there. Although, he could not quite get the plural version of it out as easily.
If he can't say his own name, how are we expected to?
When it comes to his archnemesis, at least it is easy to say and spell Ryan Reynolds! When are we going to get a Deadpool, Wolverine and Mysterio movie? That would show those other Marvel movies who is boss.

---
Caption Jake Gyllenhaal!
March 29th, 2019 under Before They Were Famous, Jake Gyllenhaal. [ Comments: none ]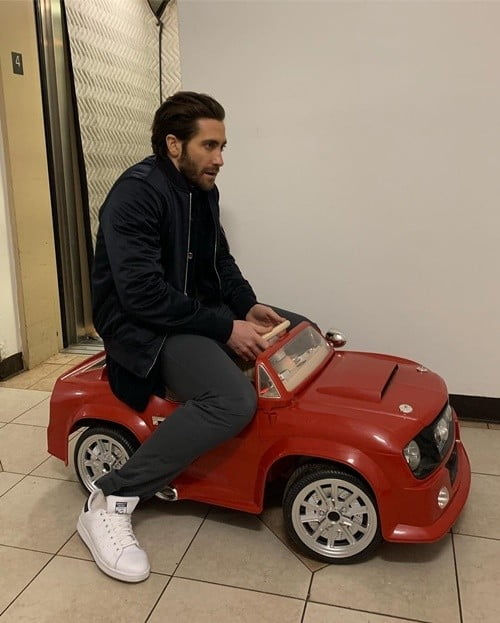 This photo of Jake Gyllenhaal has Caption Me written all over it, so go ahead and do it.

---