Disenchanted looks enchanting
September 10th, 2022 under Disney Kids, Patrick Dempsey. [ Comments: none ]
Did Enchanted need a sequel? Nope. But we are getting one this Thanksgiving with Amy Adams and Patrick Dempsey reprising their roles.
Is that a bad thing? By the looks of the trailer, far from it. It is the type of me that can be enjoyed by the whole family. And we need more of those. Because if you saw the stuff my nieces force me to watch, you too would be looking forward to something as darling as this film, especially since I am going to have to watch it over and over and over and over again.

---
Family Feud is getting Disneyfied on August 16th
August 10th, 2021 under Disney Kids, Mila Kunis, Steve Harvey. [ Comments: none ]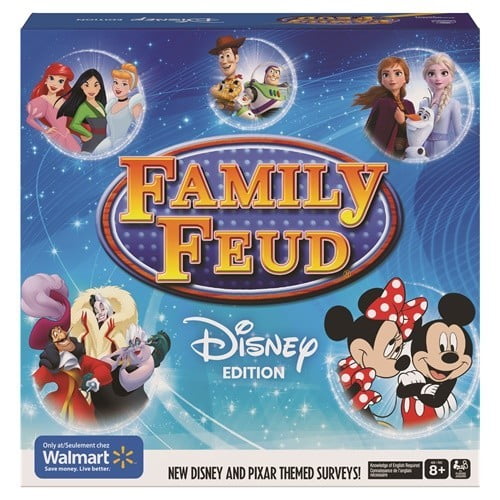 Family Feud is a family program. So much so, they put the word family in the title of the game show.
On Monday, August 16th, they will have a special episode that is dedicated to all things Disney. This sounds like a great idea on paper, but the show is best known for its naughty answers. Something that is so not Disney.
While the one hosted by Steve Harvey might not be G-rated all the time, the board can be. What? You see, this special episode is in honor of the all-new Family Feud: Disney Edition board game that will be available exclusively at Walmart soon! I can't wait to play it with my nieces.

---
Z-O-M-B-I-E-S 3 is happening, and it will be the franchise's final movie
March 22nd, 2021 under Camryn and Milo Manheim, Disney Kids. [ Comments: none ]
Disney Channel announced today that Z-O-M-B-I-E-S 3 will begin production this Spring with Meg Donnelly and Milo Manheim. That is the good news. The bad news is that this will be the last Z-O-M-B-I-E-S movie. Just like all of the other popular Disney movie franchises like High School Musical and Descendants.
"After the enormous success of 'Z-O-M-B-I-E-S 2,' we wanted to raise the stakes in this third and final installment," said Lauren Kisilevsky, Vice President, Original Movies. "So when the ultimate outsiders descend on Seabrook, our team of cheerleaders, zombies and werewolves must band together to face a threat of galactic proportions that may change the face of Seabrook forever."
That's right, The cheerleaders, Zombies, and Werewolves (the latter were introduced in the sequel) will be taking on extraterrestrial beings. The only thing they are missing is Vampires. They probably would have shown up in the fourth movie.
Seriously, ever since I saw the first film, I have been telling everyone how amazing it is. The movie was able to give an updated take on school integration in a way that this younger generation can understand. It teaches us we should accept people no matter what they look like, and we should welcome them into our lives, even if they are Zombies.
Plus, the music is outstanding, and I am still listening to it two years later. If you haven't seen it yet, you should watch it on Disney+. I promise you will love it as much as I do.

---
Elena of Avalor is coming to an end on August 23rd
July 21st, 2020 under Disney Kids, Jenna Ortega, Young and Hungry. [ Comments: none ]

A few years ago, I interviewed Aimee Carrero on the set of Young & Hungry, and she told me she was voicing a Disney's first Latinx Princess Elena of Avalor. As soon as she told me about it, I told my friends, so that my niece would watch it. Not only did she fall in love with the Princess, so did a lot of other little girls. She was an inspiration to all of them.
Now her journey is coming to an end on August 23rd at 7p. Disney Junior is giving her a primetime special as her sendoff. That is when we will see the Princess become a Queen in Elena of Avalor: Coronation Day. Before she gets the jeweled crown put on her head, we can watch her final days as a Princess starting this Sunday and every Sunday leading up the series finale at 5p.
The special will include all of the series regulars, Jenna Ortega, Chris Parnell, Yvette Nicole Brown, Carlos Alazraqui, Emiliano Díez, Julia Vera, Christian Lanz, Jillian Rose Reed, Joseph Haro, Jorge Diaz, Keith Ferguson, and Joe Nunez. They will be joined by guest stars Constance Marie, Lou Diamond Phillips, Jaime Camil, Justina Machado, Gina Rodriguez, Mario Lopez, Rachel Brosnahan, Tony Shalhoub, Jamie-Lynn Sigler, John Leguizamo, Cheech Marin, Whoopi Goldberg, Cloris Leachman, Chrissie Fit, Tyler Posey, Melissa Fumero, Stephanie Beatriz, Kether Donohue, Nestor Carbonell, Andrea Navedo, Eden Espinosa, Ana Ortiz, Gina Torres, Gaby Moreno, Jenny Slate, Mark Hamill, Fred Armisen, Andy Garcia, and Patrick Warburton. That is one star-studded goodbye party.
It is sad that her time is coming to an end, but at least she leaves a Queen, Disney's first Latinx Queen. Not bad for a girl from Avalor.

---
Disney reminds us that We're All In This Together
April 17th, 2020 under Disney Kids, High School Musical. [ Comments: none ]

Television is desperate for new programming, but how can you do that when everyone is trapped at home? ABC got creative with Disney's Family Sing-Along. They asked some of their biggest stars to take part in a sing-along of Disney's beloved songs, all from the comfort of their own houses.
There was Josh Groban singing You've Got a Friend in Me, Ariana Grande belting out I Won't Say I'm In Love, Little Big Town harmonizing A Spoonful of Sugar, and many more surprises like one from Beyonce. The show-stopper came at the end when the cast of High School Musical along with some other Disney Channel stars brought the joy with We're All In This Together.
It was a spectacular evening that was pure magic. ABC needs to do this every week because it is the spoonful of sugar we need to make the medicine go down. Hopefully, in the next edition, which I am sure they will do, they will include Twist Your Frown Upside Down from Teen Beach 2. Even if they don't, they need to make the next sing-along happen next week. Who's with me Wildcats?

---