The one where the Friends get together for an unscripted reunion
February 21st, 2020 under Friends (cast), HBO Max. [ Comments:

none

]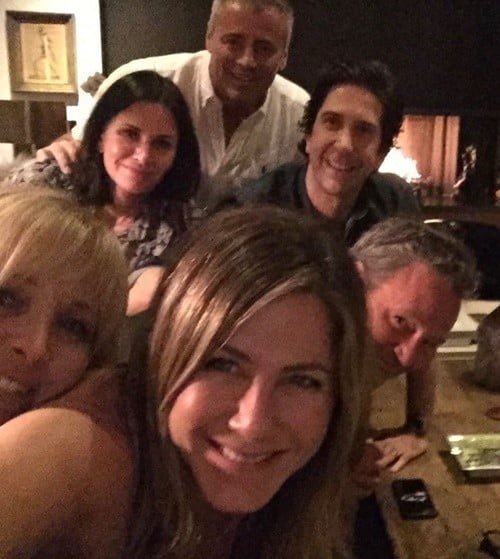 The on-again, off-again unscripted Friends reunion is offically on. HBO Max announced that the deal was signed on the dotted line by Jennifer Aniston, Courteney Cox, Lisa Kudrow, Matt LeBlanc, Matthew Perry, and David Schwimmer today, so that means it is happening.
They did not say when it would air, but it sounds like it will be part of the streaming service's launch in May. For those of you who desperately need your Friends' fix, that will be when all 236 will be available to stream.
I know Friends' fans are excited by this news, but I picture it being a total snobfest from most of the six. There is a certain amount of arrogance that comes off from some of them. Not saying which ones, but we all know who they are.
Anyways, I don't think it will be as fun as the sitcom because they are not like their scripted characters. Therefore, it will be interesting to see how they will do without a script. Not sure if Perry will be able to save it. He is the only one I have seen of the six that can be naturally funny and not make it be all about him. Although, I think Kudrow will be able to help him out. Will the other four be able to do the same? I am not sure they can.
But hey, at least the fans will be able to say they got a reunion. Isn't that what they have been asking for, for all of this time? I wonder if they will be disappointed when they realize that this is just a reunion special that is all talk and not an actual new episode.
BTW Can you tell I am not a fan of Friends? I liked the first few seasons, but then I got bored with it.
---
Jennifer Aniston found out Rachel is not people's favorite Friend
January 24th, 2020 under Ellen DeGeneres, Friends (cast). [ Comments:

none

]

Jennifer Aniston is hosting Ellen today, and she decided to visit her old haunt. You know, the Central Perk set on the Warner Bros lot where both shows call home.
Since the fake coffee shop is part of the studio tour, Aniston thought she would surprise her new Friends. While the photographer thought it was a good idea to ask the tourists who is their favorite friend before he took the photo. You would think they would say Rachel, but they didn't. That had to be crushing to her huge ego.
The media makes you think it is Rachel, but it is everyone but her and Chandler. I find that weird because Matthew Perry is mine! He makes my lady parts go Bing! I have been waiting to use that line.
Back to Rachel not being a favorite, ha ha ha ha ha ha ha ha and ha!!!
---
That is how Jennifer Aniston avoided wrinkles
January 20th, 2020 under Friends (cast). [ Comments:

none

]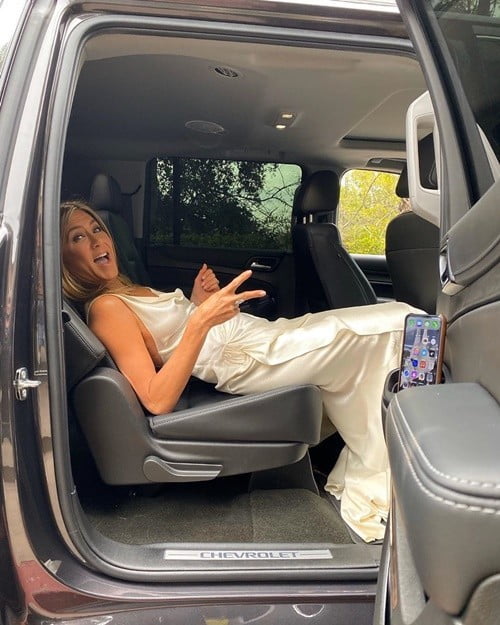 Jennifer Aniston's silk dress was so tight, she did not wear any underwear because it would show the outline. Not only was it tight, but it is also the type of material that shows every single wrinkle. Since she could not walk around with a steamer, she had to lay down. As in the limo, so her dress would remain perfect for the red carpet. However, as the night went on, her face was not the only things with wrinkles.
---
Who cares who won SAG Awards, Brad Pitt and Jennifer Aniston were photographed together
January 20th, 2020 under Brad Pitt, Friends (cast). [ Comments:

none

]

Ever since both Brad Pitt and Jennifer Aniston were both nominated for Golden Globe Awards, everyone wanted to see if we would see the exes together again. It did not happen on that night. However, it happened yesterday after they both won SAG Awards.
Thankfully, there was a photographer there to capture the moment. Now, it will be the most spread photos since her other reunion. You know the one with her Friends and not the one with her "good friend" as Pitt described her two weeks ago.
Now that we have seen them together, how much do you want to bet there will be reports that they got remarried and she is pregnant with their first child together. That is why her nipples kept poking through her white gown. She needed to put those things away.
---
The Friends unscripted reunion is in trouble
January 16th, 2020 under Friends (cast). [ Comments:

3

]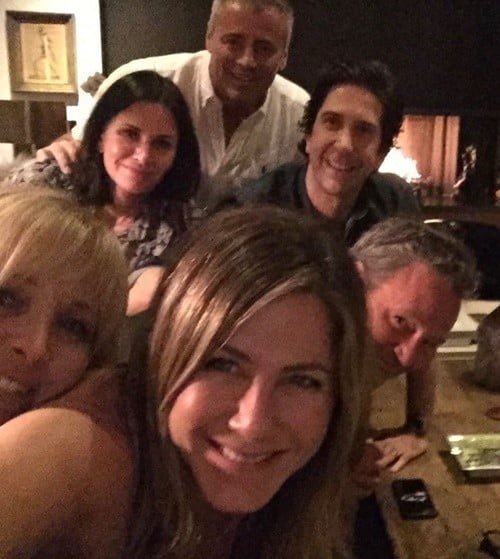 Remember how happy you were when you heard they were in early talks for an unscripted Friends reunion on HBO Max? Well, now there is some news that is going to make you feel like you did when you heard the sitcom was leaving Netflix. That is because HBO Max's Chief Creative Officer Kevin Reilly said that it is a "maybe."
Reilly told the press at the TCAs that "There is interest all around, and yet we can't get the interests all alighted to push the button on it." What is holding it back from happening? According to Deadline, it is 8 digits. The cast and Warner Bros are 8 digits away from a number that will work for them both.
To that I say, I hope it doesn't happen. Screw the greedy bastards. Don't they make enough in residuals to make the fans happy. If it is not for the fans, then syndication will dry up and so will the money. Maybe instead of asking for so much for themselves, they could donate the money to charity. What do they need that much money for?
---