The Friends cast breaks their silence
October 30th, 2023 under Friends (cast), Matthew Perry. [ Comments: none ]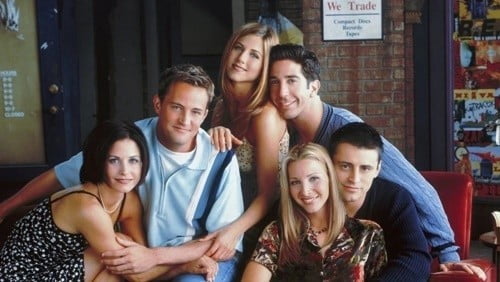 It has been almost 48 hours since Matthew Perry passed away, and today, his Friends co-stars, Jennifer Aniston, Courteney Cox, Lisa Kudrow, Matt LeBlanc, and David Schwimmer, released a statement on his passing to People.
The statement reads, "We are all so utterly devastated by the loss of Matthew. We were more than just cast mates. We are a family. There is so much to say, but right now we're going to take a moment to grieve and process this unfathomable loss.
"In time we will say more, as and when we are able. For now, our thoughts and our love are with Matty's family, his friends, and everyone who loved him around the world."
I wouldn't be surprised if they will do an on-camera group interview to the highest bidder, and that is when they will say more.

---
Don't say this to Jennifer Aniston
June 9th, 2023 under Friends (cast). [ Comments: none ]
Jennifer Aniston sat down with British Vogue, and she told them there is something that people say to her that drives her bananas.
The actress hates when people say to her that she looks great for her AGE. Why do they have to add age? Why can't it just be you look great? Then she tried to justify why they say it, "That's a habit of society that we have these markers like, 'Well, you're at that stage, so for your age… I don't even understand what it means. I'm in better shape than I was in my 20s. I feel better in mind, body, and spirit. It's all 100% better."
I hate to say it, but I agree with her. I am guilty of saying someone looks great for their age when I should be saying that they just look great in general.
What do you think?

---
Adam Sandler, Drew Barrymore, and Jennifer Aniston plan a movie together
March 27th, 2023 under Adam Sandler, Drew Barrymore, Friends (cast). [ Comments: none ]
Adam Sandler has five leading ladies in his life. There is his wife, Jackie, his two daughters, Sadie and Sunny, Drew Barrymore, and Jennifer Aniston.
However, he only works with the latter two on the big screen. But he has never worked with them together.
Today when Sandler and Aniston were on The Drew Barrymore show to promote Murder Mystery 2, the three of them discussed which movie they could make together. They decided on doing a remake of Three's Company with Sandler as Jack, Barrymore as Janet, and Aniston as Chrissy Snow.
Personally, I think the girls should switch up the roles because Aniston is more of a Janet.
Would you see the three of them if they did that movie? Of course, I would if were a Razzie nom, and I had to watch it to make my choice for Worst Film, Worst Remake, Worst Actor, Worst Actress, Worst Remake, Worst Trio, and so on. And I am sure it would sweep the Razzies that year.

---
BTWF: Jennifer Aniston in Camp Cucamonga
March 23rd, 2023 under Before They Were Famous, Friends (cast). [ Comments: none ]
Before Jennifer Aniston was one of the Horrible Bosses, she drove a school bus in Camp Cucamonga. She looks the same now as she did when she was 21 in that 1990 movie.

---
Jennifer Aniston talks about her first kiss with David Schwimmer
March 23rd, 2023 under Friends (cast), Kelly Ripa and Mark Consuelos, Ryan Seacrest. [ Comments: none ]
During the Friends reunion, we found out that Jennifer Aniston and David Schwimmer had crushes on each other when they filmed the sitcom. But they didn't talk about how it felt when they finally kissed each other.
Yesterday, when the actress was on Live with Kelly and Ryan, the hosts asked her if Rachel and Ross' kiss was also the actors' first kiss. And it was. So Kelly Ripa needed to know if it was weird. Without hesitation, Aniston said, "No, it was quite enjoyable!"
And yet, they never hooked up. Could you imagine if they did? It would've broken the internet like Tommy Lee and Pamela Anderson's sex tape.

---