BTWF: Matt LeBlanc in Alanis Morissette's Walk Away
February 13th, 2019 under Alanis Morissette, Before They Were Famous, Friends (cast), James Corden. [ Comments:

none

]

Before Alanis Morissette was singing about Dave Coulier, she was singing to Matt LeBlanc in her music video for Walk Away. How cute was the 24-year-old in that 1991 music video?
Want to hear LeBlanc talk about her experience with Alanis, then click here!
---
BTWF: Courteney Cox on The Last Word
February 11th, 2019 under Before They Were Famous, Friends (cast). [ Comments:

none

]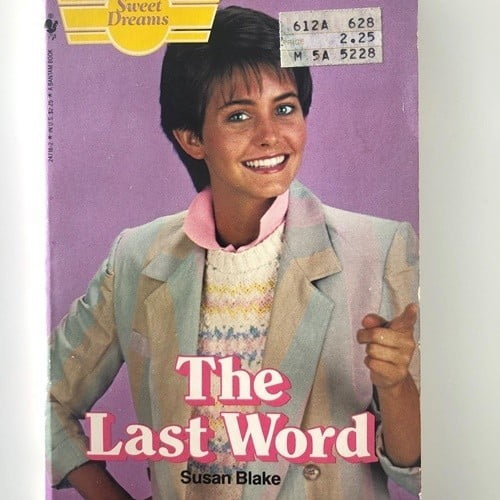 Before Courteney Cox was on the covers of magazines all over the World, she was on the cover the Susan Blake's book The Last Word. How cute was the 20-year-old posing on the cover for that 1985 paperback novel?
---
Matt LeBlanc was not ready for Friends to end
February 4th, 2019 under Friends (cast), Larry King. [ Comments:

none

]

Back in 1994, when Friends announced they were ending? We were all shocked. Sounds like you were not alone. Today on Larry King Now, the host asked Matt LeBlanc if it "was time to go?"
Joey said, "Who knows? I didn't feel like we were jumping the shark." Then why did he agree to ending the sitcom? He added, "That was the general consensus, that it was time. Let's go. Let's get while the getting's good. So we ended."
Sounds like we know now why he was the one who got the spinoff. The rest were ready to move on and he was not. They needed someone for the spinoff, so it was him. Talking about jumping the shark, Joey was really bad.
To me, the show had jumped the shark a few years earlier, but I know not many people agree with me. When were you over Friends? Or are you over it?
---
BTWF: Matt LeBlanc doing a Constitution PSA
January 28th, 2019 under Before They Were Famous, Friends (cast), Jimmy Kimmel. [ Comments:

none

]

Before Matt LeBlanc was swearing on Episodes, he was being sworn in for a PSA about the Constitution. He looks the same now as he did when he was 18 in that 1985 PSA.
Listen to him tell Jimmy Fallon on The Tonight Show how doing that job cost him $500.
---
How poorly has Matt LeBlanc aged?
January 25th, 2019 under Friends (cast), Kelly Ripa, Ryan Seacrest. [ Comments:

none

]

Not trying to be mean, but out of all of the Friends, Matt LeBlanc has aged the worst of the six. Case in point, yesterday when he was on Live with Kelly and Ryan, he shared a story with them about a fan encounter. A boy, around 13, ran up to him and said, "OMG! Are you? You are Joey's dad?" All the actor could do was say to the teen is, "Scram!" Although, I am sure secretly inside he was crying all the way to the bank.
BTW is just me or are he and Matthew Broderick morphing into one person?
---