Can these four celebrities escape Jack Black's house on Red Nose Day?
May 21st, 2020 under Ben Stiller, Courteney Cox, Friends (cast), Jack Black, NBC. [ Comments:

none

]

Tonight at 8p on NBC, Lisa Kudrow, Courteney Cox, Adam Scott, and Ben Stiller go to Jack Black's house for Red Nose Day, and it might be the last time we ever see them. That is because they are taking part in the special Celebrity Escape Room.
The four of them will have to work together to solves ten puzzles in three different rooms. If they do that, then not only will they raise a lot of money to help children affected by COVID-19, they will also escape Jack Black and his billion-dollar ponytail.
The first room they enter is a bedroom with a lot of artifacts from the '80s and their pasts. Will they be able to find out which items will help to unlock the door that will take them to their next adventure?
That place is a high school hallway. This location is not as easy as the first room. Things get even worse for Cox, who finds herself trapped in a room within the room, and the boys don't do anything to free her. Eventually, Black guides them on the way that frees them all and takes them to the prom.
That's right. It is time for them to go to biggest school dance of their lifetime. Once they are there, they will take part in a lifesize game of Simon that is harder to play then they thought.
Will this game ever end for them? Only when the fat lady sings. Since there are no fat ladies, the four of them will have to do a song together. Sadly, for Kudrow, she is not familiar with the popular tune.
Does that mean they will be stuck there forever like so many celebrities before them? You just have to tune in to find out. You also get to learn why we haven't seen certain actors in a long time. They are being held captive in Black's game.
Celebrity Escape Room is so much fun to watch; I hope that NBC turns this one-episode special into a series. I would love to see Black ask his Jumanji co-stars The Rock and Kevin Hart to do it. You know only one will survive if he does…
---
The Friends' cast wants you to watch their reunion with them
April 21st, 2020 under Friends (cast). [ Comments:

none

]

We have all heard about the Friends reunion coming to HBO Max. How would you like to be in the audience when Matthew Perry, Lisa Kudrow, Courteney Cox, Matt LeBlanc, David Schwimmer, and Jennifer Aniston eventually film it after the Coronavirus pandemic is over?

Well, the six of them are offering you and five of your friends that chance. The cast joined the All In Challenge, which benefits Feeding America, Meals On Wheels, World Central Kitchen, and No Kid Hungry, and they are giving away a dream gift. Not only do you get to watch the anticipated unscripted reunion as it happens, but you also get to have coffee with Ross, Rachel, Monica, Chandler, Phoebe, and Joey at Central Perk. Not only that, but they will also fly all six of you out here and put you up in a hotel for a night.

To enter for a once in a lifetime opportunity, then you can enter here.
---
Courteney Cox confirms the Friends reunion is just them reminiscing
February 27th, 2020 under Friends (cast). [ Comments:

none

]

Remember how everyone thought that BH90210 was going to be revival and not a spinoff based on the actor's lives and not their character's? Then they got all pissed off when they realized that was the case?
A lot of people think the Friends' reunion on HBO Max is going to be a scripted episode, but it is not. Courteney Cox confirmed that while she was Hikin' with Kevin Nealon. She told him, "We are all going to get together for the first time, in a room, and actually talk about the show." Then she added, "I am so excited. We are going to have the best time…We really all haven't done that, and actually sat there and talked about and reminisced about this incredible experience that we had."
Now, that you know it is just going to be Cox, Lisa Kudrow, Jennifer Aniston, Matthew Perry, Matt LeBlanc, and David Schwimmer, and not Monica, Phoebe, Rachel, Chandler, Joey, and Ross. Are you still as excited about it?
We will find out when it must likely starts streaming in May.
---
The one where the Friends get together for an unscripted reunion
February 21st, 2020 under Friends (cast), HBO Max. [ Comments:

none

]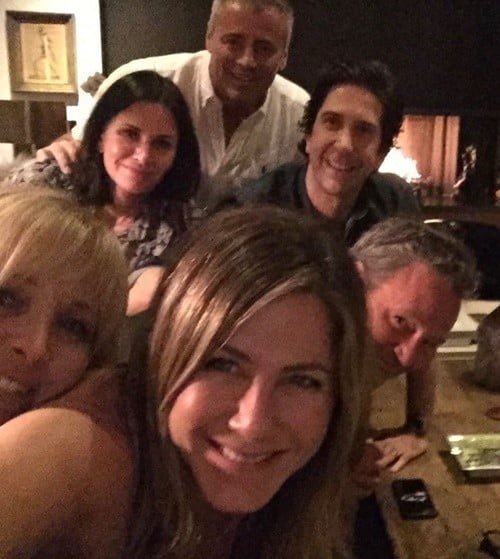 The on-again, off-again unscripted Friends reunion is offically on. HBO Max announced that the deal was signed on the dotted line by Jennifer Aniston, Courteney Cox, Lisa Kudrow, Matt LeBlanc, Matthew Perry, and David Schwimmer today, so that means it is happening.
They did not say when it would air, but it sounds like it will be part of the streaming service's launch in May. For those of you who desperately need your Friends' fix, that will be when all 236 will be available to stream.
I know Friends' fans are excited by this news, but I picture it being a total snobfest from most of the six. There is a certain amount of arrogance that comes off from some of them. Not saying which ones, but we all know who they are.
Anyways, I don't think it will be as fun as the sitcom because they are not like their scripted characters. Therefore, it will be interesting to see how they will do without a script. Not sure if Perry will be able to save it. He is the only one I have seen of the six that can be naturally funny and not make it be all about him. Although, I think Kudrow will be able to help him out. Will the other four be able to do the same? I am not sure they can.
But hey, at least the fans will be able to say they got a reunion. Isn't that what they have been asking for, for all of this time? I wonder if they will be disappointed when they realize that this is just a reunion special that is all talk and not an actual new episode.
BTW Can you tell I am not a fan of Friends? I liked the first few seasons, but then I got bored with it.
---
Jennifer Aniston found out Rachel is not people's favorite Friend
January 24th, 2020 under Ellen DeGeneres, Friends (cast). [ Comments:

none

]

Jennifer Aniston is hosting Ellen today, and she decided to visit her old haunt. You know, the Central Perk set on the Warner Bros lot where both shows call home.
Since the fake coffee shop is part of the studio tour, Aniston thought she would surprise her new Friends. While the photographer thought it was a good idea to ask the tourists who is their favorite friend before he took the photo. You would think they would say Rachel, but they didn't. That had to be crushing to her huge ego.
The media makes you think it is Rachel, but it is everyone but her and Chandler. I find that weird because Matthew Perry is mine! He makes my lady parts go Bing! I have been waiting to use that line.
Back to Rachel not being a favorite, ha ha ha ha ha ha ha ha and ha!!!
---