The Friends girlFriends cannot stop hanging out together
June 24th, 2019 under Courteney Cox, Friends (cast). [ Comments:

none

]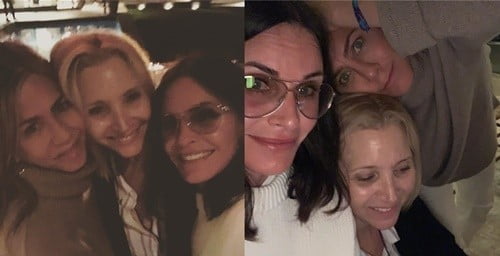 A few weeks ago, Jennifer Aniston, Lisa Kudrow and Courteney Cox got together to celebrate the latter one's 55th birthday. Since then Rachel and Monica took a trip together. Now they are back in Hollywood, they asked Phoebe to join them on a girls' night out.
I don't know about you, but I feel like something is up with these three. Like maybe they are talks to do a show with just the girlFriends? What do you think is going on? Are they just Friends or are they co-stars?
---
Courteney Cox spent her 55th birthday with her girlFriends
June 16th, 2019 under Courteney Cox, Friends (cast). [ Comments:

6

]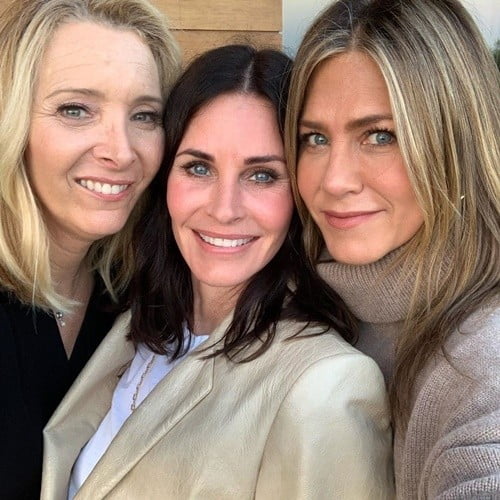 Yesterday was Courteney Cox's 55th birthday (can you believe it?) and she spent it with some old Friends, Jennifer Aniston and Lisa Kudrow. Even though their show ended 15 years ago, it is nice to see that they still live up to the title of their show. It also proves to us in a way that Monica, Rachel and Phoebe would still be celebrating their big days together. Right?
---
Find out what happened on Friends Behind Closed Doors
April 28th, 2019 under Friends (cast), Reelz. [ Comments:

none

]

Whether you loved or hated Friends, you have to admit it is a phenomenon. Tonight at 9p on Reelz, we learn more about the sitcom on Friends: Behind Closed Doors. Throughout the two hour episode, we will hear from people who worked on the show, journalistic fans, and the original cast from old interviews. They will tell stories we have never heard, share details that will shock you and answer so many questions you did not know you wanted the answer to.
They will tell us how they cast all six friends. Who auditioned for Monica and Chandler and did not get the role? They wanted Jennifer Aniston for Monica and Courteney Cox for Rachel. Both actresses convinced them to do otherwise. Who came in with an injured nose? Which actress came close to playing Rachel but did not get the part because she was pregnant? Who went up to then-President of the NBC, Warren Littlefield, just before Friends and asked if it is ever going to happen to her? Which actors had other commitments? One was committed to a pilot that did not get picked up. While one of the actresses was on another show at the time and the other network would not let her go. Therefore, NBC screwed with CBS to make sure that show got cancelled. How? You have to watch to find out.
The network thought the cast was too young, so they wanted to add a seventh friend who was older. They thought a cop buddy would help bring in the older audience. The creators did not like that, so they added their parents instead. Which actress started on the show 2 days after giving birth? She literally got home from the hospital with her son and they asked her to be on the set the next day. She was not stupid, she agreed to do it. Lauren Tom, who played Ross' girlfriend Julie, says the live audience booed her when they filmed her scenes. While she got booed, which scene got the most applauds?
Did you know season 8 was supposed to be its last? What made them agree to do a ninth season? Did you know Matthew Perry and Julia Roberts briefly dated around the time she appeared on the show? What storyline did the cast hate? Hint we hated it too.
These are just a few of the many things you will learn on this special. Fans of the show, and people like me who are so over it, will enjoy it. Whether you watched every episode or if you just heard of it, you will enjoy it because it gives you insight into how a show like this comes about.
---
Who's a better kisser to Adam Sandler, Drew Barrymore or Jennifer Aniston?
April 26th, 2019 under Adam Sandler, Ellen DeGeneres, Friends (cast), Netflix. [ Comments:

none

]

Adam Sandler was answering Ellen DeGeneres' burning questions and she wanted to know which of his leading ladies is a better kisser, Drew Barrymore or Jennifer Aniston? Since he only plays a schmuck in movies, he rightfully answered that question by saying Chris Rock. Rock was not the answer to the previous question, so I guess the Water Boy did not want to leave the Diva out. Well, Rock is not as big as a Diva as David Spade according to Sandler. The more you know.
Another reason why Sandler might not have answered the question is that he has a Netflix movie coming out with Aniston on June 14th. If he said Barrymore that would not have been the only Murder Mystery in Jen's life.
To see the trailer for Murder Mystery, then click here!
---
Elle Fanning boycotted Friends because of her sister
April 17th, 2019 under Dakota and Elle Fanning, Friends (cast), James Corden, Rob Lowe. [ Comments:

none

]

Back when Elle Fanning was just a toddler she auditioned to be on Friends and play one of Phoebe's triplets. Since you do not remember her on the show, then you know she did not get the part. Even though she could barely talk, she was very devastated about it.
A few years later when she was about 5, her sister, Dakota, landed a part on the show. When that episode came on, she told James Corden on The Late Late Show that she boycotted it. There was no way she was going to watch her sister on her dream show. I wonder if that still happens in the Fanning household?
Talking about missed opportunities, Rob Lowe, who was also on the CBS talk show last night, says his wife is more devastated that he turned Grey's Anatomy to star in Dr. Vegas, a show that filmed a whole 10 episodes. Would he make the same choice all over again? Yes, he would. Not to be the lead in that dud, but had he said yes, then he never would have done Parks & Recreation. Also had he taken the role, Dempsey would not have gone from nerd to McDreamy thanks to the medical soap opera.
---