All That's Island Girl Alisa Reyes reveals what she'd take to a deserted island
February 14th, 2020 under Alisa Reyes, Nickelodeon. [ Comments:

none

]
https://www.instagram.com/p/B8ecEWppSyE/
Tomorrow night at 8:30p on Nickelodeon, All That is celebrating the 25th anniversary of their popular sketch Island Girls with Alisa Reyes and Lori Beth Denberg reprising their roles as Kiki and Fran.
In all of that time, have they gotten off of the island, or are they still there? Just like Gilligan and his five friends and the surviving passengers of Oceanic Flight 815, they are still marooned there. Will tomorrow be the night that they finally go home or will they live there forever and ever and ever and ever and ever? You will have to tune in to see.
Yesterday, I was watching someone ask someone what three things they would take to a deserted island with them, so I called Alisa and asked the Island Girl what she would bring with her?
These are her three things:
1- My iPhone for if nothing else to take selfies…until I lose power 😃
2- A good concealer with at least an SPF 50.
3- And my husband for…survival type of stuff.
Now that we know what the actress would take, what does she think the three things are that her character Kiki needs?
1- The Kitchen Sink – how else are you gonna wash your dishes silly?
2- A toaster because I don't like cold bread.
3- And last but not least a paper straw for my co-co-nut! Duh! #savetheturtles
Those are three things no one can live without when they are deserted in paradise all by themselves and one other person. The Professor would approve. His co-islander, Mary Ann, would totally give a thumbs up to Kiki's outfit.
Tomorrow, we will give All That a thumbs up for bringing back this skit to the revival series.
---
The Island Girls are back on All That this week
February 11th, 2020 under 70s, Alisa Reyes, Nickelodeon. [ Comments:

none

]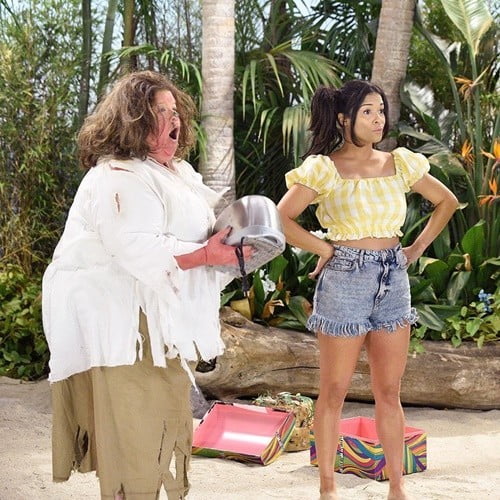 Back in 1995, All That introduced us to the Island Girls. Now, after almost 25 years, they are still stuck on that damn island.
This Saturday at 8:30p on Nickelodeon, we will find out how Fran (Lori Benth Denberg) and Kiki (Alisa Reyes) have survived all of this time there. Better yet, maybe we will discover how it is that the uptight Fran has not killed her very annoying, hyper and bubbly roommate.
There is one mystery that will not be solved, and that is how the actresses still look the same after a quarter of a century. Don't believe me. Watch the skit from the original version. To see it, then click here!
---
BTWF: Alisa Reyes for Tales of the Crystals
February 3rd, 2020 under Alisa Reyes, Before They Were Famous. [ Comments:

none

]

Before Alisa Reyes was playing different characters on All That, she was playing Tales of the Crystals with her friends. The 12-year-old's personality was shining brighter than a crystal in that 1993 commercial.
Happy birthday little sis!
---
A Proud Family holiday get together!
December 23rd, 2019 under Alisa Reyes, Reunions. [ Comments:

none

]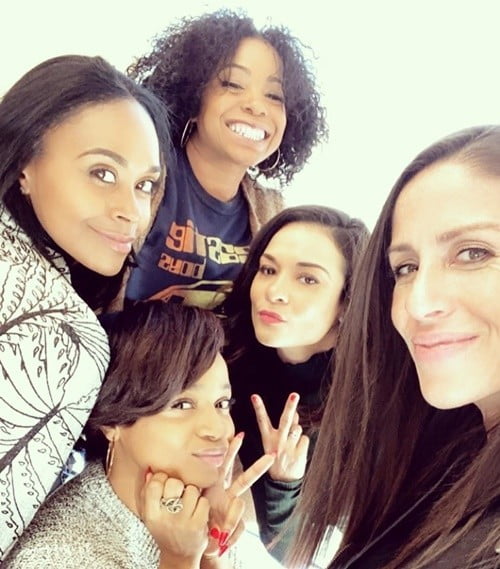 For months, there have been rumors that there is going to be a Proud Family revival coming to Disney+. While the streaming site has yet to confirm or deny it, several cast members got together last week for a holiday party.
That makes us wonder if Soleil Moon Frye, Alisa Reyes, Kyla Pratt, Raquel Lee Bolleau, and Paula Jai Parker are trying to tell us the rumors are true. Which I think they are.
How excited would you be to see Zoey Howzer, LaCienega Boulevardez, Penny Proud, Nubia Gross, and Trudy Proud on the small screen again with Sugar Mama and Oscar Proud? What is Disney+ waiting for, for Baby Yoda to grow up?
---
Alisa Reyes returns to All That tonight
October 12th, 2019 under Alisa Reyes. [ Comments:

none

]
https://www.instagram.com/p/B3dJxv1J2Xx/
All That is back on Nickelodeon with a new cast, and the originals have been stopping to lend their support. So far, we have seen Kel Mitchell, Josh Server, Lori Beth Denberg and Kenan Thompson on the comedy. Tonight at 8p, Alisa Reyes returns to her old camp. This time the camper is now the counselor and her kids look to be loving her as much as we do. It could be because she looks just like she did when she started on the SNICK show back in 1994.
---