Because sex toy is always a good answer on Family Feud!
July 17th, 2022 under Alisa Reyes, Steve Harvey. [ Comments: none ]
Celebrity Family Feud is back on ABC tonight at 8p and the Salt-N-Pepa vs The Proud Family. Alisa Reyes, who plays LaCienega Boulevardez on the Disney+ show, made me very proud of her.
That is because when Steve Harvey asked the new mom, "Tell me the worst thing to have a dead battery when you go to use it," she told him, "A Sex toy!"
Luckily for the animated series, the answer was on the board. However, there seems to be not that many people who get lucky with a sex toy because only six people gave that answer.
I don't know what is wrong with them because there is nothing worse than taking out Bob to play, and he is making like a dildo. Sometimes a girl wants a little more electricity in her life.
UPDATE: To see the full round, then click here!

---
BTWF: Alisa Reyes on Reading Rainbow
April 2nd, 2020 under Alisa Reyes, Before They Were Famous. [ Comments: none ]

Before Alisa Reyes was a school teacher on All That, she was reviewing books on Reading Rainbow. How awwwwwwdorable was the 9-year-old in that 1991 episode?

---
The Proud Family is coming back Louder and Prouder!
February 27th, 2020 under Alisa Reyes, Disney Kids, Soleil Moon Frye. [ Comments: none ]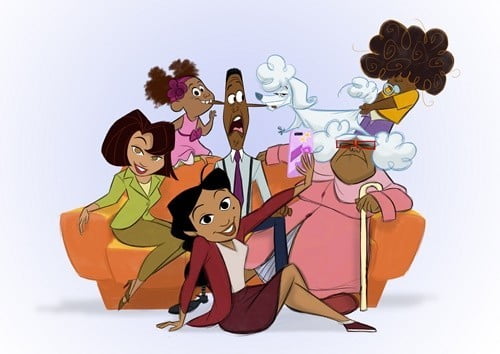 For months there have been rumors that The Proud Family is coming back, and Disney+ finally made it official today! It has been 18 years since the show premiered, so it makes sense that they would make Penny a teenager for The Proud Family: Louder and Prouder.
Kyla Pratt will once again voice Penny, and she is not the only one who is back from the original run. Tommy Davidson as Oscar Proud, Paula Jai Parker as Trudy Proud, Jo Marie Payton as Suga Mama, Karen Malina White as Dijonay Jones, Soleil Moon Frye as Zoey Howzer, Alisa Reyes as LaCienega Boulevardez, and Cedric the Entertainer as Uncle Bobby Proud are also once again joining in on the fun.
The keep the animated show feeling like it did, Academy Award-winning creator/executive producer Bruce W. Smith and executive producer Ralph Farquhar are back to keep the Prouds in line. At least, they will try to do so.
We don't know when the revival will begin to stream. Therefore, in the meantime, you can watch the OG run on Disney+ anytime you want. It will get you even more excited for the new episodes.
One of the most excited people for the reboot is Alisa Reyes, and she told me how much she is looking forward to returning as LaCienga Boulevardez. She said, "I am just so grateful and blessed to have a full-circle moment it started with All That on Nickelodeon and now again with The Proud Family. I am humbled and so thankful for this opportunity to continue doing what I love and that fills my soul with joy!" It fills our souls with joy to see our childhood favorites coming back to life in our adulthood. Who says we have to grow up?

---
All That's Island Girl Alisa Reyes reveals what she'd take to a deserted island
February 14th, 2020 under Alisa Reyes, Nickelodeon. [ Comments: none ]
https://www.instagram.com/p/B8ecEWppSyE/
Tomorrow night at 8:30p on Nickelodeon, All That is celebrating the 25th anniversary of their popular sketch Island Girls with Alisa Reyes and Lori Beth Denberg reprising their roles as Kiki and Fran.
In all of that time, have they gotten off of the island, or are they still there? Just like Gilligan and his five friends and the surviving passengers of Oceanic Flight 815, they are still marooned there. Will tomorrow be the night that they finally go home or will they live there forever and ever and ever and ever and ever? You will have to tune in to see.
Yesterday, I was watching someone ask someone what three things they would take to a deserted island with them, so I called Alisa and asked the Island Girl what she would bring with her?
These are her three things:
1- My iPhone for if nothing else to take selfies…until I lose power 😃
2- A good concealer with at least an SPF 50.
3- And my husband for…survival type of stuff.
Now that we know what the actress would take, what does she think the three things are that her character Kiki needs?
1- The Kitchen Sink – how else are you gonna wash your dishes silly?
2- A toaster because I don't like cold bread.
3- And last but not least a paper straw for my co-co-nut! Duh! #savetheturtles
Those are three things no one can live without when they are deserted in paradise all by themselves and one other person. The Professor would approve. His co-islander, Mary Ann, would totally give a thumbs up to Kiki's outfit.
Tomorrow, we will give All That a thumbs up for bringing back this skit to the revival series.

---
The Island Girls are back on All That this week
February 11th, 2020 under 70s, Alisa Reyes, Nickelodeon. [ Comments: none ]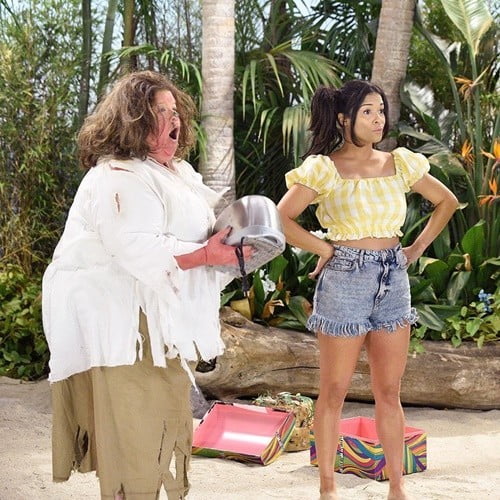 Back in 1995, All That introduced us to the Island Girls. Now, after almost 25 years, they are still stuck on that damn island.
This Saturday at 8:30p on Nickelodeon, we will find out how Fran (Lori Benth Denberg) and Kiki (Alisa Reyes) have survived all of this time there. Better yet, maybe we will discover how it is that the uptight Fran has not killed her very annoying, hyper and bubbly roommate.
There is one mystery that will not be solved, and that is how the actresses still look the same after a quarter of a century. Don't believe me. Watch the skit from the original version. To see it, then click here!

---