Alisa Reyes returns to All That tonight
October 12th, 2019 under Alisa Reyes. [ Comments:

none

]
https://www.instagram.com/p/B3dJxv1J2Xx/
All That is back on Nickelodeon with a new cast, and the originals have been stopping to lend their support. So far, we have seen Kel Mitchell, Josh Server, Lori Beth Denberg and Kenan Thompson on the comedy. Tonight at 8p, Alisa Reyes returns to her old camp. This time the camper is now the counselor and her kids look to be loving her as much as we do. It could be because she looks just like she did when she started on the SNICK show back in 1994.
---
The cast of All That 1.0 reunited for trivia at Good Burger
September 18th, 2019 under Alisa Reyes. [ Comments:

none

]

About two months ago, one of the skits from All That came to life with Good Burger getting a Pop Up restaurant. Yesterday, several members from the original series got together to play trivia with their fans. Actually, Sinbad, Alisa Reyes, Lori Beth Denberg, Josh Server, Angelique Bates, Christy Knowings and Leon Frierson read the questions and we had to answer them. I just Googled all the answers because that is how I play trivia.
It is not about me, it is about my friend Alisa and her castmates having fun reliving their youth with the fans. While those fans got to meet their TV friends who were a big part of younger days.
Everyone had a blast eating the Good Burgers and drinking the adult orange sodas with alcohol. Everyone except absentees Kenan Thompson who does something on Saturday Night and Kel Mitchell who is Dancing with the Stars.
Since they could not be there, they got two impersonators to play them. The guy who played Ed was so good, I actually thought it was Mitchell himself. Yes, lots of laughs at my expense.
The Good Burger in LA is closing on the 29th and reopening in Chicago next year. When it comes to the All That reboot, it is back on Saturday with the 4 final episodes of the first season. Keep your eye to see Mitchell, Server, Denberg and Reyes in at least one of those episodes.
Personally, I wish Nickelodeon would also do an adult version of All That with the OGs. Would you watch?
---
All That's OGs with the new cast!
July 9th, 2019 under Alisa Reyes, Nickelodeon. [ Comments:

none

]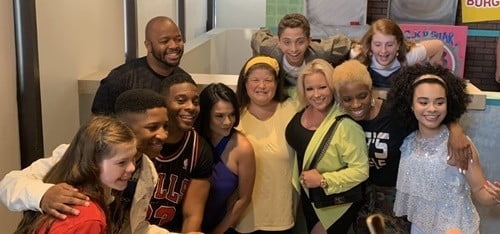 Yesterday, was the grand opening of the Good Burger pop-up and it brought together the original and new casts of All That. Seeing Kate Godfrey, Lex Lumpkin, Kel Mitchell, Alisa Reyes, Lori Beth Denberg, Katrina Johnson, Ryan Alessi, Angelique Bates, Reece Caddell, and Gabrielle Nevaeh Green together, makes me hope that they bring them all together for a skit on the show. That and Nickelodeon picks it up for a second season.
When it comes to the pop-up store, it opens up on July 10th. Make your reservations now because who doesn't want to try a real good burger?


To see larger photos of Alisa Reyes, Good Burger's #1 employee Kel Mitchell, and Gabrielle Nevaeh Green, then click here!
---
Are the new All That kids all that?
May 29th, 2019 under Alisa Reyes, Nickelodeon. [ Comments:

none

]

Ever since Nickelodeon announced that they are working on a reboot for All That, we have wanted to know who is going to fill those big shows that were worn by the original seven.
Today, we got our answer and they remind me of the OGs. Lex Lumpkin reminds me of Kel Mitchell, Gabrielle Green is a mini-Alisa Reyes, Chinguun Sergelen has Kenan Thompson's personality, Reece Caddell is vivacious like Lori Beth Denberg, Ryan Alessi is goofy like Josh Server and finally Kate Godfrey is so like Katrina Johnson.
Now that we know that they did a great job on the casting, it makes me more excited for its return on June 15th at 8:30p. What about you?
While it is nice to see Mitchell, Denberg and Server together again, what about Alisa Reyes too? She was my favorite of the lucky 7! Her and Kenan Thompson should do an episode together with the new kids on the block.
To read more about the new cast, then click here!
---
All That's Alisa Reyes is red hot!
April 29th, 2019 under Alisa Reyes. [ Comments:

none

]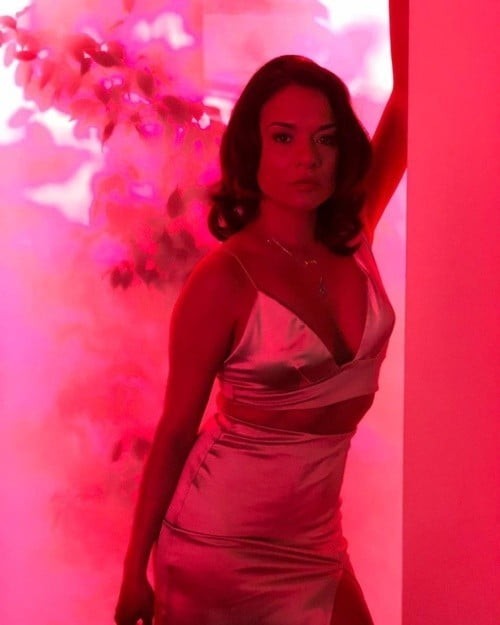 Alisa Reyes shared a photo on the set of her new movie Break Even looking like she is All That. Which she is in this photo that was made even sexier thanks to the glow of the red light.
The actress is looking like such a temptress in this photo that it is almost hard to believe that this is the same person we grew up with on All That and One World. She better be in the upcoming All That reboot that is coming to Nickelodeon. Do you want to see her on the reboot with the other OGs Kenan Thompson and Kel Mitchell? I know I do.
---