All That's OGs with the new cast!
July 9th, 2019 under Alisa Reyes, Nickelodeon. [ Comments:

none

]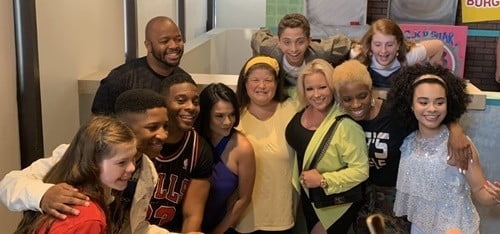 Yesterday, was the grand opening of the Good Burger pop-up and it brought together the original and new casts of All That. Seeing Kate Godfrey, Lex Lumpkin, Kel Mitchell, Alisa Reyes, Lori Beth Denberg, Katrina Johnson, Ryan Alessi, Angelique Bates, Reece Caddell, and Gabrielle Nevaeh Green together, makes me hope that they bring them all together for a skit on the show. That and Nickelodeon picks it up for a second season.
When it comes to the pop-up store, it opens up on July 10th. Make your reservations now because who doesn't want to try a real good burger?


To see larger photos of Alisa Reyes, Good Burger's #1 employee Kel Mitchell, and Gabrielle Nevaeh Green, then click here!
---
Are the new All That kids all that?
May 29th, 2019 under Alisa Reyes, Nickelodeon. [ Comments:

none

]

Ever since Nickelodeon announced that they are working on a reboot for All That, we have wanted to know who is going to fill those big shows that were worn by the original seven.
Today, we got our answer and they remind me of the OGs. Lex Lumpkin reminds me of Kel Mitchell, Gabrielle Green is a mini-Alisa Reyes, Chinguun Sergelen has Kenan Thompson's personality, Reece Caddell is vivacious like Lori Beth Denberg, Ryan Alessi is goofy like Josh Server and finally Kate Godfrey is so like Katrina Johnson.
Now that we know that they did a great job on the casting, it makes me more excited for its return on June 15th at 8:30p. What about you?
While it is nice to see Mitchell, Denberg and Server together again, what about Alisa Reyes too? She was my favorite of the lucky 7! Her and Kenan Thompson should do an episode together with the new kids on the block.
To read more about the new cast, then click here!
---
All That's Alisa Reyes is red hot!
April 29th, 2019 under Alisa Reyes. [ Comments:

none

]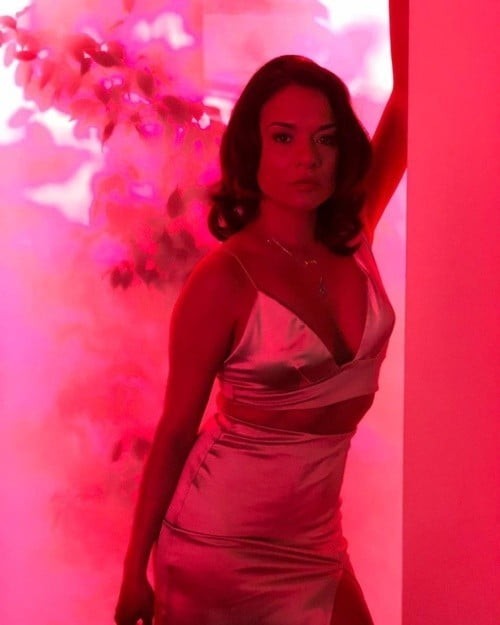 Alisa Reyes shared a photo on the set of her new movie Break Even looking like she is All That. Which she is in this photo that was made even sexier thanks to the glow of the red light.
The actress is looking like such a temptress in this photo that it is almost hard to believe that this is the same person we grew up with on All That and One World. She better be in the upcoming All That reboot that is coming to Nickelodeon. Do you want to see her on the reboot with the other OGs Kenan Thompson and Kel Mitchell? I know I do.
---
Nickelodeon is bringing All That back with Kenan Thompson as the EP
February 14th, 2019 under Alisa Reyes, Nickelodeon. [ Comments:

none

]

A few months ago, Nickelodeon announced that Brian Robbins is the new head of their network. Back in the '90s, he created a little show for them called All That which was all that.
When I heard that news, I was hoping he would bring back the very funny sketch show and he is. This time around, one of the original cast members Kenan Thompson will be the man in charge. Not only that, they say original cast members will be part of it too. Hopefully, he will ask Kel Mitchell, Alisa Reyes, Lori Beth Denberg and Amanda Bynes to reunite with him. How all that would that be?
That is not the only new show that is coming to Nick, they have a whole bunch more. John Cena will host a new take Are You Smarter Than a Fifth Grader? They will also be looking for America's Most Musical Family. Simon Fuller and OneRepublic's Ryan Tedder are working on a music-based show that will feature original songs each week. If that is not enough, how about spinoffs from Spongebob Squarepants?
Nickelodeon is where it is and I am excited for everything the have coming up!
---
The cast of All That reunites and sings their famous theme song!!!
November 7th, 2011 under Alisa Reyes, Nickelodeon. [ Comments:

none

]

On Saturday the cast of All That got together for their first reunion since the show began re-airing nightly on TeenNick at Comikaze and when someone from the audience asked Kel Mitchell, Lori Beth Denberg, Josh Server, Alisa Reyes, Lisa Foiles , Katrina Johnson, Angelique Bates, Brian Hearne, Mark Saul, Jack Desena, Leon Frierson and Giovonnie Samuels to sing the theme song, they did! How cool is it see all of them together like that? I would love to see all of them come back and do All That again, but this time as grown up. I think it could totally work, don't you agree. I mean the original cast looks just as good as they did when they started on that show in 1995!!! Can you believe it has been 16 years since we all started singing "The show is All of That and yes we do it all the time" Oh that line has a whole new meeting!
Now back to the reunion, you can watch more of the panel below!
BTW for those of you who could not be there on Saturday, I for one can tell you it was a lot of fun and they all look great and even better in person!!!
---