Everyone wants to be a girl like Shakira on TikTok
December 11th, 2020 under Black Eyed Peas, Shakira. [ Comments:

none

]

Jason Derulo had Savage Love. Drake had the Tootsie Slide. Now. Shakira has Girl Like me with Black Eyed Peas. What do they have in common? Their dances became huge hits on TikTok.

The singer's dance in the music video is so much fun that people all over the world are Jazzercising with her, and they are sharing their moves on the social media site. Someone compiled several of them together, and that got Shakira to declare, "Omg this is the best!!!"

It really is. Maybe it is what we need to bring back Jazzercise? Who didn't enjoy that workout?

---
Skylar Astin mashed up of Ed Sheeran and Shakira songs
September 2nd, 2020 under Ed Sheeran, Shakira, Skylar Astin, Zoey's Extraordinary Playlist. [ Comments:

none

]

Skylar Astin is used to doing mashups because of his starring roles in Pitch Perfect and Zoey's Extraordinary Playlist. Therefore, it would make sense he would make some of his own when he is not in front of the camera.
The actor decided to combine Shakira's Hips Don't Lie with Ed Sheeran's Shape of You, and it got my hips moving. As we know, hips don't lie. What do your hips think of the tune he shaped?

---
How boring was the Super Bowl?
February 2nd, 2020 under J-Lo, Shakira, Sports figures, Super Bowl. [ Comments:

none

]

Maybe it was because the New England Patriots were not in the Super Bowl, but it was a real snoozefest. How much of one? Some fan fell asleep during the game before the half time show. Maybe he was just trying to rest up for Shakira and Jennifer Lopez's performance. What man didn't rise up for that show?
In this guy's defense, the only time I ever fell asleep during an event was during a Rod Stewart concert in the Miami Arena. (He was my third concert in as 48 hours.) That town will eat you up and spit you out. I miss living there.
Talking about Miami, I hope WSVN's Patrick Fraser finds out who that guy was and why he was sleeping during the football game. If anyone can get all the details, it is him.
If you need something to wake up, then you can rewatch Shakira and J-Lo. To see them move their hips all over again, then click here!

---
2 Divas for the Super Bowl on 2/2/20
September 26th, 2019 under J-Lo, Shakira, Super Bowl. [ Comments:

none

]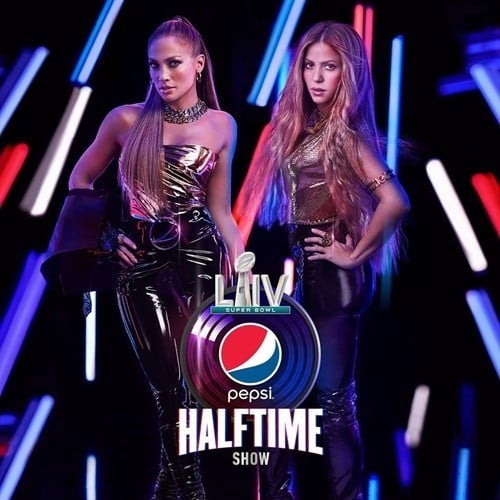 After this year's lame Super Bowl half time show with Maroon 5, the NFL and Pepsi are hoping to spice it up for 2020. Which is why they asked Jennifer Lopez to do her thing for them. Wait, my hips don't lie because it gets even hotter. They also got Shakira to join them in Miami on February 2nd.
While they are good choices, I am surprised they did not ask Gloria Estefan to do it. She is the Queen of Miami and should have been asked. Hopefully, the two Divas will find a way to incorporate her into their musical performance. She can get everyone to do the Conga.

---
Shakira forced to cancel even more dates
December 27th, 2017 under Shakira. [ Comments:

1

]

Last month, Shakira cancelled several tour dates because of a hemorrhage on her vocal cords. She was hoping to be better by this time, so that she could hit the road again next month. Sadly, the singer is still healing and will have to postpone those dates.

It is not all bad news because she also announced that starting in June her El Dorado World Tour will travel to Europe, the US and Latin America. Those dates will be announced soon.

She also wanted to thank her fans for all the prayers and messages because they have helped her through this difficult time.

---