How can I enter this tournament?
March 18th, 2019 under Sports figures. [ Comments:

none

]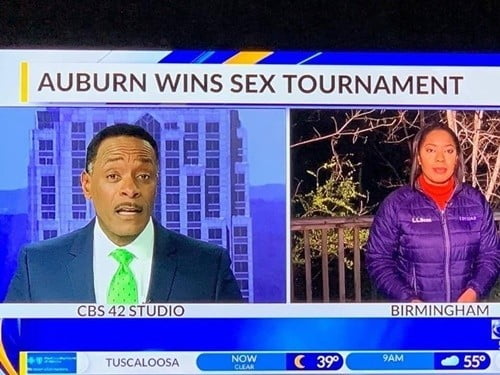 via Hunter Johnson
I went to the University of Miami and we won a lot of national championships while I was there; but nothing as titillating as what Auburn won yesterday. They were crowned the champs of the Sex Tournament. I guess I went to the wrong school.
Or did I? Someone at CBS 42 in Birmingham, was so excited about the win, that they hit the X instead of the C on the keyboard. Which means they actually won the SEC tournament instead. Major let down for everyone including us.
Although, I am sure a lot of players were slam dunking after the game. You know, playing their own sex tournaments.
---
There was 21 car crash at the Daytona 500 race!
February 17th, 2019 under Sports figures. [ Comments:

none

]

I don't watch car races, but I do watch their crashes. Therefore, I enjoyed the 21 car crash that happened today at the Daytona 500 as the cars were rounding their third turn.
If Paul Menard did not try to take out Matt DiBenedetto, then he would have finished the race instead of being finished with 20 other cars with 10 laps to go.
Thankfully, only the racer's egos were hurt and nothing else.
---
Damn, The Patriots' Julian Edelman is fine without his beard
February 8th, 2019 under Ellen DeGeneres, Sports figures. [ Comments:

none

]

On Sunday, Julian Edelman was named MVP of the Super Bowl and all we saw was his beard. Today, on Ellen, she talks to The Patriots player about that big bushy thing. He reveals to her that the coach told him to put everything away at the beginning of the season. Therefore, he put his razor away and has not shaved in 9 months.
That is when Ellen DeGeneres told him that she will donate $10,000 to the Boys & Girls Club in his name if he lets her shave off that furry mess. Not only did he agree to do it, he matched her donation.
Then off the went to do it and off it went. When she was done, the MVP scored a touchdown in the looks department. Who knew such a good looking man was under all of that hair? I want to play baseball with the football player if you know what I mean!
Seriously though, I respect him so much for not only doing it but also for matching her donation without even being asked to do it. That show that he is as good of a person as he is a player.
---
Caption Tom Brady and Julian Edelman
February 5th, 2019 under Sports figures. [ Comments:

none

]

This photo of Tom Brady and Julian Edelman at Walt Disney World has caption me written all over it, so go ahead to do it.
---
BTWF: LeBron James on ESPN
December 12th, 2018 under Before They Were Famous, Sports figures. [ Comments:

none

]

Before LeBron James was interviewed on ESPN all the time, he made his debut on the sports channel when he was still in high school. He looks the same now as he did when he was just 17 in that 2002 interview.
---