Gronk is a Laker Girl!
June 10th, 2020 under CBS, Sports figures. [ Comments:

none

]

Now that Rob Gronkowski is waiting to begin practice with the Tampa Bay Buccaneers, he needs to find a temporary job. CBS found him one for their show Game On tonight at 8p. The Tight End is going to show us if he has one when he becomes one of the Laker Girls.
Does he have the sexuality they have, or will the fans be screaming foul? There is only one way to find out, and that is to watch. I am going to check it out because I want to see he wears a short skirt! Then we will really know if he lives up to his football position on the basketball court.
---
Tom Brady ripped his pants during a charity golf game!
May 25th, 2020 under Sports figures, Uncategorized. [ Comments:

1

]

Some say Tom Brady is one of the greatest living football players. However, the same cannot be said about his golf game.

Yesterday, the quarterback took a different green for charity, and he got ripped on by Charles Barkley and a few others! So much so, his pants decided to rip on him too or as he says, "Pants wanted in on social distancing I guess…"

Who knew Brady was funny? I always think of him as someone who should have been a tight end because he is one.
---
Tom Brady is no longer a Patriot
March 20th, 2020 under Sports figures. [ Comments:

none

]

Three days after Tom Brady announced that he was leaving the New England Patriots after 20 year, we now know where he will be playing football whenever the football season starts up.
Excited, humble and hungry …if there is one thing I have learned about football, it's that nobody cares what you did last year or the year before that…you earn the trust and respect of those around through your commitment every single day. I'm starting a new football journey and thankful for the @buccaneers for giving me an opportunity to do what I love to do. I look forward to meeting all my new teammates and coaches and proving to them that they can believe and trust in me…I have always believed that well done is better than well said, so I'm not gonna say much more – I'm just gonna get to work! #Year1 p.s. Jack Brady with the photocred 😀
I hope the Buccaneers get their money's worth. He is on the older side, and he did not bring home the trophy last year, so who knows how good he still is.
---
It is an unhappy St Patty's Day in New England
March 17th, 2020 under Coronavirus, Sports figures. [ Comments:

none

]

As if there is not enough sadness going on in New England over the Coronavirus canceling St. Patrick's Day, Tom Brady found a way to make it even sadder. There is not enough Guiness in Massachussettes for them to drown their sorrows in after what he posted on social media today.
To all my teammates, coaches, executives and staff, Coach Belichick, RKK and the Kraft family and the entire organization. I want to say thank you for the past twenty years of my life and the daily commitment to winning and creating a winning culture built on great values. I am grateful for all that you have taught me – I have learned from everyone. You all have allowed me to maximize my potential and that is all a player can ever hope for. Everything we have accomplished brings me great joy and the lessons I have learned will carry on with me forever. I couldn't be the man I am today without the relationships you have allowed me to build with you. I have benefited from all you have given me. I cherished every opportunity I had to be a part of our team, and I love you all for that. Our team has always set a great standard in pro sports and I know it will continue to do just that.

Although my football journey will take place elsewhere, I appreciate everything that we have achieved and am grateful for our incredible TEAM accomplishments. I have been privileged to have had the opportunity to know each and everyone of you, and to have the memories we've created together.

I tried to represent us always in the best and most honorable way, and I fought hard with my teammates to help bring victory and triumph even in the most dire situations. You opened your heart to me, and I opened my heart to you. And Pats Nation will always be a part of me. I don't know what my football future holds but it is time for me to open a new stage for my life and career. I thank you from the bottom of my heart and I will always love you and what we have shared – a lifetime full of fun memories.
After months of speculation, it seems to be that Brady has confirmed he is leaving the New England Patriots. A team he has been with since the beginning of his career, 20 years ago.
Sorry, but this a real dick move. No other town is going to love him as he has been loved in Boston. To me, this is even more of an FU than when LeBron James left the Cavs for the first time.
Am I the only one who doesn't like him for some reason? It has nothing to do with me being a NYer and out two towns' rivalries.
---
The Lakers are charging for Kobe and Gianna Bryant's memorial service
February 14th, 2020 under Sports figures. [ Comments:

none

]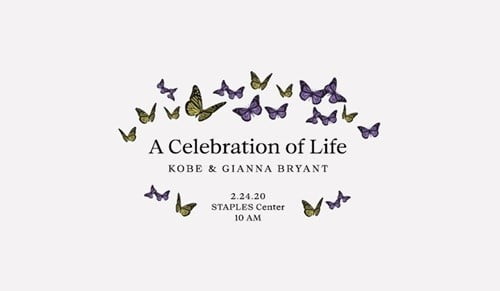 On January 26th, Kobe Bryant, his daughter, Gianna, and seven other people were killed in a helicopter accident. The world was devastasted over the news, no place more than Los Angeles and fans of his basketball team.
On February 24th, The LA Lakers will hold a memorial service at Staples Center, the home he built. Today, the NBA announced how people can get tickets for the event and how much they will cost.
From today until Monday, February 17th, at 10 pm PT fans may register to purchase tickets at https://verifiedfan.ticketmaster.com/kobeandgianna. Then on Tuesday, you will find out if you have been selected to purchase any of the available tickets.
How much do they cost? They are asking for $224 each, 2 for $224 and $24.02 each, and you will have to purchase them through Ticketmaster. All proceeds from the ticket sales will go to Mamba and Mambacita Sports Foundation.
The Lakers strongly encourage people not to go down to the Staples area on that day unless they have a verified ticket. In order to discourage a crowd, they said the service "will not be shown on any video screens or by any other means outside of STAPLES Center, including the L.A. LIVE video screens." There also will not be an overflow area to watch the event. It will be available to watch on your TVs at home or a sports bar.
When it comes to why everything is 2 and 24 related, the 2 is for Gianna's number and 24 for her father's.
I think it should be free like Michael Jackson's memorial service was. It was a great tribute to the singer and it was calm inside and outside of the arena.
---