Joe Jonas knows what a man gotta do to get a woman pregnant
February 12th, 2020 under Jonas Brothers. [ Comments:

none

]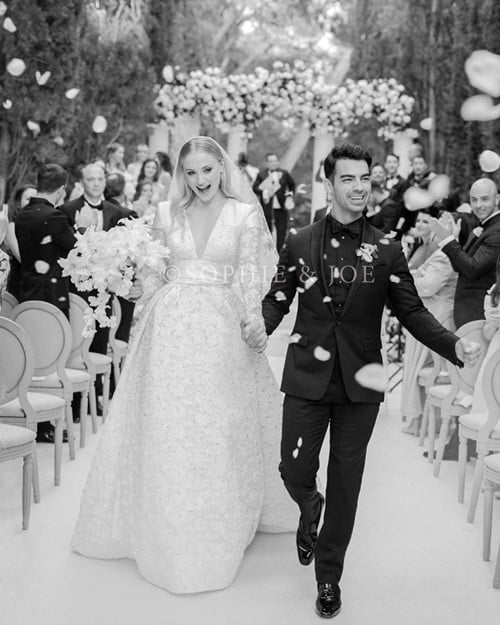 On May 1, 2019, Joe Jonas and Sophie Turner had a surprise wedding in Las Vegas. They followed that wedding up with another one in Paris on June 29th. Now, they are following up both weddings up with a baby. Just Jared confirmed the news, but do not know how far along the 23-year-old actress.
Personally, I am surprised that Joe beat Nick to the baby wagon. I thought that Priyanka Chopra would have already had one by now.
---
What is in Nick Jonas' teeth?
January 27th, 2020 under Jonas Brothers. [ Comments:

none

]

Out of all of the things that could be trending after the Grammys, this is one that no one saw coming. Especially, Kevin and Joe Jonas, and Priyanka Chopra. That is because the three of them did not tell Nick Jonas that he had something green in his teeth before he performed live at the Grammys yesterday. Sadly, for Mr. Chopra, people did notice, it was just people who could do nothing about it at their homes. Therefore, they posted photos of it on social media. What a man gotta do?
Believe it or not, this is not the most embarrassing thing to happen to a Jonas brother during a live performance. Remember when Joe Jonas feel on some glass during their 2008 American Music Awards performance.
The Jonas Brothers should perform at all award shows. Whether they are nominated or not. They always bring the fun-ny.
---
Seth Meyers goes day drinking with the Jonas Brothers
January 22nd, 2020 under Jonas Brothers, Seth Meyers. [ Comments:

none

]

I know the Jonas Brothers are not goody two shoes, but I always think of them that way. Thus, it was fun to watch them get drunk on Late Night with Seth Meyers, his brother Josh and his other brother Jack McBrayer.
While they are no Rihana and Kelly Clarkson, they still are a lot of fun. Especially when they all try to write a song in five minutes. Surprisingly, the Meyers did a better job. Take that Suckers!
I could write up their day more in detail, but let's be real, it just better to watch them all get sh!tfaced!
As much as I want this to be a weekly segment, I don't think that Meyers' body concurs with me. His wife and kids would like to keep him around.
---
The Jonas Brothers' risky business
January 17th, 2020 under Jonas Brothers, Priyanka Chopra. [ Comments:

none

]

Now that all three Jonas Brothers took off their purity rings and got married, they are including their wives in their music videos. What a Man Gotta Do is no different.
This time each brother recreated a movie with a memorable music scene. Nick Jonas and Priyanka Chopra put on a buttoned-down white shirt and let old time Rock'n'Roll possess them like it did Tom Cruise in Risky Business. Sophie Turner and Joe Jonas did the hand jive as they did in Grease. While Kevin Jonas went all John Cusack in Say Anything to Danielle Jonas.
All of this created a fun music video for a catchy song from the band. You can I am a sucker for it.
---
Nick Jonas finds his Voice
October 7th, 2019 under Ellen DeGeneres, Jonas Brothers, The Voice. [ Comments:

none

]

Even though The Voice just started its new season on NBC, we already know who are going to be the coaches next season. Gwen Stefani is out and Nick Jonas is in. In fact, Kelly Clarkson and John Legend are already conspiring with him to take down Blake Shelton. I betcha a dollar, he dumps them for Blake. Who wouldn't, he is the winningest coach. Then again, he has been on the show the longest.
Back to Nick, he made the announcement on tomorrow's Ellen. Since she was so excited for him, she decided to get his heart rate up like hers. She did that by having a Blake lookalike jump out of her table. Nick got so scared, you know that Ellen DeGeneres is going to scare him every time he is on the show. I am sure the next time she will use a fake Priyanka Chopra to freak him out. I can't wait to see that.
---