A-Rod and J-Lo give up their bid to own the NY Mets!
August 29th, 2020 under J-Lo. [ Comments:

1

]

There have been rumors for months that Jennifer Lopez and Alex Rodriguez want to buy the NY Mets. However, the betrothed couple never confirmed it. That is until now.

They revealed that their plans fell through. "Alex and I are so disappointed!! We worked so hard the past 6 months with the dream of becoming the first minority couple and the first woman owner to buy her father's favorite Major League Baseball team with her own hard earned money. We still haven't given up!! #NY4ever"

As someone from the Bronx, like they are, and a Mets fan; this news makes me so happy. I think they would be the wrong people to own the baseball team. I just can't forget that he was suspended from the game he loves so much for steroid use.

Maybe now that they have all of this extra "hard earned money", they will donate it to people who need it. When was the last time we heard them every donate any of their money to a good cause. I could be wrong, but I don't ever remembering hearing them donating to anything.

---
Has A-Rod learned how to dance from J-Lo?
June 30th, 2020 under J-Lo. [ Comments:

none

]

Alex Rodriguez and Jennifer Lopez have been living together for a while now, so they are starting to pick up things that the other one does. Has A-Rod learned how to dance like his fiancee?
The slugger shared a video of him doing her #WorldOfDanceAgain Challenge. How did he do? He should keep the dancing to under the sheets, so we don't have to see it. Translation, he struck out.
Can we be honest? Her dance routine is not pretty to look at, so that could be why he looked so ugly doing it? The dance he did when he was not under the sheets, that is something I don't want to see.

---
Alex Rodriguez and Jennifer Lopez want to buy the Mets
April 21st, 2020 under J-Lo. [ Comments:

none

]
@jlo

Wait for it…😂♥️ @arod13

People can't afford to eat, and Alex Rodriguez and Jennifer Lopez want to borrow money to buy the Mets according to Variety.
A-Rod is a disgraced Yankees' player and J-Lo is from the Block that is not Queens, so their buy seems weird. I can say that because I am a Bronx girl who is a Mets fan. We are a rarity and I like that way.
Basically, I find this so detestable and another reason why I don't like these two. Seriously, people are going broke and instead of donating their money to help others, they want to spend it on themselves. Who does that? Life will go on. But it will go on with the kindness of strangers and not the greed of a$$holes.
They are a match made in hell where money is more important than everything. I think in the last month we have learned it is not.
I hope the deal falls through because the Mets deserve better than them.

---
A-Rod's baseball bat really shows in J-Lo's dress
March 9th, 2020 under J-Lo. [ Comments:

none

]

Over the weekend, we saw Elizabeth Warren and Kate McKinnon take Drake's Flip the Switch challenge on TikTok. As hot as that was, it was not as caliente as what Jennifer Lopez and her fiancé Alex Rodriquez did with it.
A-Rod watched J-Lo slither in a white sweater dress, and then she got into his pants. Showing us what it would like if we slid into third base with him.
BTW You know she will never be able to wear that stretched out dress again.
If you missed Elizabeth McKinnon and Kate McKinnon (and some others), then click here!

---
Is J-Lo really 50?
February 17th, 2020 under J-Lo. [ Comments:

none

]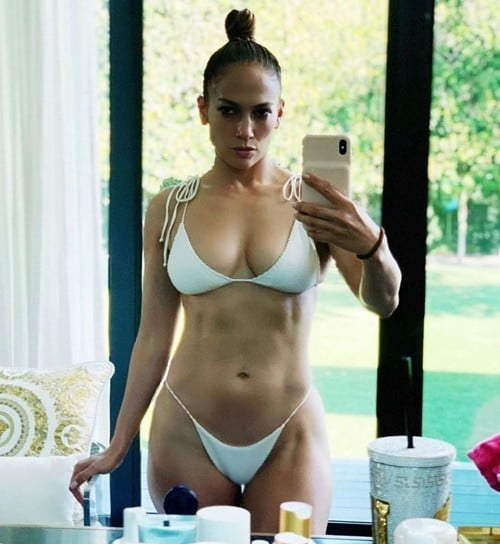 Two weeks ago, Jennifer Lopez was the headliner for the Super Bowl's halftime show, and she got her body into tip-top shape. We saw a lot of it then, and we are seeing even more of it now.
The singer shared a photo of herself wearing a tiny bikini and it left very little to the imagination. However, I imagine that a lot of women, who are half her age, wish their figures were as toned as her. So much so, you have to wonder how she can be a mother of twins who is half a century old. She makes 50 the new 21. If that is what 50 looks like, then sign me up for AARP.

---