Jennifer Lopez and Kim Kardashian do a commercial together
December 6th, 2019 under J-Lo, The Kardashians. [ Comments:

none

]

Facebook's Portal is trying to win us over by having Jennifer Lopez and Kim Kardashian do a commercial together to promote their product. For me, it is a fail. I mean, the only things missing from this ad are Jennifer Aniston and Gwyneth Paltrow. Then they could have quadfecta of annoying Hollywood celebs in one advertisement.
BTW I bet you that J-Lo shot this like she shot that Fiat ad. As in faked it with a green screen.
---
A-Rod said J-Lo was a dream date in 1998
November 15th, 2019 under J-Lo, Jimmy Fallon. [ Comments:

none

]

In case you have been living under a rock, Alex Rodriguez and Jennifer Lopez are engaged. However, in 1998 he told a reporter that she was his dream date. As he says, "That means dreams actually do come true in American." Thus, you can say he is living the American dream.
Now 21 years later, the two of them are planning a dream wedding. Last night on The Tonight Show, Jimmy Fallon suggested that they do it at the Super Bowl Half Time Show. Which is something I think they should do. Do you think they should do it right then and there?
---
2 Divas for the Super Bowl on 2/2/20
September 26th, 2019 under J-Lo, Shakira. [ Comments:

none

]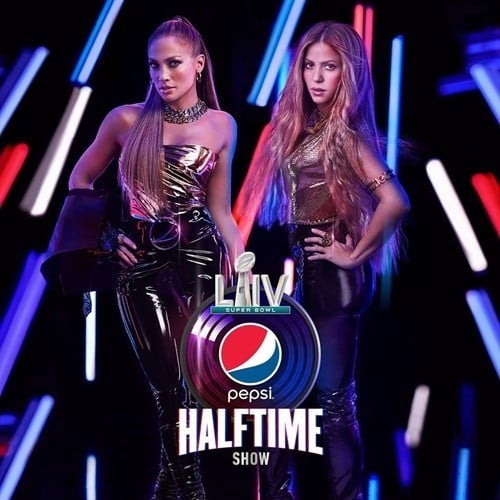 After this year's lame Super Bowl half time show with Maroon 5, the NFL and Pepsi are hoping to spice it up for 2020. Which is why they asked Jennifer Lopez to do her thing for them. Wait, my hips don't lie because it gets even hotter. They also got Shakira to join them in Miami on February 2nd.
While they are good choices, I am surprised they did not ask Gloria Estefan to do it. She is the Queen of Miami and should have been asked. Hopefully, the two Divas will find a way to incorporate her into their musical performance. She can get everyone to do the Conga.
---
Jennifer Lopez talks about that dress
September 21st, 2019 under J-Lo. [ Comments:

none

]

Jennifer Lopez wowed Milan Fashion Week when she walked down the runway in a replica of the infamous green Versace dress that she wore 20 years earlier at the Grammys. People were stunned that she looked even better at 50 than she did at 29. Yet, she does.
Vogue got to sit down with her and ask her about that dress. J-Jo told them, she was told not to wear that dress because other people had already worn it. She said she did not care and told them she was wearing it. The singer did not think it was that risque, but it was enough for people to ogle at her all night. She could feel them looking at her, but she did not know why.
As the days went on, Lopez began to understand what people saw. She even admits that dress made her the superstar. Which it did. Had she worn any other dress, we probably would not still be talking about her.
---
Watch Jimmy Fallon and J-Lo Whip/Nae Nae and do other dances
September 11th, 2019 under J-Lo, Jimmy Fallon. [ Comments:

none

]

Some of our biggest group dance numbers at weddings and bar mitzvahs started out in music videos. Yesterday, on The Tonight Show, Jimmy Fallon and Jennifer Lopez did some of the most famous dances like Single Ladies and Gangnam Style in less than 5 minutes.
We can talk about how awesome it is, which it truly is, but I think it would be a great workout video. They can be like do this for five minutes a day and you will have abs like J-Lo. I want her abs. I really want her abs.
However, if we really wanted them, they would have to do another exercise video. Lopez and Cardi B can teach us how to work a pole. 30 minutes, 3 times a week and you will have the body of a stripper. In order to purchase it, you have to pay in singles!
---