Five things you did not know about Manifest
January 13th, 2020 under NBC. [ Comments:

none

]

Manifest is back for season 2 on NBC, Monday nights at 10p, and it is not the same show it was last season. The show is about a plane landing five and a half years after it took off, and everyone looks the same. What happened during that time when they were in wherever they were? Where were they?
Last year, it was about acting on the callings that the passengers get, which tells them to help people. This season, it is about why the callings make a difference and figuring out how to beat the death date. That is the day, as many days in the future as the days they were missing, which will be when they are going to die. The passengers on Flight 828 have to figure out a way to beat it before it is too late. Once it is too late, there will be no going back for them.
Over the weekend at the NBC Winter TCA Press Day, Show Creator Jeff Rake, and the show's stars Josh Dallas (Ben) and Matt Long (Zeke) talked about what we can expect over the next five seasons. That is when they hit the death date in 2024.
Five things you should know about Manifest:
Why is there a death date?
Jeff Rake: From a thematic place, why does it exist? A lot of our episodes center around the theme of redemption and second chances, and I thought it would be interesting if we had a literal ticking clock, because it would just kind of amp the stakes for our heroes as they figure out the price of redemption, what it means to have a second bite at the apple, what the consequences are when you only have a limited amount of time to try to reinvent yourself. And so that's kind of the thematic reason. And then, just from a basic storytelling point of view, I thought our stories would just become increasingly exciting if, as the characters are trying to puzzle their way through the mystery of the show, they're running out of time.
How are the callings different for season 2?
Josh Dallas: I mean, the callings are presenting themselves a little bit differently this season. We're having shared callings now and callings that are leading us to certain places. So they're presenting themselves in a different way. So they have to look at that as characters.
Was Zeke, who returned but was not on the plane, always part of the show from the beginning?
Jeff Rake: That's been there from the very beginning. Anybody who's in the room from Warner Bros. or at NBC could tell you that when I went and pitched the show, that character was part of the architecture from the beginning. For some reason, his name was Reed in development, and we changed his name in the writers' room to Zeke when we got to series. There's a story behind that that I won't bore you with. But, yes, that story, that triangle was always part of the infrastructure of the story. Melissa's [Roxburgh] character Michaela was always intended to be challenged and perplexed by the idea of our meeting an individual who did not come off of the airplane with everyone and yet somehow seemed to be on a parallel journey with them and the universe bringing these two characters together. That obviously also set up a romantic triangle that we're playing from the relationship drama side of the story, and that came to an apex at the end of Season 1.
What happens to Zeke now that he turned himself in for shooting Michaela?
Matt Long: For the next few episodes, that storyline continues to play out, but some really big things happen with regard to Michaela and Jared and Zeke. And I don't want to give anything away, but yeah, I don't want to give anything away, but yeah, it's really interesting things happen with regard to that. And then that story sort of concludes in a way, but the way that that concludes opens up all kinds of other issues with the sort of three of us, and it's really interesting and exciting to watch.
Is Jeff Rake prepared for the show not to go until the death date aka six seasons?
Jeff Rake: Absolutely not.
So buckle up, as you do on a plane, because this is going to be a long ride. One we are not going to want to miss every Monday at 10p on NBC.
---
Can the Good Place save humanity? Demi Lovato joins Will & Grace
January 9th, 2020 under Demi Lovato, NBC. [ Comments:

1

]

The Good Place is back tonight at 8:30p on NBC, but will it be the end of all humanity? When we last off the Judge (Maya Rudolph) decided that she wants to erase all that has happened on Earth and start over again. That is right, she wants to wipe us out. Will Michael (Ted Danson), Eleanor (Kristen Bell), Chidi (William Jackson Harper), Jason (Manny Jacinto), Tahani (Jameela Jamil), and the Janets (D'Arcy Carden) be able to stop her before she hits the button?
They will do everything they can to come up with a plan that will also convince the Bad Place that our World needs to be saved. Shawn (Marc Evan Jackson), the latter's Michael, will be harder to convince than the Judge because Janet has a secret weapon that might change her mind. A weapon that would be enough for me to say we need to live on. What is it? You will have to tune into the fourth last episode of the show's run to find out. Now I am sad.

Then at 9p, Will & Grace gives birth to a new character. Well, not quite yet. Will (Eric McCormack) finds Jenny (Demi Lovato), a woman who is willing to be his surrogate. That is if he can convince her to do it and not screw it up while trying to win her over.
Will needed a lift and he got one from Karen (Megan Mullally). She stays at Jenny's place and meets her brother. The two will exchange some jokes that will make you feel guilty for laughing at them.
Finally, Grace (Debra Messing) and Jack (Sean Hayes) go to a Little Orphan AnnieCon. Need I say more?
I love NBC, but why are the shows I watch ending? Actually, I watch most of their shows, but my two favorites are the ones that are saying goodbye. Maybe they can reboot them next season?
---
Zoey's Extraordinary Playlist lives up to its name because it is extraordinary
January 7th, 2020 under NBC, Ted Danson Mary Steenburgen. [ Comments:

none

]

Tonight at 10p, we get a sneak peek of NBC's new show Zoey's Extraordinary Playlist, and you don't want to miss the best new show of the season. As much as I love Bob Hearts Abeshola, Carol's Second Act, Evil, and Perfect Harmony, no new show has wowed me like ZEP. Once you watch it, you will see why it is so easy to fall in love with it.
Zoey (Jane Levy) is a coder who hates music. Her next door neighbor Mo (Alex Newell) plays and sing it as loud as he can, even though Zoey tells him to turn it down. Zoey needs quiet because she up for a big promotion at work. She has an interview with her boss (Lauren Graham), and she does not want to blow it. Thankfully, she has her work friend, Max (Skylar Astin), to give her the encouragement she desperately needs. Now, if only he can encourage enough to go after Simon (John Clarence Stewart), the guy she likes at her job. If that is not enough to handle, her father (Peter Gallagher) is dying from a rare brain disease that leaves him speechless and trapped in his own body. Zoey worries how her dad's health is affecting her mom (Mary Steenburgen), who is his caretaker.
All of this stress is causing Zoey to have headaches, and she is afraid she might have what her father has. Therefore, her mom tells her to get an MRI. While she is in it, listening to some music, an earthquake rattles the city and the machine. Thus, it causes her to download all of the music that it is has to offer.
When she is out of the machine, she starts to hear people singing their thoughts to her, and she cannot make it stop. As strangers sing The Beatles' Help to her, she runs home and seeks help from her neighbor. Zoey will now depend on Mo to help her understand what is going on. Mo knows music, and Zoey cannot escape it.
When she is at work, she will hear someone sing the saddest version of Tears For Fears' Mad World, and it will give her an insight to what they are secretly dealing with, in their personal life. She will try to help them, and it makes her think maybe there is something good that can come out of this new ability. However, when the lightbulb moment comes, get the tissues ready because it will leave you with tears in your eyes.
It is a sweet moment, just like this show in general. Each week, Zoey is going to have to learn to deal with people singing their innermost feelings to her. Then she is going to have to figure out how to help them without letting them know what she can do. Sometimes she will get it right. Other times, she will get it completely wrong. Can she fix it, or will she hear another song? We will just have to keep tuning in after it returns on Sunday, February 16th, its regularly scheduled night.
When it comes to the song choices, they are songs that everyone will know. Some of the songs are even better than the original versions. There are some breakout singers in the cast like Gallagher and Steenburgen. Who knew they could sing? We already know that Astin and Newell can belt out a tune. What we didn't know about Newell, is he can act. He is the best part of this musical dramedy, and there are many bright spots.
So many you are not going to want to miss it tonight or Sundays starting on February 16th.
---
NBC announces its midseason schedule
November 9th, 2019 under NBC. [ Comments:

none

]

NBC is gearing up for 2020 and they announced when one of our favorite shows is ending and when our future faves will debut. The Good Place gets a 90-minute sendoff on January 30th. Right after the series ends, Seth Meyers will host a tribute to the heavenly sitcom.
On Monday, January 6th, AGT: Champions is back. Then on the 7th, Ellen's Game of Games is back and Zoey's Extraordinary Playlist gets a special preview. Finally, on the 10th of that week, we will get to know Lincoln Rhyme: Hunt for the Bone Collector.
On February 6th, Brooklyn Nine-Nine is back on the beat. The 16th gives on the season premieres of Zoey and Good Girls. On the 24th, The Voice is back with some guy names Nick Jonas.
Lastly in March, Little Big Shots returns and Council of Dads debuts.
Although not confirmed, it looks like the fat lady is singing for Perfect Harmony.
MONDAY
8-10 P.M. — America's Got Talent: The Champions (The Voice returns in February)
10-11 P.M. — Manifest
TUESDAY
8-9 P.M. — Ellen's Game of Games
9-10 P.M. — This Is Us (COUNCIL OF DADS begins in March)
10-11 P.M. — New Amsterdam
WEDNESDAY
8-9 P.M. — Chicago Med
9-10 P.M. — Chicago Fire
10-11 P.M. — Chicago P.D.
THURSDAY (Beginning in February)
8-8:30 P.M. — Superstore
8:30-9 P.M. — Brooklyn Nine-Nine
9-9:30 P.M. — Will & Grace
9:30-10 P.M. — INDEBTED
10-11 P.M. — Law & Order: SVU
FRIDAY
8-9 P.M. – LINCOLN RHYME: HUNT FOR THE BONE COLLECTOR (The Blacklist returns in March)
9-11 P.M — Dateline NBC
SUNDAY (March)
8-9 P.M. — LITTLE BIG SHOTS
9-10 P.M. — ZOEY'S EXTRAORDINARY PLAYLIST
10-11 P.M. – Good Girls
NEW DRAMA SERIES
"COUNCIL OF DADS"
To read descriptions of the new shows then click here!
---
NBC continues to be a Good Place with Perfect Harmony and Will & Grace
November 7th, 2019 under NBC. [ Comments:

none

]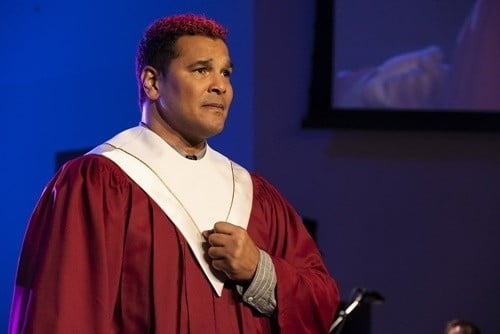 Tonight at 8:30p on NBC, the choir from Perfect Harmony go to watch another Church do their thing. They are much better than Arthur's group (Bradley Whitford). Therefore, when he meets a woman who sings like an angel, he asks her to join his chorus. What he did not know is that she is Ginny's (Anna Camp) rival? Now, he has to decide between the two. Who will he choose?
Back to the other Church, it is where Dwayne (Geno Segers) spent most of his life because his family goes there. Then when he came out to them, they kicked him out. Will seeing them get them to reunite or will his only family belong in his new Church, Second First Church of the Cumberlands
It is a night about rivals, full of a lot of winners.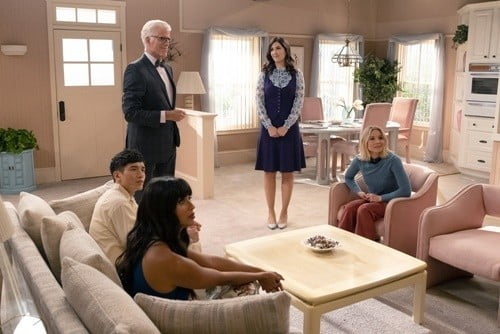 Then at 9p on The Good Place, it has been a year since they started the experiment to find out if humans can be good. They are in their final hours and it looks like Michael's (Ted Danson) team is going to lose. Can the humans save us or are we all doomed to the Bad Place forever? You don't want to miss the final seconds…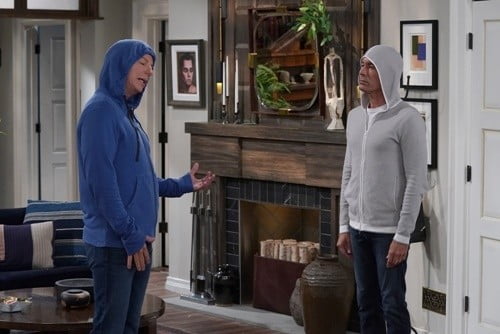 Finally at 9:30p on Will & Grace, Will (Eric McCormack) is afraid he is going to lose his hair, so he goes to a specialist to get a transplant. After talking to the doctor he decides to go bald and get Jack (Sean Hayes) to do it with him. How will the two men look bald? You don't want to miss it!
Meanwhile, Grace (Debra Messing) gets the results of her DNA test and realizes she is related to someone we know. Can you guess who?
Finally, Karen (Megan Mullally) plays poker with her ex-brother-in-law and she wins his baseball team. She is going to be running the bases with them whether they like it or not…
If the below photo does not make you watch, then nothing will.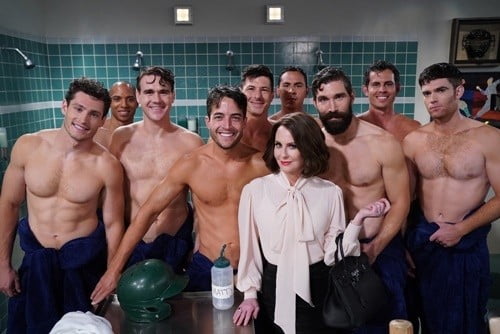 ---