Young Rock and Kenan get a premiere date!
January 15th, 2021 under NBC, The Rock. [ Comments:

none

]

NBC announced today that the sitcoms Young Rock and Kenan are going to debut on February 16th before This Is Us. That means that Zoey's Extraordinary Playlist will go on a break after being back for six episodes.
According to the press release, Young Rock focuses on different chapters of Dwayne Johnson's life. From growing up in a strong and resilient family, to being surrounded by the wild characters of his professional wrestling family, to playing football at the University of Miami, the show will explore the crazy rollercoaster that has shaped Dwayne into the man he is today and the larger-than-life characters he's met along the way.
While Kenan is about a recently widowed host of Atlanta's #2 morning show, struggles to balance his job and his young daughters despite all the "help" he gets from his father-in-law and his brother/manager/house guest.
Hopefully, the two comedies will convince This Is Us to add a little more humor to the drama and stop being so melodramatic.

---
Ted Danson is endearing as Mr. Mayor
January 7th, 2021 under NBC, Ted Danson Mary Steenburgen. [ Comments:

none

]

Ted Danson gallantly returns to the NBC lineup tonight after almost a year away. The actor is in a good place with Mr. Mayor at 8p.
Los Angeles needs a new mayor because the old one had a mental breakdown. Mayor Neil Bremer (Danson), a retired businessman, who earned his billions in billboards, decides to run for the city's top official and wins. He has no idea what he is doing, and his staff thinks he is the wrong person for the job. They might be right.
Mikaela (Vella Lovell) used her skills to get him elected, and she is having serious doubts about him being able to do the job. Tommy (Mike Cabellon), the Mayor's aide, convinces her to stay on. She agrees to do it, as long as they can blame everything on Jayden (Bobby Moynihan), the only holdover from the last administration. He is a bumbling idiot, so their plan is brilliant. Or is it?
Almost as brilliant as Bremer's decision to hire Arpi (Holly Hunter), his political archnemesis as his Deputy Mayor. She is out to get him. He knows it, and that is why he gave her the job. She figured that out, and that is why she took the job. Can the two rivals work together for the best of the city's interests? Who will outsmart who first?
There is only one person who cannot outsmart him, and that is his teenage daughter, Orly (Kyla Kenedy). He ran for Mayor for her, and she wishes he didn't. Will he be able to win her over?
Just like he is going to win over his constituents with all of the photo ops. For example, in tonight's second episode, he goes from event to event nonstop. He hates them, but he doesn't mind them as much after he eats some special gummy bears they got at the ribbon cutting for the LA's 10,000th dispensary.
You will be laughing with Mr. Mayor like he is laughing after eating those edibles. I will warn you; you have to pay to the lines because they sneak in a lot of witty jokes. If you are not paying attention, you just might miss them.
You don't want to miss them or a single episode because Danson and the sitcom bring the much-needed humor we all need these days. Since this is an ensemble show, they each bring their own dynamic and humor to the show.
Therefore, make sure to vote for all of them tonight and every Thursday.

---
Dan Fielding gets his own Night Court
December 16th, 2020 under NBC. [ Comments:

none

]

It has been 28 years since Night Court's case closed. However, NBC is thinking of bringing it back with John Larroquette reprising his role as the lovable, wait, love-starved Dan Fielding.
According to Deadline, the sequel, which is produced by The Big Bang Theory's Melissa Rauch, will be about Harry T. Stone's daughter taking over his bench and Fielding giving her support in his own special way.
I would be supportive of that idea if Harry Anderson was still alive. Without him, it seems like Miss Sullivan's son would be a better choice for the lead. Then again, there is also Mac and Quon Le's kids. Better yet, how about if Bull and Roz got married and made a baby, and that baby became the judge?
Night Court is one of my all-time favorite shows, and I just think it is disrespectful to base the show around Anderson's character's daughter when he is not here to be her Buddy.
Will you watch if NBC picks it up to series?
UPDATE: Marsha Warfield, who played Roz on the sitcom, reveals how she feels about the Night Court Sequel. To hear what she said and if she is going to be part of it, then click here!

---
Watch Matthew Morrison transform into the Grinch
December 9th, 2020 under Glee, NBC. [ Comments:

none

]

Matthew Morrison played the lead character in the live-action Grinch the Musical on NBC tonight. That means he had to spend a lot of time in the makeup chair to get ready for the role. How long? He sat there for three and a half hours as they applied makeup, prosthetics, and hair. Was it worth it? Watch the final product, and tell me! But I say it was totally worth it.
Am I the only one who thinks he looked like Frankenstein until they started to put the hair on his face?

---
Amy says goodbye on Superstore. Does someone have COVID-19 on Connecting?
November 5th, 2020 under NBC, Superstore. [ Comments:

none

]

Tonight at 8p, Superstore celebrates its 100th episode on NBC. To celebrate the milestone, they are going to be saying goodbye to Amy. America Ferrara announced in February that she was leaving the show. However, her departure took a little longer because COVID-19 shut down production before she could get a proper farewell.
Tonight is her last day of work, and she and Jonah (Ben Feldman) are preparing for their move to California. Their co-workers don't want to see them leave; can they do anything to stop them. Obviously, they can't stop Amy, but will they be able to keep Jonah?
You have to tune in for an episode that gives at least one character a perfect sendoff.
BTW Am I the only one who will not miss her? Amy is too bossy, and I want these characters to run free and be the worst Cloud 9 employees they can be.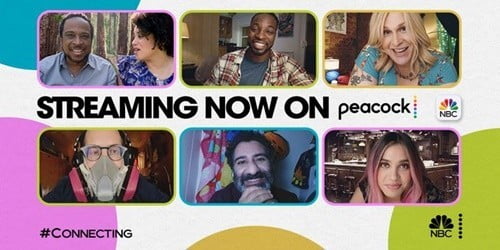 Over on Peacock and NBC.com, instead of, NBC at 8:30p is a new episode of Connecting…
In this episode, Ben (Preacher Lawson), Pradeep (Parvesh Cheena), Annie (Otmara Marrero), Ellis (Shakina Nayfack), Rufus (Ely Henry), Michelle (Jill Knox), and Garrett (Keith Powell) talk about going to attend their first Black Lives Matter protest.
Ben really wants to do it, but his mother (Loretta Divine) doesn't want him to because she fears he will get in trouble. She will get her wish when he gets sick. Does he have COVID-19? He will go and get the test to find out.
Since he can't march with his family, his brother-in-law Garrett goes in his place. Pradeep is going because one of his adopted toddlers is African American, and he wants him to learn about his race. Ellis is marching to support Black Trans people, while Rufus and Annie are attending for the cause. Shortly after they meet up, they all get lost in the crowd. When they get home and Zoom each other, they find out that one of them got arrested.
Which of the seven will spend time in jail? You just have to watch a powerful episode that shows how meaningful these rallies are and how they affect those who attend.

---