NBC brings Christmas joy with Young Rock, Kenan and Mr. Mayor
December 15th, 2021 under Don Johnson, Kenan Thompson, NBC, Ted Danson Mary Steenburgen, The Rock. [ Comments: none ]
Tonight, starting at 8p, NBC is stirring up the Christmas joy like marshmallows in cocoa with their three sophomore comedies.
Young Rock starts it off at 8p with a different take on A Christmas Carol. Old Rock is filming a Christmas movie, and his young co-stat is just not in the spirit. So to get her there, he tells the story of his past Christmases.
The Rock goes back to when he was 10 years old (Adrian Groulx) to revisit his worst Christmas with his parents (Stacey Leilua and Joseph Lee Anderson) and his grandmother (Ana Tuisila). However, his 15-year-old self (Bradley Constant) goes back five years to tell his past self that his worst Christmas is coming. And he shows him what happened. But then, the 21-year-old DJ (Uli Latukefu) shows them that it gets worst six years from that.
What is the lesson of all of this? You just have to tune in to see in this episode that is no bah humbug.
Then at 8:30p, it is time for a Christmas extravaganza on Kenan. Mika (Kimrie Lewis) is planning a holiday episode of Kenan's (Thompson) morning show Wake Up, and everything is going wrong.
Kenan is depending on his brother (Chris Redd) to help him out, but Gary abandons him. The keyboardist drops out, so Kenan suggests his father-in-law (Don Johnson). Rick accepts, but he wants to upstage Tami (Taylor Louderman), and she is not having it.
Will the show be naughty or nice? You just have to tune in, or you will get a lump of coal in your Christmas stocking.
Finally, at 9:30p, it LA Christmas Eve, aka December 22nd, on Mr. Mayor. Since everyone is going away for the holidays, they put their trees out on the street. However, the Santa Ana winds are blowing them all over the place. That means it is up to Tommy (Mike Cabellon) to save the day.
Everyone at the Mayor's office wants to go home, but the Mayor (Ted Danson) won't let them. That is because his presents for everyone got lost in the mail. That and there is a storm of pine trees wreaking havoc on the city.
What does he do? He hires someone to come in and give them an experience. Mikaela (Vella Lovell) wants to live Love Actually, so she tries to hook Apri (Holly Hunter) up with a stranger in the office. Unfortunately, Apri isn't having it. Jayden (Bobby Moynihan) has been working on a Christmas Carol for Los Angeles, but he just can't seem to finish it?
Will everyone have a merry LA Christmas? You just have to watch this laugh-inducing episode to find out.

---
More people die on New Amsterdam than Chucky tonight
November 23rd, 2021 under Chucky, NBC, Syfy, USA Network. [ Comments: none ]
Last week on Chucky, Junior (Teo Briones) and Devon (Björgvin Arnarson) both lost their moms to the killer doll. Tonight at 10p on Syfy and USA Network, Junior, Devon, Jake (Zackary Arthur), and Lexy (Alyvia Alyn Lind) deal with the ramifications of their deaths in different ways.
Devon is over his fight against Chucky as he prepares for his life without his mom. Junior doesn't know about Chucky, and he handles his grief differently. Lexy and Jake will continue the war, but how much longer can they do it, and how much more blood needs to be spilled? All I will tell you is that someone doesn't make it to the credits.
Meanwhile, we get more of Charles Lee Ray (Brad Dourif) and Tiffany's (Jennifer Tilly) backstory. We might go into the past for that, but in present-day Tiffany collides with Junior's dad (Devon Sawa) at the funeral. What does she want from the Wheeler family?
All leads to a shocking ending that will make you wish that it was next week to see what happens next.
If you are not watching Chucky, you are missing the best new horror show in a really long time.
Also at 10p, but on NBC is New Amsterdam. It is Max (Ryan Eggold) and Helen's last day at New Amsterdam (Freema Agyeman). What could go wrong? A superbug invades the hospital, and patients are dying on every floor. Will it be enough to convince them to stay? All I will say is that we will know their decision at the end of the episode.

---
Jane Krakowski drops out of Annie Live due to breakthrough case of COVID-19
November 13th, 2021 under NBC. [ Comments: none ]
Jane Krakowski has tested positive for a breakthrough case of COVID-19, and will not be able to star as Lily St. Regis in Annie Live. Since the show must go on, NBC told Deadline that Megan Hilty will take over the role. Hopefully, it will be an easy street for her.
"I am beyond thrilled to join this all-star cast, crew and creative team," said Hilty in a statement. "My family and I have been super fans of Annie for as long as I can remember, and we always look forward to the epic televised musicals produced by Bob Greenblatt & Neil Meron, so to be a part of this particular production is an honor and a dream come true. I wish Jane the speediest of recoveries and hope to do her proud."
In other casting news, Broadway's original Annie Andrea McArdle will play Elanor Roosevelt in the production that goes live on December 2nd.

---
NBC announced its midseason lineup
November 12th, 2021 under NBC. [ Comments: none ]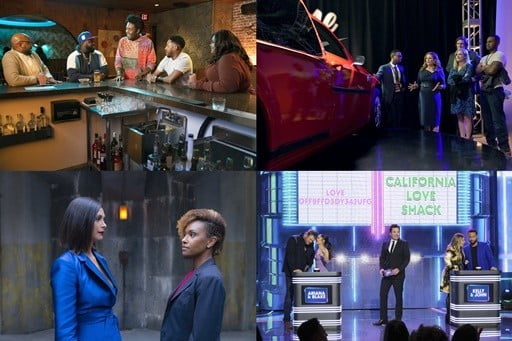 Have you been wondering when This Is Us is coming back for its final season? Well, today, NBC announced that, along with several other midseason shows like Kenan, Mr. Mayor, and Young Rock, will be back.
However, it looks like Ordinary Joe will conclude its first and only season before the Winter Olympics in February. That is because it did not get any additional episodes. I think they should have done standalone episodes so that we could have understood each timeline more. If you looked down and then up, sometimes you would be like, which Joe is this one. We just didn't get as invested in him like we should have because we didn't have time to get to know him. However, at least they tried something different.
One last note, New Amsterdam is taking a six-week hiatus for the limited series The Thing About Pam.
Mon, Jan. 3
8-8:30 P.M. — Kenan (Season Premiere)
8:30-9 P.M. — Kenan
9-10 P.M. — That's My Jam (Time Period Premiere)
10-11 P.M. — Ordinary Joe
Tues, Jan. 4
8-8:30 P.M. — AMERICAN AUTO (Time Period Premiere)
8:30-9 P.M — GRAND CREW (Time Period Premiere)
9-10 P.M. — This Is Us (Season Premiere)
10-11 P.M.  — New Amsterdam
Wed, Jan. 5
8-9 P.M. — Chicago Med
9-10 P.M. — Chicago Fire
10-11 P.M. — Chicago P.D.
Thur, Jan. 6
8-9 P.M.  — The Blacklist
9-10 P.M.  — Law & Order: SVU
10-11 P.M. — Law & Order: Organized Crime
Post-Olympics Primetime Schedule
Mon, Feb. 21
8-10 P.M. – AMERICAN SONG CONTEST (Premiere)
10-11 P.M. – THE ENDGAME (Premiere)
Tues, Feb. 22
8-8:30 P.M. – AMERICAN AUTO
8:30-9 P.M. – GRAND CREW
9-10 P.M. – This Is Us
10-11 P.M. – New Amsterdam
Wed, Feb. 23
8-9 P.M. — Chicago Med
9-10 P.M. — Chicago Fire
10-11 P.M. — Chicago P.D.
Thurs, Feb. 24
8-9 P.M.  — LAW & ORDER (Premiere)
9-10 P.M.  — Law & Order: SVU
10-11 P.M. — Law & Order: Organized Crime
Fri, Feb. 25
8-9 P.M. – The Blacklist (New Time)
9-11 P.M — Dateline NBC
Tue, March 8
10-11 P.M. – THE THING ABOUT PAM (Premiere)*
Tue, March 15
8-8:30 P.M. – Young Rock (Season Premiere)
8:30-9 P.M. – Mr. Mayor (Season Premiere)
To read about the new shows, then click here!

---
The first new show to get a second season is…
November 12th, 2021 under NBC. [ Comments: none ]
Even though La Brea hasn't finished airing its first season, NBC announced today that it will be back for a second one.
The news is not a surprise because it is doing well in the rating. What I find a surprise is how well it is doing.
I wanted to like it, but I stopped watching after episode four. Maybe, I will binge it before it comes back next season.
Are you happy about this news?

---