Manifest manifests a second season
April 15th, 2019 under NBC. [ Comments:

none

]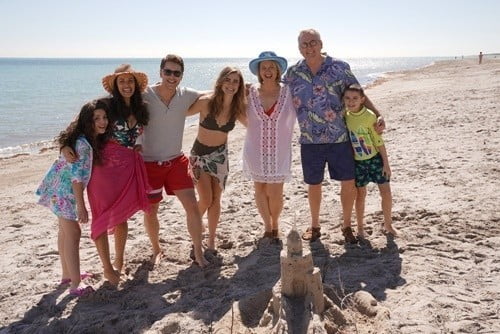 Even though Manifest started out with ratings that were sky high, those numbers quickly dropped along with the show's creativity in my opinion. Therefore, it is kind of surprising that NBC picked up the show for a second season when they have so many other stronger shows that were already picked up.
Manifest joins The Blacklist, Brooklyn Nine-Nine, Chicago Fire, Chicago Med, Chicago PD, Good Girls, The Good Place, Law & Order: SVU, New Amsterdam, Superstore and Will & Grace on the 2019-2020 schedule. Missing from that list is This Is Us, but I am sure it will be back for a fourth season. If not, then fans of the show will send NBC execs on a 5-year plane ride.
---
Blue Bloods gets sentenced to another year
April 12th, 2019 under NBC, Tom Selleck. [ Comments:

none

]

Yesterday CBS announced that they renwed NCIS for a 17th season and today they asked Blue Bloods for a 10th one. Something that was a no-brainer after Tom Selleck signed on the dotted line.
Even though the cop family drama airs on Friday nights, it is the 8th most-watched show on broadcast TV. It used to be television's death night until this Selleck and Donnie Wahlberg show.
Personally, I have not enjoyed this season as much as years past. I hope they get back to doing what they did best instead of making the Reagans look as dickish as possible until the final seconds of the episode.
UPDATE: NBC also picked up Good Girls for a third season. A surprising move because it is not doing that well in the ratings. Which is sad because it is a really good, female-empowering show that stars Christina Hendricks, Mae Whitman and Retta. Check it on Sundays at 10p. Especially now that you know it will be back for another year.
---
The Bold Type is back, It's lights out at New Amsterdam
April 9th, 2019 under NBC. [ Comments:

none

]

The Bold Type is back on Freeform tonight at 8p, and it picks up a month after the season finale.
Jacqueline Carlyle (Melora Hardin) is out as the head of Digital and they bring in a man to do her job. Patrick (Peter Vack) is going to change things up, whether they want him to or not. He asks Jane (Katie Stevens) to write an article about him and she wants to make him look as bad as possible. What will she expose about him? Hint the word expose.
Patrick tells Kat she needs to update her social media more because she has not done much of that since Adena left her (Nikohl Boosheri). Kat is still dealing with that breakup and who she is now. She just wants to be left alone.
Unlike Sulton (Meghann Fahy), who is getting very serious with Richard (Sam Page) again. He wants her to move in with him. Will she accept?
Just when things were going so well for these three girls, something always comes up to bring them down. Well, at least two of them are having sex.

Then at 10p over on NBC, New Amsterdam is back but the lights are off from the record-breaking snow storm.
Max (Ryan Eggold) goes into medical director mode and tries to get the lights back on or at least get the generator started. When that does not happen, he has to come up with a way to keep everyone alive. Helen (Freema Agyeman) is more of a realist and she knows they can't save everyone. Only one of them can be right. Which one will it be and what are the consequences? There will be a big one.
Tune for the best medical drama on television.
---
Abby's is doing something no other sitcom has done…
March 28th, 2019 under NBC. [ Comments:

none

]

For the first time in television history, a sitcom is being filmed entirely outside with a live audience. Tonight at 9:30p on NBC, you will watch as Abby's attempts to do the impossible. A whole show shot in nature on the Univeral Lot.
Abby (Natalie Morales) has been running a bar in her backyard that is unlike any other. Not because it is in the backyard of the house that she rents, but also because she has 162 rules the patrons must follow. Not only that, there is a pecking order for them to follow before they can sit at the bar with Fred (Neil Flynn), Beth (Jessica Chaffin) and James (Leonard Ouzts).
Fred has known her for a long time and was her first customer. Beth lives within viewing distance so she can watch her kids as she drinks. James in the bouncer but he just drinks. Finally, there is Rosie (Kimia Behpoornia) and she is Abby's assistant. You can tell she wants to be her boss, so she does everything in her power to make sure Abby stays happy.
That is a good thing because Abby is going to need it. Her landlord died and now that lady's uptight nephew is in charge of the property. When Bill (Nelson Franklin) finds out about the bar, he wants to close it down because, you know, it is illegal. Everyone is going to do everything in their power to convince him to keep it open. Eventually, he gives in and becomes a member of the bar. Just because he is sitting in the primo spot does not mean he is going to stop putting in his 2 cents all the time.
The recently divorced Bill does not realize it at first but he really needs these people as his friends. They will help him out and slowly get him to remove the stick. Granted he is a work in progress.
The bar is not. This is not Cheers, but it is still about a makeshift family who enjoys being around one another. Granted the booze helps, but only a little bit.
Abby's is another great sitcom on NBC's Thursday lineup which is why it is still known as Must See TV, so see it.
I have to gone to a few tapings of Home & Family which also tapes outside on the lot and it is not easy. First off, it is less than 5 miles from Burbank airport and on windy days, planes fly right over them. There is an amusement park on the lot. It is also a very green area and that means there are animals and bugs around. You can't just shut it all out by closing the doors to the sound stage because there are no doors. Therefore, my hat is really off to them.
---
The Village is the feel good show we need right now
March 19th, 2019 under NBC. [ Comments:

none

]

How many of us wish we had neighbors that are as caring as our family? Tonight at 10p on NBC, The Village is the story of one building in Brooklyn where the residents are just that.
Enzo (Dominic Chianese) used to live in The Village, but his son thought his aging dad would be better off in a nursing home. Sarah (Michaela McManus) works there and she also lives in the building. She has arranged it so that one of her patients, Nick (Warren Christie) will get to live there too. He recently came back from Afghanistan where he lost his leg. When Nick goes to move in, he is greeted by the friendly super and bar owner, Ron (Frankie Faison), who welcomes him with open arms. As they are talking, cops come to arrest Ava (Moran Atias) because they say that she forged her immigration documents. Her neighbor Ben (Jerod Haynes) is a cop and tries to vouch for her during the arrest. It does not work. Ron calls his wife, who is a social worker, to help out. She calls their neighbor Gabe (Darren Kagasoff), who is in law school, and asks him to be her lawyer. He says he cannot help her because he hasn't graduated, but that won't stop Enzo's grandson from helping out. And we come full circle.
Enzo's friend/roommate passed away. When he gets one that he does not like, he asks Sarah to help him get rid of the new guy. She has problems of her own. Her teenage daughter, Katie (Grace Van Dien), who she had as a teenager, is pregnant. It takes a village to raise a child and Katie is going to have just that. Especially, since Enzo asks his grandson if he can move in with him and his girlfriend, and Gabe says yes.
Those are just a few of the stories that take place in this building where the neighbors actually care about each other.
The World is full of heartless people these days, so we need shows with heart. The Village is just that. To me, it is up there with New Amsterdam in that department. All heart and no bull. It is not a procedural where we have to solve the mystery of the week. It is not a superhero show where they have to save the day every week. It is not a medical show where they make us think we have an incurable disease every week. It is just a show about family helping each other out. Don't we need more shows like this on television? Watch so we can get more of this than the scare of the week. I promise you will adore it as much as me and my cat.
---