NBC announces its midseason schedule
November 9th, 2019 under NBC. [ Comments:

none

]

NBC is gearing up for 2020 and they announced when one of our favorite shows is ending and when our future faves will debut. The Good Place gets a 90-minute sendoff on January 30th. Right after the series ends, Seth Meyers will host a tribute to the heavenly sitcom.
On Monday, January 6th, AGT: Champions is back. Then on the 7th, Ellen's Game of Games is back and Zoey's Extraordinary Playlist gets a special preview. Finally, on the 10th of that week, we will get to know Lincoln Rhyme: Hunt for the Bone Collector.
On February 6th, Brooklyn Nine-Nine is back on the beat. The 16th gives on the season premieres of Zoey and Good Girls. On the 24th, The Voice is back with some guy names Nick Jonas.
Lastly in March, Little Big Shots returns and Council of Dads debuts.
Although not confirmed, it looks like the fat lady is singing for Perfect Harmony.
MONDAY
8-10 P.M. — America's Got Talent: The Champions (The Voice returns in February)
10-11 P.M. — Manifest
TUESDAY
8-9 P.M. — Ellen's Game of Games
9-10 P.M. — This Is Us (COUNCIL OF DADS begins in March)
10-11 P.M. — New Amsterdam
WEDNESDAY
8-9 P.M. — Chicago Med
9-10 P.M. — Chicago Fire
10-11 P.M. — Chicago P.D.
THURSDAY (Beginning in February)
8-8:30 P.M. — Superstore
8:30-9 P.M. — Brooklyn Nine-Nine
9-9:30 P.M. — Will & Grace
9:30-10 P.M. — INDEBTED
10-11 P.M. — Law & Order: SVU
FRIDAY
8-9 P.M. – LINCOLN RHYME: HUNT FOR THE BONE COLLECTOR (The Blacklist returns in March)
9-11 P.M — Dateline NBC
SUNDAY (March)
8-9 P.M. — LITTLE BIG SHOTS
9-10 P.M. — ZOEY'S EXTRAORDINARY PLAYLIST
10-11 P.M. – Good Girls
NEW DRAMA SERIES
"COUNCIL OF DADS"
To read descriptions of the new shows then click here!
---
NBC continues to be a Good Place with Perfect Harmony and Will & Grace
November 7th, 2019 under NBC. [ Comments:

none

]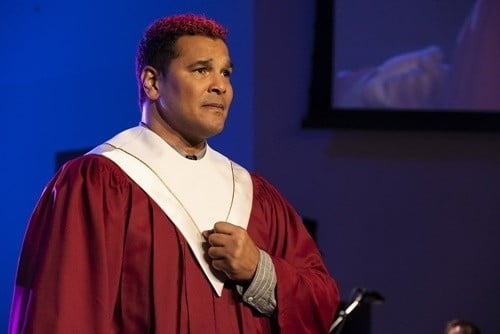 Tonight at 8:30p on NBC, the choir from Perfect Harmony go to watch another Church do their thing. They are much better than Arthur's group (Bradley Whitford). Therefore, when he meets a woman who sings like an angel, he asks her to join his chorus. What he did not know is that she is Ginny's (Anna Camp) rival? Now, he has to decide between the two. Who will he choose?
Back to the other Church, it is where Dwayne (Geno Segers) spent most of his life because his family goes there. Then when he came out to them, they kicked him out. Will seeing them get them to reunite or will his only family belong in his new Church, Second First Church of the Cumberlands
It is a night about rivals, full of a lot of winners.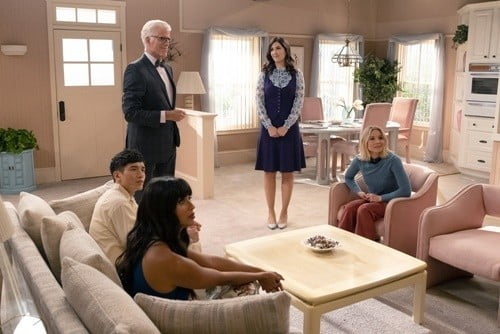 Then at 9p on The Good Place, it has been a year since they started the experiment to find out if humans can be good. They are in their final hours and it looks like Michael's (Ted Danson) team is going to lose. Can the humans save us or are we all doomed to the Bad Place forever? You don't want to miss the final seconds…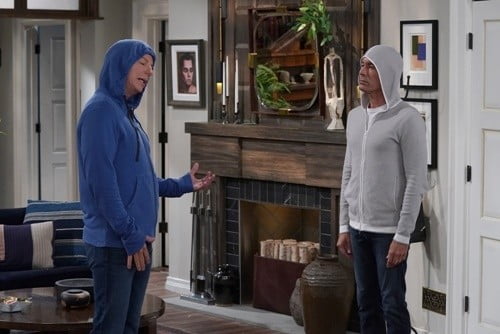 Finally at 9:30p on Will & Grace, Will (Eric McCormack) is afraid he is going to lose his hair, so he goes to a specialist to get a transplant. After talking to the doctor he decides to go bald and get Jack (Sean Hayes) to do it with him. How will the two men look bald? You don't want to miss it!
Meanwhile, Grace (Debra Messing) gets the results of her DNA test and realizes she is related to someone we know. Can you guess who?
Finally, Karen (Megan Mullally) plays poker with her ex-brother-in-law and she wins his baseball team. She is going to be running the bases with them whether they like it or not…
If the below photo does not make you watch, then nothing will.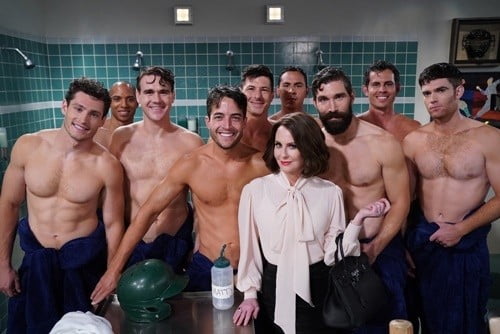 ---
Punky Brewster and her BFF Cherie
November 5th, 2019 under NBC, Reunions. [ Comments:

none

]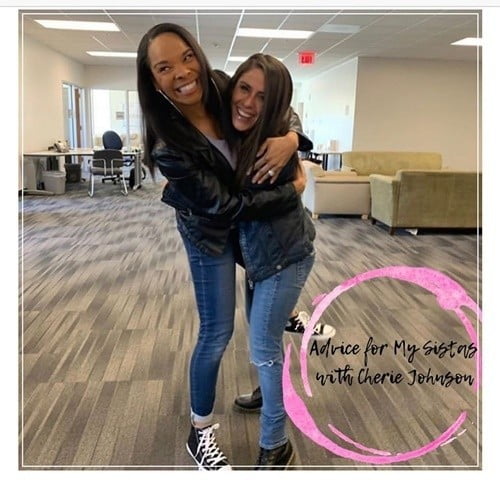 Back in September, NBC announced that they are reviving Punky Brewster for its streaming site Peacock. Now we are getting to see Soleil Moon Frye, the spunky little orphan, with her best friend Cherie Johnson
again.
Even though, it has been 31 years since their show ended its first run, the two of them look as close ever. Which makes me even more excited for the revival. Especially since there are rumors Peacock might be free!
---
It is Must See Halloween on NBC!
October 31st, 2019 under NBC. [ Comments:

none

]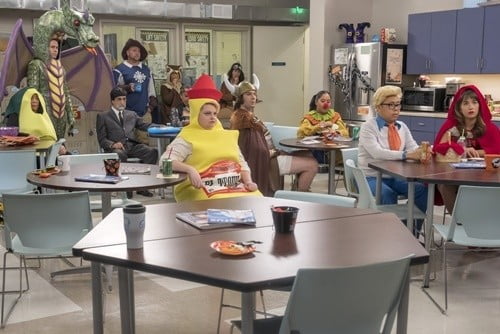 It is Halloween on Superstore and tonight at 8p on NBC, everyone is dressing up for the holiday at Cloud 9. To make it fun for everyone, they have turned the gardening center into a haunted house. It so haunted Glenn (Mark McKinney) will not go inside. Until he is forced to. What happens when he does?
Someone else is scary coming to Cloud 9 and it is the new District Manager. Everything goes smoothly until Amy (America Ferrera) finds out that the employees got enough people to unionize. She is for the union, but management isn't. Now she has to hide it from her boss. Which is easier said than done. How will they screw it up? They will have help from a former castmember.
While the episode is funny as usual, it is worth tuning in just for the costumes.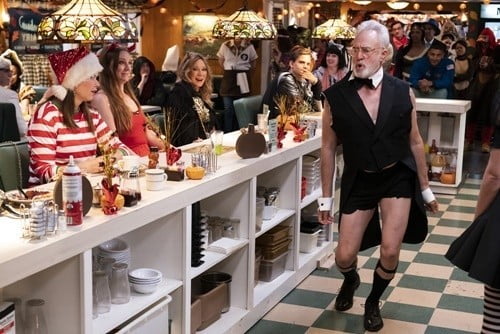 Then at 8:30p, Perfect Harmony starts off the episode with Halloween Howlers that are like Christmas Carolers singing Halloween themed Chistmas songs. They have a good night until they go to the wrong house. Can you guess whose house it is?
Adams (Tymberlee Hill) is invited to a Halloween party, but she doesn't want to leave her restaurant on its busiest night. Ginny (Anna Camp) offers to be the manager for the night and Adams begrudgingly agrees.
Ginny comes up with a great idea to make money for the night and everything is going smoothly until it doesn't. A simple typo makes things complicated and it is up to Arthur (Bradley Whitford) to save the day. All I will tell you is involves Whitford doing a very sexy striptease!
I want you to watch tonight's episode so that NBC will give it a full season. But I will convince you by telling you that the striptease is hotter than anything you have seen in Magic Mike!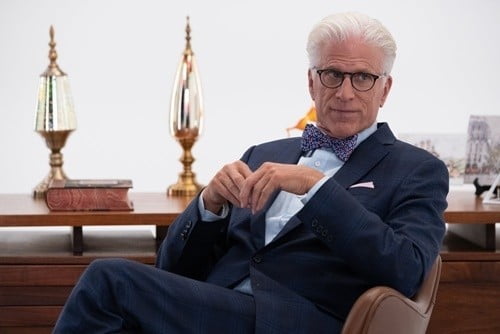 Then at 9p, it is storytime on The Good Place. Michael (Ted Danson) tells Bad Janet (D'Arcy Carden) a story to convince her that humans are not as bad as she thinks they are. Can he win her over or will she fall asleep from boredom?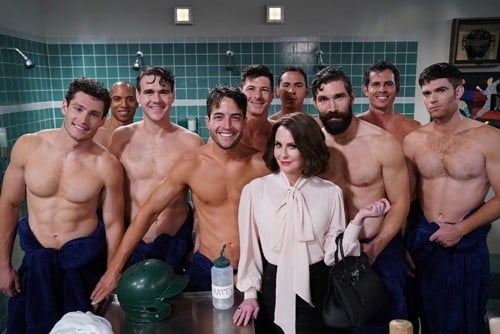 Finally at 9:30p, they save the scariest episode for last. It is time for Grace (Debra Messing) to find out who is her baby daddy on Will & Grace. Karen (Megan Mullally) brings all of the candidates together at Grace's apartment to first tell them that they might have gotten Grace pregnant and then to get them to take a DNA test. How will they react to the news? Oh, and the above photo is from next week's episode. But I thought it would be fun to tease tonight's show.
As Grace prepares for motherhood, Will (Eric McCormack) and Jack (Sean Hayes) wonder if they will be good dads. There are a lot of sweet moments between these two. Ones you don't want to miss.
This is why Thursdays are always Must See TV on NBC!
---
Looks like Bluff City Law's case is closed
October 18th, 2019 under NBC. [ Comments:

none

]

NBC's new shows are not having a good season. Earlier this week, it was revealed that starting next Thursday the heartwarming comedy Sunnyside will air its remaining seven episodes on the NBC app, NBC.com and Hulu, but not NBC proper.
Today, Memphis' Commercial Appeal reported that Bluff City Law, which films in that city, will not be getting any additional episodes this season. They will film the 10 that were ordered and that is it. However, NBC is not saying the show that is cancelled, but it is pretty much a given.
I am sad that NBC did not give it more of a chance. The legal drama that stars Jimmy Smits had a good pilot, but each episode after that has been really strong with a lot of heart. They took on cases for people who really needed a voice. Which it made it different than all the other law shows and I really appreciated that. I am going to miss this show.
The only other new show left on NBC is Perfect Harmony and as of now its fate has not been decided. I hope the show that stars Bradley Whitford as a Church choir director is picked up for a full season. It is also a sweet show, but it could be all the Southern accents.
---