2 Divas for the Super Bowl on 2/2/20
September 26th, 2019 under J-Lo, Shakira, Super Bowl. [ Comments: none ]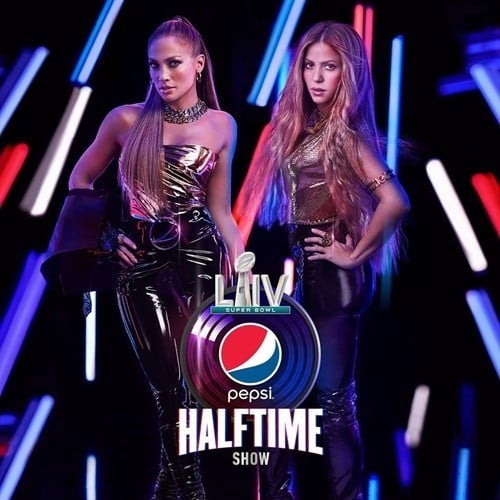 After this year's lame Super Bowl half time show with Maroon 5, the NFL and Pepsi are hoping to spice it up for 2020. Which is why they asked Jennifer Lopez to do her thing for them. Wait, my hips don't lie because it gets even hotter. They also got Shakira to join them in Miami on February 2nd.
While they are good choices, I am surprised they did not ask Gloria Estefan to do it. She is the Queen of Miami and should have been asked. Hopefully, the two Divas will find a way to incorporate her into their musical performance. She can get everyone to do the Conga.

---
Shakira forced to cancel even more dates
December 27th, 2017 under Shakira. [ Comments: 1 ]

Last month, Shakira cancelled several tour dates because of a hemorrhage on her vocal cords. She was hoping to be better by this time, so that she could hit the road again next month. Sadly, the singer is still healing and will have to postpone those dates.

It is not all bad news because she also announced that starting in June her El Dorado World Tour will travel to Europe, the US and Latin America. Those dates will be announced soon.

She also wanted to thank her fans for all the prayers and messages because they have helped her through this difficult time.

---
Shakira is forced to cancel European tour
November 14th, 2017 under Shakira, Sick Bay. [ Comments: 1 ]

Shakira had some heartbreaking news for her fans and also herself today, she is forced to postpone her European tour until next year. She revealed that she has a hemorrhage on her right vocal cord. The doctors put her on vocal rest, but it was not enough time for it to absorb back into her system. Therefore, they recommended she take a longer one and because of that she is taking the rest of the year off. This was not an easy decision for the singer, but she has no choice. Hopefully, she will be better soon!

---
BTWF talent shows: Shakira on Buscando Artista Infantil
September 19th, 2012 under Before They Were Famous, Shakira. [ Comments: none ]

Before Shakira was an international sensation, she was trying to win Telecaribe's Buscando Artista Infantil. Even when she was 11 in 1988 she knew how to work it for the camera.

---
Shakira is pregnant, so what does that mean for The Voice?
September 19th, 2012 under Shakira, The Voice. [ Comments: none ]

On Monday NBC announced that Shakira would be a coach on the spring edition of The Voice, and today the singer made another big announcement. The woman who can shake her hips better than anyone is pregnant with her first child. She broke the news on her site by saying, "As some of you may know, Gerard and I are very happy awaiting the arrival of our first baby! At this time we have decided to give priority to this unique moment in our lives and postpone all the promotional activities planned over the next few days."
According to Huff Post Voces back in mid-August she was about 17 weeks pregnant back then (although in the picture that Shakira Tweeted on 9/12 she doesn't look that far along) and expecting the little one around the beginning of the New Year. If that is the case, then what does that mean for The Voice? Will that give her enough time after having the baby to do the show? Will her pregnancy affect when she can tape the blind auditions since the fall edition is already on the air and two of the coaches are tied up doing that for the next few months. An email sent to the show's publicists has yet to be answered.

---