*NSYNC couldn't stop cursing during Hot Ones
September 21st, 2023 under JC Chasez, Joey Fatone, Justin Timberlake, Lance Bass, Sean Evans Hot Ones. [ Comments: none ]
*NYSNC's back, alright. Whoops, wrong boy band from the '90s.
Anyways, Justin Timberlake, Lance Bass, JC Chasez, Joey Fatone, and Chris Kirkpatrick reunited at the MTV VMAs last week. And the next day, they announced they were releasing their first single, Better Place, for the Trolls Band Together soundtrack in two decades.
If that was not enough, they sat down with Sean Evans for Hot Ones and ate some really hot wings. That, and between regretting their decision with each bite, they answered his questions with tears in their eyes.
They, minus Chasez, were in so much pain they couldn't stop cursing. So they asked who was the biggest curser that Evans had on the show in the last 22 seasons. The answer was Gordon Ramsay with 180 curse words. I say was because Fatone and Timberlake sang a little song called Fuck. It was just them saying fuck as fast as possible until fire came out of their mouths. Who knows? Maybe it will be on their next album.
When it comes to the rest of the interview, I was disappointed. But I did enjoy watching them all suffer.

---
Priyanka Chopra shows what it's like right after a celeb leaves First We Feast's Hot Ones
January 25th, 2021 under Priyanka Chopra, Sean Evans Hot Ones. [ Comments: none ]

Priyanka Chopra recorded an episode of First We Feast's Hot Ones. In case you don't know what that show is, it is a web series hosted by Sean Evans. While he interviews the guests, they eat chicken wings with varying types of hot sauces with peppers on the Scoville chart. In other words, with each hot question, the sauce gets hotter and hotter.
Since we only see the celebrities when the camera is one them, have you ever wondered what it is like when the cameras stop rolling? Well, now we know.
Mrs. Nick Jonas taped an episode on Friday and shared with us what it was like when she left the studio. In one hand, she has a glass of milk and in the other one some ice cream. No matter how much cold stuff she put on her tongue, the heat was still there. You can tell she regretted doing it.
I know that feeling, and it is no fun. What is even worse is the next time you poop. Oh, does your butthole hate you. Now, that is something I want to see. I just want to see the cheeks on their face when they are pooping, and not their cheeks that poop is coming from.
Then again, I am a sadist who is also a masochist when it comes to hot sauce.

---
Hot Ones: The Game Show brings the sweat, tears and vomit
February 18th, 2020 under Sean Evans Hot Ones, TruTV. [ Comments: none ]

I am a sadist who loves to drink hot sauce. Therefore, Hot Ones: The Game Show is like porn to me. Find out why it has me so excited tonight and every Tuesday at 10p on TruTV. I am pretty sure you have seen Sean Evans' webseries Hot Ones, well the game show is loosely based on it.
Before the first question is even asked, the two teams that consist of two people, have to eat a very hot wing. Then they proceed to answer three questions without anything to numb their mouths. On tonight's series premiere, one guy throws up before the commercial break. Will he be able to continue on? There are medical advisors on the show to determine if he can.
The second round is a repeat of the first round, but with a hotter wing. As the sweat pours out of their pores, they have to ask themselves is it worth it to go to the third round. For that round, they do not have to eat a wing before it starts. Instead, they have to take a big bite of a very hot wing if they get the answer correct. The team with the higher score goes on to the Ring of Fire.
That is when they have to do a shot of extremely hot sauce that turns your a$$ into a fire-breathing dragon. Since breathing out of their mouths in nearly impossible because of the pain. It does not help their lips and tongues that they are going to have to scream to their teammates through a huge ring of fire to win the grand prize. If they win this round, then they win $25,000 and as much milk they want. I hope they are not lactose intolerant because man it is going to burn coming out in so many ways.
It is rare I say I want to be on a game show, but this one is calling my name. I just want to try the sauces. I am up to tolerating Haberno without a problem, so I want to see how painful it is.
That and this show is a lot of fun to watch. You get to see the contestants are in so much physical pain. Is it wrong to enjoy that? I don't care. What I care about is how much I love this game show.

---
Paul Rudd takes the best naughty photos
October 17th, 2019 under Paul Rudd, Sean Evans Hot Ones. [ Comments: none ]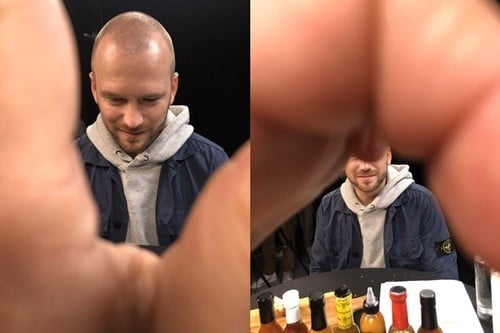 Paul Rudd was on Hot Ones and he took some spicy hot pornographic photos of Sean Evans. But there is a catch. Even though it looked like a naked man or woman was posing with the host, they were not. Instead, it was a trick he does with his fingers. Pretty cool like him!
Going from cool to hot, for the final wing, he did something they have not done before. They did a dab of all of the hot sauces on one wing. How did they do? They were in tears. Especially after Rudd convinced Evans to dip a finger in the leftover sauce and high-1 each other. Then when they were done, the Clueless actor made the biggest mistake, he touched his eyes. Burn baby burn, Disco inferno going on in his eyes. Worse than the pain he felt a few hours later. Burns going in, scorches going out.
I have to admit I have a greater respect for Ant-Man because it takes a big man to do all of those sauces at one. Talking about the sauces, did you know they sell them at Heatonist? I don't know which one to try first!
Lastly, if you want to see the whole Hot Ones episode with Rudd, then click here!

---
Hot Wings helps Jimmy Fallon hit those Bee Gees high notes
October 11th, 2019 under Jimmy Fallon, Priyanka Chopra, Sean Evans Hot Ones. [ Comments: none ]

Either Jimmy Fallon is a sadist or his staff is masochists. I say that because they brought back Sean Evans and his Hot Wings. The first time things did not go so smoothly for The Tonight Show host and this time, it went even worse.
At first, he and Priyanka Chopra were able to handle the heat, but then they could not stand being in Hell's Kitchen. Actually, they could not sit and they could only stand because they were in so much pain.
They were dancing like they were at a Disco in the '70s. Which gets us in the mood for the final question. That is when Evans asked Fallon to do a singing impression. Who did he choose? He went with the Bee Gees' Stayin' Alive and his notes might have been even higher the band's vocals. Who knew that was possible. I guess if you eat a pepper that is more than 400 times hotter than a Jalapeno, you can hit those notes that only dogs can hear.

---