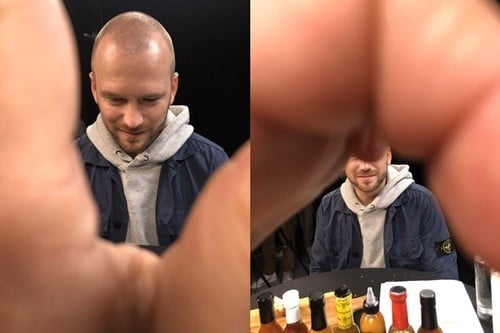 Paul Rudd was on Hot Ones and he took some spicy hot pornographic photos of Sean Evans. But there is a catch. Even though it looked like a naked man or woman was posing with the host, they were not. Instead, it was a trick he does with his fingers. Pretty cool like him!
Going from cool to hot, for the final wing, he did something they have not done before. They did a dab of all of the hot sauces on one wing. How did they do? They were in tears. Especially after Rudd convinced Evans to dip a finger in the leftover sauce and high-1 each other. Then when they were done, the Clueless actor made the biggest mistake, he touched his eyes. Burn baby burn, Disco inferno going on in his eyes. Worse than the pain he felt a few hours later. Burns going in, scorches going out.
I have to admit I have a greater respect for Ant-Man because it takes a big man to do all of those sauces at one. Talking about the sauces, did you know they sell them at Heatonist? I don't know which one to try first!
Lastly, if you want to see the whole Hot Ones episode with Rudd, then

---