Lance Bass was 'Doing it and doing it well' with women when he was in *NSYNC
July 23rd, 2019 under Andy Cohen, Lance Bass. [ Comments:

none

]

Yesterday Lance Bass was on Watch What Happens Live and he gave Andy Cohen an answer no one saw coming.
The Bravo host asked him if was a member of the mile-high club. The singer admitted that he was. Then Cohen followed it up by asking if it was before or after he dated his ex Reichen Lehmkuhl around 2006. To which Bass admitted it was well before because it was with a woman.
That's right, he was having sex with women while he was *NYSNC. In fact, he says, "I was doing and doing it well [with women]." Then he added, "We were doing what we had to do to survive." Sounds like he was doing a lot more than surviving. Don't you think?
---
Does Lance Bass think there will be an *NSYNC reunion?
April 30th, 2019 under Joey Fatone, Justin Timberlake, Lance Bass. [ Comments:

none

]
A few weeks ago, four of the members from *NSYNC performed with Ariana Grande at Coachella. Since then, everyone has wanted to know if they will make their reunion more permanent. Lance Bass was on Good Morning America today, and they asked him that very question.
He says since that night, they have had a lot offer to make it official and as of now, he says they are discussing their options. Then he added that he is down for it. I can see him and JC Chasez, Chris Kirkpatrick and Joey Fatone jumping at the chance, but I doubt that Justin Timberlake would do it. Even though, he needs them more than they need him.
I wonder if they are waiting to see how the Spice Girls do without Posh Spice. If they can succeed without out their biggest name, then why can't they. Personally, I think if they went on tour with just the four of them. they would do better than the Spice Girls. Not only because of how huge they were, but they have only had two one-date reunions since they split. The anticipation is greater.
Bass also talked about how that Coachella reunion happened. Grande called them last minute and luckily all four of them were available. Maybe she can be their fifth member and they can call themselves *ASYNC.
---
Justin Timberlake looks different than I remembered with *NSYNC
April 15th, 2019 under Ariana Grande, Joey Fatone, Lance Bass. [ Comments:

none

]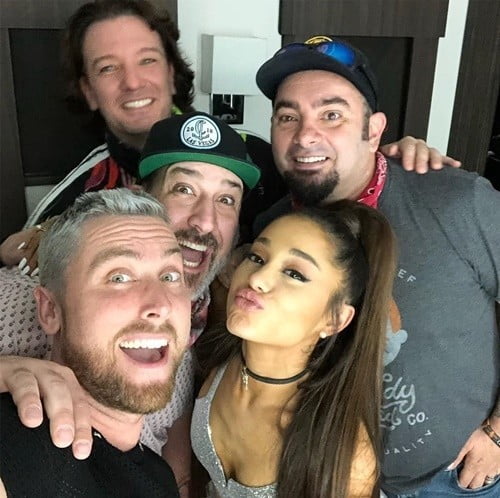 *NSYNC or should I say *SYNC (because their band name is made up from the last letters of the first names) reunited to sing Tearing Up My Heart with Ariana Grande at Coachella yesterday. Justin Timberlake was wrapping up his tour in Connecticut and I assume that is why he is not there. However, he sent a message to his bandmates today. He wrote, "You guys killed it last night 🙌"
Even with the sweet words, I wonder if this is JC Chasez, Chris Kirkpatrick, Joey Fatone, and Lance Bass's way of testing out the waters of doing a reunion tour without Timberlake like the Spice Girls are doing one without Victoria Beckham.
Would you go to see *SYNC if they hit the road together?
To get a glimpse of what that would be like and see their performance from last night, then click here!
---
Do teens know who *NSYNC is?
August 17th, 2018 under Joey Fatone, Justin Timberlake, Lance Bass. [ Comments:

none

]

Back at the turn of the century, every teen could tell you who was who in *NSYNC. Can teenagers today, who were not born when they were together as a band, tell you who is Joey Fatone and who is Justin Timberlake? Nope.
FBE asked teens what they thought of *NSYNC, the BTS of their time, and they barely knew who they were. That is going to hurt on so many levels. One for the band because their notoriety is bye, bye, bye. Then there are the fans who are going to feel old because kids that are the same as age as they were when they were into the boy band, can't tell you the members of the band are.
What is even sadder for Joey, Justin, Lance, JC and Chris, the teens did a better job when they were asked about Backstreet Boys. I guess the latter are still larger than life.
---
Lance Bass reveals that he did not get The Brady Bunch house
August 5th, 2018 under Lance Bass, The Brady Bunch. [ Comments:

none

]

It has been an emotional 24 hours for Lance Bass and Brady Bunch fans. On Friday night, he found out he had placed the winning bid for the iconic house, but then on Saturday, he was told he was outbid by a studio. I am assuming the studio is Paramount.

The singer was told by the real estate agent, Douglas Elliman, that no matter how much he bids that that studio will continue to one-up him. If I were Bass, then I would get all of his friends to contribute, This way that the deal becomes very costly for the studio. Heck, I will throw in a few bucks because I would love to tell the world that I am a part owner of The Brady Bunch House. I am sure I am not the only one. Every friend and family member I have taken there gets some joy from seeing it in person. It is a truly great experience.

Hopefully, whoever bought this house will take good care of it and tear down that fence. But we all know, the new owner will not love it as much as Bass would have loved it.

When it comes to the family, they never appreciated the house. They built a fence in front so that fans could not get too close. Then when Florence Henderson died, they kept removing the flowers that were left outside the makeshift memorial. Who does that? They are mean. They are as mean as school bully Buddy Hinton.
---