Paul Rudd takes the best naughty photos
October 17th, 2019 under Paul Rudd, Sean Evans Hot Ones. [ Comments:

none

]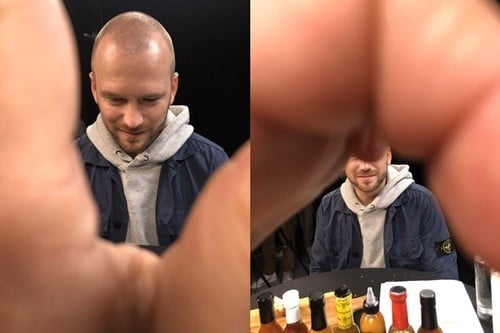 Paul Rudd was on Hot Ones and he took some spicy hot pornographic photos of Sean Evans. But there is a catch. Even though it looked like a naked man or woman was posing with the host, they were not. Instead, it was a trick he does with his fingers. Pretty cool like him!
Going from cool to hot, for the final wing, he did something they have not done before. They did a dab of all of the hot sauces on one wing. How did they do? They were in tears. Especially after Rudd convinced Evans to dip a finger in the leftover sauce and high-1 each other. Then when they were done, the Clueless actor made the biggest mistake, he touched his eyes. Burn baby burn, Disco inferno going on in his eyes. Worse than the pain he felt a few hours later. Burns going in, scorches going out.
I have to admit I have a greater respect for Ant-Man because it takes a big man to do all of those sauces at one. Talking about the sauces, did you know they sell them at Heatonist? I don't know which one to try first!
Lastly, if you want to see the whole Hot Ones episode with Rudd, then click here!
---
James Corden and Paul Rudd's inappropriate dancing
April 30th, 2019 under James Corden, Paul Rudd. [ Comments:

none

]

When you think of James Corden and Paul Rudd, you think they lean more towards the goody two shoe side. That is unless you ask them to record videos for their kids' songs. Then they do things that are more NC-17 than G. Things I did not see men do until I was old enough to go to clubs at 15.
Can't believe that these two men can be innocent and naughty at the same? Then watch this documentary that aired on The Late Late Show yesterday to see them do things that now has them banned from going near nursery and elementary schools for the rest of their lives. Who knew?
---
Paul Rudd spins me round like a record as Pete Burns!
April 26th, 2019 under Jimmy Fallon, Paul Rudd. [ Comments:

none

]

Yesterday on The Tonight Show, Jimmy Fallon and Paul Rudd recreated Dead or Alive's You Spin Me Round (Like a Record) music video shot for shot. While it was not perfect, because there was only one Pete Burns, it was pretty gosh darn close. There was just something so cool about the singer not giving a sh!t when he did that shoot. Although, in the recreation, you can tell that Ant-Man was having a blast doing what he was probably doing his bedroom back in 1985 while watching MTV.
---
Jimmy Fallon and Paul Rudd perfectly recreate an awful Styx video!
April 30th, 2016 under Jimmy Fallon, Paul Rudd. [ Comments:

none

]

Paul Rudd and Jimmy Fallon had too much time on their hands, so they recreated the Styx's 1981 music video for Too Much Time On My Hands. I guess in the early '80s they were still high from whatever stale drugs were left over from the '60s, so their music videos were trippy and not in a good way.
But in a way that 35 years later, the NBC late night host and the Ant-Man could copy it. When you watch it, you think there is no way that the original was that horrible. Then you watch the original one and you see that it was. Making us wonder, why did they hate Disco so much when Rock bands were coming up with stuff like this. Plus, it makes me sad because Tommy Shaw and Styx did a lot of brilliant music like Renegade, Come Sail Away, Mr Roboto and What If, and this kind of nullifies all of those classic works.
---
BTWF ads: Paul Rudd for Toyota Tercel
July 16th, 2015 under Before They Were Famous, Paul Rudd. [ Comments:

none

]

Before Paul Rudd had a car in Clueless, he had to borrow his brother's Toyota Tercel. How cute is the 22 year old in that 1992 ad?
---