Did Paul Rudd finally show a different clip than the Mac and Me on Conan?
June 22nd, 2021 under Conan O'Brien, Paul Rudd. [ Comments:

none

]
Paul Rudd has been a guest on Conan O'Brien's late night talk shows for over 25 years. Every time he appears on the show, he makes sure to show a clip from a movie. Not the one he is promoting, but one from Mac and Me.
Yesterday, Rudd made a surprise appearance on Conan for the last week of the TBS show. Rudd promised to show a clip from an unaired Saturday Night Live skit he did with Bill Hader. Would this finally be the time that he would show something other than Mac and Me? Nope.
Then Rudd explained how it all came about. The Clueless actor thought it was "so artificial" to show a clip from the movie he was in, so he decided to show one from another movie. It was between showing the Mac and Me clip and one from Baby Geniuses. Eventually, we know which one he chose. Did he make the right choice? He made sure to show a clip; was it the one from Baby Geniuses? You are just going to have to watch the last chapter in a story that has been told for a quarter of a century.
To see where it all began, then click here!

---
26-year-old Paul Rudd wants you to wear a mask
September 15th, 2020 under Coronavirus, Paul Rudd. [ Comments:

none

]

Paul Rudd is so sick of clueless people who don't wear masks. Therefore, he teamed up with Governor Andrew Cuomo to create a PSA that will hopefully convince other 26-year-olds, like himself, to wear a mask. That age group is a huge spreaders of COVID-19, so if they can cover their noses and mouths, then maybe we can go to the movies again before 2022.
Don't you miss sitting in a movie theater or going to a concert? Then wear a mask. There is no excuse now because there are so many. You can even find one that matches your personality like the ones from Naughty Bits. Go have some fun and wear a facial covering with your favorite band or sports team on it. Remember going to watch games? Want to again? You know what to do. so do it.

---
BTWF: Paul Rudd in Halloween: The Curse of Michael Myers
October 29th, 2019 under Before They Were Famous, Halloween (movies), Paul Rudd. [ Comments:

none

]

Before Paul Rudd was super strong as Ant-Man, he needed that strength to take on Michael Myers in Halloween: The Curse of Michael Myers. How kick-ass was the 20-year-old in that 1988 movie?

---
Watch Paul Rudd take a 4 minute nap
October 22nd, 2019 under James Corden, Paul Rudd. [ Comments:

none

]

We can watch Paul Rudd do anything, but do we want to watch him sleeping for four minutes? That is what The Late Late Show decided to find out yesterday. Thus, they recorded him getting some shuteye. Did you watch him napping for all four minutes like James Corden or did you find yourself taking a nap too? I found myself daydreaming about me sleeping next to him and opening my eyes to see that. It was a nice quickie!

---
Paul Rudd takes the best naughty photos
October 17th, 2019 under Paul Rudd, Sean Evans Hot Ones. [ Comments:

none

]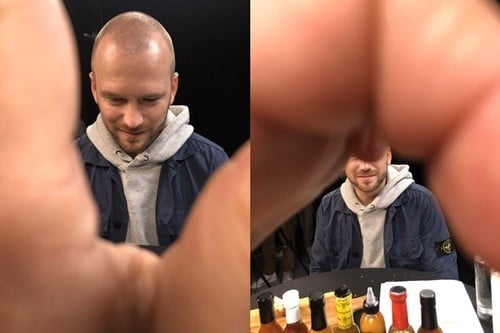 Paul Rudd was on Hot Ones and he took some spicy hot pornographic photos of Sean Evans. But there is a catch. Even though it looked like a naked man or woman was posing with the host, they were not. Instead, it was a trick he does with his fingers. Pretty cool like him!
Going from cool to hot, for the final wing, he did something they have not done before. They did a dab of all of the hot sauces on one wing. How did they do? They were in tears. Especially after Rudd convinced Evans to dip a finger in the leftover sauce and high-1 each other. Then when they were done, the Clueless actor made the biggest mistake, he touched his eyes. Burn baby burn, Disco inferno going on in his eyes. Worse than the pain he felt a few hours later. Burns going in, scorches going out.
I have to admit I have a greater respect for Ant-Man because it takes a big man to do all of those sauces at one. Talking about the sauces, did you know they sell them at Heatonist? I don't know which one to try first!
Lastly, if you want to see the whole Hot Ones episode with Rudd, then click here!

---