Paul Rudd confirms he massaged Seth Rogen while massaging Stephen Colbert
November 17th, 2021 under Paul Rudd, Stephen Colbert. [ Comments: none ]
Over the summer, Seth Rogen tweeted a story about Paul Rudd pranking him. He revealed that, "Once I was in the spa in a hotel in Vegas getting a massage. When I finished I turned over and to my shock Paul Rudd was massaging me. He saw me go in and convinced the masseuse to let him take over, thinking I'd notice immediately. I didn't, and Paul did the entire rest of it."
Yesterday, when People's Sexiest Man Alive was on The Late Show, Stephen Colbert wanted to know if it was true. It is.
Then the CBS late night host asked for Rudd to demonstrate how good he is at, which he did.
Does Rudd give good massages? Let's just say that Colbert declared, "This is really sexy!"
This is just one more reason why the Clueless actor was given his title from People. That and because he is really sexy! He can massage me anytime. But then again, I will take one from anyone, anytime.

---
Dreamcam offers Paul Rudd $1,000,000 to livestream in an apron on Thanksgiving
November 11th, 2021 under Paul Rudd. [ Comments: none ]
Earlier this week, Paul Rudd was named People's Sexiest Man Alive. Even though he is only a few hours into his reign, the ageless actor has already been offered a $1,000,000 because of it. Dreamcam wants him to make people thankful by doing a one-hour live stream on Thanksgiving.
Dear Paul Rudd,
I wanted to reach out and extend you a congratulations for winning People Magazine's "2021
Sexiest Man Alive." It's an impressive accolade and puts you in a distinguished category
alongside some of Hollywood's hottest men, including Michael B. Jordan, George Clooney,
Matthew McConaughey and Ben Affleck.

Given your newly appointed status as Hollywood's sexiest man and considering the fact that
Thanksgiving is right around the corner, we at Dreamcam – a live virtual reality adult
entertainment platform – wanted to extend you an offer of up to $1,000,000 to participate in
an hour-long live cam session to keep lonely people company this holiday. As you know,
Thanksgiving can be a lonely time for people without family to surround themselves with. We'd
love for you to stream yourself live on Dreamcam – adorned in a sexy apron with a chef's hat

while you candy your yams, baste your bird and butter your biscuits – for people to tune in and
watch. They can put on their virtual reality headsets, go to www.dreamcam.com and be
teleported to your kitchen and feel as though they are sitting at the dinner table right alongside
you.
What do you say? You had to know the XXX offers would start to pour in after today.

Take some time to consider my offer and get back to me at your earliest convenience.
Best,
Peter Williams
VP at Dreamcam
Well, this offer made my thermometer pop! I hope he says yes because there are too many people who will be spending this holiday alone, and this could make them feel less lonely.
Would you watch it? I would. Especially if he is wearing just an apron, I want to see his buns! And I am not talking about the ones on the table. I am talking about the ones that go on the chair.

---
Did Paul Rudd expose himself to Graham Norton?
November 8th, 2021 under Graham Norton, Paul Rudd. [ Comments: none ]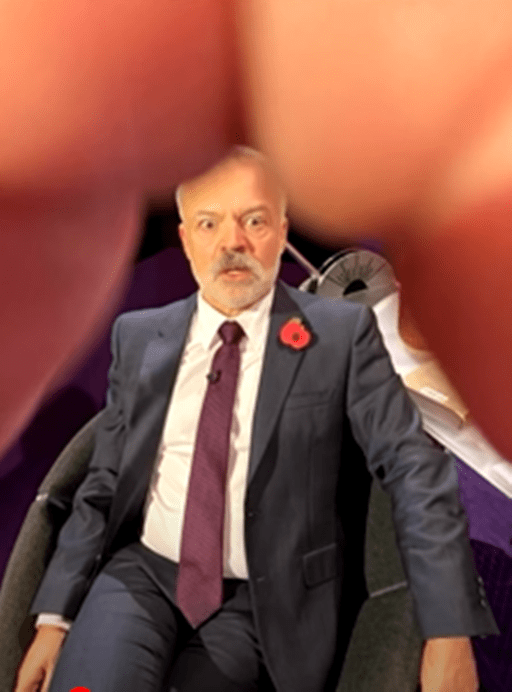 Paul Rudd was on The Graham Norton Show on Friday, and we got this photo of the actor with the host. So did Rudd answer the question if he is built like an Ant-Man?
To find out, then click here!

---
Did Paul Rudd finally show a different clip than the Mac and Me on Conan?
June 22nd, 2021 under Conan O'Brien, Paul Rudd. [ Comments: none ]
Paul Rudd has been a guest on Conan O'Brien's late night talk shows for over 25 years. Every time he appears on the show, he makes sure to show a clip from a movie. Not the one he is promoting, but one from Mac and Me.
Yesterday, Rudd made a surprise appearance on Conan for the last week of the TBS show. Rudd promised to show a clip from an unaired Saturday Night Live skit he did with Bill Hader. Would this finally be the time that he would show something other than Mac and Me? Nope.
Then Rudd explained how it all came about. The Clueless actor thought it was "so artificial" to show a clip from the movie he was in, so he decided to show one from another movie. It was between showing the Mac and Me clip and one from Baby Geniuses. Eventually, we know which one he chose. Did he make the right choice? He made sure to show a clip; was it the one from Baby Geniuses? You are just going to have to watch the last chapter in a story that has been told for a quarter of a century.
To see where it all began, then click here!

---
26-year-old Paul Rudd wants you to wear a mask
September 15th, 2020 under Coronavirus, Paul Rudd. [ Comments: none ]

Paul Rudd is so sick of clueless people who don't wear masks. Therefore, he teamed up with Governor Andrew Cuomo to create a PSA that will hopefully convince other 26-year-olds, like himself, to wear a mask. That age group is a huge spreaders of COVID-19, so if they can cover their noses and mouths, then maybe we can go to the movies again before 2022.
Don't you miss sitting in a movie theater or going to a concert? Then wear a mask. There is no excuse now because there are so many. You can even find one that matches your personality like the ones from Naughty Bits. Go have some fun and wear a facial covering with your favorite band or sports team on it. Remember going to watch games? Want to again? You know what to do. so do it.

---