The Goonies reunite, as Adam F. Goldberg reveals he's working on a sequel
April 27th, 2020 under Josh Brolin, Mackenzie and Sean Astin, The Goldbergs, The Two Coreys. [ Comments: none ]

Next week, The Goonies turns the big 3-5. In honor of that anniversary, Sean Astin, Corey Feldman, Jeff Cohen, Ke Huy Quan, Josh Brolin, Kerri Green, and Martha Plimpton reunited today to talk about the movie that still has a giant cult following.
So much so, Adam F. Goldberg dedicated two episodes from his sitcoms to it. One on his Fox show Breaking In and the other on his ABC comedy The Goldbergs. You can say he is a huge fan. How huge? He revealed, "For the last 9 years I've been secretly writing PART 2 for fun. It's my masterpiece. I even had a big meeting scheduled with Richard Donner… canceled 'cause of the lockdown! THE GOONIES 2 WILL happen when life resumes. Promise!!!"
If anyone could write a sequel that is loyal to the original, it is him. I hope Donner takes that meeting as soon as he is allowed to take meetings again. Who doesn't want a Goonies 2? And who doesn't want it from someone who really idolized the original film?
I know it is a little premature, but let's all do the Truffle Shuffle in honor of this most excellent news.

---
Rudy finally gets a sequel and it is finger looking good!
September 5th, 2019 under Fast Food, Mackenzie and Sean Astin. [ Comments: none ]

It has been almost 23 years since Rudy scored a touchdown with audiences and now it is finally getting a sequel. This time around Sean Astin's character's dream is to be Colonel Sanders and his wish will come true.
While it is not the movie you were expecting, stranger things have happened. Why couldn't he go from football player to Kentucky Fried Chicken spokesman? I would watch!
Seriously, I am so happy the Sean Astin summer of appreciation is continuing on. He is one of the good guys in Hollywood. Which is why he is always playing that type of role. Well maybe not in The Strain, but other than that he is always the guy you root for.
One little tidbit, the man who tells Astin that he cannot become the head of KFC is the real Rudy Ruettiger. Two Rudys in one shot.

---
Remember John Astin?
August 23rd, 2019 under Mackenzie and Sean Astin. [ Comments: none ]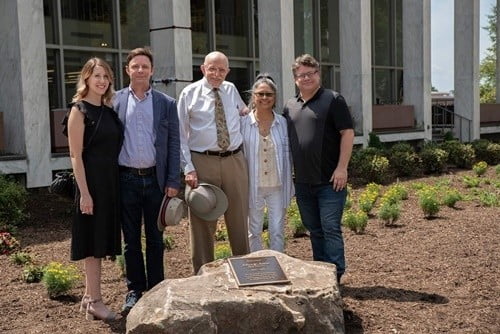 via Linda Iroff
John Astin was joined by his two sons with Patty Duke to honor his late dad. Allen Astin was the director emeritus at the National Institute of Standards and Technology and they held a garden ceremony to commemorate him. After the event, John and his wife, Valerie Ann Sandobal, Sean, Mackenzie and his wife, Jennifer toured the campus.
Now that we got out of the way, let's talk about how amazing The Addams Family patriarch looks at 89. Can you believe it? I wonder what his secret is?
Not only does he look fantastic, but his smile also makes me smile. I have been watching him as Buddy on Night Court on LAFF recently and he is pure joy on the sitcom. That is just who he is. How can you not feel happiness when you see him? My day is instantly brighter after seeing him, and I hope yours is too.
When it comes to his boys, we see them all the time on TV. Even though we know the stranger things that they have been doing, it is so sweet to see them with their dad. They have his personality and warmth. Mackenzie is his spitting image minus his pop's mustache. Something I am glad that Gomez still has. It is his signature look so he can never shave it off. If he did, then how would we recognize him? I guess his personality would shine through, but I still love his stache!

---
Dead Ant, the most ANTicipated horredy of the year is out now!
January 26th, 2019 under Mackenzie and Sean Astin, Tom Arnold. [ Comments: none ]

Dead Ant is a bitchin' movie about stoned rockers getting attacked by oversized ants. It is the movie we all need as a release from all of the World's problem. Therefore, after you read this, either run out to see it in the theater or watch it OnDemand or Digital ASAP.
You know you are in for a treat when the movie starts out with a pretty young woman being chased in the desert by an oversized ant who wants to kill her. As she is running for her life, she for some reason takes off her bikini top, jean shorts and underwear. That means she is completely naked. Why? Because that is how a great horror comedy begins.
Now it is time to meet the band. Sonic Grove is a hair metal band who has not had a hit since Hair Metal was a thing. They realize they have to change their look and sound if they want to be stars again. Their manager (Tom Arnold) booked them a gig at Nochella in the desert. Before they play the gig, Art (Sean Astin) and Stevie (Leisha Hailey) are going to pick up the best peyote from a Native American leader. That guy warns them to be careful not to hurt any bugs. If they do, then they will be cursed. Of course, he does not listen and pays the price.
Meanwhile, the rest of the band (Sydney Sweeney, Jake Busey, Leisha Hailey, Rhys Coiro) and their groupies (Natasha Blasick, Joi Liaye, Cameron Richardson) are on the tour bus, looking for a spot to stop so they can write a new song together. They find that spot and wait to be joined by Art and Stevie. Only Stevie shows up, and she has the peyote.
They smoke up and everything is awesome. That is until they get attacked by a large ants. They start to kill these ugly black bugs. Every time they do, they get bigger and bigger. They need to get out of there if they want to survive, so they run back to the bus for safety. One of them ran into Stevie's car and they won't leave without her. While they are waiting for her, the ants are now the size of the bus. The art department did a great job of making the ugly creatures look realistic.
How are they going to get out of there before they become ant food? You don't want to miss it because it all ends in a way that is as awesome as the best guitar solo any band would die to do.
Dead Ant is not going to win an Oscar, but it is going to win its way into your heart. It has sex, drugs, rock'n'roll and laughs. What more do you need from a movie these days? Therefore, get some peyote and watch Dead Ant. It will make all of your problems will go away.

---
Dead Ant proves good actors can do bad movies!
December 10th, 2018 under Mackenzie and Sean Astin, Tom Arnold. [ Comments: none ]

There are actors who will say yes to whatever movie that they are offered and sometimes they make the right choice.
For example, Sean Astin, Tom Arnold and Jake Busey said yes to starring in Dead Ant. A film about a Rock band that does some really strong peyote in a desert and gets attacked by huge killer ants!
I don't know how the Oscars can ignore this brilliant movie that is coming to home video on January 25th. It might be why no one wants to host the thing this year. The closest they came to getting someone, was someone who is the size of an ant.
Seriously, what would you rather see: The Green Book or Dead Ant? Dead Ant of course because it is totally rockin'!

---