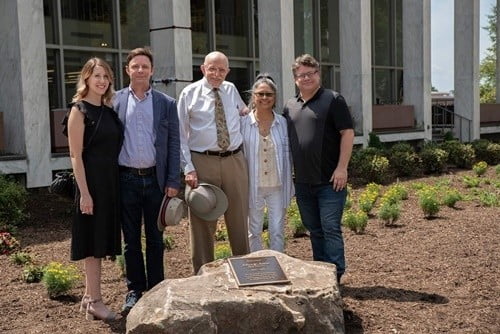 via Linda Iroff
John Astin was joined by his two sons with Patty Duke to honor his late dad. Allen Astin was the director emeritus at the National Institute of Standards and Technology and they held a garden ceremony to commemorate him. After the event, John and his wife, Valerie Ann Sandobal, Sean, Mackenzie and his wife, Jennifer toured the campus.
Now that we got out of the way, let's talk about how amazing The Addams Family patriarch looks at 89. Can you believe it? I wonder what his secret is?
Not only does he look fantastic, but his smile also makes me smile. I have been watching him as Buddy on Night Court on LAFF recently and he is pure joy on the sitcom. That is just who he is. How can you not feel happiness when you see him? My day is instantly brighter after seeing him, and I hope yours is too.
When it comes to his boys, we see them all the time on TV. Even though we know the stranger things that they have been doing, it is so sweet to see them with their dad. They have his personality and warmth. Mackenzie is his spitting image minus his pop's mustache. Something I am glad that Gomez still has. It is his signature look so he can never shave it off. If he did, then how would we recognize him? I guess his personality would shine through, but I still love his stache!
---