This fan gave up great lengths to get Tom Arnold's autograph
September 19th, 2022 under Tom Arnold. [ Comments: none ]
Fans have asked celebrities to sign different parts of their bodies, including their butts. However, Tom Arnold did more than autograph a fan's body part.
Sadly for the actor, it was a man, and it wasn't his boobs that he wanted inked. Instead, he asked the actor to cut shoulder-length hair so that he could get Tom Arnold's name on the nape of his neck.
I don't know what is worse, the haircut or the fact that he wants to walk around with Tom Arnold on the back of his head. I have a feeling the fan is going to regret it as much as Roseanne regretted her Tom Arnold tat.
If you could get any celeb to sign your body, who would it be and where?

---
Do Tom Arnold and Cloris Leachman have something to tell us?
April 29th, 2019 under Cloris Leachman, Do they have something to tell us?, Tom Arnold. [ Comments: none ]

Cloris Leachman was seen amorously sitting on Tom Arnold's lap and him telling her she is the one. Does that mean they have something to tell us? Yes, the two of them are working on Christmas movie called High Holiday with Jennifer Tilly, Diane Franklin and Robert Carradine. I do not know about you, but I cannot wait to see this film.
You know what, if they were really hooking, it would not be such a bad thing for him. After all, we all know he has done much worse.

---
Cloris Leachman is still acting!
April 24th, 2019 under Cloris Leachman, Tom Arnold. [ Comments: none ]

I don't know about you, but I was getting worried about Cloris Leachman because I could not remember the last time we saw her. Well, the worrying is over because the beloved actress, who is going to turn 93 on April 30th, is starring in a new movie with Tom Arnold and Jennifer Tilly that is filming now. I don't know what High Holiday is about, but I am so excited to see this film with a cast as awesome as this.
Now, can we get back to Leachman being 92? She looks fantastic, just like she did when she was on The Mary Tyler Moore Show in the '70s.
In case you were wondering why she seems a little stoned, Tilly says that she was just getting into character because that is what she is in this scene. Then Tilly added that she is still sharp as a tack. Nothing can ever stop Leachman from being the funny lady that she is naturally.
I wish that someone would do a show with Sue Ann and Phyllis reuniting at Lars' funeral and deciding to move in together. Could you imagine the hijinx that she and Betty White could get into if they worked together again? Comedic diamonds.

---
Do Tom Arnold and Jennifer Tilly have something to tell us?
April 23rd, 2019 under Do they have something to tell us?, Tom Arnold. [ Comments: none ]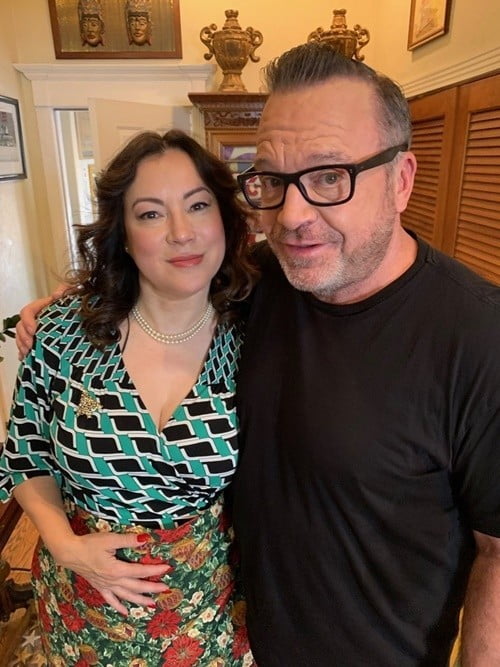 Tom Arnold and Jennifer Tilly shared photos of each other and called themselves husband and wife. Do they have something to tell us? Yes, they are married. However it is only for their movie together High Holiday. Don't they look good together?

---
Dead Ant, the most ANTicipated horredy of the year is out now!
January 26th, 2019 under Mackenzie and Sean Astin, Tom Arnold. [ Comments: none ]

Dead Ant is a bitchin' movie about stoned rockers getting attacked by oversized ants. It is the movie we all need as a release from all of the World's problem. Therefore, after you read this, either run out to see it in the theater or watch it OnDemand or Digital ASAP.
You know you are in for a treat when the movie starts out with a pretty young woman being chased in the desert by an oversized ant who wants to kill her. As she is running for her life, she for some reason takes off her bikini top, jean shorts and underwear. That means she is completely naked. Why? Because that is how a great horror comedy begins.
Now it is time to meet the band. Sonic Grove is a hair metal band who has not had a hit since Hair Metal was a thing. They realize they have to change their look and sound if they want to be stars again. Their manager (Tom Arnold) booked them a gig at Nochella in the desert. Before they play the gig, Art (Sean Astin) and Stevie (Leisha Hailey) are going to pick up the best peyote from a Native American leader. That guy warns them to be careful not to hurt any bugs. If they do, then they will be cursed. Of course, he does not listen and pays the price.
Meanwhile, the rest of the band (Sydney Sweeney, Jake Busey, Leisha Hailey, Rhys Coiro) and their groupies (Natasha Blasick, Joi Liaye, Cameron Richardson) are on the tour bus, looking for a spot to stop so they can write a new song together. They find that spot and wait to be joined by Art and Stevie. Only Stevie shows up, and she has the peyote.
They smoke up and everything is awesome. That is until they get attacked by a large ants. They start to kill these ugly black bugs. Every time they do, they get bigger and bigger. They need to get out of there if they want to survive, so they run back to the bus for safety. One of them ran into Stevie's car and they won't leave without her. While they are waiting for her, the ants are now the size of the bus. The art department did a great job of making the ugly creatures look realistic.
How are they going to get out of there before they become ant food? You don't want to miss it because it all ends in a way that is as awesome as the best guitar solo any band would die to do.
Dead Ant is not going to win an Oscar, but it is going to win its way into your heart. It has sex, drugs, rock'n'roll and laughs. What more do you need from a movie these days? Therefore, get some peyote and watch Dead Ant. It will make all of your problems will go away.

---