BTWF: Linda Gray for Viceroy
May 1st, 2023 under Before They Were Famous, Dallas. [ Comments: none ]
Before Linda Gray was married to J.R. Ewing, she was dating a guy and smoking Viceroy cigarettes with him. How beautiful was the 23-year-old in that 1964 commercial? It almost negates all the negative messaging from that era.

---
An '80s Primetime Soaps fan's wet dream!
May 1st, 2023 under Dallas, Donna Mills, Joan Collins. [ Comments: none ]
Back in the '80s, people were glued to their televisions watching Knots Landing, Dynasty, and Dallas. However, we never saw the show's biggest divas in one room.
However, now we are because Donna Mills, 82, Joan Collins, 89, and Linda Gray, 82, are featured in Hello magazine, and we got this photo of Abby Fairgate, Alexis Carrington, and Sue Ellen Ewing.
And how gorgeous do all of those leading ladies look? So much so that I feel like there is a show in there somewhere. Could you imagine them bringing back the Primetime Soaps genre? It would be a huge hit! Especially with all of the catfights.

---
BTWF: Patrick Duffy for Taco Bell
December 6th, 2021 under Before They Were Famous, Dallas. [ Comments: none ]
Before Patrick Duffy was an oil tycoon in Dallas, he was working for Taco Bell in 1976. Who else is screaming yo quiero the 26-year-old actor?

---
Is Linda Gray really 80 years old?
September 14th, 2020 under Are they really their age?, Dallas. [ Comments: none ]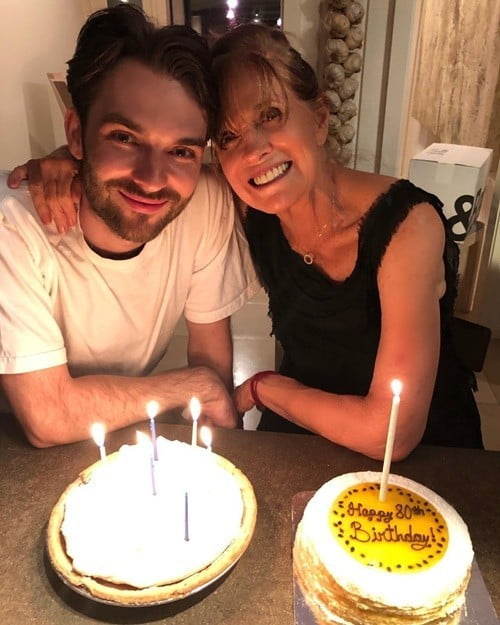 Linda Gray/Instagram
On Saturday, Linda Gray turned the big 8-0. However, I would never believe it. I mean, her birthday cake says it, but her face doesn't.
The Dallas star is not only aging with grace, she is also aging beautifully. Although, she has always been beautiful. The actress is just getting even better with age.

---
Is Victoria Principal really 70 years old?
July 15th, 2020 under Are they really their age?, Dallas. [ Comments: 1 ]

Back in the '70s, Victoria Principal was one of the most desired women of the decade. Now that she is 70, will people still desire her? Look at the Dallas star, of course, they will. She is still as fiery as her red hair.

---