Lifetime adds five more movies to their Christmas tree this year
August 3rd, 2020 under Lifetime. [ Comments:

none

]

Lifetime announced five more original movies for this Christmas bringing their total to 30. Of those five movies, one will feature a same-sex couple, and another is about an Asian-American family.
In The Christmas Set-Up, Hugo is reunited with his high school crush, Patrick, who is also interested in him. They won't need the help of mistletoe to kiss. Patrick's mom is helping that happen.
That is just one of the movies that we will get to see. A Sugar & Spice Holiday is the story about Suzie returning home to spend the holidays with her Chinese family. While she is there, she starts cooking things up with an old high school friend.
Melissa Joan Hart, Jason Preistley, and Robin Givens star in Dear Christmas. Tiffany Haddish is producing Christmas Unwrapped that stars Amber Stevens West.
All of the above, are sharing the holidays with Betty White. Her movie was previously announced.
To read descriptions of the new movies, then click here!

---
Finally some happy news, Betty White is going to do a Lifetime Christmas movie!
May 7th, 2020 under Betty White, Lifetime. [ Comments:

none

]

There has not been a lot to look forward to in 2020, but that all changed today. Lifetime announced that Miss Betty White is going to be starring in one of their Christmas movies.
According to the network, "National treasure Betty White joins the Lifetime holiday family for an untitled Christmas movie in which she helps whip would-be Santa's into shape, spreading the true meaning of Christmas and leading everyone to wonder: is she secretly Mrs. Claus?"
Lifetime better cast some good looking young men to play Mrs. Claus' Santa wannabes. She might be 98 years young, but she is still the sexiest woman in any room. That means she needs to work with men that are equally as hot.
She is not the only big name coming to the network. Jamie Lee Curtis stars in How We Sleep at Night: The Sara Cunningham Story. Robin Roberts has another movie in the works with them. The channel can't enough of TAFKAP Harry and Meghan Markle, so they are getting a third movie. When it come to the other holiday movies, White's star power will be joined Kelly Rowland, Mario Lopez and Melissa Joan Hart in their own movies.
Normally, Lifetime makes me cry. Today they made me smile.

---
Lifetime is doing anti-mothers Mother's Day marathon!
April 27th, 2020 under Lifetime. [ Comments:

none

]

I have always said if I ran a television station, I would air Mommie Dearest for 24 hours straight on Mother's Day. Well, Lifetime is doing something close to that on May 8th and May 9th. They are doing a marathon of their movies based on some awful moms who almost make Joan Crawford look like a good one.
Since most of us will not be able to spend the holiday with our moms because of social distancing, watch these movies so you won't feel as bad. Have her watch too, so she will appreciate how well you turned out as compared to some of the children in these telemovies. It is a win/win for everyone but the dads.
Mommy Knows Best Movie Event
Saturday, May 9th on Lifetime
(All times ET/PT)
11am Beyond the Headlines: Kamiyah Mobley
12pm Stolen By My Mother: The Kamiyah Mobley Story
2pm Remember Me, Mommy
4pm My Mom's Darkest Secrets
6pm Mommy Knows Worst
8pm MATERNAL SECRETS – World Premiere
10pm The Wrong Stepmother
Sunday, May 10th on Lifetime
(All times ET/PT)
10am Love You to Death
12pm Into the Arms of Danger
2pm The Other Mother
4pm Mommy Group Murder
6pm Maternal Secrets
8pm Mommy is a Murderer
10pm Dying for Motherhood

---
Lifetime brings The Facts of Life girls together for Christmas
October 21st, 2019 under Lifetime, The Facts of Life. [ Comments:

none

]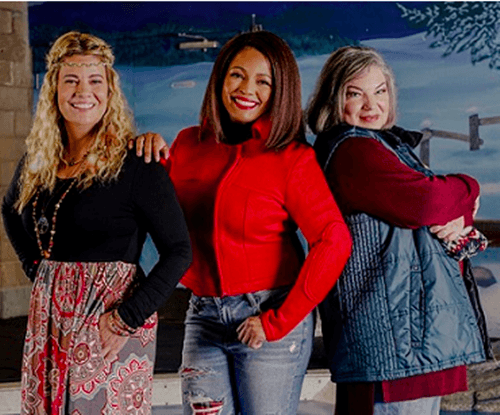 Back in 1979, we got to know Tootie, Natalie, Blair and Jo on The Facts of Life. This Christmas, Kim Fields, Mindy Cohn, Lisa Whelchel and Nancy McKeon are going to have a 40th reunion on Lifetime in the movie You Light Up My Christmas.
Fields, who is starring and producing the telemovie, explained why she asked her classmates to join her. She said, "We're sisters. We have a ball when we get to hang out personally and holidays are about family, memories and fun. So, when the opportunity came up to combine all of that with You Light Up My Christmas, I invited Lisa, Mindy and Nancy to make some fun, Christmas cameos and was thrilled they all enthusiastically jumped on board." Maybe Lifetime will see how well the four of them still work together that they will consider giving them a revival. How awesome would that be?
Charlotte Rae, who passed away last year, will also be part of the film. They named an ice rink after her. Therefore, you should look out for it when the movie debuts on December 1st.

---
Lifetime announces a celebrity Christmas game show and lots of holiday movies
August 22nd, 2019 under Lifetime. [ Comments:

none

]

We are four months and three days away from Christmas. However, we get to open one gift today, thanks to Lifetime. That is because they announced most of their plans for the holiday season. They will be unwrapping 28 new movies and a game show starting on October 25th. They are not even waiting for Halloween to start the season.
This Christmas will be full of stars on the network and I am not talking about the ones we put on the trees. Their movies are full of them like Kelly Rowland, Melissa Joan Hart, Tia Mowry-Hardrict, Vanessa Lachey, Hilarie Burton, Megan Hilty, Sarah Drew, Tatyana Ali, Jana Kramer, Soleil Moon Frye, Marla Sokoloff, Kim Fields, Erin Cahill, Tiya Sircar, Kyla Pratt, Keshia Knight Pulliam, Marie Osmond, Jaclyn Smith, Cheryl Ladd, Loretta Devine, Megan Park, Ricardo Chavira, Jaleel White, Patrick Duffy, Moira Kelly, Markie Post, Pam Grier, Willie Garson, Patricia Richardson, George Stults, Ryan McPartlin, Antwon Tanner, Tyler Hilton, Ted McGinley, Michael Gross, Christian de la Puente, Erica Durance, Lesley Ann Warren and many more.
Since there are so many of them, they decided to have some of the actors compete on Battle of the Christmas Movie Stars on December 21st after all of the films have aired. They will take part in DIY challenges like gift-wrapping a co-star to decorating an ugly Christmas sweater. The winner will be chosen from a panel of fans. The one who has the spirit is the winner of the holiday. However, I bet all they really want is to have a telemovie franchise of their own.
Before they get that present, they still have to star in one of their many heartfelt movies that will warm up our cold October, November and December nights. To read descriptions of the so-far announced telemovies, then click here!

---