Doom Patrol is back on June 25th
May 13th, 2020 under Brendan Fraser, DC Comics, HBO Max, Matt Bomer. [ Comments:

none

]

Last summer's best new show will be back for a second season on June 25th. However, Doom Patrol will not be returning to DC Universe. Instead. it is moving over to the new streaming service HBO Max.
As excited as I am for the new season, I want to know how they are going to top the mass orgasm scene. That is going to be hard to top. But, I am sure the producers are going to cum, I mean come, close.
HBO Max debuts on May 27th, and they will have a slew of other shows besides Doom Patrol streaming. To see what other series are coming to the streaming service starting on June 18th, then click here!
---
Head of the Class OGs Khrystyne Haje and Dan Frischman talk about the reboot
May 12th, 2020 under 80s, Bill Lawrence, HBO Max. [ Comments:

none

]

Back in the '80s, if you were a teenager, then you were watching Head of the Class, a sitcom about gifted students who were all in the same high school class. The honor students made being smart in school look cool. Thus, you and your friends would debate after each episode if you were a Simone or a Darlene, or who was cuter Arvid or Alan? We also all wished our teacher was as awesome Mr. Moore. It is such a timeless sitcom that it still airs in syndication now.

Having said all of that, it makes sense that someone would want to reboot it for the new millennium. That person is Undateable, Spin City, CougarTown, and Scrubs' creator Bill Lawrence, and he is bringing back the show to HBO Max, according to The Hollywood Reporter.

As much as I love that Lawrence is the person doing the remake, I personally like it better when reboots include the original cast. Therefore, I reached out to two of the cast members to see what they thought of the news.

Khrystyne Haje, who played the sweet girl next door Simone, told me, "I absolutely loved the whole Head of the Class experience. The show brought me so much joy & opportunity. Our cast was kismet. I was inspired by their talent and got some of the deepest friendships in my life as a result." Then she added, "I also love the message of Head of the Class. It still needs to be shared. I'm grateful that it's a show the family can watch together. Everyone can learn & laugh together. That. Is. The. Best." You can still see Haje's long red curls in several commercials and she just finished a movie that is in post-production.

Dan Frischman, who was the lovable nerd Arvid, said he thinks that it is, "Great that the show will have a new life with new students." He is so looking forward to it, that he is offering to direct an episode. The actor directed some episodes of Sam & Cat. When he is not directing television shows and live theater, he has been entertaining us with his fun magic acts on YouTube. Believe me, you will want to check them out because they are mesmerizing.

He is not the only one who went on to do stuff behind the scenes. Brian Robbins, the bad boy on the show, is now the President of Nickelodeon. Before he got the job he created All That and its spinoffs, and One Tree Hill. Dan Schneider, who was always getting in trouble, came up with iCarly and Victorious.

Some of the classmates are still working in front of the camera, Tony O'Dell guest-starred on Cobra Kai, and Robin Givens is a regular on Riverdale.

Not only was the show successful, but so was the cast. Which is why I think we should start a petition for them to appear on the reboot. Since they graduated in 1991, it is time for their 30th reunion, which can be held, at Millard Fillmore High School in Manhattan. Take a look at the recent photo of them, and tell me they are not camera ready.
---
The one where the Friends get together for an unscripted reunion
February 21st, 2020 under Friends (cast), HBO Max. [ Comments:

none

]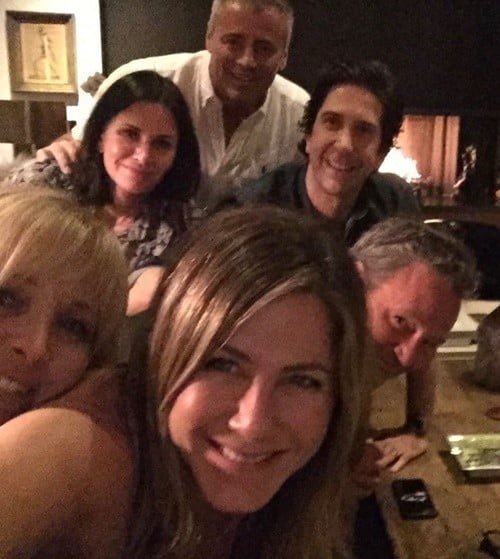 The on-again, off-again unscripted Friends reunion is offically on. HBO Max announced that the deal was signed on the dotted line by Jennifer Aniston, Courteney Cox, Lisa Kudrow, Matt LeBlanc, Matthew Perry, and David Schwimmer today, so that means it is happening.
They did not say when it would air, but it sounds like it will be part of the streaming service's launch in May. For those of you who desperately need your Friends' fix, that will be when all 236 will be available to stream.
I know Friends' fans are excited by this news, but I picture it being a total snobfest from most of the six. There is a certain amount of arrogance that comes off from some of them. Not saying which ones, but we all know who they are.
Anyways, I don't think it will be as fun as the sitcom because they are not like their scripted characters. Therefore, it will be interesting to see how they will do without a script. Not sure if Perry will be able to save it. He is the only one I have seen of the six that can be naturally funny and not make it be all about him. Although, I think Kudrow will be able to help him out. Will the other four be able to do the same? I am not sure they can.
But hey, at least the fans will be able to say they got a reunion. Isn't that what they have been asking for, for all of this time? I wonder if they will be disappointed when they realize that this is just a reunion special that is all talk and not an actual new episode.
BTW Can you tell I am not a fan of Friends? I liked the first few seasons, but then I got bored with it.
---
HBO Max is coming in May for…
October 29th, 2019 under HBO Max. [ Comments:

none

]

There are so many streaming sites now and the really good ones charge a monthly subscription. Which makes you wonder how much you are willing to shell out for all or most of them. Some are under $5, some are closer to $10 and a few want $14.99.
HBO Max announced today that in May it will debut for $14.99 a month. Yes, they have over 10,000 hours of content, but are people willing to pay that much when they can get Disney+ for less than $5 or Hulu for $5.99 or Netflix for $11.99? It is a lot of money with all the other channels and streaming sites out there. I think they should try to find a way to lower that cost or they will go away like AppleTV eventually will.
To see what you are getting for $14.99, then click here!
---
The Rock is no longer a baller
August 22nd, 2019 under HBO Max, The Rock. [ Comments:

none

]
https://www.instagram.com/tv/B1fGY8ZllTB/?igshid=ybbz3glyonr
The Rock announced today that this season of Ballers will be its last. He did not explain why it is ending (we can all assume he has way too many other projects and this one is very time consuming), but he is grateful for the five seasons that they produced.
Even though he revealed that the sports drama is ending, the fifth season has not even begun to air. You can tune into HBO this Sunday at 10:30p for the final season premiere.
What can you expect from the last eight episodes? This season finds Spencer (Johnson) settling into retirement and reflecting on his past, when an offer that's too good to refuse comes his way and sends him back into the lion's den, this time as a team owner. In the wake of his split with Spencer, an ambitious Joe (Rob Corddry) gambles aggressively to make Sports X greater than ever with the help of his new partner, Lance (Russell Brand). Meanwhile, Ricky (John David Washington) has a startling setback that forces him to consider a new kind of future and tests his physical, mental and emotional resolve; Charles (Omar Miller) learns that being a general manager means getting your hands dirty; Vernon (Donovan W. Carter) shifts his focus to his love of professional gaming despite Reggie's (London Brown) wariness; and Jason (Troy Garity) decides to take his career to the next level.
Are you sad to see Ballers end up in the end zone or do you think it still had a few touchdowns left in it? Since I went to college with DJ, I better know my football terminology when I post about him.
---