Pretty Little Liars is back with new pretty little liars!
June 15th, 2022 under HBO Max. [ Comments: none ]
Are you missing Pretty Little Liars? Well, it is getting a sequel on HBO Max, and the first three episodes begin streaming on June 28th.
Pretty Little Liars: Original Sin starts off twenty years ago after a series of tragic events almost ripped the blue-collar town of Millwood apart. Now, in present day, a disparate group of teen girls — a brand-new set of Little Liars — find themselves tormented by an unknown Assailant and made to pay for the secret sin committed by their parents two decades ago…as well as their own.
The new Liars are played by Bailee Madison, Chandler Kinney, Zaria, Malia Pyles, and Maia Reficco, and they live just a few miles away from the ones we used to know.
The series will stream all of its episodes over a four-week period. We get three episodes the first and last weeks and two during the middle two weeks. So mark your calendars because you don't want to miss a single secret.

---
American Girl is telling an important story on HBO Max and Cartoon Network
May 11th, 2022 under Barbie, HBO Max. [ Comments: none ]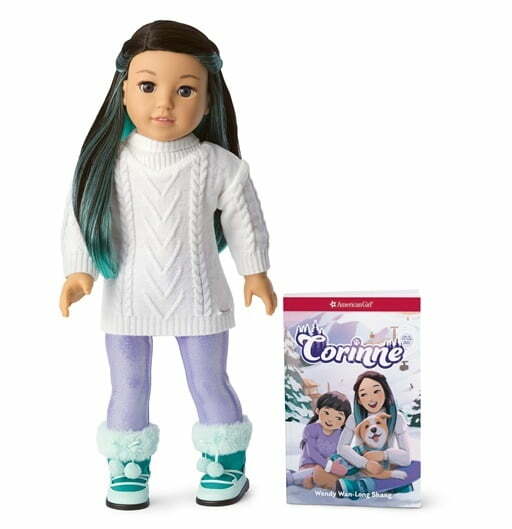 With half of all marriages ending in divorce, that means there are a lot of kids who will grow up without a two-parent household like their friends. Unfortunately, there is not a lot on TV that is made for them.
However, American Girl and Mattel teamed up with HBO Max, Cartoon Network, and MarVista to tell the story of Corrine Tan who is dealing with her parents' recent divorce with two 60-minute specials.
The first 60-minute special follows 13-year-old ski enthusiast Corinne Tan as she navigates her parents' recent divorce while her 10-year-old sister, Gwynn, dad, mom, and stepdad Arne have adjusted to their new roles in this blended family. She discovers a new purpose when she challenges herself to train a rambunctious puppy named Flurry to become a search and rescue dog. American Girl: Corinne Tan tells the inspirational story of a proud big sister as she comes to understand family, perseverance, and self-acceptance.
Fred Soulie, Senior Vice President and General Manager, Mattel Television. "Corinne is a strong role model, encouraging viewers to be their true, authentic selves. We are proud to bring her rich story to life and inspire television audiences of all ages."
American Girl: Corinne Tan debuts in December on Cartoon Network and will stream the next day on HBO Max. The second special will air in 2023.

---
Gloria Estefan and Andy Garcia in Father of the Bride
May 9th, 2022 under Andy Garcia, Gloria Estefan, HBO Max. [ Comments: 1 ]
Gloria Estefan and Andy Garcia are starring in the third incarnation of Father of the Bride on June 16th. Today, HBO Max released the first trailer for the movie, and what took so long for these Cuban Miamians to work together. Their chemistry is perfect, so I can't wait to see this movie, even if their characters don't get along.

---
Larry David did something unfunny to HBO
March 1st, 2022 under HBO Max, Larry David. [ Comments: none ]
On February 16th, HBO announced that it was going to air a two-part documentary about Larry David on March 1st. However, less than 30 hours before the premiere something changed. HBO Docs announced, "The #LarryDavidStory on @HBOMax is being postponed. Instead, Larry has decided he wants to do it in front of an audience. Stay tuned for more info."
I hope he is bringing the cameras with him as he attempts to go live with his story. Because if not, that is a messed-up thing he did to the network at the last minute.
But then again, they have been in bed with him since 2000 with Curb Your Enthusiasm. And they know he will give them another season when he feels like it.

---
HBO Max is giving us a new generation of Degrassi
January 13th, 2022 under Degrassi, HBO Max. [ Comments: 1 ]
Degrassi has been around for over 40 years, and that is long enough to give us a third generation of the show about high school and everything that comes along with it. Therefore, HBO Max is giving birth to the third take of it.
The original Degrassi launched in 1979 and ran until 1991. Degrassi: The Next Generation ran from 2001-2015. And coming in 2023, we will get the next next generation.
Since this is just an announcement, we don't know if anyone (minus Drake) from the original two versions will be back in some form. But, I am hoping they find a way to merge them all together. That is what made TNG so special.
Well, that and the fact that they take on uncomfortable issues and make them relatable for the teenage audience. They don't shy away from the challenging and controversial subjects like abortion, homosexuality, suicide, teenage pregnancy, and so much more.
Unlike American shows that focus on teens, Degrassi is not cheesy or dumbed down. They keep it real, and teens appreciate that. I am hoping they continue to do that with the upcoming ten episodes.
Even though the second sequel will not debut for another year, The Next Generation will begin streaming in the Spring on HBO Max. And the mothership is coming to the Cartoon Network soon. If you have never seen the 1,0, then you should watch it. It is television excellence.
Can you tell I am a Degrassi fan and can't wait to see what happens next?

---