Helen Keller is a Barbie doll
May 18th, 2021 under Barbie. [ Comments: none ]
Helen Keller is a role model for the deaf and blind community and people who aren't in it. She was the first person to earn a Bachelor's degree with her disabilities. This was during a time when it was even difficult for women to go to college.
After she graduated, she became an outspoken person for people with disabilities, women's rights, and against racial inequality.
Keller was an inspirational woman. So much so that Barbie is honoring her with a doll in their Inspiring Women series.
"My favorite part of the design process for the Inspiring Women series is the research," Carlyle reveals. "Because of her achievement as the first deafblind person to earn a Bachelor of Arts degree, I wanted to capture that time in her life, imagining what she might have looked like and worn as a student at Radcliffe College in the very early 1900s. I found a few pictures of a young Helen during that time and combined that with research on women's style during the Edwardian period."
Keller is the 12th doll in the series. She joins an elite group of women in this category. They are Amelia Earhart, Billie Jean King, Rosa Parks, Susan B. Anthony, Sally Ride, Ella Fitzgerald, Maya Angelou, First Lady Eleanor Roosevelt, Katherine Johnson, Frida Kahlo, and Florence Nightingale.
If you want to add Keller to your collection, the beautiful doll is available now for $29.99.

---
Want to stay at a real Barbie™ Malibu Dreamhouse?
October 17th, 2019 under Airbnb, Barbie. [ Comments: none ]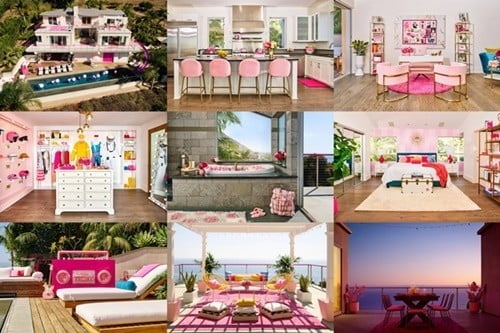 Have you ever wanted to stay in a Barbie™ Malibu Dreamhouse? Well now you can! AirBNB and Barbie teamed up to make our dreamhouse come true. For $60 per night, you can stay at home that is Barbie approved between October 27-29th.
It is being described as, "Located in the heart of Malibu, my Dreamhouse has three floors with ocean views and open spaces for friends and family to hang. My pool is the perfect place to cool off from the California sun, but I never travel without my waterslide, so I'll be taking that with me. And whether you're enjoying an outdoor meal, watching a movie in my personal cinema, or making s'mores under the stars, the best part is just being together."
Heck for $60 a night, even I am thinking about doing it. Who is with me?
BTW I wonder if Ken is included! I guess if he was, it would cost a little more for that service.

---
BTWF roles: Christina Applegate for Pose Me Pretty Barbie
March 22nd, 2018 under Barbie, Before They Were Famous, Christina Applegate. [ Comments: none ]

Before Christina Applegate was playing with boys on Married…with Children, she was playing with Pose Me Pretty Barbie. How awwwwdorable was the 11-year-old in that 1983 commercial?

---
There are 15 new Ken dolls and one has a man bun!
June 20th, 2017 under Barbie. [ Comments: none ]

If you think that man buns are ugly on men, then you are going to think that they are even uglier on a plastic one. But that didn't stop Mattle from giving one of their new Ken dolls that modern day hairdo.
Today, the toy company announced that on Good Morning America that they are introducing 15 new versions of their male Barbies featuring three different body types, seven different skin tones and nine different hairstyles.
No word how Barbie likes all of her new boyfriends, but you know that she likes the one the man bun the least. Only men with that hairstyle like it. Right David Beckham?

---
There are finally Barbies that look like you and me!
January 28th, 2016 under Barbie. [ Comments: none ]

Barbie has been the same size and shape for almost all of her existence, and now Mattel has given her a much needed makeover. The popular doll will now have a petite version, a taller version and one with some realistic curves on her. Not only is her body getting some changes, so will her hair and skin colors. There will be darker versions of the pale white doll and she will also have different hair colors and textures. Basically, she will be like us, and not like the people who have to get plastic surgery to be like her. About time!
Plus, she is reasonably priced, so little girls can enjoy her for under $20.
What do you think of the new Barbies?

---