All Mariah Carey wants for Christmas is her Barbie doll
November 17th, 2023 under Barbie, Mariah Carey. [ Comments: none ]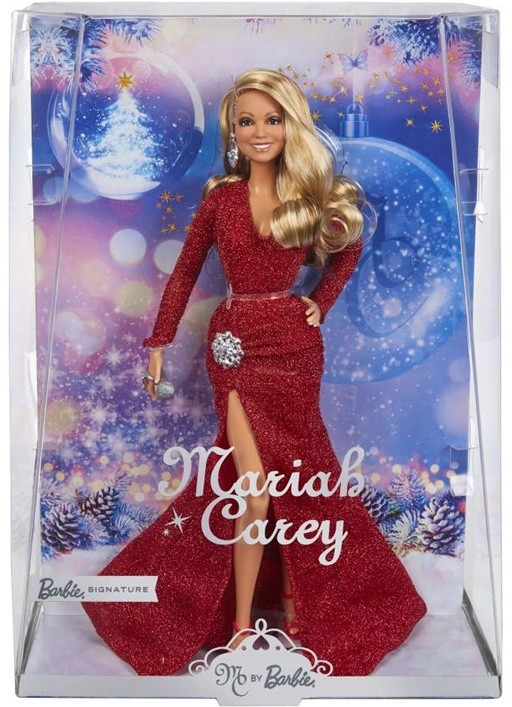 Barbie
It is Christmastime, and children all over the world want a Barbie doll under their tree. This year, they can get the Queen of Christmas as a gift. That is because Barbie turned Mariah Carey into one of their own.
The beautiful doll is wearing Mimi's signature red gown, red heels, and her oversized butterfly ring.
As perfect as she is for little girls, I think she is going to be bought by big girls who are going to display her Christmas as they play her song All I Want for Christmas is You.

---
Stevie Nicks says her Barbie doll has her heart
October 2nd, 2023 under Barbie. [ Comments: none ]
Stevie Nicks joins Tina Turner and Gloria Estefan as the latest Rock Icon to get her own Barbie doll. In honor of the release, the Fleetwood Mac singer revealed the emotions that she went through accepting Mattle's offer to bring her likeness to a Barbie.
My Stevie @Barbie has been with me now for several months. When Mattel came to me asking if I would like to have a Barbie made in the "Rumours" cover style I was very overwhelmed. Of course I questioned "would she look like me? Would she have my spirit? Would she have my heart…" When I look at her, I see my 27 year old self~ All the memories of walking out on a big stage in that black outfit and those gorgeous boots come rushing back~ and then I see myself now in her face. What we have been through since 1975~ the battles we have fought, the lessons we have learned~ together. I am her and she is me. She absolutely has my heart.

Thank you Mattel for working with me to make Stevie Barbie so pretty and so soulful and so real; she means the world to me!
The beautiful doll is wearing the black dress she wore on the album cover of Rumors, and she comes with Nicks' signature golden moon necklace, tall black boots, and a tambourine with cascading ribbons.
Rumours was the height of the band's success, so Mattle could not have picked a better moment to capture Nicks for an eternity. Seriously, I look at the photo, and I can hear her singing Dreams.
Don't wait too long to get her because they only made a limited amount of the Stevie Barbie.

---
Neil deGrasse Tyson reveals where he thinks Barbie Land is
August 10th, 2023 under Barbie, Neil deGrasse Tyson. [ Comments: none ]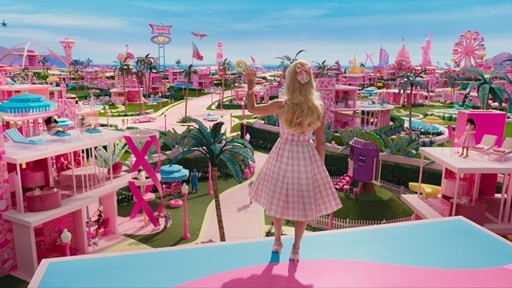 Did you watch the Barbie movie and wonder where in the world Barbie Land is? You are not alone. Neil deGrasse Tyson wondered the same thing, so he studied the sky in the movie to determine its location.
Is it in Malibu? Nope, but it is in another sunny location. The astrophysicist wrote, "In Barbie the Movie, the Moon's orientation places Barbie World between 20 & 40 degrees North Latitude on Earth. Palm trees further constrain latitude between 20 & 30 degrees.
"The Sun & Moon rose & set over the ocean.
"So if it's in the United States, then Barbie World lands somewhere in the Florida Keys."
This reveal almost makes up for Pluto not being a real planet. But not totally.

---
Amy Schumer reveals why she dropped out of the Barbie movie
June 9th, 2023 under Amy Schumer, Andy Cohen, Barbie. [ Comments: none ]
Before Margot Robbie was cast as the lead role in the Barbie movie, Amy Schumer had that part. However, the comedian dropped out of it.
Yesterday, when Amy Schumer was on Watch What Happens Live, Andy Cohen asked her why she walked away from it. Schumer said that it was because of creative differences and not scheduling conflicts, as her people told the press.
Then she added that the film she signed up for does not look like the one that is coming out on July 21st. Because of that, Schumer can't wait to see it. Then she explained why it looks awesome to her as compared to the script she was given, "There's a new team behind it, and it looks like it is very feminist and cool."
To be honest. Whatever the reason is that she parted ways from the feature, I think it was the best thing for the project. She is no Barbie. Barbie's funny BFF, but not the coolest doll in the toy store.

---
I want to live Barbie's world!
May 25th, 2023 under Barbie, Ryan Gosling. [ Comments: none ]
The full trailer for Barbie is out, and it is so like cool. So much so that I want to live in their world because it's perfect.
That is until Barbie (Margot Robbie) ruins it and has to come to our world. And Ken (Ryan Gosling) travels with her.
I can't wait for all of this to be unboxed on July 21st. Especially because it looks like they were having so much fun being exaggerated versions of the dolls we loved so much!

---