When will the housemates move into the Big Brother house?
May 22nd, 2023 under CBS. [ Comments: none ]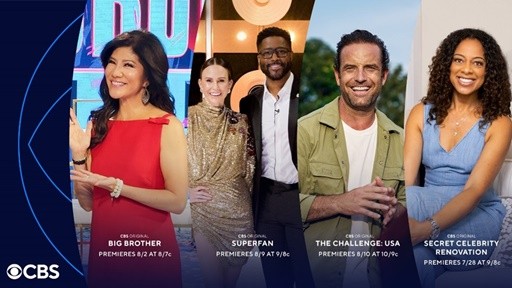 Big Brother fans were hoping that Big Brother would be back earlier this year because of the Writers Strike. But, instead, it is going to be back later because of it and the other potential strikes by the DGA and SAG.
So when will it return to our televisions? Unfortunately, you are going to have to wait until August 2nd to see the 25th edition. Can you believe we have 25 of those?
That is not the only reality show that is coming to CBS this summer. Secret Celebrity Renovation is back on July 28th. The musical game show Superfan will debut on August 9th. And finally, The Challenge USA premieres the next day.
To read about CBS's Summer offerings, then click here!

---
CBS announced its Fall schedule
May 10th, 2023 under CBS. [ Comments: none ]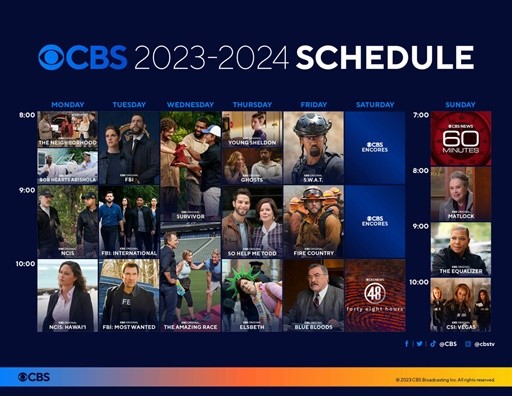 CBS has been doing pretty well this year. So we didn't expect too many changes to their lineup for next season. And there aren't many.
Mondays, Tuesdays, and Fridays are the same. On Wednesday, they are doing something unusual. They are only airing two shows, and both, Survivor and The Amazing Race, will be 90 minutes long. It will be interesting to see if people will want to watch that much of both shows. On Thursday, The Good Wife spinoff, Elsbeth, replaces CSI: Vegas at 10p. The latter is moving to Sundays at 10p and Kathy Bates will lead that night as Matlock. And who doesn't love Kathy Bates? Maybe the late James Caan, but that is all.
So just a few tweaks. And they are some good ones because Elsbeth has a built-in audience because people love their Good Wife. When it comes to Matlock, the trailer makes it look like a lot of fun.
Those are not the only two new shows coming to CBS. Justin Hartley will be starring in Tracker, which will make its debut after the Super Bowl. And Damon Wayans and his son Damon Wayans Jr. will be starring in the sitcom Poppa's House. I am assuming that will take Bob Hearts Abishola's timeslot in 2024.
To read about the new series, then click here!

---
CBS decides they do want more of Shemar Moore
May 8th, 2023 under CBS, Shemar Moore. [ Comments: none ]
On Friday, CBS cancelled S.W.A.T. after six seasons. Then Shemar Moore made a plea on social media to get his series more episodes, and the fans wanted it too. So they reached out to CBS, and now the show will be back for a seventh and final season.
"We have listened to our viewers and their outpouring of passion for S.W.A.T., and we have reached an agreement to renew it for a final season of 13 episodes to air during the 2023-2024 broadcast year," Amy Reisenbach, President, CBS Entertainment, and Katherine Pope, President, Sony Pictures Television Studios, said in a joint statement. "S.W.A.T. has aired for six seasons on CBS and garnered a devoted following. We are pleased that we found a way to bring it back and give closure to the show's storylines and characters, which audiences deserve. Once again, we appreciate the talents and efforts of the cast, writers, producers and crew and everyone who has contributed to the success of S.W.A.T. We look forward to its return next season."
Moore added, "Ayyeee!!!!! We did it #SWATFAM!!! @swatcbs is coming back for a 7th and Final season with 13 Episodes!!! Thank you to all of you for the continued and amazing support!! Let's go 👊🏽💯🔥💪🏽"
I love when a series gets saved after being cancelled. It is a Hollywood fairytale. Although, the Evil Stepmother will have to go after another show like East New York to compensate for the cost of S.W.A.T.'s renewal.
CBS will announce its Fall schedule on Wednesday.

---
CBS swats S.W.A.T. off of its schedule
May 5th, 2023 under CBS, Shemar Moore. [ Comments: none ]
Shemar Moore is a free man because CBS cancelled his police procedural S.W.A.T., which was about an LA S.W.A.T. team.
"For six seasons, the amazing talents of the S.W.A.T. cast led by Shemar Moore, the writers, producers and crew guided by executive producers Shawn Ryan, Andy Dettman and Aaron Rahsaan Thomas brought us compelling, action packed episodes that also addressed important social issues and contributed to the success of our primetime line up," said CBS Entertainment president Amy Reisenbach. "We sincerely thank them for their incredible work and passion and also thank our dedicated fans who tuned in every week."
The series' final episode will air on May 19th.
UPDATE: CBS has decided not to renew freshman dramas East New York and True Lies.

---
CBS reveals season finale storylines
April 19th, 2023 under CBS. [ Comments: none ]
Can you believe it? It is almost time for season finales, and CBS revealed what we can expect from their shows starting on May 11th with Ghosts. So get ready for big guest stars, plenty of nail-biting moments, and cliffhangers.
I am dying to know what Jennifer Esposito had to do to get back on Blue Bloods after she was famously fired.
To read the spoilers, then click here!

---