Fire Country will be put out more fires on CBS next season
January 6th, 2023 under CBS. [ Comments: none ]
Fire Country is so hot; you can say that it is on fire. Therefore, CBS picked it up for a second season today. The news is not a surprise because it is the season's #1 show.
"It's pretty remarkable to see a new series resonate like this with both broadcast and streaming audiences right out of the gate," said Amy Reisenbach, president of CBS Entertainment. "FIRE COUNTRY has so many appealing entry points for the audience. It combines high-stakes action with small-town charm, mystery and romance, and a family franchise at its core. We're blessed to have an incredible team in front of and behind the camera led by amazing producers and writers and an exceptionally talented cast."
Besides all of that, who doesn't like watching fires? That is why shows with that cast member always do well.
Fire Country joins NBC's Quantum Leap , which was also picked up for a second season.

---
Mariah Carey explains the meaning behind All I Want for Christmas Is You
December 16th, 2022 under CBS, Mariah Carey. [ Comments: none ]

We all know the song All I Want for Christmas Is You, but do you know how Mariah Carey came up with it?
The singer reveals in her CBS Christmas special that the record company told her to release a Christmas album, and that is when she wrote the holiday staple.
The words she put to paper come from the Christmases she had as a kid. Even though her mom, who was raising two kids by herself, weren't the best, she found a way to make them special. Her mom would wrap up things like fruit and say it was from the cat or dog. So Mimi didn't need a lot as a kid as long as she had her mom.
And that is not all we find out about the single. Mariah used not to be able to listen to the song because she would find things wrong with it. However, as more and more people told her why the song is special to them, she has learned to love the tune that will forever haunt our Novembers and Decembers.
Merry Christmas to All debuts on Tuesday and will stream on Paramount+.

---
CBS picked up its first new show for next season
December 16th, 2022 under CBS. [ Comments: none ]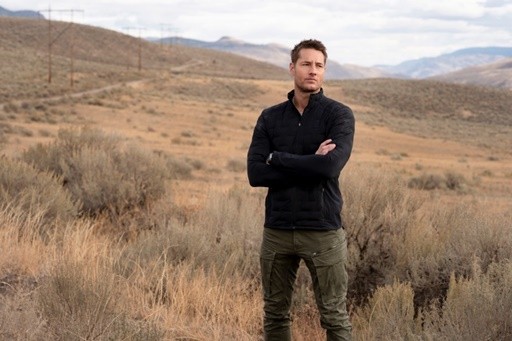 Earlier this week, NBC picked up Quantum Leap for a second season. Today, CBS said we are going to one-up you. So they picked their first new show for next season.
Justin Hartley is going to star in and executive produce The Next Game. Based on the bestselling novel by Jeffery Deaver, THE NEVER GAME features Hartley as lone-wolf survivalist Colter Shaw, who roams the country as a "reward seeker," using his expert tracking skills to help private citizens and law enforcement solve all manner of mysteries while contending with his own fractured family.
I am going to sound like a Grinch, but I bet it will be 13 and done. Most early picks up, turn out to be disappointments.

---
CBS announces its midseason schedule
November 14th, 2022 under CBS, RuPaul. [ Comments: none ]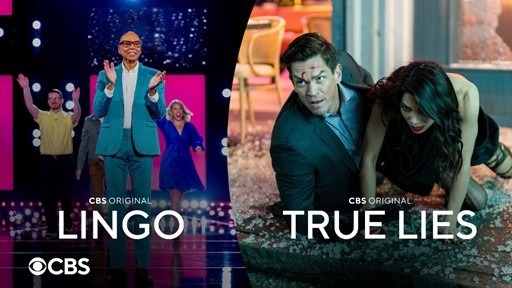 CBS had a strong Fall season with their new shows Fire Country, So Help Me Todd, and East New York, so they are only making a few changes to their midseason schedule. Those changes include Lingo with RuPaul, a new take on True Lies, and the return of Tough As Nails and The Price Is Right at Night.
Wednesday, Jan. 4
8:00 PM THE PRICE IS RIGHT AT NIGHT
9:00-11:00 PM TOUGH AS NAILS (special two-hour premiere)
Wednesday, Jan. 11
8:00 PM THE PRICE IS RIGHT AT NIGHT
9:00 PM LINGO (series premiere)
10:00 PM TOUGH AS NAILS (regular time period)
Thursday, Feb. 23
8:00 PM YOUNG SHELDON
8:30 PM GHOSTS
9:00 PM TRUE LIES (oto premiere)
10:00 PM CSI: VEGAS
Wednesday, March 1
8:00-10:00 PM SURVIVOR (special two-hour season premiere)
10:00 PM TRUE LIES (regular time-period)
To read about CBS's new shows, then click here!

---
CBS sinks The Real Love Boat, but it is rescued by Paramount+
October 28th, 2022 under CBS, Jerry O'Connell/Rebecca Romijn. [ Comments: none ]
We are a little over a month into the Fall TV season, and today we found out which is the first show banished to streaming.
That series is The Real Love Boat. According to Deadline, this upcoming week's episode and all of the remaining ones will move from CBS to Paramount+.
The reality dating show is hosted by real-life couple Jerry O'Connell and Rebecca Romijn. Each week, they travel on a Princess Cruise Ship to romantic destinations with singles who are trying to find love. Unlike other dating programs, they bring in new singles at each port for the old ones to consider.
I think it will do better on the streaming service because it is younger and hipper. I also wonder if the series would still be on CBS if they had the eliminated singles walk the plank at the end of each episode. But I am a sadist and would enjoy seeing women in evening gowns and full makeup jump into the ocean and get soaking wet.

---