Tom Hanks photobombs Kristen Bell and Dax Shepard's photo
May 30th, 2023 under Kristen Bell, Shania Twain, Tom Hanks. [ Comments: none ]
Kristen Bell and Dax Shepard are so A-List that they got better tickets to see Shania Twain at the Hollywood Bowl than Tom Hanks and Rita Wilson.
And by the looks of the two-time Oscar winner's face in this photo, he is not happy about it. And I don't blame him. He should have been front and center.

---
Is Shania Twain really 57 years old?
December 6th, 2022 under Are they really their age?, Shania Twain. [ Comments: none ]
Shania Twain was honored with the Music Icon Award at the People's Choice Awards tonight, and she wore an outfit like she did in her music video That Don't Impress Me Much.
As the Country singer did in 1999, she showed off her tone abs. And that makes me wonder, how can she really be 57 years old because her stomach looks so much better now than it did 23 years ago. And it was near perfect back then.
So I have to say that do impress me much!

---
Shania Twain reveals her preshow ritual
May 24th, 2022 under Shania Twain. [ Comments: none ]
Have you ever wondered what is Shania Twain's preshow ritual? Now, we know what makes her feel like a woman before she goes up on stage.
The Country singer plays ping pong in her green room. I am sorry, she likes to kick a$$ playing the tabletop tennis game before singing for her fans.
Who had that on their bingo card because I didn't?
BTW I would play with her if it was beer pong. But I suck at the game, so I would be drunk before she even sang her first note.

---
Superfan announces its Superstars!
April 19th, 2022 under CBS, Gloria Estefan, Shania Twain. [ Comments: none ]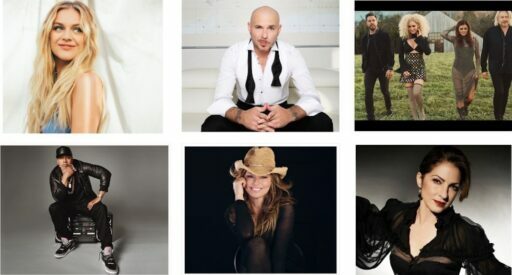 CBS is doing a competition show to find the biggest Superfan. But who are they going to be the superfans of?
Today, we found out who they are, and they are Kelsea Ballerini, Gloria Estefan, Little Big Town, LL COOL J, Pitbull, and Shania Twain.
During the six episodes, the contestants will play several rounds to determine if they are the ultimate superfan. However, it will be up to the Superstar to decide which person gets the one-in-a-lifetime prize. That will make the winner squee even more than just being crowned with the title.
I get that the producers wanted this to be music based, but I wish they would've gotten a Soap star to be on the show. Because their fans are not only the best, they are also the most loyal.
Superfan starts filming this week and will air later this year.

---