Would Steve Harvey shave off his mustache?
January 17th, 2022 under Kelly Ripa, Ryan Seacrest, Steve Harvey. [ Comments: none ]
When you think of Steve Harvey's face, you think of it with a mustache on it. Ryan Seacrest wanted to know if he ever shaved it off, so he asked him that question on Live with Kelly and Ryan.
The Family Feud host said, "You see, I can't shave this mustache cause the distance between the tip of my nose and the top of my mouth is about 4′. So when I shave it off, it looks like a sheet of plywood."
Then Kelly Ripa wanted to know if he would ever shave it off. Harvey would do it for $20 million. Do you think it is worth giving him that much money so we can see his upper lip?

---
Steve Harvey's mom thought he sold drugs when he moved to LA
December 30th, 2021 under Steve Harvey. [ Comments: none ]
Steve Harvey was talking to the Family Feud audience, and he told him the story about how his mom didn't know he was famous.
The comedian said his mom didn't accept that he made it until he was on the cover of Jet Magazine. When she saw his face on the mag, she bought 20 and spread them out on her coffee table. No one was allowed to touch them.
However, before that, the actor tried to show his mom he was a star by sending her $10,000 every week from his paycheck for Me and the Boys. His mom thought he was selling drugs, so she sent his dad out to talk to him. That is when Harvey explained that he made $55.000 every Thursday because he was the star of a sitcom. His dad didn't believe his son, so he asked to stay until Thursday so that he "could watch these white folks give you 55 mother f@cking thousand."
Of course, he let him stay, and his dad was so proud. He told everyone that story for the rest of his life!
I love stories like this!

---
Nick Cannon dressed as Steve Harvey for Halloween
October 30th, 2021 under Nick Cannon, Steve Harvey. [ Comments: none ]
Nick Cannon started hosting a daytime talk show this season, and for the Halloween episode, he dressed up as a former host. He went as Steve Harvey.
I think the game show host is going to have a Family Feud with Cannon over those teeth. I personally think that was going too far. What do you think?

---
Lots of news from ABC, including JoJo Siwa getting a same-sex partner on DWTS
August 26th, 2021 under ABC, Dancing with the Stars, JoJo Siwa, Kevin Hart, Shark Tank, Steve Harvey. [ Comments: none ]
Today is ABC's TCA Summer Press Day, and they had a lot of news to share.
They started it off by announcing that Kevin Hart will be a Shark on Shark Tank. Does he have businesses that qualify him for the show? I guess we will find out like we did when Alex Rodriquez was a Shark.
Steve Harvey is going to be Judge Steve Harvey for 10-episodes in 2022. The judge, the jury, and the star of the series, Harvey, will welcome a variety of conflicts and characters to his courtroom – from small claims to big disputes and everything in between. Steve plays by his own rules, basing his courtroom on his own life experiences and some good old common sense.
The show is casting now, so if you got a case for him, then apply here.
Talking about casting, Dancing with the Stars announced their first two stars. They are Olympic Gold medalist Suni Lee and JoJo Siwa. The recently out teen millionaire will be the first contestant in 30 seasons to dance with a same-sex pro. We don't know who it is, but I hope they get Julianne Hough to do it.
DWTS doesn't need to name any more stars because Siwa is going to win. Between the fan base, the same-sex partner, and the fact that she was on Dance Moms and Abby's Ultimate Dance Competition means she knows how to dance.
Finally, The Conners are going live for their season premiere on September 22nd, and you can appear on the show virtually as a long-lost relative.
As part of the storyline, a Conner family member will call each lucky sweepstakes winner for a live conversation regarding how they deal with some of the same life issues that the Conners navigate on a daily basis.
Want to be a Conner, then enter the sweepstakes here.

---
Family Feud is getting Disneyfied on August 16th
August 10th, 2021 under Disney Kids, Mila Kunis, Steve Harvey. [ Comments: none ]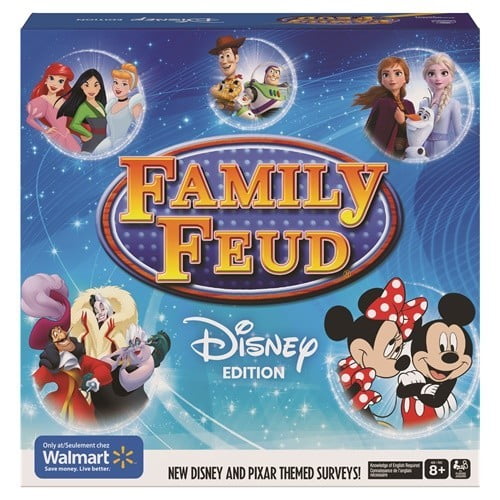 Family Feud is a family program. So much so, they put the word family in the title of the game show.
On Monday, August 16th, they will have a special episode that is dedicated to all things Disney. This sounds like a great idea on paper, but the show is best known for its naughty answers. Something that is so not Disney.
While the one hosted by Steve Harvey might not be G-rated all the time, the board can be. What? You see, this special episode is in honor of the all-new Family Feud: Disney Edition board game that will be available exclusively at Walmart soon! I can't wait to play it with my nieces.

---