Supernatural goes to the clowns
July 31st, 2019 under Supernatural. [ Comments:

none

]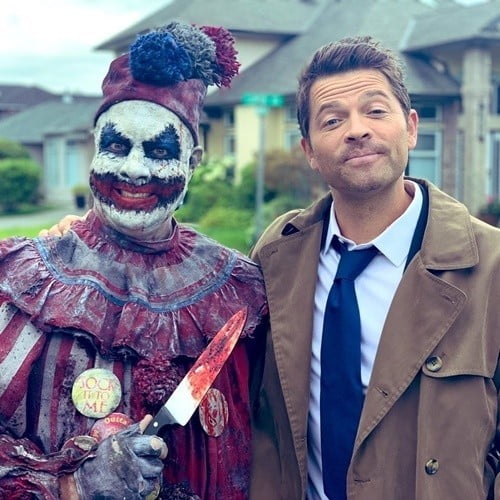 Misha Collins shared a photo from Supernatural's first episode from the final season and they are clowning around on the set. As with a clown. It is not the first time they have dealt with clowns, but it might be the last because as I said this the final season. Hopefully, they will go out with a bang and be as good as it was the first few seasons.
When it comes to the clown, he looks scarier than Pennywise. Which is why I am going to miss this show so much.
Supernatural returns to The CW on October 10th.
---
Why is Jared Padalecki's head covered with maxi pads?
July 30th, 2019 under Supernatural. [ Comments:

none

]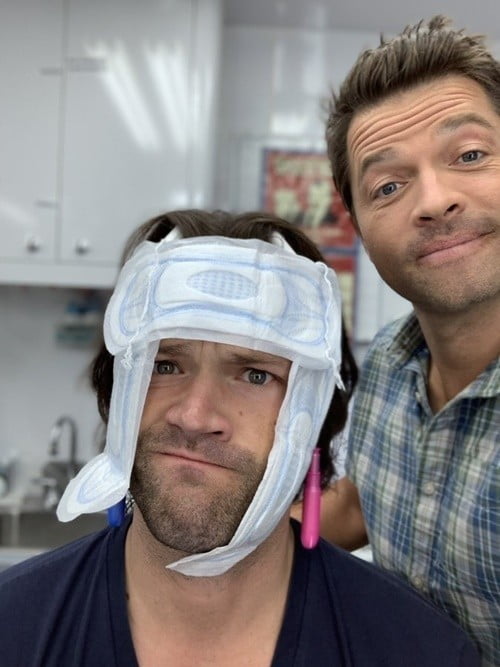 Jared Padalecki was seen wearing a hat (or ice hockey helmut) made out of maxi pads and tampons for earings. If you are like me, then you are wondering what demon is possessing the Supernatural star. Turns out an angel is too blame. Castiel, I mean Misha Collins, is the cause for his new look.
Why? Collins explained, "One of the Gish items this year is to make a bust of Jared Padelecki from maxi pads. I have to say, mine is by far the most realistic submission. Time to up your game, gishers. @jarpad"
I think Collins won the challenge for his charity's scavenger hunt. However, I think Padalecki lost. Hopefully, he also lost some money becuase Misha does a lot of good with Gish. Not only does he play an angel, he is one.
To see what Collins' challenge was for the other Winchester brother, Jensen Ackles, then click here!
---
Misha Collins got some good luck, just not the way he would have wanted
June 10th, 2019 under Supernatural. [ Comments:

none

]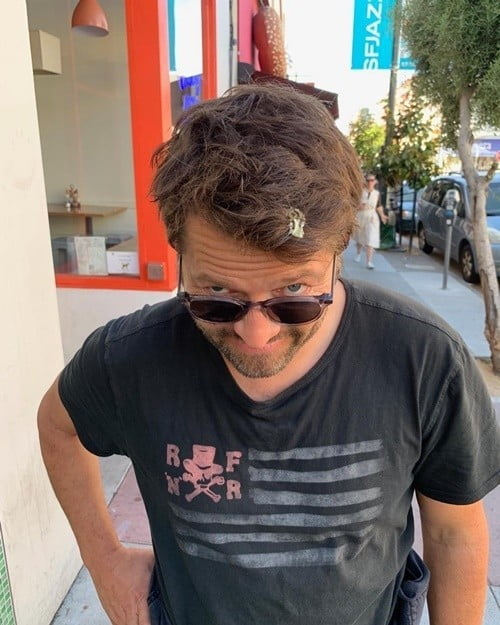 The good news for Misha Collins is that he has some good luck coming to him. The bad news it was via a bird pooping on his head. Hopefully, it means that we will find out that Castiel is getting his own Supernatural spinoff, but I do not think that will be it.
Seriously though, aren't you creeped out for hours after a bird sh!ts on you. It happened to me once and I showered with my clothes on because everything needed to be clean. I hate birds.
---
Supernatural took on Gd and won, so how will they end the show next year?
March 22nd, 2019 under Supernatural. [ Comments:

none

]

Supernatural is the only show left over from The WB days on The CW, and today the Winchester brothers and Castiel announced that the 15th of the show will be its last.
Misha Collins, Jensen Ackles and Jared Padalecki made a heartbreaking video, after telling their crew, that the 15th season is their last.
The CW always said that they would end the show when the actors were ready to call it day. For some, I do not believe this was their call. Sure, the ratings are down, but it still does better than most of their other shows. Heck, it is still one of the few shows of theirs I still watch. Granted, I stockpile them and then watch them all in one sitting when there is nothing else on because it has not been as good in recent years. However, I still love the show and have seen every episode they have done.
They have become like family to us fans. Something Ackles mentioned his video. Dean Winchester added something from the show's creator Eric Kripke, "In a show about family, it is amazing and it is the pride of his life that it became a family."
OK, I am off to watch the last few episodes and cry.
I know it is not over just yet, but I want to thank them now for making a show that people would love for 15 years and not counting.
---
Supernatural turns 300 with an episode fans will cherish
February 7th, 2019 under Jeffrey Dean Morgan, Supernatural. [ Comments:

none

]

Supernatural has been on the air for so long, the Winchester Boys are collecting social security. OK, maybe that not that long, but they did survive the network that they launched on. The WB ended ceased operation in 2006 when Supernatural was just a year old. The fact that you are using your fingers to do the math proves how long it has been on the air.
What also proves it, is the show will be airing its 300th episode tonight at 8p on The CW. That is a lot of episodes and this Sci-Fi show deserves it. What the fans, who have been around since day one (like me), deserve is an episode we will not soon forget. We definitely get that.
The episode starts off with Sam (Jared Padalecki) and Dean (Jensen Ackles) going to a store where a man collects cursed artifacts. One of the items that belonged to a serial killer gets into the wrong hands, and now that murderer is coming for those hands.
Once the brothers deal with that, it is time for them to deal with Dean's problem. They think they found a solution, but instead, it brings their father (Jeffrey Dean Morgan) back from the dead. For the first time since Sam was a baby, he, his mom (Samantha Smith), his dad and his brother are all in the same room. Which normally would be impossible because both parents are supposed to be dead.
That is neither here nor there, all four Winchesters are together again. What will they say to each other? What will they do? There is so much you want to know. But I will not tell you anything. All I will say is that if at any time you were a fan of the show, then you are not going to be disappointed by tonight's episode. It is a fan's dream come true and so brilliantly done. It is why the show is picked up for a 15th season and most likely a Sweet 16 one too.
Whether you have seen all the previous 299 episodes or you missed a few, tonight is a must not miss episode. Here is too hoping for 300 more episodes. The actors will be in their 50's if that were to happen, so it is still doable, right?
Sincerely, I cannot praise this episode enough. It is defintely one of the show's best in its 14 season and counting run.
---