Jared Padalecki reportedly arrested for assault
October 28th, 2019 under Supernatural. [ Comments:

none

]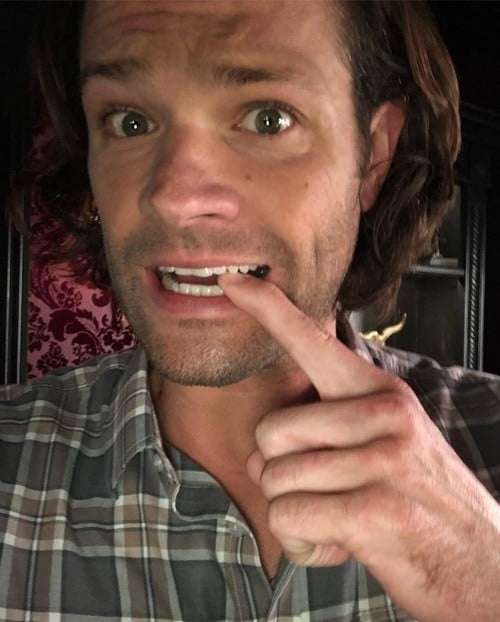 Jared Padalecki reportedly got into a physical altercation with three different people at a bar in Austin early on Sunday morning and no demons were involved.
According to TMZ, "he's facing two counts of assault and one count of public intoxication." The actor is said to have struck a bartender in the face. Then when his friend tried to calm down outside, Padalecki put him in a chokehold. Finally, he also went after the general manager before the police took him away.
No word what all led up to the Supernatural star to getting arrested.
---
Misha Collins is pretty in a pink gown
October 14th, 2019 under Supernatural. [ Comments:

none

]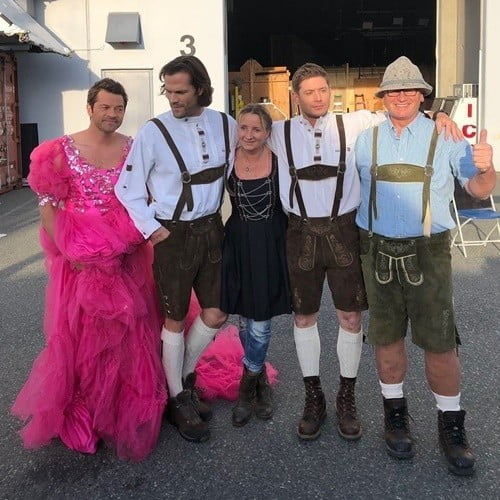 Misha Collins shared a photo of himself wearing a hot pink prom dress along with Jared Padalecki and Jensen Ackles in Lederhosen. Does this mean they are going to deal with a mean Genie who is going to make them wear awful clothes on an upcoming episode of Supernatural? If only!
The three of them put on that attire for a good cause. They were raising money for the Vancouver Food Bank. They did such a good job, the organization is now $46,000 richer just in time for Thanksgiving. Very impressive. As impressive as Castiel who is doing a Molly Ringwald.
This was not all they did to raise the moolah. They also got hit with cream pies. To see that video, then click here!
---
Supernatural's past comes back to haunt them
October 10th, 2019 under Supernatural. [ Comments:

none

]

Supernatural is back for its final season tonight at 8p on The CW…
Sorry I had to take a break after typing that sentence because I don't want this show to end. I am OK now. However, I think I see where they are thinking of going for this final season to help wrap things up.
Before we get there, we have to go back to the end of last season's season finale. Sam (Jared Padalecki), Dean (Jensen Ackles) and Castiel (Misha Collins) are fighting with Zombie spirits that Gd sent them as a parting gift. They are doing everything they can to get out of there alive. And that is where they will stay for the rest of the episode.
As and if. If they did, then the episode would like totally suck. Back to the show, they escape and then they go to a fate worse than what they just went through. Jack (Alexander Calvert) is still dead. However, he is somehow back to life. Although, there is something missing about him. Something Cass cannot get over as you will see.
Which will make their first case back hard. Especially since it is a case they have done before. What that means, you will just have to tune in for what looks like this show will be getting the proper sendoff.
If it is what I think is going to happen is what is going to happen. It is quite a brilliant way to end the show.
Does it really have to end? Can't they go another 15 seasons? The actors have at least that much life left in them. I think?
---
Supernatural goes to the clowns
July 31st, 2019 under Supernatural. [ Comments:

none

]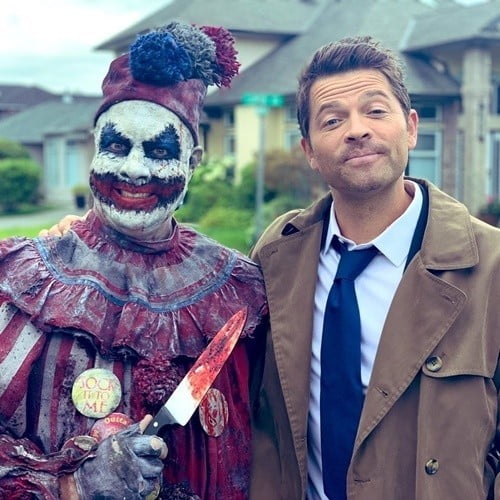 Misha Collins shared a photo from Supernatural's first episode from the final season and they are clowning around on the set. As with a clown. It is not the first time they have dealt with clowns, but it might be the last because as I said this the final season. Hopefully, they will go out with a bang and be as good as it was the first few seasons.
When it comes to the clown, he looks scarier than Pennywise. Which is why I am going to miss this show so much.
Supernatural returns to The CW on October 10th.
---
Why is Jared Padalecki's head covered with maxi pads?
July 30th, 2019 under Supernatural. [ Comments:

none

]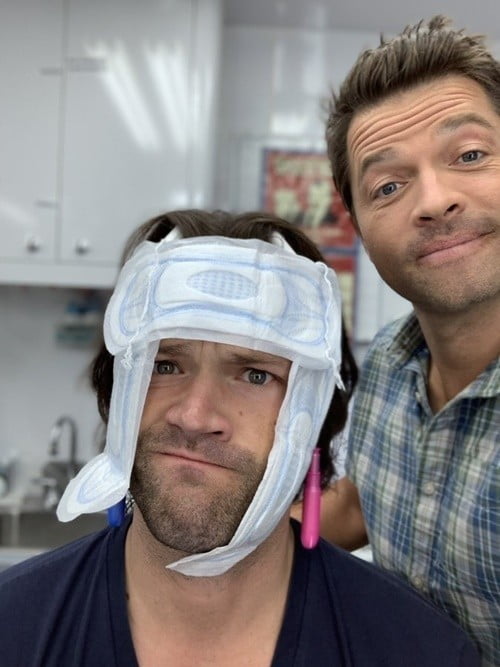 Jared Padalecki was seen wearing a hat (or ice hockey helmut) made out of maxi pads and tampons for earings. If you are like me, then you are wondering what demon is possessing the Supernatural star. Turns out an angel is too blame. Castiel, I mean Misha Collins, is the cause for his new look.
Why? Collins explained, "One of the Gish items this year is to make a bust of Jared Padelecki from maxi pads. I have to say, mine is by far the most realistic submission. Time to up your game, gishers. @jarpad"
I think Collins won the challenge for his charity's scavenger hunt. However, I think Padalecki lost. Hopefully, he also lost some money becuase Misha does a lot of good with Gish. Not only does he play an angel, he is one.
To see what Collins' challenge was for the other Winchester brother, Jensen Ackles, then click here!
---