Jerry O'Connell woke up to Rebecca Romijn wearing his face
June 17th, 2019 under Jerry O'Connell/Rebecca Romijn. [ Comments:

none

]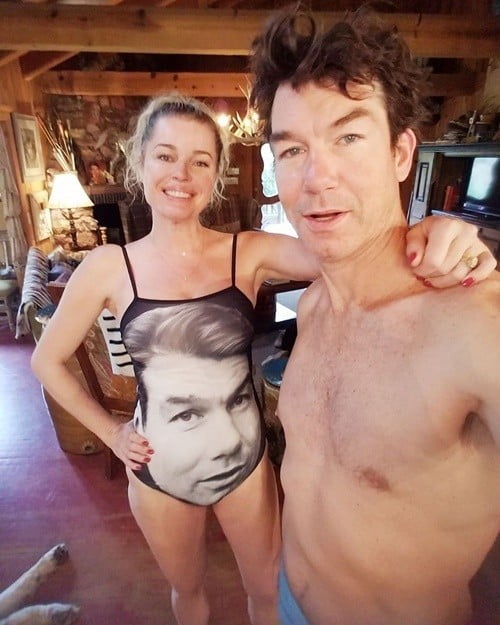 What do most fathers want for Father's Day? Besides sleep. Sex with the woman who made him someone who celebrates the holiday.
For some reason, I don't think Jerry O'Connell will want the latter one, even though he is married to the gorgeous Rebecca Romijn. That is because she woke him wearing a one-piece bathing suit with his face all over the front of it. Now, whenever he sees her, I am sure he is picturing that image of her. It is one you cannot easily get out your head anytime soon. Which means his twins will not be getting any siblings anytime in the near future.
No word what Charlie and Dolly got him for his day. If they got him a tie, it will not block out that image of their mother wearing their father on her torso. Because even if he uses it as a blindfold, it is still etched in his memory. Although, he can use the tie for other things in the bedroom…
Don't get me wrong I love her sweet gift. Maybe he is into seeing himself during missionary? I mean we can all think of guys like that, but I don't think he is as vain as them.
On the vain note, I like his morning hair!
---
Is Rebecca Romijn really 46?
April 25th, 2019 under Are they really their age?, Jerry O'Connell/Rebecca Romijn. [ Comments:

none

]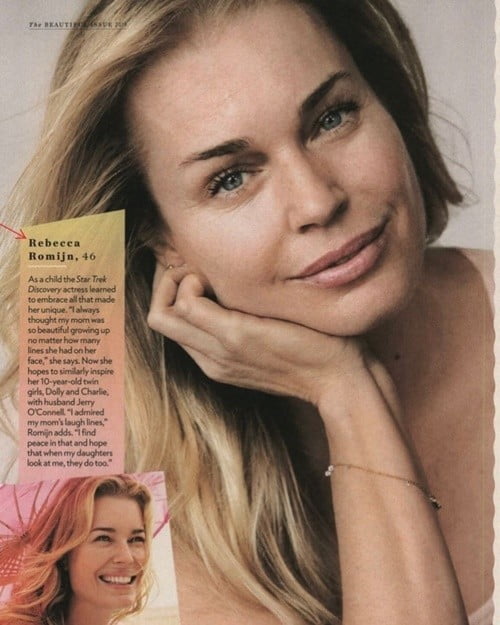 Rebecca Romijn is a natural beauty, you can tell that by just looking at her. Now, we have it confirmed because she posed for People without any makeup on and she looks ever more beautiful. Which makes you wonder how that face belongs to a 46-year-old woman because she looks just like she did when shewas on the cover of Sports Illustrated Swimsuit Edition 20 years ago.
---
A couple that dresses together, stays together!
March 18th, 2019 under Jerry O'Connell/Rebecca Romijn. [ Comments:

none

]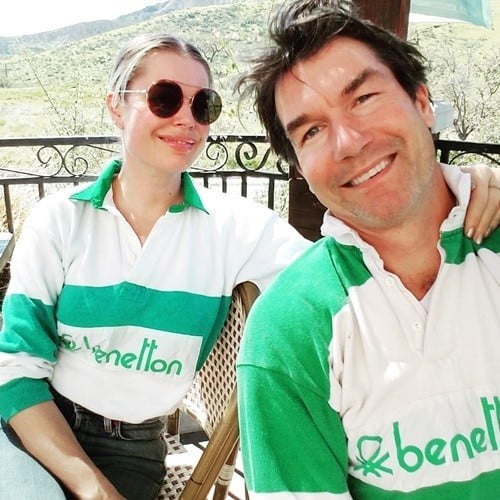 Jerry O'Connell and Rebecca Romijn will be celebrating their 12th anniversary in July and their marriage is still going strong. So stong, they celebrated St. Patrick's Day wearing the same green Benetton rugby that the actress bought her husband as a present.
You see, back in the '80, that was the must-have shirt, but the evil people at Benetton discontinued it for some stupid reason. That and their B same-color, light-dark, wool sweaters. Therefore, her buying him the hard to find rugby makes her the best Hollywood wife out there. It also makes me mad at her because I so want the blue one again. Why did I let my parents throw mine out? And why haven't any of the shows based in the '80s, like The Goldbergs, featured it?
Anyways back to the O'Connells, don't you just adore this awwwwwdorably cute couple? They are so in sync they even dress alike! Who knew it would be the parents that would be twinning and not their twins, Dolly and Charlie.
---
Will Jerry O'Connell's talk show be Funny or Die?
March 11th, 2019 under Jerry O'Connell/Rebecca Romijn. [ Comments:

none

]

Funny or Die and Debmar-Mercury have teamed up with Jerry O'Connell to do a new daytime talk show that will test out for three weeks starting August 12th on some Fox stations.
O'Connell had this to say about Jerry O, "I love daytime. I love watching it and have fallen in love with guest-hosting it. Whether asking people to 'Cash Me Outside' or asking them 'How You Doin?', daytime is a big part of my life" Then he added, "I am thrilled to work with my friends at both Debmar-Mercury and Funny Or Die. I have been collaborating with both companies for years and am so excited to bring a little bit of the traditional – and something brand new – to the audience. This is going to be a fun, fun time and everyone is invited. Let's party."
Debmar-Mercury produces Wendy, a show that O'Connell has guest hosted on several times, therefore they are familiar with his hosting styles.
O'Connell has also done several funny bits, like the one above, for Funny or Die, so he is the perfect person to incorporate their segments within the talk show. In fact, Funny Or Die's CEO Mike Farah said, "Jerry is one of the all-time great guys. He's funny, smart and his energy is contagious. We're proud to collaborate with him and Debmar-Mercury, and think this is the perfect show for Funny Or Die's first foray into daytime television!"
Normally, I dread August, but this year I am looking forward to it. He is going to make the hot month even hotter. Therefore, you should mark your calendars because if anyone deserves a talk show, it is him.
---
Jerry O'Connell does a mean Cardi B!
February 16th, 2019 under Jerry O'Connell/Rebecca Romijn, Wendy Williams. [ Comments:

none

]

Jerry O'Connell filled in for Wendy William this Thursday and Friday. That was not the only woman whose shoes he filled, he also put his feet up to his head in Cardi B. Who knew a boy from Manhattan could be so good at doing a girl from The Bronx. And I would know because I am from there.
BTW Why doesn't someone give him a daytime talk show already? He is natural.
---