Tonight's Carter gets a thumbs up!
January 27th, 2020 under Jerry O'Connell/Rebecca Romijn. [ Comments:

none

]

Carter gets his second case on WGN tonight at 10p, and I can put my finger on why I laughed so hard watching it.
Dot (Brenda Kamino) goes to Japan to spread her late husband's ashes, and on the way back finds a case for Carter (Jerry O'Connell). She meets a man on the plane who is carrying the ashes of his mom with him. She became suspicious of him when he kept going to the bathroom and leaving the ashes on the floor. Therefore, she looks inside and finds a thumb inside of it. Whose thumb is it, and why does this mystery man have it?
Carter, Sam (Sydney Poitier Heartsong), and Dave (Kristian Bruun) are on the case. They always think they are one step ahead of him, but it turns out they are not. How is he beating them at their own game? Will they get in front of him, or will he get away with digitcide? That a thing, right?
If you have not seen Carter yet, then you are missing out on the best police procedural on television now.
---
Carter is back with more strange cases and lots of laughs
January 20th, 2020 under Jerry O'Connell/Rebecca Romijn. [ Comments:

none

]

Carter, the show about an actor who plays a detective who becomes one in real life in his hometown, is back on WGN American tonight at 10p.
Now that Carter (Jerry O'Connell) has decided to give up his show, he is ready to be a PI fulltime. He even places ads on bus benches. Guess what they work because he already has his first client.
The older man's wife has gone missing, and he asks Carter to find her. When he goes to his friend, Sam (Sydney Poitier Heartsong), who is a detective, she tells him that man is a conspiracy therapist, and the force doesn't believe him. That is until Carter, and their other friend Dave (Kristian Bruun) find the woman's car, and it looks like she has been kidnapped.
Now that they believe something has happened to the wife, they arrest her husband for the crime. Carter has to prove that his client is innocent, so he will go undercover to do it. Be prepared to see him in many different costumes tonight like an old man, Alfalfa all grown up and woman in a nightgown.
If solving cases was not enough for him to handle, he has other pressures to deal with too. He has feelings for his best friend Sam and doesn't know how to tell her. There is a new police chief (Lyriq Bent) in town from NYC, and he is scary. Finally, he has to help Dot (Brenda Kamino), the woman who helped raise him, deal with the loss of her husband. The show pays a sweet tribute to Denis Akiyama, who died last year.
Carter reminds me of the USA detective shows when they were fun and not violent. We need more shows like it, so check it out every Monday at 10p. I promise you will love it as much as I do.
---
Ryan Seacrest, Kelly Ripa and Jerry O'Connell got into bed together
January 16th, 2020 under Jerry O'Connell/Rebecca Romijn, Kelly Ripa, Ryan Seacrest. [ Comments:

none

]

It is not even February sweeps, and yet Live with Kelly and Ryan is looking to boost their ratings now. That is why they had Ryan Seacrest, Kelly Ripa, and Jerry O'Connell do a segment in a bed today.
What were they talking about? How to have better sex with your partner? Sadly, nope. Sleep Doctor Michael Breus gave some advice on how to have a better night's sleep. One of the things he said to do to sleep the whole night through is drink guava leaf tea. It helps to regulate your sugar.
OK! That is boring. What was titillating is what was going on underneath the sheets. Ripa is a creature of habit and likes to rub her husband's legs when they are in bed. She did the same thing to O'Connell. There was just one important thing she did not about Jerry, he was not wearing pajama bottoms. Thus, she was rubbing his naked leg. Now you know why he was smiling so much during the segment.
Want to see how they all reacted to the scandalous revelation, then click here!
---
Jerry O'Connell will still be sexy when he is older!
January 15th, 2020 under Jerry O'Connell/Rebecca Romijn. [ Comments:

none

]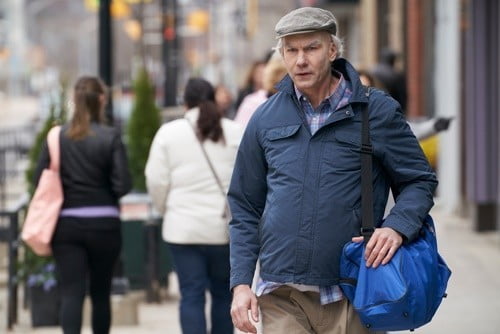 Sometimes when you are an actor, you get to see what your older self will look like when the role calls for it. On the season premiere of Carter, O'Connell's character goes undercover to help find an older woman who goes missing under suspicious circumstances.
In order to go unrecognized, Carter, who played a detective on television who becomes a private investigator in real life, puts on a grey wig and some makeup to appear as old as the victim for whom he is searching. Proving to us, even when he ages, he will still be good looking.
Not only do we find that out on that episode, but we also learn that he is pretty in a nightgown. What more do you need to tune in to WGN on Mondays at 10p for Carter? How about the fact that it is a fun police procedural as enjoyable as shows like Monk and Psych.
To see the trailer for season 2 of Carter and O'Connell's naked butt, then click here!
---
I hope Jerry O'Connell got clothes for Christmas
December 26th, 2019 under Jerry O'Connell/Rebecca Romijn. [ Comments:

5

]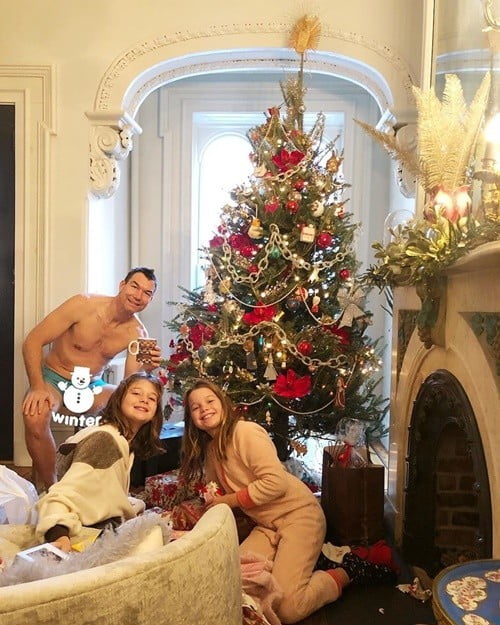 While most families spent Christmas morning in matching pajamas, Jerry O'Connell wore just his underwear to open the presents with his twin daughters, Charlie or Dolly. Hopefully, his wife got him some pants or a shirt for the holiday. Although, if my husband (well, if I had a husband) had a body like Rebecca Romijn's, I would not want him to cover him up. Do you?
---