BTWF: Martin Lawrence on Star Search
June 28th, 2022 under Before They Were Famous, Martin Lawrence. [ Comments: none ]
Before Martin Lawrence hosted Def Comedy Jam, he was a contestant on Star Search. How funny was the 22-year-old in that 1987 episode?

---
Would Martin Lawrence do a Martin revival?
June 28th, 2022 under Jimmy Fallon, Martin Lawrence. [ Comments: none ]
The cast of Martin recently reunited for an unscripted reunion special, but would Martin Lawrence bring the series back? Yesterday, when the comedian was on The Tonight Show, he told Jimmy Fallon, "The Martin show was like catching lightning in a bottle, and I don't think we can redo that again."
However, Lawrence added, "I wouldn't mind working with the cast again on something, but I don't think we can do that again."
In fact, the actor wouldn't mind bringing Tisha Campbell, Carl Anthony Payne II, Tichina Arnold, Garrett Morris, and Jon Gries together again to do a Sheneneh movie. Did you hear that Bet+ and Prime Video? You are already streaming the reunion special; why not give Sheneneh her own movie?

---
Eddie Murphy's son is dating Martin Lawrence's daughter
July 12th, 2021 under Eddie Murphy, Martin Lawrence. [ Comments: none ]
Martin Lawrence's oldest daughter Jasmin, 25, revealed this weekend that she is dating Eddie Murphy's oldest son Eric. 32.
I am rooting for the two of them to work out. Why? Imagine the comedic genius we could with their DNAs combining.
Maybe the two father-in-laws could team up for a movie like Momma vs The Nutty Professor? Why wait for their future grandchild to take over the world of comedy when we can have the grandfathers do it now.
Forget Bennifer or Kourvis; this is the couple to watch!

---
Bad Boys meets Coming to America
October 30th, 2019 under Eddie Murphy, Martin Lawrence, Strange Encounters, Tracy Morgan, Will Smith. [ Comments: none ]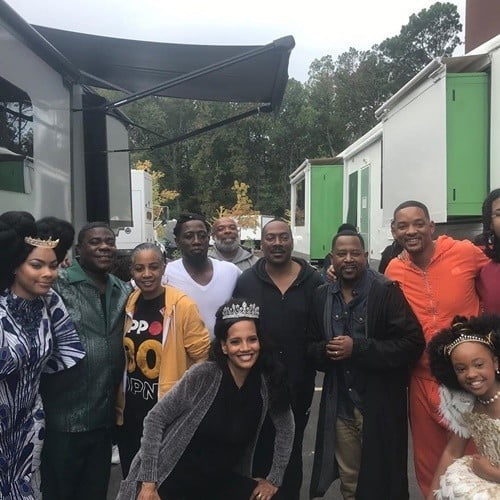 Bad Boys 3 and Coming to America 2 are both filming on the same lot, and both casts met up for this epic photo. Imagine the movie all of these actors could make together!
Seriously could you get a funnier cast than Eddie Murphy, Tracy Morgan, Will Smith, Martin Lawrence and Wesley Snipes? It would be the Avengers movie of comedy. Tyler Perry, since this is at your studios, make it happen!
BTW where is Arsenio Hall?

---
Will Smith and Martin Lawrence are Bad Boys for Life
September 4th, 2019 under Martin Lawrence, Will Smith. [ Comments: none ]

It has been almost 25 years since we got to know the Bad Boys. 16 years since we have seen Will Smith and Martin Lawrence as Lowrey and Burnett. On January 17th, they will reprise their roles one final time. Now that they are both in their 50's, they will not be able to do those Michael Bay stunts for much longer.
Therefore, make sure to enjoy every minute of Bad Boys for Life like it is its last minutes because it is. After watching the trailer for the film, that looks like it will be something very easy to do.

---