Eddie Murphy's son is dating Martin Lawrence's daughter
July 12th, 2021 under Eddie Murphy, Martin Lawrence. [ Comments: none ]
Martin Lawrence's oldest daughter Jasmin, 25, revealed this weekend that she is dating Eddie Murphy's oldest son Eric. 32.
I am rooting for the two of them to work out. Why? Imagine the comedic genius we could with their DNAs combining.
Maybe the two father-in-laws could team up for a movie like Momma vs The Nutty Professor? Why wait for their future grandchild to take over the world of comedy when we can have the grandfathers do it now.
Forget Bennifer or Kourvis; this is the couple to watch!

---
Bad Boys meets Coming to America
October 30th, 2019 under Eddie Murphy, Martin Lawrence, Strange Encounters, Tracy Morgan, Will Smith. [ Comments: none ]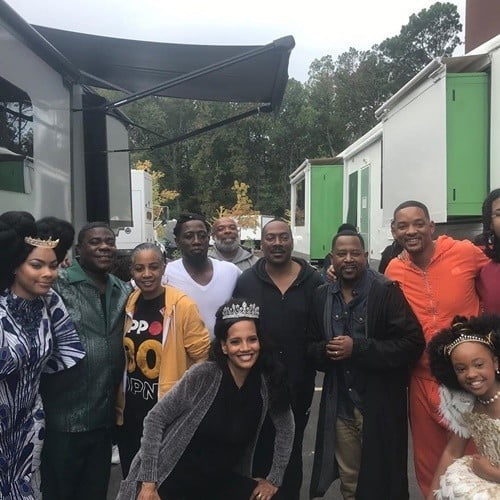 Bad Boys 3 and Coming to America 2 are both filming on the same lot, and both casts met up for this epic photo. Imagine the movie all of these actors could make together!
Seriously could you get a funnier cast than Eddie Murphy, Tracy Morgan, Will Smith, Martin Lawrence and Wesley Snipes? It would be the Avengers movie of comedy. Tyler Perry, since this is at your studios, make it happen!
BTW where is Arsenio Hall?

---
Will Smith and Martin Lawrence are Bad Boys for Life
September 4th, 2019 under Martin Lawrence, Will Smith. [ Comments: none ]

It has been almost 25 years since we got to know the Bad Boys. 16 years since we have seen Will Smith and Martin Lawrence as Lowrey and Burnett. On January 17th, they will reprise their roles one final time. Now that they are both in their 50's, they will not be able to do those Michael Bay stunts for much longer.
Therefore, make sure to enjoy every minute of Bad Boys for Life like it is its last minutes because it is. After watching the trailer for the film, that looks like it will be something very easy to do.

---
Is this Will Smith and Martin Lawrence's #FacebookChallenge?
January 13th, 2019 under Martin Lawrence, Will Smith. [ Comments: none ]

So, you know, that like new trending thing on social media is the #FacebookChallenge. Where you post your first and last profile photos to see how much you have aged since you joined the site? Well, Will Smith and Martin Lawrence did the same thing in a way.

The two actors, who begin filming Bad Boys 3 tomorrow (it is really happening), stood in front of themselves in a screenshot from the first movie that came out in 1995. So it is how they looked almost 25 years ago and today. Just ike your friends and family and friends on Facebook, they haven't aged a day. Unlike your friends and family, I am sure they are going to feel it once they start doing the crazy stunts. They are not as young as they use to be and they are harder to do.

---
BTWF roles: Wendy Williams on Martin
February 21st, 2018 under Before They Were Famous, Martin Lawrence, Wendy Williams. [ Comments: none ]

Before Wendy Williams had her own TV show, she guest starred on Martin as herself. You can barely recognize the 28-year-old in that 1992 episode.

---