Twins' Danny DeVito and Arnold Schwarzenegger get a new triplet
September 14th, 2021 under Arnold Schwarzenegger, Danny DeVito, Tracy Morgan. [ Comments: none ]
For nine years there have been rumors that we are getting a sequel to Twins called Triplets. Part of the rumor is that Eddie Murphy was going to play Danny DeVito and Arnold Schwarzenegger's brother. The latter is no longer the case. Their new brother is Tracy Morgan.
Ivan Reitman, who is producing the movie, explained how it all went down to Deadline. "Twins was quite successful, and some years after, this whole thing started with Arnold meeting Eddie Murphy, and the suggestion came from one of them," Reitman said. "It was, 'I should be a triplet, that could be a very funny comedy.' We started a script with Eddie, and after the success he had with Amazon Prime on Coming 2 America, he got himself booked up heavily. And we knew we were going to make it at the beginning of next year. I'd been good friends with Tracy Morgan for a long time and always thought he was one of the funniest men in the world. I thought he would make a terrific triplet, and we rewrote the whole script for him. Now, we'll go out and try and put the money together and get it made."
And they are slated to start making it in Boston in January.
I have to admit; I am intrigued. It will be interesting to see how Morgan and DeVito play off of each other.

---
Tracy Morgan won't be putting another baby in Megan Wollover's belly
July 29th, 2020 under Tracy Morgan. [ Comments: none ]

Tracy Morgan and Megan Wollever were supposed to celebrate their 5th-anniversary next month, but instead, they are getting a divorce.

His people told People, "Sadly, after nearly five years of marriage, Megan and I are filing for divorce. This is a challenging time for all involved, so I ask that you please respect our privacy."

While her rep said, "We can confirm that Megan filed for divorce yesterday. This is a private matter for the family. Megan's primary focus remains the best interest of the parties' daughter. She asks that the family's privacy be respected during this difficult time." The two have daughter, Maven Sonae, 7, together.

Wollover stayed by Morgan's side while he healed from his near-fatal accident in 2014. Because of that, I thought they would last forever. However, nothing lasts forever.

No reason was given for their split, but two separate statements most likely means it is far from ammicable.

---
Bad Boys meets Coming to America
October 30th, 2019 under Eddie Murphy, Martin Lawrence, Strange Encounters, Tracy Morgan, Will Smith. [ Comments: none ]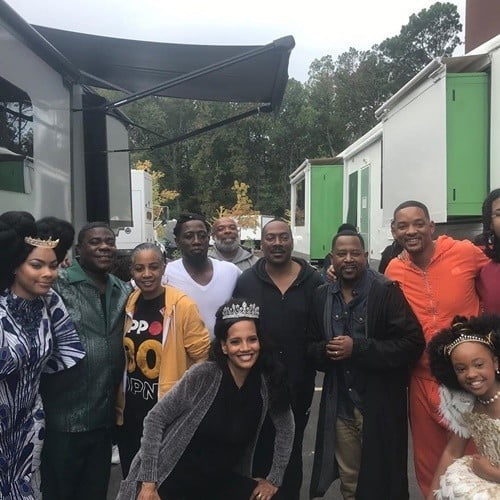 Bad Boys 3 and Coming to America 2 are both filming on the same lot, and both casts met up for this epic photo. Imagine the movie all of these actors could make together!
Seriously could you get a funnier cast than Eddie Murphy, Tracy Morgan, Will Smith, Martin Lawrence and Wesley Snipes? It would be the Avengers movie of comedy. Tyler Perry, since this is at your studios, make it happen!
BTW where is Arsenio Hall?

---
Tracy Morgan Freeman
April 18th, 2018 under Morgan Freeman, Tracy Morgan. [ Comments: none ]

Tracy Morgan met Morgan Freeman yesterday and the two men became fast friends. Hopefully, such good friends, that they will do a father/son movie together. Can you imagine?

Screw up Tracy takes in his grumpy old dad and the two are complete opposites. Morgan constantly criticizes his bum son and his son keeps biting his tongue as he comes up with evil plans to get rid of his dad. He thinks he can up one his old man, but his father always seems to be one step ahead of him. At the end of the day, they are still a loving father and son. OK, maybe loving is going too far. Either way, it can be highlarious comedy. Especially, if they can get Samuel L Jackson to play Tracy's uncle and Freeman's brother-in-law who hates them both. He makes things even more difficult for them while pretending like he is a good guy who loves them both.

---
This is a pretty impressive front row for the Knicks!
February 27th, 2018 under Amy Schumer, Tracy Morgan. [ Comments: none ]

The Knicks get a lot of celebrities to go see them play, and sometimes they get to sit in the front row to root for the team. Yesterday, they had a quite an impressive row of celebs. Amy Schumer took a photo of the lineup and she sat next to Chris Rock, Tracy Morgan, Leslie Jones and all the way on the other end was Jon Stewart. He seems to be surprised to be there with all of them. Or maybe he is surprised they got the the good seats along side him? What do you think?

Either way, I would have loved to have sat right behind them to hear all the jokes they must have been telling to each other. That is all comedians do when they hang out, tell jokes. Right?

---