Lots of news from ABC, including JoJo Siwa getting a same-sex partner on DWTS
August 26th, 2021 under ABC, Dancing with the Stars, JoJo Siwa, Kevin Hart, Shark Tank, Steve Harvey. [ Comments:

3

]
Today is ABC's TCA Summer Press Day, and they had a lot of news to share.
They started it off by announcing that Kevin Hart will be a Shark on Shark Tank. Does he have businesses that qualify him for the show? I guess we will find out like we did when Alex Rodriquez was a Shark.
Steve Harvey is going to be Judge Steve Harvey for 10-episodes in 2022. The judge, the jury, and the star of the series, Harvey, will welcome a variety of conflicts and characters to his courtroom – from small claims to big disputes and everything in between. Steve plays by his own rules, basing his courtroom on his own life experiences and some good old common sense.
The show is casting now, so if you got a case for him, then apply here.
Talking about casting, Dancing with the Stars announced their first two stars. They are Olympic Gold medalist Suni Lee and JoJo Siwa. The recently out teen millionaire will be the first contestant in 30 seasons to dance with a same-sex pro. We don't know who it is, but I hope they get Julianne Hough to do it.
DWTS doesn't need to name any more stars because Siwa is going to win. Between the fan base, the same-sex partner, and the fact that she was on Dance Moms and Abby's Ultimate Dance Competition means she knows how to dance.
Finally, The Conners are going live for their season premiere on September 22nd, and you can appear on the show virtually as a long-lost relative.
As part of the storyline, a Conner family member will call each lucky sweepstakes winner for a live conversation regarding how they deal with some of the same life issues that the Conners navigate on a daily basis.
Want to be a Conner, then enter the sweepstakes here.

---
Family Feud is getting Disneyfied on August 16th
August 10th, 2021 under Disney Kids, Mila Kunis, Steve Harvey. [ Comments:

none

]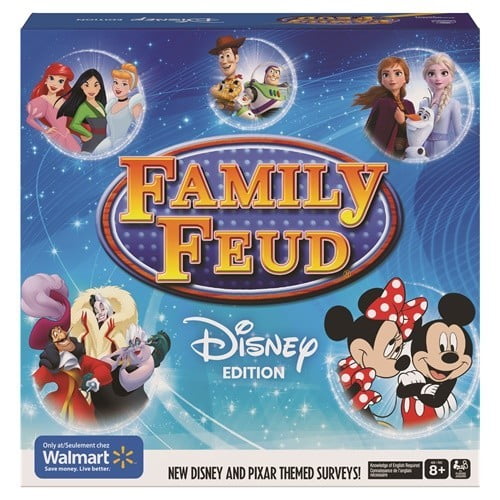 Family Feud is a family program. So much so, they put the word family in the title of the game show.
On Monday, August 16th, they will have a special episode that is dedicated to all things Disney. This sounds like a great idea on paper, but the show is best known for its naughty answers. Something that is so not Disney.
While the one hosted by Steve Harvey might not be G-rated all the time, the board can be. What? You see, this special episode is in honor of the all-new Family Feud: Disney Edition board game that will be available exclusively at Walmart soon! I can't wait to play it with my nieces.

---
The sweet gift Rob Lowe got for his wife for her birthday!
June 6th, 2021 under Rob Lowe, Steve Harvey. [ Comments:

none

]
What does Rob Lowe get the woman he loves for her birthday that she will thank him for and mean it? An appearance on her favorite show.
"I did it! I finally managed to surprise my wife, Sheryl for her birthday. That is usually IMPOSSIBLE," Lowe wrote, "A huge Family Feud fan, she had no idea we would be playing tonight. And it was… amazing!!!"
Do Rob and Sheryl win the big money? Tune into ABC at 8p to find out.

---
Will Michael B. Jordan's love life cause a Family Feud?
January 11th, 2021 under Michael B. Jordan, Steve Harvey. [ Comments:

none

]

They say that daughters like to date guys who are like their fathers. Well, Lori Harvey is dating a man who has a mustache like her dad, Steve Harvey.

Over the weekend, she went Instagram official with People's Sexiest Man Alive. That's right; she is locking lips with Michael B. Jordan. I wonder how her dad feels about that? I think as long as he keeps his Black Panther paws to himself, everything will be OK.

---
Would you wear a Steve Harvey face mask?
November 10th, 2020 under Steve Harvey. [ Comments:

none

]

Steve Harvey has one of the most recognizable mouths because of his mustache. Would you want his lips on top of yours? Not as in kissing, but as in wearing a face mask with a picture of his lower face.

Several people went to Amazon and spent $30 on 3 different masks, each with a different smile of his. Those fans sent a photo of themselves wearing them to the Family Feud host. Harvey, in turn, posted a video on TikTok. Now that you know what they look like, does it make you want them even more? I kind of want one. Is that wrong?

---