Duran Duran and Dolly Parton made it to the Rock and Roll Hall of Fame
May 4th, 2022 under Carly Simon, Dolly Parton, Duran Duran, Eminem, Lionel Richie. [ Comments: none ]
The Rock and Roll Hall of Fame announced who is going to be inducted into the Hall of Fame this November, and Duran Duran finally made it in. The band will be joined by Pat Benatar & Neil Giraldo, Eminem, Eurythmics, Dolly Parton, Lionel Richie, and Carly Simon.
Several of the inductees released statements about being admitted.
Annie Lennox wrote, "Well – @Eurythmics made the grade, thanks to every single one of our truly loyal 'fans'! The appreciation goes to YOU! Much love from Annie and Dave! ❤️ 😎😎 Gangstas forever!!"
Pat Benetar and her husband, Neil Giraldo, said, "We are thrilled and humbled to become part of the Rock & Roll Hall of Fame family. Thank you to everyone who voted especially the fans and congratulations to all the other inductees."
Lionel Richie had this to say, "Being elected to @rockhall is an incredible honor. I would like to say THANK YOU to all of the voters, to all of my wonderful fans and to everyone at the Rock & Roll Hall of Fame. Congratulations to all of my fellow 2022 inductees! #RockHall2022"
As of now, Eminem, Carly Simon (who is the second person from my hometown to be inducted because it is all about me), and Dolly Parton have not commented.
I can't wait to hear what Dolly has to say. The legendary singer initially said she would turn it down. But on Monday, she said she would accept the award gracefully. Now that she is in, I am curious how she will react to it now that it is really happening.
And she deserves it because she inspired plenty of Rockers. However, I think that New York Dolls deserved to be in there over the Eurythmics. Annie Lennox deserves it as a solo act, but not with Dave Stewart and their band. New York Dolls dolled up Punk and Heavy Metal music by the way they dolled it up. They would wear their girlfriends' clothes on stage, and it is a look that is still popular today. I know many people will disagree, but I think they meet more recognition.
UPDATE: Dolly Parton released her statement. If you want to see what she wrote, then click here!

---
Meeting Salma Hayek left Eminem all wet
February 12th, 2020 under Eminem, Salma Hayek, Strange Encounters. [ Comments: none ]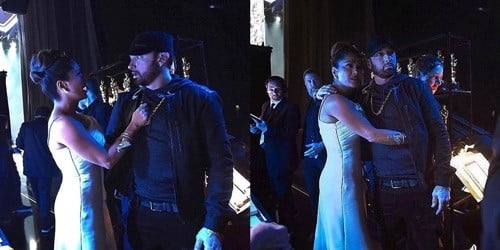 We saw what went on during the Oscars telecast, but we don't know what happened backstage. Today, Salma Hayek shared her embarrassing about when she met Eminem.
In these pictures it might look like @Eminem and I are best friends, but what really happened is as he was walking offstage and I was getting ready to walk onstage, I was so shocked to see him that I spilled water all over him. If you examine our faces, I look mortified and he looks terrified of me- As I was trying to wipe it off I impulsively hugged him and I said "Nice to meet you Eminem- I'm a HUGE fan!" because I AM! But I was so disappointed that I made such a fool of myself in front of him
How did he feel about their encounter? When Variety asked him if he enjoyed that night, he said, "Absolutely. I got to hug Salma Hayek!"
Too bad, she is married. If not, they would be Hollywood's hottest couple right now. You could say they would lose themselves in each other.

---
Eminem comes clean about something that's bothered him since 2009
May 29th, 2018 under Eminem, Val Kilmer. [ Comments: none ]

Eminem has had his beefs throughout his career, but there is one that he has wanted to get off his chest since the turn of the decade.
About 9 years ago at some MTV awards show, his trailer was next to 50 Cent's. Since it was an awards show, he had to change for what he was going to wear on stage. Then he said, "As I was taking off my underwear, I look across in Fiddy's trailer, right even with me, is Val Kilmer." Then he added, "And I know he is looking at me, and I know he looked away because he saw me looking at him. I know Val Kilmer saw me naked."
Even since then he was wanted to get that off of his chest. What I want to know is if the Real Genius thought the rapper's Top Gun was an 8 Mile? Which could explain why they both have kept it Top Secret for nearly a decade. Or maybe Kilmer just forgot about it, like we forgot he played the Caped Crusader in a Batman movie. Did you remember that?
UPDATE: Val Kilmer responded to Eminem's reveal on Facebook. To see what he wrote, then click here!

---
Does Eminem look like Jack White to you?
January 12th, 2018 under Eminem, Game Shows. [ Comments: 1 ]

The other night on Jeopardy, they had a category on the game show called Vinyl Resting Place. Alex Trebek asked them questions about vinyl records and for the $1,200 clue they even had a photo of the singer. Yet, Rebecca totally guessed wrong on the vocalist. She heard Detroit and immediately went with Eminem. But if you look at that photo, you can tell that Jack White looks absolutely nothing like the rapper. When has the Real Slim Shady ever had long black hair, facial hair or wore any type of hat other than a baseball cap?
I should not knock Rebecca too much. I might know what Marshall Mathers looks like, but I sure as hell do not the answer to most of those other questions. Do you?

---
Eminem gave Elton John a what for his wedding?
December 1st, 2017 under Elton John, Eminem, Graham Norton. [ Comments: none ]

Eminem and Elton John are good friends, such good friends that the rapper got the Rocket Man an interesting present for his wedding to David Furnish. John told Graham Norton that Marshall Mathers got them each a diamond encrusted cock ring. Have they used it? Nope. Which is weird because if I was man I would love to have diamonds rapped around my privates. But then again, I guess diamonds are only a girl's best friend.
BTW how weird is it that they are good friends and talk all the time? What could they possibly talk about? I am sure now they will talk about how John hasn't used the ring he got for his Johnson.

---