Salma Hayek's boobs are pretty in pink!
November 4th, 2019 under Salma Hayek. [ Comments:

1

]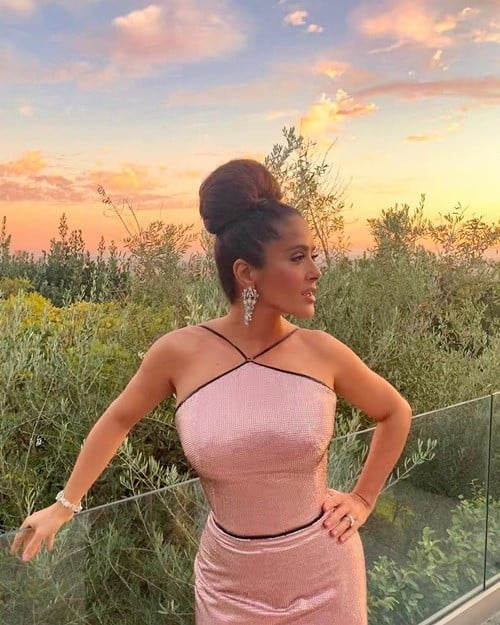 Salma Hayek wore a form-fitting light pink satan gown to the Gucci Gall and her infamous boobs are pretty in it. I know you are not staring at any other part of her because they are screaming look at me! And you are looking.
---
It's Salma Hayek vs Tiffany Haddish in Like a Boss
September 12th, 2019 under Billy Porter, Salma Hayek, Tiffany Haddish. [ Comments:

none

]

We know that Tiffany Haddish can be over the top high-larious. However, we are going to find out if Salma Hayek can match her in their new movie Like a Boss that comes out January 10th.
The film is described as, "Best friends Mia and Mel (Haddish and Rose Byrne) are living their best lives running their own cosmetics company they've built from the ground up. Unfortunately, they're in over their heads financially, and the prospect of a big buyout offer from a notorious titan of the cosmetics industry Claire Luna (Hayek) proves too tempting to pass up, putting Mel and Mia's lifelong friendship in jeopardy. The beauty business is about to get ugly."
Those are just a bunch of words, the trailer speaks volumes about how funny it is going to be. Plus, there are two very important reasons to see this film. They are Billy and Porter. He is a reason enough to see anything he is in. Pray tell.
---
Is Salma Hayek really 53?
September 2nd, 2019 under Are they really their age?, Salma Hayek. [ Comments:

none

]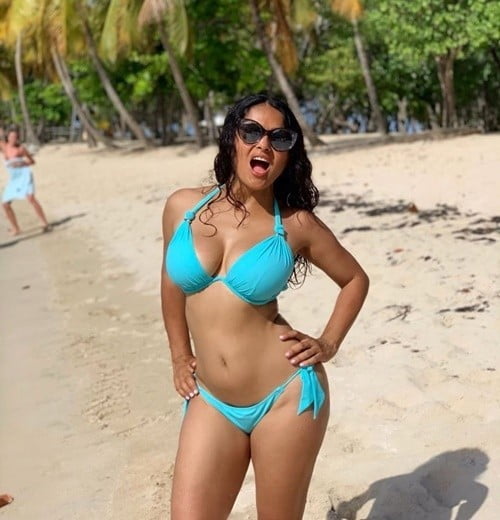 Salma Hayek spent her birthday weekend at the beach in a bikini. What number did she turn? She is now the big 5-3. However, you would never believe that looking at her in this photo. She looks just like she did when she first started out and I am not just talking about her face. I wonder what her secret to never aging is because I want some of that.
---
Salma Hayek's husband François-Henri Pinault pledges €100 million to Notre-Dame
April 16th, 2019 under Salma Hayek. [ Comments:

none

]

Most people around the World know François-Henri Pinault as Salma Hayek's husband, but today we know the billionaire as the man who pledged €100 million to rebuild the Notre-Dame Cathedral. He is not the only French billionaire to do so. France's richest man Bernard Arnault, the founder of the LVMH Group, doubled that offer according to CBS News.
This is what billionaires should do because they cannot take it with them.
Notre-Dame de Paris has survived since the first stone was placed in 1150, and it will live on for centuries to come. It has seen a lot of destruction around it throughout the ages, but now all of that sorrow has been burned away and new memories, hopefully, happier ones, will be made around it.
This Easter, no matter what you practice, take a moment and be thankful that the Cathedral survived. It truly is a miracle. A place that brings people together for good lives another day. We need more places to bring us together and not tear us apart because at the end of the day we all are all born, bleed red and die.
---
Ryan Reynolds has seen better days
March 12th, 2019 under Better Days, Ryan Reynolds, Salma Hayek, Samuel L Jackson. [ Comments:

none

]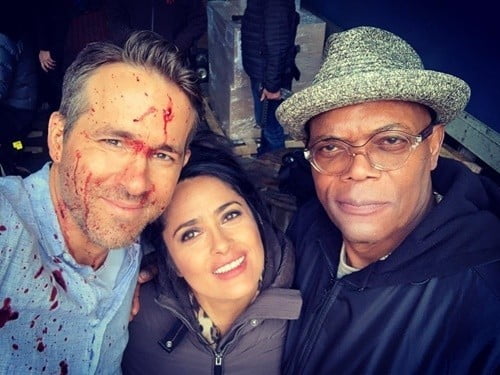 Ryan Reynolds posed with his costars Salma Hayek and Samuel L Jackson, and there is something bloody different about him. He is covered in blood and they are not.
Why? All we know it is for the sequel to their movie The Hitman's Bodyguard, The Hitman's Wife's Bodyguard. Wonder if they take him out? Since production began earlier this month, not much is known about the film.
---