Is Salma Hayek really turning 54 tomorrow?
September 1st, 2020 under Are they really their age?, Salma Hayek. [ Comments:

none

]

Salma Hayek is turning 54 tomorrow. However, looking at the Oscar winner, you would never know it.

The actress is obviously drinking from the Fountain of Youth because she is getting younger instead of older. If that isn't her secret, then I want to know what it is.

---
Salma Hayek washes the grey out
June 16th, 2020 under Salma Hayek. [ Comments:

none

]

Since Salma Hayek didn't need to be in front of the camera during the coronavirus pandemic, she decided to let her go natural. That means her pepper hair has some salt in it.

Now that Hollywood is going back to work, she needed to get locks done. So she did.

The actress shared a photo of herself before and after the dye job, and she is to die for. Then again she looks gorgeous no matter what color hair she has.

---
Meeting Salma Hayek left Eminem all wet
February 12th, 2020 under Eminem, Salma Hayek, Strange Encounters. [ Comments:

none

]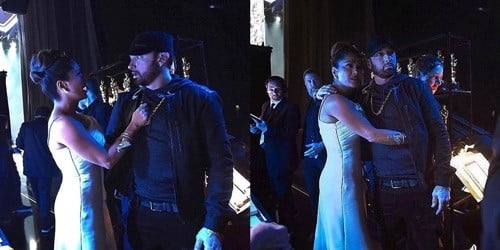 We saw what went on during the Oscars telecast, but we don't know what happened backstage. Today, Salma Hayek shared her embarrassing about when she met Eminem.
In these pictures it might look like @Eminem and I are best friends, but what really happened is as he was walking offstage and I was getting ready to walk onstage, I was so shocked to see him that I spilled water all over him. If you examine our faces, I look mortified and he looks terrified of me- As I was trying to wipe it off I impulsively hugged him and I said "Nice to meet you Eminem- I'm a HUGE fan!" because I AM! But I was so disappointed that I made such a fool of myself in front of him
How did he feel about their encounter? When Variety asked him if he enjoyed that night, he said, "Absolutely. I got to hug Salma Hayek!"
Too bad, she is married. If not, they would be Hollywood's hottest couple right now. You could say they would lose themselves in each other.

---
Salma Hayek feeds Penélope Cruz caviar
February 10th, 2020 under Penelope Cruz, Salma Hayek. [ Comments:

none

]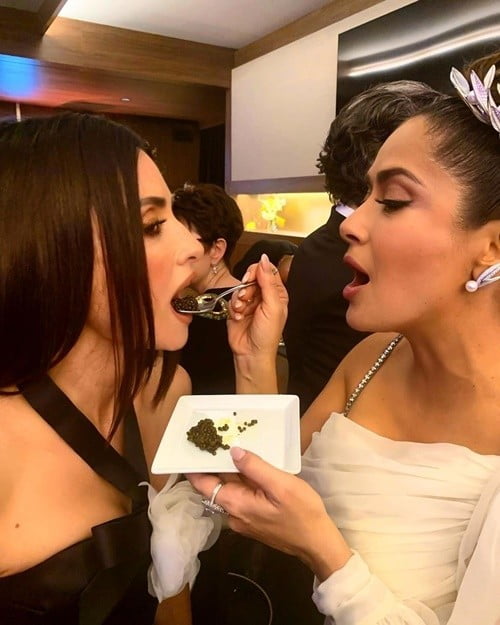 We all know that Salma Hayek and Penélope Cruz are BFFs, but how close are they? So much so, the starving Hayek was not only willing to share her caviar with her amiga, she even fed it to her. For those of you whose fetish that satisfies, you can now cross it off your list.
You can tell they are not New Yawkers. If I asked my best friend to share some of their food with me because I was starving, she would instruct me to go get it myself after a few choice words.

---
Who has a better tush: Salma Hayek or Tiffany Haddish?
January 10th, 2020 under Andy Cohen, Better than..., Salma Hayek, Tiffany Haddish. [ Comments:

none

]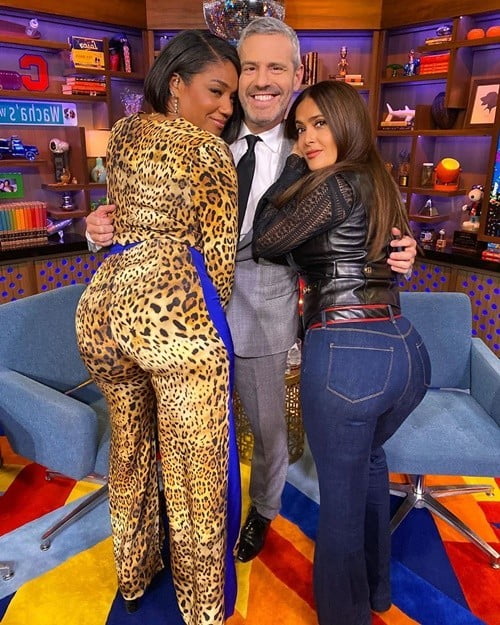 Salma Hayek or Tiffany Haddish are promoting their film Like a Boss and they took their act to Watch What Happens Live. To promote the episode, they posed with Andy Cohen and their a$$ets out. Which makes you wonder which actress has the better butt? Bottoms up, I say it is a tie.

---