[ # ] Meeting Salma Hayek left Eminem all wet
February 12th, 2020 under Eminem, Salma Hayek, Strange Encounters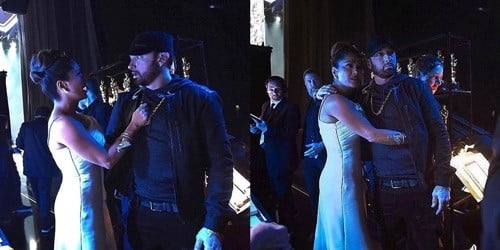 We saw what went on during the Oscars telecast, but we don't know what happened backstage. Today, Salma Hayek shared her embarrassing about when she met Eminem.
In these pictures it might look like @Eminem and I are best friends, but what really happened is as he was walking offstage and I was getting ready to walk onstage, I was so shocked to see him that I spilled water all over him. If you examine our faces, I look mortified and he looks terrified of me- As I was trying to wipe it off I impulsively hugged him and I said "Nice to meet you Eminem- I'm a HUGE fan!" because I AM! But I was so disappointed that I made such a fool of myself in front of him
How did he feel about their encounter? When Variety asked him if he enjoyed that night, he said, "Absolutely. I got to hug Salma Hayek!"
Too bad, she is married. If not, they would be Hollywood's hottest couple right now. You could say they would lose themselves in each other.

---