Who knew that Tony Shaloub could sing?
February 26th, 2020 under Carly Simon, Tony Shaloub. [ Comments: none ]

We know that Tony Shaloub can act, but did you also know that the Emmy-winner can sing and play the guitar? Today, Carly Simon shared a video of him performing her song It Was So Easy with her and some friends. The Grammy-winner revealed that they are rehearsing for Carnegie Hall.
They are getting ready for March 19th. That is when Michael Dorf will be presenting her music as performed by other artists like the actor. So far, they have announced some of the other singers and they are Indigo Girls, Darlene Love, The Bangles' Susannah Hoff, Michael McDonald, and Natasha Bedingfield to name a few.
If you are in NYC, then this is a night you don't want to miss.

---
Is Carly Simon really 74?
February 10th, 2020 under Are they really their age?, Carly Simon. [ Comments: none ]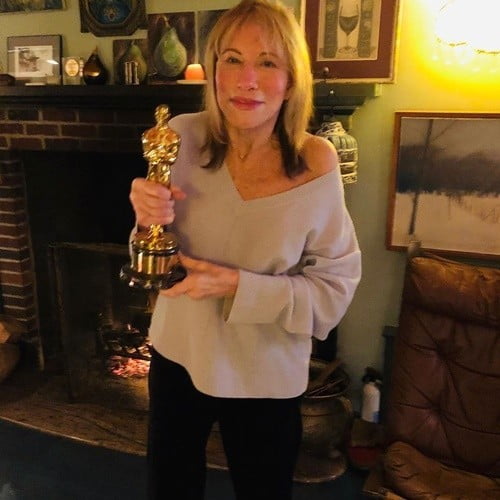 Back in 1972, Carly Simon released You're So Vain, and in 2020, the singer has every reason to be vain. That is because she shared a photo of herself watching the Oscars, barely wearing any makeup, and she looks fantastic.
So much so, it doesn't appear as though she has aged a day since she won her own Oscar for Best Original Song in 1989. The winning tune was Let the River Run from Working Girl. Unlike yesterday's nominations and winner, this song will still be stuck in your head 31 years from now, which will be 62 years because it has been there since the last century. That is also when she stopped aging.
I hope her secret is that it is in the water she drank. Both she and Steven Tyler are from my hometown, and they both look and act so youthful. I don't want to be an old lady when I am their age.

---
Carly Simon says a third of You're So Vain is about…
November 18th, 2015 under Carly Simon, Music. [ Comments: none ]

Ever since 1972, people have been wondering who Carly Simon's You're So Vain is about, and after 43 years she finally named a name. She told People that the second verse is about…Warren Beatty. It has long been rumored that the tune is about him, and now we know a verse is indeed about the former lady killer.
Will she ever name the other two men, she simply told the magazine, "I don't know if I'll do it. I never thought I would admit that it was more than one person!"
Many have speculated that the song could also possibly be about another one of her former-lovers, Mick Jagger, but now we have a third name to contend with. Who is it? We might never know. But then again we never thought she would confirm any of the names that the single was written about.

---
Carly Simon asks you to show her You're So Vain
February 15th, 2010 under Carly Simon, Music. [ Comments: 1 ]




via Reuters
Carly Simon is asking her fans to make a music video for her biggest song You're So Vain. Believe it or not she has never shot a music video for the 1972 classic that has everyone wondering who it is about. So now you have your chance to make who you want it to be about or just what you the song means to you. The winner of the contest will have their music video shown at the Tribeca Film Festival, featured on AOL music and you will meet the songstress herself and she will give her something from her personal archives! If you want to enter, you have until April 15th to submit your music video. Heck I might even enter the contest! Anyone know where Warren Beatty and Mick Jagger are hanging out these days?

---