Duran Duran's Andy Taylor reveals he's battling stage IV prostate cancer
November 6th, 2022 under Duran Duran. [ Comments: none ]
Yesterday, Duran Duran was finally inducted into the Rock and Roll Hall of Fame, but one of Fab Five was missing. Andy Taylor, who left the band, was planning on joining his bandmates, but he was not able to do so.
Just over 4-years ago I was diagnosed with stage 4 metastatic prostate cancer. Many families have experienced the slow burn of this disease and of course we are no different; so I speak from the perspective of a family-man but with profound humility to the band, the greatest fans a group could have and this exceptional accolade.

I have the Rodgers and Edwards of doctors and medical treatment that until very recently allowed me to just rock on. Although my current condition is not immediately life threatening there is no cure. Recently I was doing okay after some very sophisticated life extending treatment, that was until a week or so ago when I suffered a setback, and despite the exceptional efforts of my team, I had to be honest in that both physically and mentally, I would be pushing my boundaries.

However, none of this needs to or should detract from what this band (with or without me) has achieved and sustained for 44 years. We've had a privileged life, we were a bit naughty but really nice, a bit shirty but very well dressed, a bit full of ourselves, because we had a lot to give, but as I've said many times, when you feel that collective, instinctive, kindred spirit of creativity mixed with ambition, armed with an über cool bunch of fans, well what could possibly go wrong?

I'm truly sorry and massively disappointed I couldn't make it. Let there be no doubt I was stoked about the whole thing, even bought a new guitar with the essential whammy!

I'm so very proud of these four brothers; I'm amazed at their durability, and I'm overjoyed at accepting this award. I often doubted the day would come. I'm sure as hell glad I'm around to see the day.
This news is shocking because Taylor has been keeping this secret and has been touring and making music since his diagnosis. There is no way we would've known had he not been able to attend the induction ceremony.
I hope the guitarist knows he is loved and we are there for him.
My friend is battling stage IV breast cancer, and she is living life to the fullest thanks to medicines.
So today, I am praying for both of them. I grew up as a Duranie, so all the band members have a special place in my heart.

---
The Rock & Roll Hall of Fame is coming to HBO on November 19th
October 19th, 2022 under Carly Simon, Duran Duran, Eminem, HBO Max, Lionel Richie. [ Comments: none ]
I normally hate the Rock & Roll Hall of Fame. The people I think who deserve to be there aren't even nominated. However, this year, this Duranie is finally seeing Duran Duran get inducted along with Dolly Parton, Pat Benetar, Carly Simon, Eminem, and Lionel Richie.
As much as I love the Eurythmics, I don't think they are as deserving as The New York Dolls, who were nominated but not inducted. Although, the latter's acceptance speech would be sad because they are down to one member. Buster Poindexter might be Hot, Hot, Hot, but he would be lonely up there by himself.
Anyways, it's not about my feelings or this year's controversies like Dolly Parton and Dionne Warwick criticizing the name of the Hall of Fame and asking not to be inducted, it about the inductees' night.
That night is going to be November 19th on HBO. So mark your calendars because it is going to be a night to remember.

---
Andy Taylor will join Duran Duran at the Rock and Roll Hall of Fame induction
May 9th, 2022 under Duran Duran. [ Comments: none ]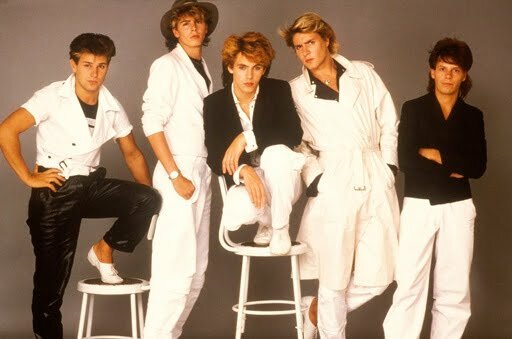 Last week, the Rock and Roll Hall of Fame announced that Duran Duran is finally going to be added to their list of legendary Rockers. So that made Duranies wonder if Andy Taylor, who left the band in 1986, would be joining them at the induction in November.
"For one night only (& what a night it will be)," the guitarist wrote. "I had a brief chat with SLB the other day, everyone is genuinely thrilled & excited about this. Blown away with the fan vote, particularly when you consider the company. So – see you all on November 5th, fireworks night, (we got the bangers) boom boom – Thank you so much, feel like a naughty kid again."
I have never seen all five of the original members, Andy, Simon Le Bon, Nick Rhodes, Roger Taylor, and John Taylor, perform together, so I think I am going to have to go just to see it. But then again, maybe D2 will do like The Police and decide to do a reunion tour after reuniting at the HOF. Although, it didn't work for Journey with Steve Perry.
I am not a huge fan of the Hall of Fame. However, I respect the fact that it reunites bands that broke for the occasion. It makes fans, like me, very happy. And it is all about me!

---
Duran Duran and Dolly Parton made it to the Rock and Roll Hall of Fame
May 4th, 2022 under Annie Lennox, Carly Simon, Dolly Parton, Duran Duran, Eminem, Lionel Richie. [ Comments: none ]
The Rock and Roll Hall of Fame announced who is going to be inducted into the Hall of Fame this November, and Duran Duran finally made it in. The band will be joined by Pat Benatar & Neil Giraldo, Eminem, Eurythmics, Dolly Parton, Lionel Richie, and Carly Simon.
Several of the inductees released statements about being admitted.
Annie Lennox wrote, "Well – @Eurythmics made the grade, thanks to every single one of our truly loyal 'fans'! The appreciation goes to YOU! Much love from Annie and Dave! ❤️ 😎😎 Gangstas forever!!"
Pat Benetar and her husband, Neil Giraldo, said, "We are thrilled and humbled to become part of the Rock & Roll Hall of Fame family. Thank you to everyone who voted especially the fans and congratulations to all the other inductees."
Lionel Richie had this to say, "Being elected to @rockhall is an incredible honor. I would like to say THANK YOU to all of the voters, to all of my wonderful fans and to everyone at the Rock & Roll Hall of Fame. Congratulations to all of my fellow 2022 inductees! #RockHall2022"
As of now, Eminem, Carly Simon (who is the second person from my hometown to be inducted because it is all about me), and Dolly Parton have not commented.
I can't wait to hear what Dolly has to say. The legendary singer initially said she would turn it down. But on Monday, she said she would accept the award gracefully. Now that she is in, I am curious how she will react to it now that it is really happening.
And she deserves it because she inspired plenty of Rockers. However, I think that New York Dolls deserved to be in there over the Eurythmics. Annie Lennox deserves it as a solo act, but not with Dave Stewart and their band. New York Dolls dolled up Punk and Heavy Metal music by the way they dolled it up. They would wear their girlfriends' clothes on stage, and it is a look that is still popular today. I know many people will disagree, but I think they meet more recognition.
UPDATE: Dolly Parton released her statement. If you want to see what she wrote, then click here!

---
Andy Taylor responds to Duran Duran's Rock and Roll Hall of Fame nom with class
February 7th, 2022 under Duran Duran. [ Comments: none ]
Last week, Duran Duran was nominated to be inducted into the Rock and Roll Hall of Fame. Simon Le Bon, John Taylor, Nick Rhodes, and Roger Taylor issued a statement as a band, but what about Andy Taylor, the fifth original member who left the band for a second and final time in 2006? The guitarist responded to the nomination over the weekend.
I thought it cool to give this a few days, to wait for the dust to settle – it's a big one, big & most unexpected – I have to say that without a shred of doubt the guys deserve an enormous amount of respect for keeping the band going & very much alive. It's true – we love survivors & it's also true that until something like this happens in life, you don't really know how you're going to feel. So yes, I've definitely got some skin in this game, tingly skin & was choked when I saw my name among the nominations! Award shows add a passing sparkle, but being nominated to TR&RHOF is so much more than a TV moment. As a musician you look at the company you're now revelling in, both thrilling & humbling but undoubtedly in Duran's case extremely well deserving, in fact some might say "a tad overdue"… However, it's the unwavering support from an army of fans, followers & dare I say Duranies whom despite the media's relentless cheap shots & sheer bloody ignorance towards the band at times, have supported each & all of us, bonkers to think of really… some 45 years later. So Thank You massively from the bottom of my heart, it's an incredible piece of legacy to be gifted & I'm one very proud fella. ATX
Andy Taylor has led a pretty private life since he departed from the band, so you didn't know what to expect. But he handled it with class.
A lot of bands who broke up or lost members reunite when they get inducted into the Hall of Fame, like The Police and Journey. So good things can come from it. Maybe Andy will be willing to give D2 a third shot? After all, the third time is the charm. And he wrote a charming letter about the nomination.
That letter was all class and humbleness. It shows he has matured and deserves to be there alongside the four men with whom he played with for decades. I seriously can't get over his letter because it was so well-written and from the heart.
When it comes to if they should get inducted, the answer is hell yes. They helped to launch MTV with their groundbreaking and controversial videos for Girls on Film, The Chauffer, Rio, and so on. Along with still going strong for almost 45 years, and they are not slowing down.
It is a tough year because Dolly Parton deserves it for being Dolly Parton. Pat Benetar showed us that women can Rock better than a man. Eminem for what he has done for Rap. Dionne Warwick for opening the door for other Black female artists. Lionel Richie sold a lot of albums in the '80s and proved he is just as strong of a musician as a solo artist. Carly Simon taught us we can all be vain. And The New York Dolls showed us that men can be dolled up in women's clothing and Rock!
Sorry, but I think Eurythmics, A Tribe Called Quest, Judas Preist, Devo, Kate Bush, Beck, and Rage Against the Machine can wait for another year.

---