The #BottleCapChallenge leaves Blake Shelton crying!
July 3rd, 2019 under ALS Ice Bucket Challenge, Blake Shelton. [ Comments:

none

]

I don't think anyone will argue that Blake Shelton is more of a singer than an athlete. Therefore, it is kind of interesting that he took on the #BottleCapChallenge. However, he was inspired to try it out. Not to see if he could do it. He wanted to promote his alcohol brand Smithwork's Vodka.
He probably should not have had any before he tried to kick the cap off with his foot. I say that because he wound up hitting the neck of the bottle and down it went. Once he realized how badly he messed it up, he started to cry. Not because it was an epic fail. He was crying like a little bitch because he nearly ruined his precious vodka. He made sure to comfort the bruise bottle as he ran inside to bury his tears in his pillow.
Poor Blake. Even Aviation American Gin had to make fun of him over that really sad attempt. How did The Voice coach react to that public shaming? He called out their boss, and challenged Ryan Reynolds to do it. If it is anything like his movies, he will use a stunt double instead and pretend that he did it.
---
Does Blake Shelton have a drinking problem?
May 28th, 2019 under Blake Shelton. [ Comments:

4

]

Blake Shelton's love for drinking is as well known as the fact that he is dating Gwen Stefani. Therefore, I don't know why it surprised me that he played Beer Pong with Smithworks Vodka in red party garbage cans. But it did.
How did he do? Before he even had a sip, he totally missed his marks. Then his niece Madeline went and got the ball in one of the cups. He downed that shot like a freshman in college at his first party at the fraternity he want to pledge.
We do not know how the rest of the game went, but we can only assume it went much worse for him. At least things are not all bad for him, he still he can look forward to continuing his bromance with Adam Levine on The Voice. Oh, that is why he played this game with those cups. He was drinking his sorrows away.
---
Has Blake Shelton and Adam Levine's bromance turned into a romance?
May 22nd, 2019 under Adam Levine, Blake Shelton, The Voice. [ Comments:

none

]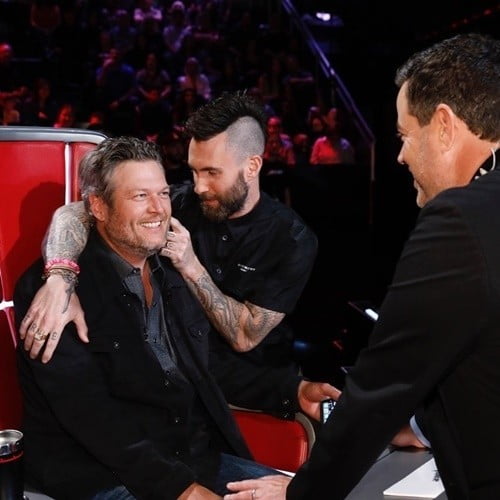 Ever since season one of The Voice, Adam Levine and Blake Shelton have had a very special bromance. Since then Shelton got divorced and started dating Gwen Stefani, while Levine got married to Behati Prinsloo and had two daughters. Through all of that, their bromance remained strong. Maybe too strong? Because look at the way the Maroon 5 singer is looking at his Honey Bee. Girls like you and me are loving it. Girls like the No Doubt singer and the model are not. Unless they are like me and like seeing two men go at it!
---
Blake Shelton cleans up well!
December 7th, 2018 under Blake Shelton, The Voice, Thin Models Bad. [ Comments:

none

]

Remember when Blake Shelton was named People's Sexiest Man Alive and you were like I do not get it? Do you get it now, after looking at this photo his girlfriend Gwen Stefani shared of him wearing a tux?

You know, I do find him and those deep dimples sexy in old jeans and a plaid shirt, but they look even better when he is dressed to the nines. Maybe he should wear a suit on The Voice? If the female coaches can dress up on the show, why can't he and Adam Levine do it too?
---
What was Gwen Stefani's disappointment about Blake Shelton being named People's Sexiest
November 7th, 2018 under Blake Shelton, Ellen DeGeneres, The Voice. [ Comments:

none

]

Blake Shelton is no longer People's Sexiest Man Alive, so now he is free to talk about what it was like during his year-long reign to Ellen DeGeneres.
The first thing he did was wish the new person (Idris Elba) better luck than he had when it was announced he was that man. Even his friends thought he was a bad choice.
Then Ellen wanted to know if his girlfriend Gwen Stefani expected more from him. The Voice coach said, "She did, It's like supposed to be a superpower or whatever I'm saying." Then he put his head down in shame and added, "I don't think she felt the power."
Even Shelton cannot figure out why she is with him. He is convinced there is something wrong with her because she is dating him. Personally, I think it is the other way around. He is cute with dimples and he is very funny in a self-deprecating way.
---