Gwen Stefani etches a J and an F in Blake Shelton's hair for Jimmy Fallon
April 14th, 2020 under Blake Shelton, Gwen Stefani, Jimmy Fallon. [ Comments:

none

]

Blake Shelton was a guest on The Tonight Show yesterday from his home in Oklahoma. While he was chatting with Jimmy Fallon, Gwen Stefani started to trim her boyfriend's mullet.
As she was wrapping his haircut and the boys were wrapping their interview, the Country singer asked her to shave a J and an F in his hair for his good buddy. They act like they hate each other, but I love their bromance.
For those of you who are wondering what they talked about, there was not much. However, Shelton did make it sound like The Voice will somehow do the live shows. He says the producers have a plan, they just have not told him what it is.
What are American Idol and The Voice waiting for to announce what their plan are going to be? I want to know how they are going to handle the live shows even though I do not watch.
---
What did Gwen Stefani do to Blake Shelton's hair?
March 26th, 2020 under Blake Shelton, Gwen Stefani. [ Comments:

none

]

Gwen Stefani went a little bit country for Blake Shelton, and now she made him go a little bit rock and roll for her. She shaved the sides of his head and gave him a mullet again.
However, this time, she gave it a rockin' edge and added stripes. An edge, that does not work on People's former Sexiest Man Alive.
What do you think of his new hairdon't?
---
Blake Shelton and Gwen Stefani's new duet could be their wedding vows
January 22nd, 2020 under Blake Shelton, Gwen Stefani. [ Comments:

none

]

Blake Shelton and Gwen Stefani released their third duet together, and I can see them singing Nobody But Yot to each other on their wedding day in front of the person officiating their nuptials. That is if they are OK with someone else writing their vows.
How can the perfect love song be sung by two musicians, who are dating, be written by four other people? You would think they could write their own ballad declaring how much they are head over heels for each other. Guess not!
Either way, it is a catchy tune I cannot get out of my head!
---
Has Blake Shelton hit hard times?
January 2nd, 2020 under Blake Shelton. [ Comments:

none

]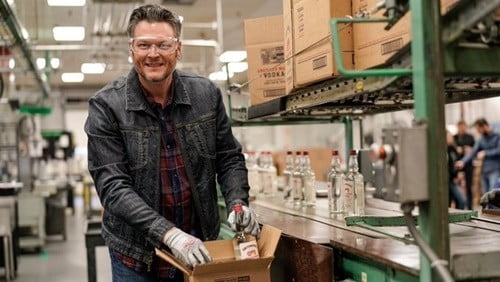 Blake Shelton was seen working a factory line, so has the singer hit hard times? I mean besides losing the last four seasons of The Voice.
Nope, he was just making sure his line of Vodka at Smithworks fulfilled all their New Year's Eve orders. Therefore, it is the opposite for him.
---
Blake Shelton marries Trace Adkins
October 13th, 2019 under Blake Shelton, Trace Adkins. [ Comments:

1

]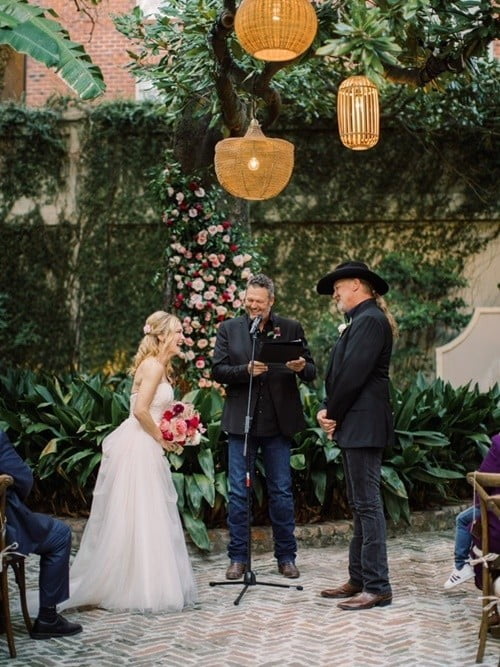 Now that we got the clickbait out of the way. Trace Adkins married actress Victoria Pratt in New Orleans yesterday and Blake Shelton was the one who got them to say I do.
According to Taste of Country,, the two met when they worked together on the 2014 movie The Virginian and have been dating for a while.
This is the 57-year-old's fourth marriage. Hopefully, it will go better than his second one. That is because that wife shot him in the heart. Things I learned by reading his autobiography.
---