Blake Shelton and Gwen Stefani's new duet could be their wedding vows
January 22nd, 2020 under Blake Shelton, Gwen Stefani. [ Comments:

none

]

Blake Shelton and Gwen Stefani released their third duet together, and I can see them singing Nobody But Yot to each other on their wedding day in front of the person officiating their nuptials. That is if they are OK with someone else writing their vows.
How can the perfect love song be sung by two musicians, who are dating, be written by four other people? You would think they could write their own ballad declaring how much they are head over heels for each other. Guess not!
Either way, it is a catchy tune I cannot get out of my head!
---
Has Blake Shelton hit hard times?
January 2nd, 2020 under Blake Shelton. [ Comments:

none

]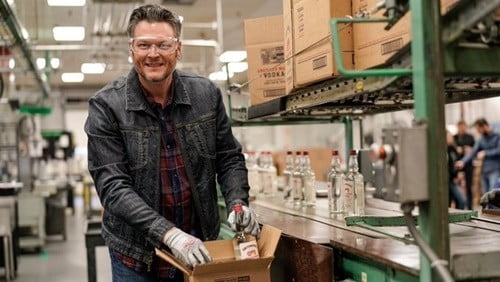 Blake Shelton was seen working a factory line, so has the singer hit hard times? I mean besides losing the last four seasons of The Voice.
Nope, he was just making sure his line of Vodka at Smithworks fulfilled all their New Year's Eve orders. Therefore, it is the opposite for him.
---
Blake Shelton marries Trace Adkins
October 13th, 2019 under Blake Shelton, Trace Adkins. [ Comments:

1

]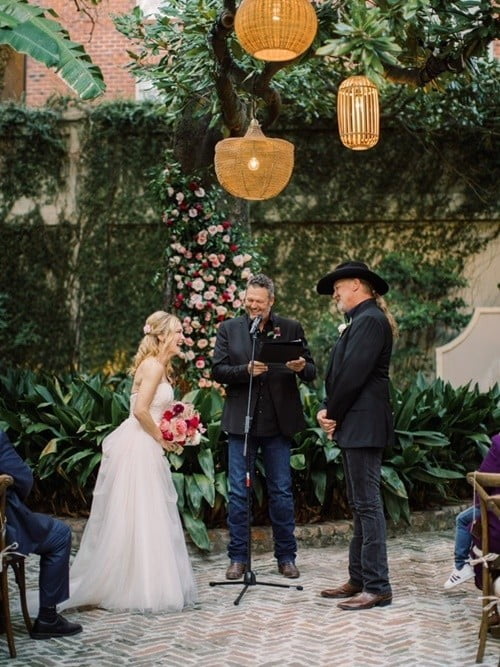 Now that we got the clickbait out of the way. Trace Adkins married actress Victoria Pratt in New Orleans yesterday and Blake Shelton was the one who got them to say I do.
According to Taste of Country,, the two met when they worked together on the 2014 movie The Virginian and have been dating for a while.
This is the 57-year-old's fourth marriage. Hopefully, it will go better than his second one. That is because that wife shot him in the heart. Things I learned by reading his autobiography.
---
There are more than words between The Voice coaches
September 13th, 2019 under Blake Shelton, Gwen Stefani, John Legend, Kelly Clarkson, The Voice. [ Comments:

none

]

One of the sappiest songs ever recorded is Extreme's More Than Words. This season the coaches of The Voice harmonize that tune together. Can a Popstar, a Country boy, an R&B artist and a Country Popstar get the melody down as one coherent group? That is what Gwen Stefani, her boyfriend Blake Shelton, John Legend and Kelly Clarkson attempt to do with Carson Daly on guitar.
How did they do? Surprisingly. the love song worked for the American Idol winner and the one who won an EGOT. However, it was not made for the couple's voices. They came off as really nasally. It made question if the No Doubt singer can sing without the help of a producer if you know what I mean?
The Voice is back on NBC September 23rd.
---
Garth Brooks has friends in low places
September 10th, 2019 under Blake Shelton, Garth Brooks. [ Comments:

none

]

Garth Brooks has a new song out with Blake Shelton called Dive Bar and he took the music video to a low place. As in the film crew took a dive and filmed it in a swimming pool while the singers stayed dry. However, the crew went for a swim.
The video just wrapped, so all we have is this behind the scenes video. If it is any clue what it is going to be like, I doubt it will be a belly flop. Suddenly, I drew a blank on swimming terminology so that was the best corny joke I could come up with.
---