Reba McEntire wore a suit from 1995 at the CMAs
November 10th, 2022 under Reba McEntire. [ Comments: none ]
Reba McEntire honored her friend Loretta Lynn at the CMAs yesterday. Since the singer wanted to wear something special for it, she went through her closet for just the right outfit.
"You know I love a #throwbackthursday!!!" she wrote. "Sandi Spika designed this fringed green western suit for my 1995 tour and we pulled it out of the archives for last night's #cmaawards #lorettalynn tribute!"
Can someone explain to me how it is possible that Reba looks better in it now than she did 27 years ago? I guess she is like a fine wine. She gets better with age. That, and I heard she is a survivor.

---
Reba McEntire is on vocal rest
November 2nd, 2022 under Reba McEntire. [ Comments: none ]
Reba McEntire is currently on tour, but she is forced to postpone her next three shows. That is because the Country singer said, "My doctor has advised me to go on vocal rest, so I have made the difficult decision to reschedule this weekend's shows."
Hopefully, her voice will be better a week from now so that she can perform at the Country Music Awards. I am sure it will be. Because, after all, she is a survivor.

---
BTWF: Reba McEntire at The Grand Ole Opry
August 15th, 2022 under Reba McEntire. [ Comments: none ]
Before Reba McEntire was a regular at The Grand Ole Opry, she recorded there for the first time. Even when she was just 23 back in 1978, she knew how to give one heckuva performance.

---
Reba McEntire is getting a Christmas movie at Lifetime
March 4th, 2021 under Lifetime, Reba McEntire. [ Comments: none ]

Reba McEntire and Lifetime have teamed up for a two-movie deal. The first movie will be coming this holiday season.

Christmas In Tune tells the story of Belle, a marketing executive who is worried she may lose her job. She decides to reunite a singing duo for a charity Christmas concert in order, but the problem is – the singers are actually her parents and they have not spoken to each other in years! Soon the at-odds couple is helping Belle get her life in order and she begins her own romantic duet with the new man in her life. McEntire will sing and star in this film.

Then sometime in 2022, she will be back with another movie that is not related to Christmas.

Lifetime is a good home for Reba because her old sitcom used to air on their network. Therefore, viewers are used to her fiery personality that matches her hair color.

---
Melissa Peterman can't stand to be away from Reba McEntyre
May 28th, 2019 under Reba McEntire. [ Comments: none ]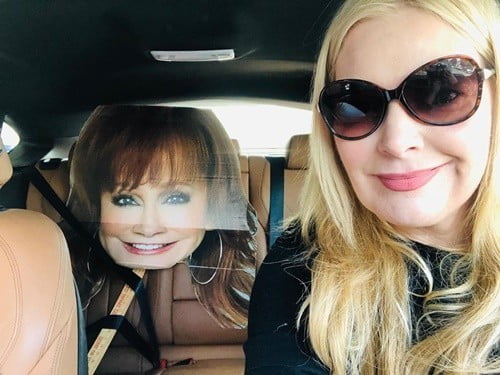 Even though it has been 12 years since Melissa Peterman and Reba McEntyre worked together on a weekly basis, the former still needs to take the latter with her wherever she goes. Don't believe me? Here she is with Reba's head on a stick in her car. Can you imagine the cop's reaction when he pulled her over for driving in the carpool lane with that?
When it comes to why the actress has it? It was a prop from an episode they did together. I want to say it was Baby Daddy, but I could be wrong. I still miss that show.

---