Reba McEntire is getting a Christmas movie at Lifetime
March 4th, 2021 under Lifetime, Reba McEntire. [ Comments: none ]

Reba McEntire and Lifetime have teamed up for a two-movie deal. The first movie will be coming this holiday season.

Christmas In Tune tells the story of Belle, a marketing executive who is worried she may lose her job. She decides to reunite a singing duo for a charity Christmas concert in order, but the problem is – the singers are actually her parents and they have not spoken to each other in years! Soon the at-odds couple is helping Belle get her life in order and she begins her own romantic duet with the new man in her life. McEntire will sing and star in this film.

Then sometime in 2022, she will be back with another movie that is not related to Christmas.

Lifetime is a good home for Reba because her old sitcom used to air on their network. Therefore, viewers are used to her fiery personality that matches her hair color.

---
Melissa Peterman can't stand to be away from Reba McEntyre
May 28th, 2019 under Reba McEntire. [ Comments: none ]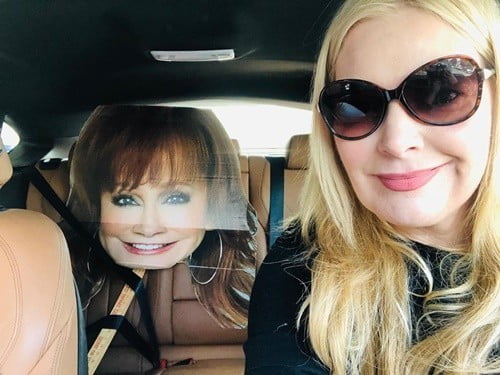 Even though it has been 12 years since Melissa Peterman and Reba McEntyre worked together on a weekly basis, the former still needs to take the latter with her wherever she goes. Don't believe me? Here she is with Reba's head on a stick in her car. Can you imagine the cop's reaction when he pulled her over for driving in the carpool lane with that?
When it comes to why the actress has it? It was a prop from an episode they did together. I want to say it was Baby Daddy, but I could be wrong. I still miss that show.

---
Imagine Reba McEntire as Molly Brown in Titanic
February 22nd, 2019 under Andy Cohen, Kathy Bates, Reba McEntire. [ Comments: none ]

Before Kathy Bates played Molly Brown in the Oscar-winning movie Titanic, Reba McEntire was cast in the role. Shortly before filming started she had to drop out. She explained to Andy Cohen on Watch What Happens Live why she was forced to jump ship.
Before Reba had her own sitcom, she was on the road all the time. When she accepted the role, she scheduled a definitive 3 months for the movie and then planned to go on tour. Which meant she hired a lot of people and booked a bunch of dates. Therefore, when they told her production had been delayed, she was forced to give up a role that could have changed her life. She had too many people depending on her to do the shows that she could not say no to all of them.
As much as I like Reba, I prefer Bates in the part. Not only does she look like the Unsinkable Molly Brown, but she was also perfect in the film. What do you think?

---
Did Reba McEntire hint a Reba revival is in the works?
March 13th, 2018 under Reba McEntire. [ Comments: none ]

I remember reading a few weeks ago about the rumors that Reba McEntire was considering doing a revival of her beloved self-titled sitcom. Now it seems, she kind of hinted about it in an Instagram post with two of her costars from it. Along with the photo of her with TV ex-husband and his new TV wife, she said, "Now all we need is the rest of the REBA cast!! @melissapeterman @actor_christopher_rich #reboot." Reboot???

Now that The CW is expanding to Sundays, it would be nice if they added some comedies to their lineup. Why not start with a revival of The WB's biggest one. Who else besides me want to see what the Harts are up to? And what type of trouble Barbara Jean is getting herself into now?

---
Rumor has it, Reba McEntire is the new Colonel Sanders
January 26th, 2018 under Fast Food, Reba McEntire. [ Comments: none ]

Rob Lowe, Norm McDonald, Ray Liotta and Billy Zane are just a few of the actors who have played Colonel Sanders throughout the years. But now, KFC has hired someone for the job that has two things they do not. If you are a leg person they men are for you, but if you breast one then you are going to be happy that they went with Reba McEntire for the job.
The country singer is the face for Kentucky Fried Chicken's newest flavor which is Smoky Mountain BBQ. That totally makes sense, but you wonder why they did not get Dolly Parton to do it. Probably because you cannot hide her, well, you know.
When it comes to Reba, I think she my favorite one yet. Who is your favorite Colonel?

---