There are more than words between The Voice coaches
September 13th, 2019 under Blake Shelton, Gwen Stefani, John Legend, Kelly Clarkson, The Voice. [ Comments:

none

]

One of the sappiest songs ever recorded is Extreme's More Than Words. This season the coaches of The Voice harmonize that tune together. Can a Popstar, a Country boy, an R&B artist and a Country Popstar get the melody down as one coherent group? That is what Gwen Stefani, her boyfriend Blake Shelton, John Legend and Kelly Clarkson attempt to do with Carson Daly on guitar.
How did they do? Surprisingly. the love song worked for the American Idol winner and the one who won an EGOT. However, it was not made for the couple's voices. They came off as really nasally. It made question if the No Doubt singer can sing without the help of a producer if you know what I mean?
The Voice is back on NBC September 23rd.
---
John Legend is 482 months old
February 25th, 2019 under Chrissy Teigen, John Legend. [ Comments:

none

]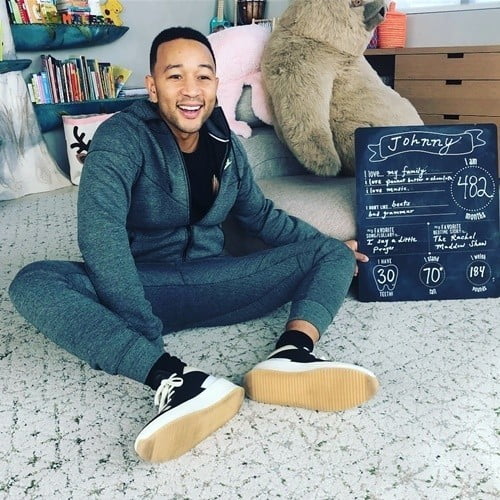 Chrissy Teigen took one of those photos telling us her son Milo reached his 9-month milestone and then she did one with her biggest baby. Not Luna, but her husband.
John Legend is 482 months or just over 40 years old. His favorite song is Say a Little Prayer. His favorite show is The Rachel Maddow Show. He hates grammar and loves his family. Just like we love him.
I thought the photo of the youngest Legend was awwwdorable, but I think I like the one of the oldest one even more. Why don't more parents do that?
To see the photo of Johnny's mini-me, then click here!
---
John Legend updated his Stinky Booty song
February 4th, 2019 under Adam Levine, John Legend. [ Comments:

none

]

John Legend made women's ovaries swoon when he sang Stinky Booty to his daughter Luna for Pampers. Well, she is growing out of them and now his son Miles is spending 24 hours in them. Therefore, the proud pop changed up the tune and brought in some friends to make it even better. One of those friends is Adam Levine and too bad he did not sing that at the Super Bowl half time show. I think we would have liked him better if he did.
---
This season The Voice is going to be Big
January 28th, 2019 under Adam Levine, John Legend, Kelly Clarkson, The Voice. [ Comments:

none

]

Adam Levine, Blake Shelton and Kelly Clarkson have gotten used to things at The Voice being as is, but this season things are going to get competitive with John Legend joining them on the big red chairs. That is because the EGOT winner is more than just a singer. Unlike those other three.
Plus, who is going to want to be on the team of American Idol's first winner when they can work with a Tony winner? Who wants to be coached by someone who played the Super Bowl halftime show when they can be taught by the youngest winner of the touchdown of Hollywood awards? Why work with Blake Shelton when you can work with John Legend. Those three are going to be left with his sloppy seconds. And I cannot wait to watch it all go down starting on February 25th.
---
Caption Chrissy Teigen, John Legend and Andy Cohen
January 17th, 2019 under Andy Cohen, Caption the Celeb, Chrissy Teigen, John Legend. [ Comments:

none

]

This photo of Chrissy Teigen, John Legend and Andy Cohen has caption me written all over it, so go ahead and do it.
---