John Legend has crabs!
March 19th, 2020 under Chrissy Teigen, John Legend. [ Comments:

none

]

John Legend and Chrissy Teigen are stuck home with their two kids, Luna and Miles. Since their children are too young to be homeschooled, the family of four gets to have some fun.

What is more fun than swimming? Thus, the four of them put on their swimming suits and jumped on inro the pool. Before they got their bathing suits all wet, the model took a photo of her two boys modeling their swimming trunks with crabs on them.

You know that Teigen bought those just so she could say, "I have crabs." That means she gave them to the People's Sexiest Man Alive.

Can someone tell me what manufacturer thought that was a good idea? Didn't they realize all the jokes that person wearing them is going to have endure? They probably did!
---
Chrissy Teigen goes down faster than Titanic
December 29th, 2019 under Chrissy Teigen, John Legend. [ Comments:

none

]

Chrissy Teigen and John Legend went ice skating, and they skated to Celine Dion's My Heart Will Go On. Which sounded like a good idea until the model hit an iceberg and went crashing down into the ice. Kind of like the Titanic did to that song. If there is only there was a movie that could have warned them what was going to happen.
---
John Legend tries to prove why he is Sexiest Man Alive
November 22nd, 2019 under Chrissy Teigen, John Legend. [ Comments:

none

]

Ever since John Legend was announced as People's Sexiest Man Alive, a lot of people were like how? Well, his wife Chrissy Teigen shared a video of her husband being sexy. Do you now understand why he got the title? Sorry, John, your stage name might be Legend, but you will never be a legend in the sexy department for me. Although this is cute.
---
How much does The Voice pay People to get their men to be Sexiest Man Alive?
November 13th, 2019 under John Legend. [ Comments:

none

]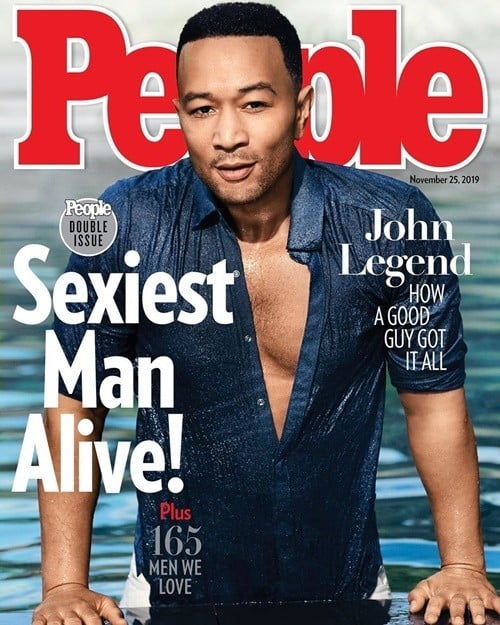 Back in 2013, People named then-Voice coach Adam Levine as their Sexiest Man Alive. It was believable because there is something sexy about the singer. Then in 2017, the winningest Voice coach also won the title and people were like, are you sure? He is sexy, but not that sexy! Sorry, I love your dimples and humor, but not in a Gwen Stefani type of way.
Well, People announced their new Sexiest Man Alive and it has gone to another Voice Coach. Not Nick Jonas, who starts next season, but EGOT winner John Legend. Now I am suspicious something is up. No offense Chrissy Teigen, your husband is endearing and writes romantic music, but not enough for me to be turned on to him in the way you give your all to him. If lyrics were the criteria, then Ed Sheeran or Bruno Mars should be eligible too.
So I want to know what hold does The Voice have on People because half of their series' male coaches have been named People's Sexiest Man Alive. Poor CeeLo Green, Usher and Pharrell Williams did not stay with the singing competition long enough to win this competition. Am I the only person who is wondering what is up?
---
Is John Legend's son going to be a Rock star?
October 23rd, 2019 under Chrissy Teigen, John Legend. [ Comments:

none

]

John Legend's kids have inherited his musical genes. Don't believe me, watch the whole family jam together. John banging on drums, Chrissy Teigen as the background dancer, Luna blowing the saxophone and Miles literally on chimes. As in the 17-month-old fell over and landed safely on them. It is as though, he is going to grow up and be like an old school Rocker who has had too much to drink. I guess the little guy got into the grape juice!
Seriously, I can't wait to watch the reality show following The Legends band as they become the biggest family musical act since the Partridge Family.
---