Aaron Carter can't even give away his merchandise for free
December 5th, 2019 under Aaron Paul, Adam Levine, Jimmy Kimmel. [ Comments:

none

]
https://twitter.com/i/status/1202345571241136129
Aaron Carter went to a Burger King drive-thru with his friends and decided to reward the cashier with some of his personalized merchandise. She looked at him, like who are you and what are you giving me?
Therefore, his friend asked if she knows who the singer is. When she said she didn't. The friend wanted to see if she ever heard of the Backstreet Boys and if she likes them. When she said that she did, Carter took back his merchandise.
How sad, no one wants his stuff even when it is free. Talk about an eye-opening moment. Just not the one that anyone wants.
Hey Aaron, don't feel bad. Adam Levine is a bigger star than you, who played the Super Bowl this year, and there was even a woman who didn't recognize him during a Jimmy Kimmel Live bit. Poor Adam and Aaron!
---
Adam Levine votes himself off of The Voice
May 24th, 2019 under Adam Levine, The Voice. [ Comments:

none

]

Even though it was announced that Adam Levine would be a judge again on The Voice in the fall, Carson Daly revealed on Today today that he will not be back. Instead, Blake Shelton's girlfriend Gwen Stefani will fill his rotating red chair.
No reason was given, but he did have a disastrous season and spent the last few weeks without a contestant to mentor. That could be one reason why the judge, who has done every season until now, is leaving. Another reason is TMZ reported he just sold a house to Ellen DeGeneres, the woman who named his older daughter Dusty Rose, for $45 million. He can take some time off with all of that dough. Then again, his song Girls Like You has been on the Billboard's Top 100 chart for a year, and he might just want to hit the road with his band. I have another theory, maybe Stefani was jealous of the Maroon 5's singer's bromance with her boyfriend and she did not want them being together as much anymore. Since I love gossip, that is the one I am going to go with.
Why do you think he left? Will you miss him as much Shelton will?
UPDATE: Adam Levine released a statement about leaving the show. To see what he said, then click here!
---
Has Blake Shelton and Adam Levine's bromance turned into a romance?
May 22nd, 2019 under Adam Levine, Blake Shelton, The Voice. [ Comments:

none

]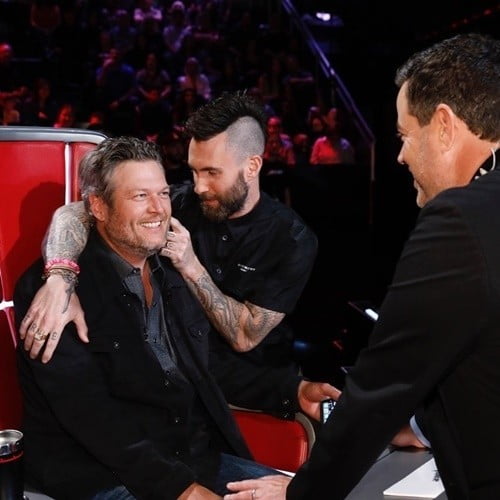 Ever since season one of The Voice, Adam Levine and Blake Shelton have had a very special bromance. Since then Shelton got divorced and started dating Gwen Stefani, while Levine got married to Behati Prinsloo and had two daughters. Through all of that, their bromance remained strong. Maybe too strong? Because look at the way the Maroon 5 singer is looking at his Honey Bee. Girls like you and me are loving it. Girls like the No Doubt singer and the model are not. Unless they are like me and like seeing two men go at it!
---
Adam Levine speaks out after the Super Bowl half time show
February 4th, 2019 under Adam Levine. [ Comments:

none

]

I like Maroon 5 and their songs, but I hated their Super Bowl half time performance. It is not their fault as much as they never should have been considered for it. They are just not the right band for that atmosphere. They need musicians who can get the people in nosebleed seats dancing. Bands like Rolling Stones and Bon Jovi or people who put on a spectacular show like Beyonce, Janet Jackson, P!nk and Bruno Mars. Maroon 5 is neither of those and that is not a bad thing. Thus why they were ripped a new one by almost everyone.
After the show, Adam Levine addressed being part of the show. He wrote, "When we accepted the responsibility to perform at the SBHTS, I took out my pen and just wrote. Some of the words that came to me in that moment eventually made their way onto the incredible lanterns that flew high and low tonight. We thank the universe for this historic opportunity to play on the world's biggest stage. We thank our fans for making our dreams possible. And we thank our critics for always pushing us to do better. One Love. ❤️ And the list of words is…
"Forgive, Laugh, Cry, Smile, Share, Live, Endure, Embrace, Remember, Enlighten, Preserve, Inspire, Sweat, Fight, Express, Give, Receive, Elevate, Climb, Unify, Fortify, Soften, Dance, Scream, Dream, Educate, Provide, Inhale, Exhale, Persevere, Stand, Kneel, Overcome, Love and Listen."
Thankfully, he is trying to make the experience as positive as possible. I mean, it is the greatest gig an American singer can get. We can never take that away from him or the band. It takes big balls to do that show, and People's Sexiest Man Alive has them.
On a positive note, I really loved the pyrotechnics and the light show. See I can something nice.
---
John Legend updated his Stinky Booty song
February 4th, 2019 under Adam Levine, John Legend. [ Comments:

none

]

John Legend made women's ovaries swoon when he sang Stinky Booty to his daughter Luna for Pampers. Well, she is growing out of them and now his son Miles is spending 24 hours in them. Therefore, the proud pop changed up the tune and brought in some friends to make it even better. One of those friends is Adam Levine and too bad he did not sing that at the Super Bowl half time show. I think we would have liked him better if he did.
---