Has Blake Shelton and Adam Levine's bromance turned into a romance?
May 22nd, 2019 under Adam Levine, Blake Shelton, The Voice. [ Comments:

none

]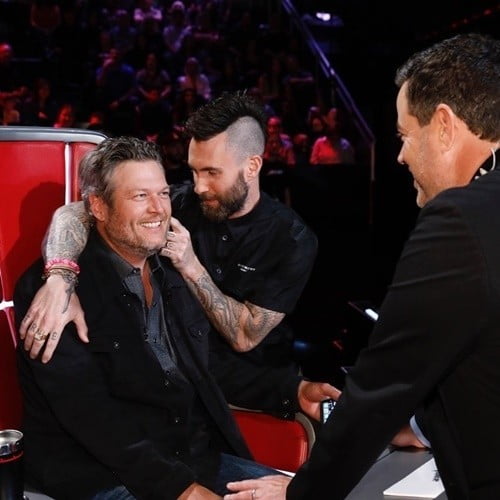 Ever since season one of The Voice, Adam Levine and Blake Shelton have had a very special bromance. Since then Shelton got divorced and started dating Gwen Stefani, while Levine got married to Behati Prinsloo and had two daughters. Through all of that, their bromance remained strong. Maybe too strong? Because look at the way the Maroon 5 singer is looking at his Honey Bee. Girls like you and me are loving it. Girls like the No Doubt singer and the model are not. Unless they are like me and like seeing two men go at it!
---
Blake Shelton cleans up well!
December 7th, 2018 under Blake Shelton, The Voice, Thin Models Bad. [ Comments:

none

]

Remember when Blake Shelton was named People's Sexiest Man Alive and you were like I do not get it? Do you get it now, after looking at this photo his girlfriend Gwen Stefani shared of him wearing a tux?

You know, I do find him and those deep dimples sexy in old jeans and a plaid shirt, but they look even better when he is dressed to the nines. Maybe he should wear a suit on The Voice? If the female coaches can dress up on the show, why can't he and Adam Levine do it too?
---
What was Gwen Stefani's disappointment about Blake Shelton being named People's Sexiest
November 7th, 2018 under Blake Shelton, Ellen DeGeneres, The Voice. [ Comments:

none

]

Blake Shelton is no longer People's Sexiest Man Alive, so now he is free to talk about what it was like during his year-long reign to Ellen DeGeneres.
The first thing he did was wish the new person (Idris Elba) better luck than he had when it was announced he was that man. Even his friends thought he was a bad choice.
Then Ellen wanted to know if his girlfriend Gwen Stefani expected more from him. The Voice coach said, "She did, It's like supposed to be a superpower or whatever I'm saying." Then he put his head down in shame and added, "I don't think she felt the power."
Even Shelton cannot figure out why she is with him. He is convinced there is something wrong with her because she is dating him. Personally, I think it is the other way around. He is cute with dimples and he is very funny in a self-deprecating way.
---
Blake Shelton falls on his Hillbilly Bone!
July 16th, 2018 under Blake Shelton, Celeb Oops, The Voice. [ Comments:

2

]

On Saturday night, Blake Shelton was performing in Pendleton when he had a ha-ha moment. The Voice coach told his guitarist that he embarrassed himself in front of 200,000 people, and then the singer did the same.
The singer said, "ha-ha," and then fell on his Hillbilly a$$. It is not obvious why he fell, but he claims, "And yes I had been drinking. A lot…" So there you go. Have another one to make the physical and emotional pain go away!
Here is a wide shot of him going down.
---
Adam Levine and Blake Shelton have a special bromance!
July 10th, 2018 under Adam Levine, Blake Shelton, The Voice. [ Comments:

none

]

Blake Shelton and Adam Levine are back filming The Voice and the Country singer had two words for his BFF. They are a word that rhymes with nyuck and the second word is you. Which sounds so much classier when you say it in a 3-piece suit. And even more rhythmical coming through a traffic cone.
Anyone who wonders why the ABC singing competition is doing better than American Idol, it is simple. The chemistry between Gwen Stefani's boyfriend and the Maroon 5 singer makes it so enjoyable. Who cares about the singing when you can watch these two go after each other?
---