Adam Levine votes himself off of The Voice
May 24th, 2019 under Adam Levine, The Voice. [ Comments:

none

]

Even though it was announced that Adam Levine would be a judge again on The Voice in the fall, Carson Daly revealed on Today today that he will not be back. Instead, Blake Shelton's girlfriend Gwen Stefani will fill his rotating red chair.
No reason was given, but he did have a disastrous season and spent the last few weeks without a contestant to mentor. That could be one reason why the judge, who has done every season until now, is leaving. Another reason is TMZ reported he just sold a house to Ellen DeGeneres, the woman who named his older daughter Dusty Rose, for $45 million. He can take some time off with all of that dough. Then again, his song Girls Like You has been on the Billboard's Top 100 chart for a year, and he might just want to hit the road with his band. I have another theory, maybe Stefani was jealous of the Maroon 5's singer's bromance with her boyfriend and she did not want them being together as much anymore. Since I love gossip, that is the one I am going to go with.
Why do you think he left? Will you miss him as much Shelton will?
UPDATE: Adam Levine released a statement about leaving the show. To see what he said, then click here!
---
Has Blake Shelton and Adam Levine's bromance turned into a romance?
May 22nd, 2019 under Adam Levine, Blake Shelton, The Voice. [ Comments:

none

]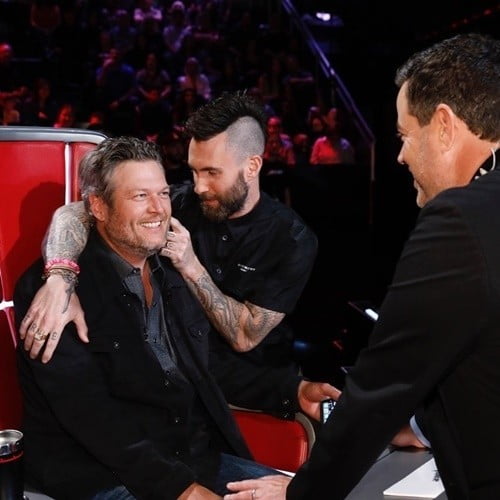 Ever since season one of The Voice, Adam Levine and Blake Shelton have had a very special bromance. Since then Shelton got divorced and started dating Gwen Stefani, while Levine got married to Behati Prinsloo and had two daughters. Through all of that, their bromance remained strong. Maybe too strong? Because look at the way the Maroon 5 singer is looking at his Honey Bee. Girls like you and me are loving it. Girls like the No Doubt singer and the model are not. Unless they are like me and like seeing two men go at it!
---
Carson Daly has set a last call for Last Call
February 12th, 2019 under The Voice. [ Comments:

none

]

Did you know that Carson Daly has been hosting the late night music talk show Last Call on NBC since 2002? Well, he has and it is ending.
He explained his decision as "My 20's was about finding a good job. My 30's was about taking on as many of them as I could. Now, in my 40's, I'm focused on quality over quantity. I want to do more with my 'Today' family and continue hosting and producing 'The Voice' and explore new opportunities."
While he is looking for new opportunities, NBC will be looking for a new show to replace him. Hopefully, they will continue to do a music one because musicians are being seen less and less in late night and they need to have their voices heard. Maybe they incorporate interviews with some really kick-ass performances. Something more than what we get earlier in the night.
When it comes to when the show will end, that has not been decided. When it does it will have done 2,000 episodes. Which is beyond impressive.
---
Corey Hart auditioned for The Voice in Canada?
February 11th, 2019 under Corey Hart, The Voice. [ Comments:

none

]

It has been 20 years since Corey Hart released an album, so you have to wonder what the rocker is up to now. Well now we know, he auditioned to be on La Voix aka The Voice in Canada.
Wait, what? I thought he has a new album coming out in May? He does. Not only that, he is being inducted into Canadian Music Hall of Fame in March and going on tour starting in May. So what is he doing on La Voix? Playing a joke on the coaches. Besides all of the above, he is going be Coach Éric Lapointe's mentor this season
How does he have time to do that all? He took 20 years off to be a dad, so he is plenty relaxed! He might be relaxed but his voice is as sexy as ever.
Now, let's get back to his audition. He had this to say about it, "Lots of Fun @ Le Voix in Quebec – could've been utterly humiliating 😳😰if coaches didn't turn around ! But alls well." So well, he will be back to perform as Corey Hart the singer and not a contestant on the season finale in May. Although, if none of the coaches turned around, I doubt he would have come back for it!
BTW He is on been on my To-Do list ever since I heard him sing "Oh" on his song Komrade Kiev. After the audition, he talked to the coaches in French and I needed to take a very cold shower. He has one of the sexiest voices and it gives me more than an eargasm! If you don't know his music, get to know because you will understand what I mean.
To hear him talk in French, then click here!
---
This season The Voice is going to be Big
January 28th, 2019 under Adam Levine, John Legend, Kelly Clarkson, The Voice. [ Comments:

none

]

Adam Levine, Blake Shelton and Kelly Clarkson have gotten used to things at The Voice being as is, but this season things are going to get competitive with John Legend joining them on the big red chairs. That is because the EGOT winner is more than just a singer. Unlike those other three.
Plus, who is going to want to be on the team of American Idol's first winner when they can work with a Tony winner? Who wants to be coached by someone who played the Super Bowl halftime show when they can be taught by the youngest winner of the touchdown of Hollywood awards? Why work with Blake Shelton when you can work with John Legend. Those three are going to be left with his sloppy seconds. And I cannot wait to watch it all go down starting on February 25th.
---