Nick Jonas finds his Voice
October 7th, 2019 under Ellen DeGeneres, Jonas Brothers, The Voice. [ Comments:

none

]

Even though The Voice just started its new season on NBC, we already know who are going to be the coaches next season. Gwen Stefani is out and Nick Jonas is in. In fact, Kelly Clarkson and John Legend are already conspiring with him to take down Blake Shelton. I betcha a dollar, he dumps them for Blake. Who wouldn't, he is the winningest coach. Then again, he has been on the show the longest.
Back to Nick, he made the announcement on tomorrow's Ellen. Since she was so excited for him, she decided to get his heart rate up like hers. She did that by having a Blake lookalike jump out of her table. Nick got so scared, you know that Ellen DeGeneres is going to scare him every time he is on the show. I am sure the next time she will use a fake Priyanka Chopra to freak him out. I can't wait to see that.

---
There are more than words between The Voice coaches
September 13th, 2019 under Blake Shelton, Gwen Stefani, John Legend, Kelly Clarkson, The Voice. [ Comments:

none

]

One of the sappiest songs ever recorded is Extreme's More Than Words. This season the coaches of The Voice harmonize that tune together. Can a Popstar, a Country boy, an R&B artist and a Country Popstar get the melody down as one coherent group? That is what Gwen Stefani, her boyfriend Blake Shelton, John Legend and Kelly Clarkson attempt to do with Carson Daly on guitar.
How did they do? Surprisingly. the love song worked for the American Idol winner and the one who won an EGOT. However, it was not made for the couple's voices. They came off as really nasally. It made question if the No Doubt singer can sing without the help of a producer if you know what I mean?
The Voice is back on NBC September 23rd.

---
Adam Levine votes himself off of The Voice
May 24th, 2019 under Adam Levine, The Voice. [ Comments:

none

]

Even though it was announced that Adam Levine would be a judge again on The Voice in the fall, Carson Daly revealed on Today today that he will not be back. Instead, Blake Shelton's girlfriend Gwen Stefani will fill his rotating red chair.
No reason was given, but he did have a disastrous season and spent the last few weeks without a contestant to mentor. That could be one reason why the judge, who has done every season until now, is leaving. Another reason is TMZ reported he just sold a house to Ellen DeGeneres, the woman who named his older daughter Dusty Rose, for $45 million. He can take some time off with all of that dough. Then again, his song Girls Like You has been on the Billboard's Top 100 chart for a year, and he might just want to hit the road with his band. I have another theory, maybe Stefani was jealous of the Maroon 5's singer's bromance with her boyfriend and she did not want them being together as much anymore. Since I love gossip, that is the one I am going to go with.
Why do you think he left? Will you miss him as much Shelton will?
UPDATE: Adam Levine released a statement about leaving the show. To see what he said, then click here!

---
Has Blake Shelton and Adam Levine's bromance turned into a romance?
May 22nd, 2019 under Adam Levine, Blake Shelton, The Voice. [ Comments:

none

]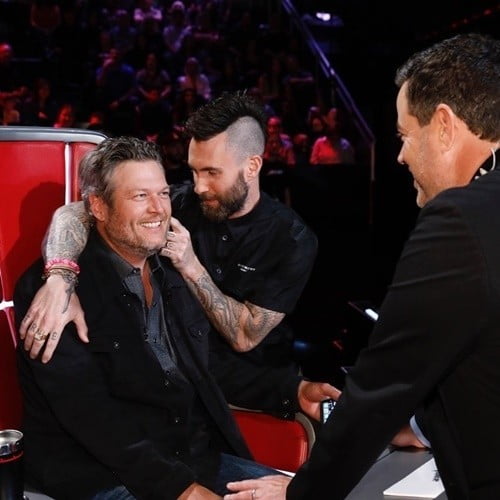 Ever since season one of The Voice, Adam Levine and Blake Shelton have had a very special bromance. Since then Shelton got divorced and started dating Gwen Stefani, while Levine got married to Behati Prinsloo and had two daughters. Through all of that, their bromance remained strong. Maybe too strong? Because look at the way the Maroon 5 singer is looking at his Honey Bee. Girls like you and me are loving it. Girls like the No Doubt singer and the model are not. Unless they are like me and like seeing two men go at it!

---
Carson Daly has set a last call for Last Call
February 12th, 2019 under The Voice. [ Comments:

none

]

Did you know that Carson Daly has been hosting the late night music talk show Last Call on NBC since 2002? Well, he has and it is ending.
He explained his decision as "My 20's was about finding a good job. My 30's was about taking on as many of them as I could. Now, in my 40's, I'm focused on quality over quantity. I want to do more with my 'Today' family and continue hosting and producing 'The Voice' and explore new opportunities."
While he is looking for new opportunities, NBC will be looking for a new show to replace him. Hopefully, they will continue to do a music one because musicians are being seen less and less in late night and they need to have their voices heard. Maybe they incorporate interviews with some really kick-ass performances. Something more than what we get earlier in the night.
When it comes to when the show will end, that has not been decided. When it does it will have done 2,000 episodes. Which is beyond impressive.

---