Constance Wu worked as a stripper to prep for Hustlers
February 17th, 2020 under Constance Wu, Kelly Clarkson. [ Comments:

none

]

Constance Wu wanted to know how it felt to be a stripper before she played one in Hustlers, so she put on some tattoos and got a job as one. That means she worked the pole that hangs from the ceiling and the one that hangs between a man's legs. The actress told Kelly Clarkson that she did lapdances too. How much did she make? She made $600.
At least now, if she has a problem getting a job, because of how she handled Fresh Off the Boat's renewal, she knows that there is another career available to her.
---
Kelly Clarkson cries a lot on her show
December 31st, 2019 under Kelly Clarkson. [ Comments:

none

]

We know that Kelly Clarkson can talk a lot, but did you know that she can cry that much too? Her talk show has not even been on the air for four months, and she has already teared up more than all The Real hosts combined on their show. The latter has been on the air for 6 years. That is a lot of waterworks.
Then again, she does heartwarming segments that even brings a few tears to my eyes.
---
Kelly Clarkson has a moment like this every night with her husband
December 27th, 2019 under Kelly Clarkson. [ Comments:

none

]

Kelly Clarkson sat down with The Voice winner and told Brynn Cartelli that she could ask her anything she wanted to know. The 16-year-old thought it was safe to ask the host what she does before she goes to sleep every night. She was wrong.
Clarkson paused for a second and said, "Well, Brynn, I was single for many years, so I have children, and how one makes children is generally what I do before bed. That's not a lie." Then she added, "That's real. That's natural."
I wonder how Brandon Blackstock feels about his wife having a talk show when she shares things like this. I betcha he loves it!
---
Seth Meyers throws food at Kelly Clarkson
November 20th, 2019 under Kelly Clarkson, Seth Meyers. [ Comments:

none

]

Even though Seth Meyers hosts a nighttime talk show, he goes day drinking with some of his guests. One of those guests was Kelly Clarkson. Therefore, today when he was on her daytime talk show, she decided to drink with him.
Before they even downed a full glass of alcohol, they were as drunk as they were when they drank so much more. After Meyers threw a peanut up in the air and caught it with his mouth, Clarkson wanted to see if she could do it too. However, she wanted him to throw the nuts in her mouth. She kept missing. They might say, "you are what you eat." However, how can we say that if she doesn't eat any nuts?
It is both hosts' nuttiness which is why we love their talk shows. Hopefully, after they were done with this taping, they went day drinking again.
---
How much wrapping paper died to make Kelly Clarkson's dress?
November 19th, 2019 under Kelly Clarkson. [ Comments:

none

]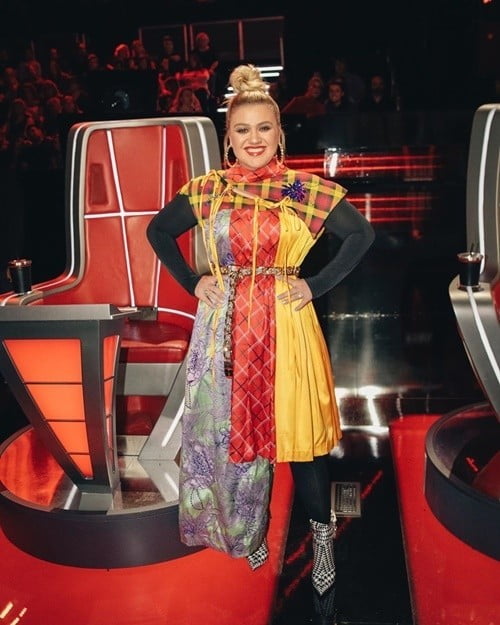 You know Christmas morning after everyone has opened their gifts, there is wrapping paper all over the floor? Well it looks someone thought that discarded mess would make a good dress. After seeing Kelly Clarkson wear it on The Voice tonight, I think we can all agree they were wrong.
---