Seth Meyers throws food at Kelly Clarkson
November 20th, 2019 under Kelly Clarkson, Seth Meyers. [ Comments:

none

]

Even though Seth Meyers hosts a nighttime talk show, he goes day drinking with some of his guests. One of those guests was Kelly Clarkson. Therefore, today when he was on her daytime talk show, she decided to drink with him.
Before they even downed a full glass of alcohol, they were as drunk as they were when they drank so much more. After Meyers threw a peanut up in the air and caught it with his mouth, Clarkson wanted to see if she could do it too. However, she wanted him to throw the nuts in her mouth. She kept missing. They might say, "you are what you eat." However, how can we say that if she doesn't eat any nuts?
It is both hosts' nuttiness which is why we love their talk shows. Hopefully, after they were done with this taping, they went day drinking again.
---
How much wrapping paper died to make Kelly Clarkson's dress?
November 19th, 2019 under Kelly Clarkson. [ Comments:

none

]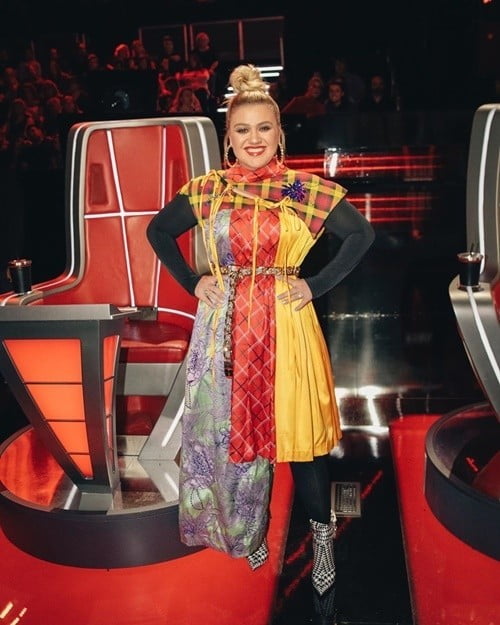 You know Christmas morning after everyone has opened their gifts, there is wrapping paper all over the floor? Well it looks someone thought that discarded mess would make a good dress. After seeing Kelly Clarkson wear it on The Voice tonight, I think we can all agree they were wrong.
---
Kelly Clarkson's talk show will sing on
November 18th, 2019 under Kelly Clarkson. [ Comments:

none

]

Kelly Clarkson's talk show has barely been on the air for two months, and NBC has a lot of faith in it. So much so, they already picked it up for another season.
The news is not a surprise because it is daytime's highest-rated new show. Even doing better than some of the old ones.
Don't expect the American Idol to hit the road anytime soon. When she is done taping her show for the season, she will start her Las Vegas residency for the summer. After that, she will be back hosting her show. And so on. All of this does not even factor in if she will continue doing The Voice. Plus, she is still raising her two young toddlers. You have to wonder when will she sleep? Better yet, when will we get new music from her? I betcha her next album will be one full of covers.
---
BTWF: Kelly Clarkson on Sabrina the Teenage Witch
November 7th, 2019 under Before They Were Famous, Henry Winkler, Kelly Clarkson. [ Comments:

none

]

(Starts and ends at 4:43 in)
Before Kelly Clarkson was the American Idol, she was an extra on Sabrina the Teenage Witch. How awwwdorable was the 19-year-old in that 2002 episode?
Today on The Kelly Clarkson Show, she was reunited with that episode's director, Henry Winkler. The Fonz told her that he saw something special in the singer and that is why she had a little more to do than the other extras. He knew before we all did that this girl was going to be a star! I guess you can the director has an eye for it. Maybe ABC should hire him to direct American Idol?
---
Kelly Clarkson does a medley of her greatest hits
November 3rd, 2019 under Kelly Clarkson. [ Comments:

none

]

Kelly Clarkson starts off every episode of her daily NBC talk show singing other people's songs. On Friday, she changed it up and sang a medley of her own tunes. Why did she sing Miss Independent, Walk Away, Since U Been Gone, Stronger and Invincible? She wanted to let her fans know that she is will be doing a residency in Vegas starting on my birthday April 1st. Instead of just snippets, we will hear sing them in their entirety.
---