Ryan Reynolds has seen better days
March 12th, 2019 under Better Days, Ryan Reynolds, Salma Hayek, Samuel L Jackson. [ Comments: none ]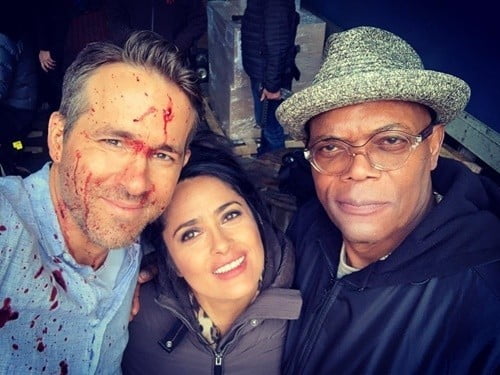 Ryan Reynolds posed with his costars Salma Hayek and Samuel L Jackson, and there is something bloody different about him. He is covered in blood and they are not.
Why? All we know it is for the sequel to their movie The Hitman's Bodyguard, The Hitman's Wife's Bodyguard. Wonder if they take him out? Since production began earlier this month, not much is known about the film.

---
Woody Harrelson has seen better days
February 21st, 2019 under Better Days, Woody Harrelson. [ Comments: 2 ]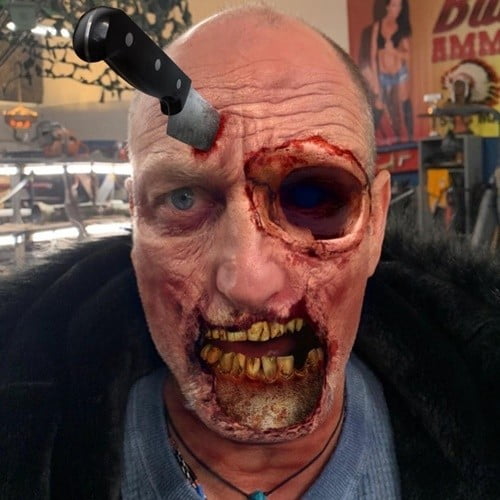 Woody Harrelson shared a photo of himself with his of his face decayed and a knife sticking out of his forehead. Did he smoke so much of the good stuff that we are seeing things? Not as much as the makeup department of Zombieland 2 who did that excellent job of making him look like death.
Is that as big of a spoiler as the surprise cameo in the original movie? We will find out when the movie comes out on October 11th. I don't know about you, but I cannot wait to see it.

---
Whose new eyebrows do you like better: Jerry O'Connell or Cameron Mathison?
January 21st, 2019 under Better Days, Cameron Mathison, Hallmark, Jerry O'Connell/Rebecca Romijn. [ Comments: none ]

In the last week, Jerry O'Connell and Cameron Mathison got a new look over their eyes. The Stand By Me star sat down with a threader who threaded his bushy brows thin. Kind of like what puberty did to him. When it comes to the Home & Family host, he had a little accident at home that almost cost him a whole eyebrow instead of half of one. Thus causing the makeup department on the Hallmark Channel show to have an accident when they saw him come in.

Now that you have seen both bros' brows, who do you think looks sexier with their new look? I say it is a tie, as in someone tie a bandana over their eyebrows until they grow back in. That is if they do grow back in…

BTW I feel for O'Connell because that had to hurt a lot. I hope there is video!

---
Oliver Hudson and Jenna Fischer have seen better days
November 14th, 2018 under Better Days, Oliver Hudson. [ Comments: none ]

Oliver Hudson's face looks Jenna Fischer's hair, and that is not a good thing. They both look like they went through a car wash without a car and came through the other side worse for wear. Why does his face look like it lost a fight with the brush and her hair the dryer? Are the two co-stars fighting?

They are not, but their characters on Splitting Up Together are. The joys of living on the same property after filing for divorce. He is allergic to dogs, so she got their kids their one. He got revenge on her by changing up the water in her shower. What we got are plenty of chuckles. If you are not watching the ABC sitcom, then you are missing out.

---
Wilmer Valderrama has seen better days
August 31st, 2018 under Better Days, That '70s Show, Wilmer Valderrama. [ Comments: none ]

Wilmer Valderrama shared a photo of his face all bruised up, so who wants to mess up his good-looking mug? Was it one of Fez's girlfriend's lovers? Nope, it was actually the makeup department at NCIS. Why did they do it? We do not know, so we just have tune in for all-new episodes that start airing on CBS September 25th.

---