Cameron Mathison is back hosting Home & Family 2 weeks after cancer surgery
September 26th, 2019 under Cameron Mathison. [ Comments:

none

]

Earlier this month, Cameron Mathison told the Home & Family audience that he was diagnosed with kidney cancer. Exactly two weeks ago, he underwent surgery to remove the cancer. It was a sucessful surgery and now he is cancerfree.
He is doing so well, that he is back at work today hosting the Hallmark show with Debbie Matenopoulos. Although, the healing process took him longer than he thought it would (he thought he would be back in 3-4 days), being back at work less than 14 days after major surgery is pretty incredible. He is definitely a fighter! Which is why he kicked cancer's a$$.
Mathison made sure to tell the audience that he is feeling great. He also wanted to let them know how grateful he is for all of their love, support and prayers. We are grateful that he is doing better and not looking like he was in the battle for his life just two weeks ago.
His openness about his cancer diagnosis, surgery and post-op has been very brave. I am sure his story will help others who might be going through what he has been going to.
Tune in to the show weekdays starting at 10a to see him in action and learn a lot of good things to make your house more of a home. They have some mouth-watering cooking segments you don't want to miss. I send recipes to my baking friend all the time and they are scrumptious.

---
Cameron Mathison proudly shows off his cancer battle scars
September 20th, 2019 under Cameron Mathison. [ Comments:

none

]

Last week, Cameron Mathison revealed that he has Kidney cancer and went in for surgery on September 12th to have it removed. The surgery went well and he only lost 20% of his kidney.
Today, the man, who is known as much for his torso as his face, showed off his scars from his successful surgery. He also wrote, "Half of my life I was focused on the aesthetics of my body and about half of my career I spent shirtless… now I proudly bear the scars that made me cancer free.#scarstoyourbeautiful #cancerfree #gratefulwrote" His scars are beautiful because he is a survivor, a cancer survivor.
His bravery makes me more comfortable with my own biopsy scars. I hope other people feel the same way after seeing this picture of the Soap star and Home & Family host.
Thank you, Cameron, for being so open about your cancer and I am happy you are cancer-free.

---
Cameron Mathison is home after his cancer surgery
September 16th, 2019 under Cameron Mathison. [ Comments:

none

]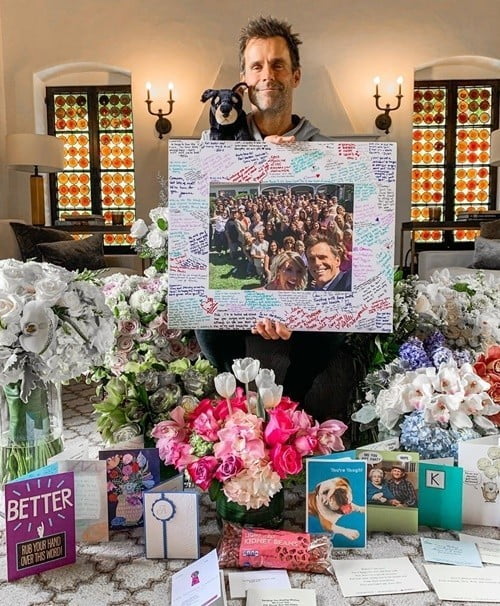 A week ago, Cameron Mathison revealed on Home & Family that he was diagnosed with Kidney cancer last month. As part of his treatment to beat it, he had surgery to remove it on Thursday. On Friday, he let us know that all went well and he only lost 20% of his infected kidney.
Today, he gave us another update, "Unbelievably grateful to be back home after a successful partial nephrectomy surgery. It was an eventful 4 days in the hospital, and doing well at home now. @inderbirgillmd is a miracle worker, and my whole family is indebted to him and everyone at @keckmedofusc 🙏🏼🙏🏼🙏🏼
"Thank you to everyone sending prayers, positive thoughts, flowers, cards, stuffed animals, food, love💕… and kidney beans😂
"Love you guys😌 #1.8kidneysleft #cancersucks #cancerfighter #feelingloved"
Now that he is home, he will spend the next two weeks recuperating before going back to work on the Hallmark talk show.
Before, going under the knife, he said that after surgery, since the cancer had not spread, he would not require chemotherapy and radiation. Hopefully, that has not changed.
A big take away from his story is that if you know there is something wrong, not only go to your doctor, but also make sure they check it out. Had he not been insistent about getting an MRI because of his mysterious stomach, who knows when they would have found the tumor that was growing inside of him for at least a decade.
Happy he is on the road for recovery and I will continue to pray it goes smoothly.

---
Cameron Mathison gives a post-surgery update and the tumor is gone!
September 13th, 2019 under Cameron Mathison, Sick Bay. [ Comments:

none

]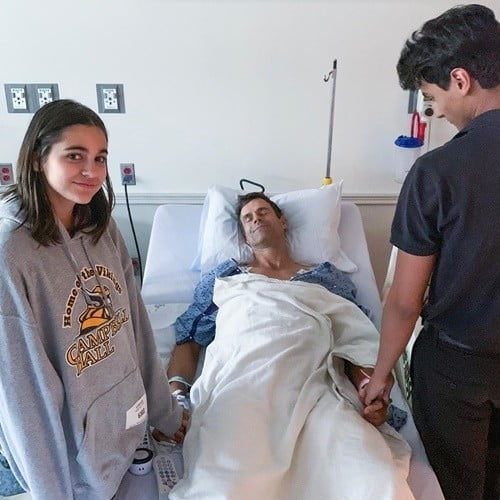 On Monday, Cameron Mathison revealed to Hallmark's Home and Family audience that he was diagnosed with Kindey Cancer and was having surgery to remove it on Thursday.
Today the actor gave us an update on how the surgery went yesterday. He wrote, "Feeling loved and supported by my family and friends, including each and everyone of you. I've been very overwhelmed and so grateful for all of the supportive comments and prayers. The surgery went very well. The tumor is gone and I even got to keep 80% of my kidney😊 We are all optimistic. Keep you updated. So grateful for all of you ❤️" We are grateful that it all went well too.
He also told the audience that his type of cancer, that did not spread, does not require chemotherapy and radiation. He is also expected to be back on the air in the next few weeks. For now, he just needs to take the time to be with his family and recover.

---
BTWF: Cameron Mathison in Any Mother's Son
September 11th, 2019 under Before They Were Famous, Cameron Mathison. [ Comments:

none

]

Before Cameron Mathison was a con man who had a way with the ladies on All My Children, he was a Navy man who was beaten up for liking men in Any Mother's Son. He hasn't aged a day since he was 27 in that 1997 movie.

---