John Travolta adopted the puppy from the Oscars
March 29th, 2022 under Betty White, Jamie Lee Curtis, John Travolta. [ Comments: none ]
I know we are all focusing on the negativity that Will Smith caused at the Oscars. However, there were a lot of positive things that happened during the Academy Awards. Things like Troy Kotsur winning the Oscar and Lady Gaga telling Liza Minnelli, "I got you."
While those were in front of the camera, there was something really sweet happening behind the scenes.
During the In Memoriam, Jamie Lee Curtis paid tribute to the late Betty White by holding a puppy from Paw Works that needed a home. I say needed because Mac N Cheese is living with her new family. John Travolta shared the happy news, "Ben adopted this dog from last nights Oscar tribute to Betty White. Thank you @curtisleejamie & @pawworks"
Curtis explained how it all happened. "A MAGICAL ending to the story from last night. At the Oscars I reconnected with my friend, John Travolta. @johntravolta We starred together in the movie PERFECT back in 1984. I had already left the Dolby theater last night after honoring Betty White and was on my way home when someone texted me a photo of John holding little mac & cheese in the green room before his presentation of the best actor Oscar. I thought it was so beautiful to see him with her and then today I found out that he and his son, Ben have adopted beautiful little mac & cheese and are taking her home today," the actress wrote. "It is an emotional end and a perfect tribute to Betty White and it shines a light and AMPLIFIES the message that heroes who, like Betty, and Chad from @pawworks and Nancy from @perfect_pet_rescue and the team at @maedayrescue and the hundreds of thousands of other rescues, who love and support ANIMALS, that rescuing animals and offering them shelter from the storm of life and a warm and loving home is one of life's most important actions we humans can take! #adoptdontshop"
Talk about six degrees of separation, Betty White worked with Jamie Lee Curtis in You Again, and she also worked with Travolta in Perfect. And now Travolta is working with Mac N Cheese on The Luckies Puppy.
Too bad Mac N Cheese is a girl because Oscar would've been an excellent name for her. However, since she is a girl, maybe they can go with Adele Dazeem. Too soon?

---
Jamie Lee Curtis let herself go
March 10th, 2022 under Jamie Lee Curtis. [ Comments: none ]
Jamie Lee Curtis grew up in the limelight because of her parents, Janet Leigh and Tony Curtis. Therefore, she always looks like she is ready for the spotlight. However, the same cannot be said for her latest role.
The actress talked about her transformation for Everything Everywhere.
Two years ago we made this movie right up until the day the world shut down. We just finished in time. It's a Magical Mystery Tour of a movie and I'm so excited to see it tomorrow at its premiere opening the @sxsw festival. @everythingeverywheremovie @a24

I'm proud to introduce you to Deirdre Beaubeirdra.

An IRS auditor and @michelleyeoh_official nemesis and bae. I told Clark Collins @entertainmentweekly that….

In the world, there is an industry — a billion-dollar, trillion-dollar industry — about hiding things. Concealers. Body-shapers. Fillers. Procedures. Clothing. Hair accessories. Hair products. Everything to conceal the reality of who we are. And my instruction to everybody was: I want there to be no concealing of anything. I've been sucking my stomach in since I was 11, when you start being conscious of boys and bodies, and the jeans are super tight. I very specifically decided to relinquish and release every muscle I had that I used to clench to hide the reality. That was my goal. I have never felt more free creatively and physically I can't wait for everybody to see the BRILLIANCE of Ms.Yeoh and @kehuyquan @stephaniehsuofficial @andyle_official @dunkwun
Even though she is showing us what she looks like when the cameras aren't on her. The actress is still the prettiest woman at the IRS! It is because her inside is as beautiful as her outside, and it shines through.

---
Caption Jamie Lee Curtis and Wendi McLendon-Covey!
February 23rd, 2022 under Caption the Celeb, Jamie Lee Curtis, The Goldbergs. [ Comments: 7 ]
This photo of Jamie Lee Cutis and Wendi McLendon-Covey from Reno 911 has caption me written all over it, so go ahead and do it.

---
Jamie Lee Curtis, Halloween's Scream Queen, is planning something for 10/31
September 24th, 2020 under Halloween, Halloween (movies), Jamie Lee Curtis. [ Comments: none ]

Thanks to COVID-19, Halloween is basically canceled. All because of those covidiots who won't wear a mask the other days of the year.
Ever since 1978, Halloween has been a huge thing for Jamie Lee Curtis for some reason. Therefore, she still wants it to be a treat for everyone.
"We can figure out creative ways for our pods to do candy scavenger hunts and fun activities at home and we can still do virtual Costume parades," Curtis said. "I will figure out a way to do a VIRTUAL Halloween costume parade on my Instagram all day long on Halloween, October 31. Stay tuned for details and stay safe and HAPPY Halloween."
Hopefully, her brother, Michael Myers, won't crash the event because he is a literal party killer. Although that might be a good thing for us to watch.

---
Kirk Douglas saved Jamie Lee Curtis' life
February 8th, 2020 under Jamie Lee Curtis. [ Comments: none ]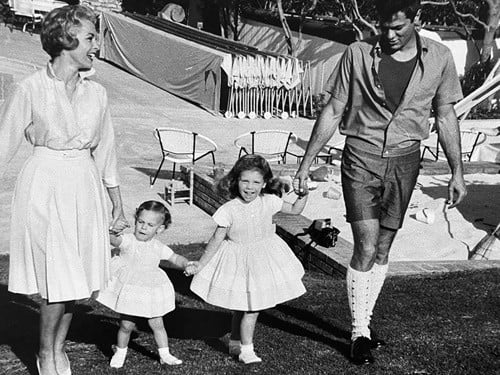 Back when Jamie Lee Curtis was a little girl, her parents, Tony Curtis and Janet Leigh, were close friends with Kirk Douglas. They would even invite him over for parties. At one of those family affairs, Douglas saved the little girl's life. The actress shared that story to commemorate his death on Thursday.
Kirk and Anne were important to BOTH my parents. Here in The Vikings with both Tony and Janet. I just remembered this morning that Kirk saved my life when I rode my tricycle into the pool at a party and he dove in and brought me up from the bottom, still peddling. I was in school with their son, Eric who they lost in 2004. Tony lost his son, Nicholas in 1994. Families tied together in life and success and loss and struggle, past and present. Kirk is an example for us ALL. COURAGE.
INTEGRITY.
GENEROSITY.
Their foundation link is in my website. See the work that they did for others. The playgrounds they built. Join them and me and honoring his legacy.
Thankfully, he was there to save her life that day. The world is a better place with her in it. She is positive force for women to age naturally, and so much more.

---