Steve Guttenberg has seen better days
January 28th, 2020 under Better Days. [ Comments:

none

]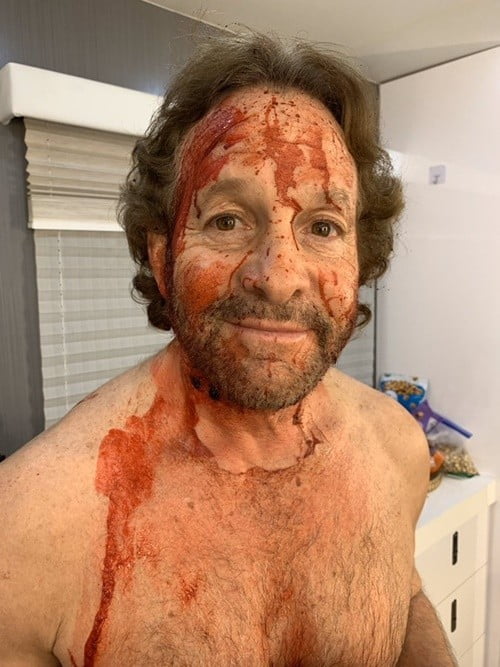 Steve Guttenberg saw some rough days on the set of the Police Academy movies, and it looks like he had a really tough day on his new movie. He did not say what it is about, but it left him covered in blood. Thus, I am assuming it is a horror film.
What is not a horror, is his chest. Can you believe that shirtless man is 61 years old? Who knew he had that body under his clothes?
---
Jamie Lee Curtis has seen better days
October 8th, 2019 under Better Days, Halloween, Jamie Lee Curtis. [ Comments:

3

]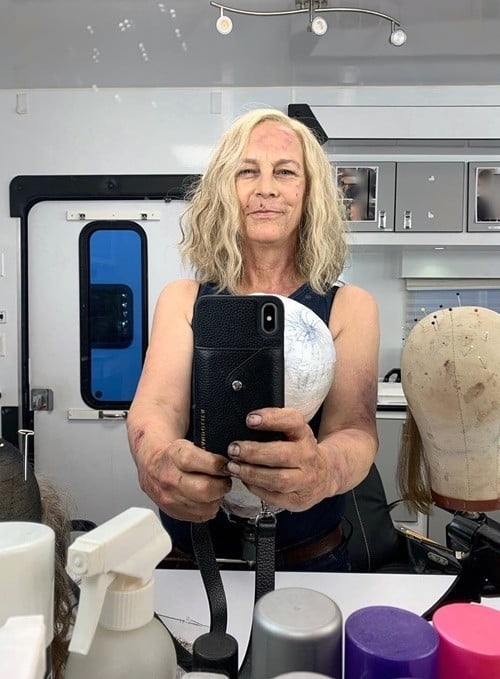 James Lee Curtis shared this photo with us today and I think we can all agree that she has seen better days. Not only has she seen them, so has Lauri Strode.
I bring that up because she is back filming another Halloween movie. When the last movie left off, she and her brother Michael Myers had another one of their fights. Which is why she looks so beat up. When your brother is a psychotic serial killer and it is your mission to take him down, you are going to like crap the next day.
While Strode will be all grumpy for obvious reasons, Curtis can still manage to put a smile on her face.
Halloween Kills is out next Halloween.
---
Ryan Reynolds has seen better days
March 12th, 2019 under Better Days, Ryan Reynolds, Salma Hayek, Samuel L Jackson. [ Comments:

none

]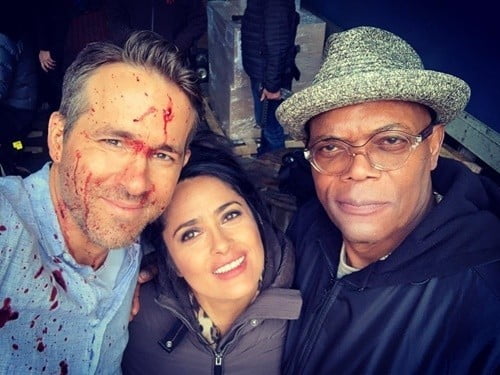 Ryan Reynolds posed with his costars Salma Hayek and Samuel L Jackson, and there is something bloody different about him. He is covered in blood and they are not.
Why? All we know it is for the sequel to their movie The Hitman's Bodyguard, The Hitman's Wife's Bodyguard. Wonder if they take him out? Since production began earlier this month, not much is known about the film.
---
Woody Harrelson has seen better days
February 21st, 2019 under Better Days, Woody Harrelson. [ Comments:

2

]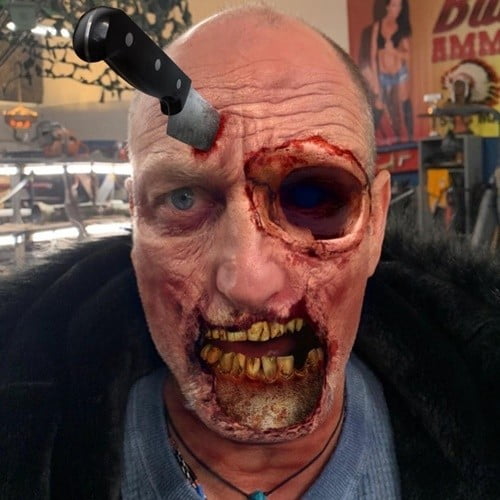 Woody Harrelson shared a photo of himself with his of his face decayed and a knife sticking out of his forehead. Did he smoke so much of the good stuff that we are seeing things? Not as much as the makeup department of Zombieland 2 who did that excellent job of making him look like death.
Is that as big of a spoiler as the surprise cameo in the original movie? We will find out when the movie comes out on October 11th. I don't know about you, but I cannot wait to see it.
---
Whose new eyebrows do you like better: Jerry O'Connell or Cameron Mathison?
January 21st, 2019 under Better Days, Cameron Mathison, Hallmark, Jerry O'Connell/Rebecca Romijn. [ Comments:

none

]

In the last week, Jerry O'Connell and Cameron Mathison got a new look over their eyes. The Stand By Me star sat down with a threader who threaded his bushy brows thin. Kind of like what puberty did to him. When it comes to the Home & Family host, he had a little accident at home that almost cost him a whole eyebrow instead of half of one. Thus causing the makeup department on the Hallmark Channel show to have an accident when they saw him come in.

Now that you have seen both bros' brows, who do you think looks sexier with their new look? I say it is a tie, as in someone tie a bandana over their eyebrows until they grow back in. That is if they do grow back in…

BTW I feel for O'Connell because that had to hurt a lot. I hope there is video!
---