Hallmark Channel releases a Christmas album
November 29th, 2019 under Christmas Music, Hallmark. [ Comments:

none

]

It would not be Christmas without the holiday movies on the Hallmark Channel. Those telemovies would not be the same without music for the season. This year, they teamed up with Warner Music Nashville to release an album.
The record includes covers and original songs that were recorded for their movies. Now you can have a Hallmark Christmas 365 days a year. Because who doesn't want to enjoy the most wonderful time of the year all year round.
To see the tracklist, then click here!
---
Hallmark is airing 40 star-studded Christmas movies this year!
September 4th, 2019 under Hallmark. [ Comments:

none

]

We are still over three months away from Christmas, but Hallmark Channel is getting us into the spirit now. That is because today they announced that they are doing 40 movies this year. Starting on October 25th, we begin the 10th annual Countdown to Christmas event that will air on both Hallmark Channel and Hallmark Movies & Mysteries. Who needs Halloween candy when we will be getting some sweet holiday movies before the holiday.
This year's star-studded lineup of stars (that don't go on top of the Christmas tree) include Donna Mills, Jodie Sweeten, Kellie Pickler, Patrick Duffy, Cameron Mathison, Priscilla Pressley, Grant Show, Candace Cameron, Lacey Chabert, Niall Matter, Dolly Parton, Scott Wolf, Holly Robinson, Trevor Donovan, Jack Wagner, Kathie Lee Gifford, Jesse Metcalfe and Patti LaBelle to name a few. Not only that, Blake Shelton, that drunk guy from The Voice, is producing a movie for them. Yeehaw!
Andrew Walker and Jill Wagner host a special previewing the telemovies that will bring us plenty of joy this season. To get a sneak peek of the films click play. To see when they will air on what channel and who is in them, then click here!
---
No Lori Loughlin, no problem for When Calls the Heart
April 13th, 2019 under Hallmark. [ Comments:

none

]

When Calls the Heart might have parted ways with Lori Loughlin due to the college admission scandal, but Hallmark Channel has no plans in parting ways with the show. Erin Krakow announced today that the period drama was picked up for a seventh season that will begin airing next year.
The show resumes with new episodes, without Loughlin, starting on May 5th with a two-night event.
WCTH is one of the most-watched shows on cable TV.
---
When Calls the Heart without Lori Loughin gets a return date
April 10th, 2019 under Hallmark. [ Comments:

3

]

On March 17th, Hallmark Channel announced that it was parting ways with Lori Loughlin because of how she reportedly got both of her daughters into college…illegally. That meant that her series, When Calls the Heart, that was airing its 6th season, had to be retooled to eliminate her presence.
The retooling is done and the show will begin airing new episodes starting on May 5th. Since the viewers have been so loyal to the show, they will air a second episode the next night as a present.
Just to give you a hint how popular WCTH is, it was the second most-watched show on cable during its 6th premiere week It was only beat by The Walking Dead. It will be interesting to see how it does without its most famous, now infamous, star.
---
When the Heart Calls will continue beating without Lori Loughlin
March 17th, 2019 under Hallmark. [ Comments:

none

]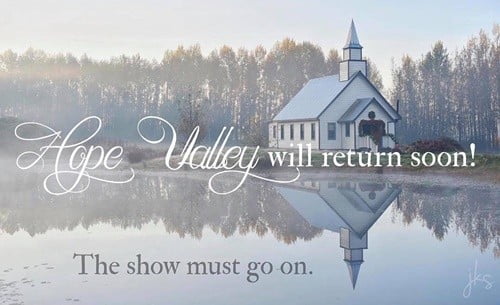 On Thursday, Hallmark Channel announced that it was parting ways with Lori Loughlin, who was indicted for allegedly illegally bribing her daughters' way into University of Southern California.
That meant the end to her starring role in the Garage Sale Mystery movies, any of their other telemovies and the series When the Heart Calls. The latter is the biggest problem of them all for them. The drama just began airing its 6th season and is still a powerhouse for the network.
What to do? Well, Hallmark pulled tonight's episode, but what does that mean for the future of the series? Over the weekend, the producer Brian Bird gave an update on his show.
"Hearties, Thank you for your love, support, and patience these last several days as we have all been preoccupied with the news about Lori Loughlin and her family, and the decisions our colleagues at the Hallmark Channel USA needed to make. As you can imagine, everyone involved with When Calls the Heart was surprised by these developments, so we hope you can forgive us for initially staying silent while we sorted through how to respond.
"As for the show itself, we know millions of fans are on pins and needles wondering what will happen now. Let us reassure you, When Calls the Heart has always been bigger than the sum of its parts, and it HAS NOT BEEN CANCELED. With the full support of the network, we have gone on a creative hiatus to do some retooling on the remaining Season 6 episodes. That process has already begun. Hope Valley will return to your TV screens as soon as we can bring the episodes to you.
"On behalf of our entire producing team, including Michael Landon Jr., Brad Krevoy and Alfonso Moreno, I want to thank you for continuing to show your support. Your private messages of support and your #Hearties4S6 worldwide trending on Thursday brought a lot of tears to the eyes of our cast and crew and to the good folks at Hallmark Channel. Your love for When Calls the Heart is the courage we count on as we work through this challenging transition and your Hearties community will always be the most important legacy of this TV series. We love you!"
I am happy that the network will keep the show alive for its fans. I just feel the cast and crew had to suffer unnecessarily because of someone's costly mistake.
---