Is Ryan Reynolds ready to bring back Two Guys, a Girl and a Pizza Place?
April 8th, 2019 under Ryan Reynolds. [ Comments:

none

]

ABC announced today that even though they DON'T want to do a game show with Ryan Reynolds, they are. The show is called Don't and there is only one big rule for the families of four, don't do something in each of the five mental or physical challenges like don't laugh or don't scream or don't be a fan of Deadpool. The latter is really easy.
The network described it as, "In each episode, one family will have a set amount of time to succeed in each hilarious task and win a cash prize. When they fail a challenge, they don't earn money and one of them will be eliminated from the game. Family members can be eliminated until only one remains. The last standing relative must complete the rest of the challenges on their own to win money for the family."
Reynolds explained how he came up with the idea, "All my life, the word 'don't' has tortured me. From 'don't curse' to 'don't play ball in the house' to 'don't eat the crab salad you left in the sun for three days.' I cannot wait for my personal trauma to become the next great ABC family show."
Long before Don't, he worked on another show that aired on ABC, and he hints he is ready to bring that show back to TV to give it the justice it so richly deserves. He Tweeted this after the announcement, "ABC cruelly canceled Two Guys, A Girl & a Pizza Place 18 years ago. 'DON'T' is so good, it'll fast become the 2nd best show ABC has ever produced. And ABC will worship me. And my sitcom will be back on the air. @TraylorHoward @NathanFillion and @RichardRuccolo, you're on notice."
Don't be surprised if he gets his way. You know if he was really smart, he would get Nathan Fillion to host Don't. He is a game show host in the making.
---
BTWF: Bethenny Frankel on Saved By the Bell
April 1st, 2019 under Before They Were Famous, Bethenny, Kelly Ripa, Ryan Reynolds, Saved by the Bell/City Guys. [ Comments:

none

]

via Live with Kelly and Ryan
Before Bethenny Frankel was the star of her own shows, she was PA on Saved By the Bell. She looks the same now as she did when she was 20 working on those 1990 episodes.
---
Ryan Reynolds has seen better days
March 12th, 2019 under Better Days, Ryan Reynolds, Salma Hayek, Samuel L Jackson. [ Comments:

none

]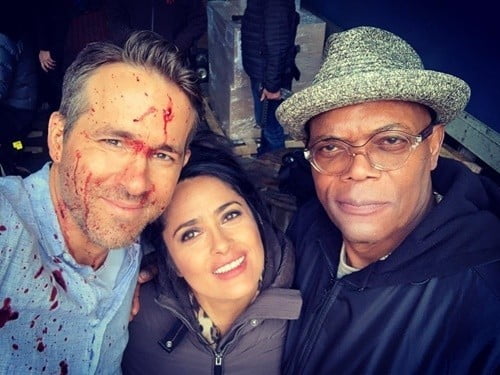 Ryan Reynolds posed with his costars Salma Hayek and Samuel L Jackson, and there is something bloody different about him. He is covered in blood and they are not.
Why? All we know it is for the sequel to their movie The Hitman's Bodyguard, The Hitman's Wife's Bodyguard. Wonder if they take him out? Since production began earlier this month, not much is known about the film.
---
How long will Ryan Reynolds and Hugh Jackman's truce last?
February 6th, 2019 under Hugh Jackman, Ryan Reynolds. [ Comments:

none

]

After years of fighting, Ryan Reynolds and Hugh Jackman have decided to call a truce. Not only that they both agreed to do a commercial for the other one's companies. Reynolds went first and he did a very touching ad for Jackman's Laughing Man Coffee. Then it was time to see how Jackman did with Aviation American Gin. How did it go? Let's just say, I do not think we will ever see a Deadpool/Wolverine movie. Deadpool vs Wolverine, maybe. One as buddies, never ever.
---
Taylor Swift and Blake Lively are not in Kansas anymore
January 1st, 2019 under Blake Lively, Ryan Reynolds, Taylor Swift. [ Comments:

none

]

Taylor Swift and Blake Lively dressed like their childhood idols for New Year's Eve. The singer went as Ariel, the Mermaid who sacrificed her voice for legs. While Blake Lively went as Dorothy and her husband went as Toto? Actually, I think Ryan Reynolds went as mid-1980's David Bowie. Either that or the man, who is now most known for wearing a costume, was too lazy to put one on. Maybe he is still hurt and does not want to be tricked like he was when Hugh Jackman and Jake Gyllenhaal invited him to an ugly sweater party, and they wore plain T-shirts. Poor Deadpool cannot get it right.
Oh and it looks like Swift's squad is not as filled with famous friends as it used to be?
---