Ryan Reynolds is giving away three months of cell phone service
January 29th, 2020 under Ryan Reynolds. [ Comments:

none

]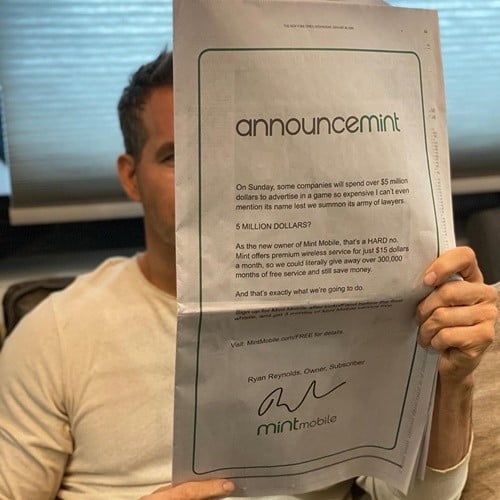 We know that Ryan Reynolds is in the gin business and now he is geting into the cell phone business. The actor is so siked about his new venture, that he is giving away three free months of service.
announcemint

On Sunday, some companies will spend over $5 million dollars to advertise in a game so expensive I can't even mention its name lest we summon its army of lawyers.

5 MILLION DOLLARS?

As the new owner of Mint Mobile, that's a HARD no. Mint offers premium wireless service for just $15 dollars a month, so we could literally give away over 300,000 months of free service and still save money.

And that's exactly what we're going to do.

Sign up for Mint Mobile after kickoff and before the final whistle, and get 3 months of Mint Mobile service free.

Visit: MintMobile.com/FREE for details.

Ryan Reynolds, Owner, Subscriber mintmobile
I am going to try it because the price is right. Free!
---
Ryan Reynolds gets a Tom Selleck mustache
November 4th, 2019 under Ryan Reynolds. [ Comments:

none

]

Ryan Reynolds has a new look and it is one we saw before on someone else. He has a new mustache and it looks like the one that Tom Selleck had when he was on Magnum P.I. Unlike the original, it does not suit him as well. Deadpool's face is better without it.
---
Watch Ryan Reynolds become Deadpool
October 17th, 2019 under Ryan Reynolds. [ Comments:

none

]

As we know, Ryan Reynolds had to put on a lot of makeup to play Deadpool unmasked. How much? Today, he shared a behind the scenes video of Bill Corso and the Maximum Makeup team doing their magic on him.
The actor had to sit there for hours and hours in order for them to transform him into Wade Wilson. He demanded perfection. When he didn't get it, well, now you can understand why there won't be a Deadpool 3.
---
Ryan Reynold's #BottleCapChallenge goes hilariously wrong!
July 5th, 2019 under ALS Ice Bucket Challenge, Ryan Reynolds. [ Comments:

none

]

Blake Shelton attempted the #BottleCapChallenge with his Vodka and wound up knocking the bottle on the floor. Aviation American Gin had to make fun of his failure with a Ryan Reynolds slow-clapping gif. The Voice coach reacted as anyone would and challenged the actor to do it to see if he could do it better.
Challenge was accepted and Mr. Blake Lively turned into an ad for his gin. At the end of the commercial, it was time to see if he has what it takes to kick the bottle cap off with his foot. With all of his action movie experience, it should be a cinch. Nope. It was all Deadpool. As in, he knocked the bottle dead on to the floor and it left a pool of gin.
What did he do? What any man would do. He ran out of his trailer faster than you can say Two Girls, A Guy and a Pizza Place.
---
Is Ryan Reynolds ready to bring back Two Guys, a Girl and a Pizza Place?
April 8th, 2019 under Ryan Reynolds. [ Comments:

none

]

ABC announced today that even though they DON'T want to do a game show with Ryan Reynolds, they are. The show is called Don't and there is only one big rule for the families of four, don't do something in each of the five mental or physical challenges like don't laugh or don't scream or don't be a fan of Deadpool. The latter is really easy.
The network described it as, "In each episode, one family will have a set amount of time to succeed in each hilarious task and win a cash prize. When they fail a challenge, they don't earn money and one of them will be eliminated from the game. Family members can be eliminated until only one remains. The last standing relative must complete the rest of the challenges on their own to win money for the family."
Reynolds explained how he came up with the idea, "All my life, the word 'don't' has tortured me. From 'don't curse' to 'don't play ball in the house' to 'don't eat the crab salad you left in the sun for three days.' I cannot wait for my personal trauma to become the next great ABC family show."
Long before Don't, he worked on another show that aired on ABC, and he hints he is ready to bring that show back to TV to give it the justice it so richly deserves. He Tweeted this after the announcement, "ABC cruelly canceled Two Guys, A Girl & a Pizza Place 18 years ago. 'DON'T' is so good, it'll fast become the 2nd best show ABC has ever produced. And ABC will worship me. And my sitcom will be back on the air. @TraylorHoward @NathanFillion and @RichardRuccolo, you're on notice."
Don't be surprised if he gets his way. You know if he was really smart, he would get Nathan Fillion to host Don't. He is a game show host in the making.
---