Hugh Jackman is a prick without his coffee
September 15th, 2020 under Hugh Jackman, Ryan Reynolds. [ Comments:

none

]

Ryan Reynolds and Hugh Jackman will be enemies until the end of the time. Therefore, it makes sense that Mr. Blake Lively would secretly record his arch nemesis and unmask what a dick he truly is until he has his coffee.
The Greatest Showman is far great or a showman until he has that first sip of Laughing Man coffee. Once that black liquid flows down his throat, he is the People's Sexiest Man we all, but Ryan Reynolds, know and love.
How rude of Reynolds to show us the other side of Hugh Jackman. That is why Wolverine is more popular than Deadpool.
On that note, 2020 has been so crappy, I think that the two of them need to give us a Wolverine vs Deadpool movie. They both will be a Laughing Man to the bank if they did.
Talking about Laughing Man and the bank, Jackman donates all of his profit from his coffee line to the fair trade farmers who grow the coffee beans. He really is a nice guy. Well, after he has his cup of Joe.

---
Ryan Reynolds found Rick Moranis!
September 9th, 2020 under Rick Moranis, Ryan Reynolds. [ Comments:

none

]

Rick Moranis has not acted in front of the camera for us to see his face in almost 25 years. However, Ryan Reynolds used his charm to coax the beloved actor out of hiding to find out the world is not a little shop of horrors. Well, it is this year, but anyways…
Whatever Reynolds did to do it, is worthy of the Nobel Peace Prize (suck it, Norwegian nut who nominated Donald Trump). This is what we all needed to see to conclude that 2020 is not all bad. This way, we all got to experience some blue heaven today. Hopefully, it will last long enough for us to get Spaceballs 3: The Search for 2.
Oh, Deadpool's mobile company Mint is offering an unlimited plan that starts at $30. I heard a rumor it comes with Reynolds' private phone number. It doesn't, but it should.

---
Is Ryan Reynolds saying that his gin gets you f*cked up?
May 7th, 2020 under Ryan Reynolds. [ Comments:

none

]

Ryan Reynolds owns a company called Aviation Gin, so you would think, when he promotes it, he would like to highlight how good it tastes. Instead, the actor showed us that it makes you feel like you woke up dead the next morning in a pool of your own vomit.
Mr. Blake Lively highlighted how f*cked up it gets you, and the many mistakes you will make if you drink it. That makes me wonder if that is the best type of promotion for his alcohol?
According to my advertising teachers, who told me I would never make it in the biz, yes it is. As long as the remember the name of the brand that is all that matters. Without looking it up, what is the name of gin?
Oh, even though it will leave you praying to the porcelain Gd, there is some good that comes out of buying it this month. From now until May 31st, the company will be donating 30% of the profits to out-of-work bartenders.

---
Don't watch the trailer for Ryan Reynold's game show
April 30th, 2020 under Ryan Reynolds. [ Comments:

none

]

Ryan Reynolds has a new game show coming to ABC on June 11th, and you Don't want to watch it. I said, "Don't!" With that, you have the basic premise for Don't, or as the show's host Adam Scott calls it, "Please Do Not."
The game from the "twisted mind of Ryan Reynold" (ABC's words, not mine) is described as "In each episode, members of a four-person team strive to accomplish various challenges, such as Don't Blink, Don't Look Back and Don't Play Ball in the House, as they work together to build their bank. If they fail a challenge, they don't earn money and suffer ridiculous consequences. Along the way, they'll have the choice to take risks by pushing the Don't Push Button or taking a chance on a Don't You Dare, You. In the end, whatever money they have left in their bank – if anything – is theirs to keep. The series is voiced by Ryan Reynolds and features hilarious, unexpected moments that break from the traditional game show format."
So Don't mark your calendars because you Don't want to remember to watch this show. I know I Don't want to check it out.

---
Ryan Reynolds is giving away three months of cell phone service
January 29th, 2020 under Ryan Reynolds. [ Comments:

none

]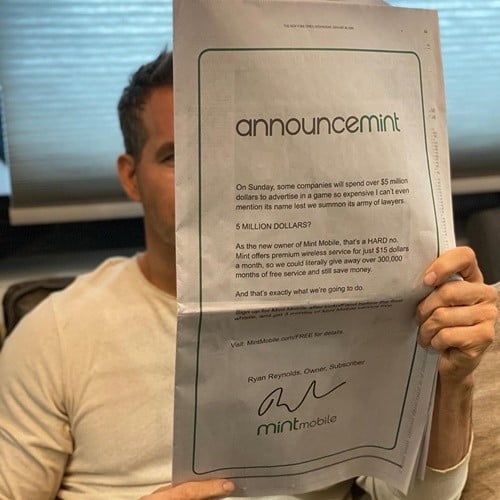 We know that Ryan Reynolds is in the gin business and now he is geting into the cell phone business. The actor is so siked about his new venture, that he is giving away three free months of service.
announcemint

On Sunday, some companies will spend over $5 million dollars to advertise in a game so expensive I can't even mention its name lest we summon its army of lawyers.

5 MILLION DOLLARS?

As the new owner of Mint Mobile, that's a HARD no. Mint offers premium wireless service for just $15 dollars a month, so we could literally give away over 300,000 months of free service and still save money.

And that's exactly what we're going to do.

Sign up for Mint Mobile after kickoff and before the final whistle, and get 3 months of Mint Mobile service free.

Visit: MintMobile.com/FREE for details.

Ryan Reynolds, Owner, Subscriber mintmobile
I am going to try it because the price is right. Free!

---