Luke Bryan is cheesy
October 31st, 2020 under Halloween, Luke Bryan. [ Comments:

none

]

They say you are what you eat. I say you are what wear. Luke Bryan dressed up as a block of swiss cheese, and it fits him perfectly.
Just joking! The American Idol judge is not cheesy, or is he? You decide!

---
Guess who is that sexy devil?
October 31st, 2020 under Guess who?, Halloween. [ Comments:

none

]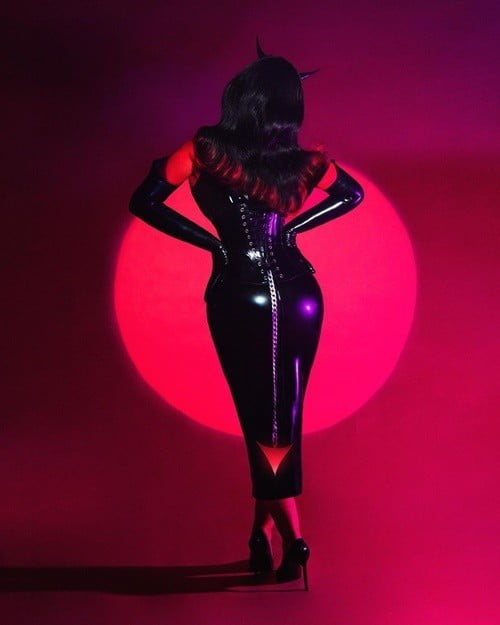 Want to see what girl wants to be naughty, then click here!

---
The Halloween spirit takes over Elton John
October 28th, 2020 under Elton John, Halloween. [ Comments:

none

]

We are still a few days away from Halloween, but Elton John is celebrating now. He dressed up as Prince, got behind his piano for a family affair as he performed his 1972 hit Crocodile Rock with his husband, David Furnish, and their two crocs, Elijah, 7, and Zachary, 9.
Do you know how so many celebrities release Christmas albums? I think John should do a Halloween one. Out of all of the singers out there, he is the most like the holiday. Well, after Marilyn Manson, but the latter is the scary version of one. John is the feel-good one of the spooky season.
Now let's talk about his two rarely seen boys; they are so precious. I hope they grow to be just like their dad!

---
Jamie Lee Curtis, Halloween's Scream Queen, is planning something for 10/31
September 24th, 2020 under Halloween, Halloween (movies), Jamie Lee Curtis. [ Comments:

none

]

Thanks to COVID-19, Halloween is basically canceled. All because of those covidiots who won't wear a mask the other days of the year.
Ever since 1978, Halloween has been a huge thing for Jamie Lee Curtis for some reason. Therefore, she still wants it to be a treat for everyone.
"We can figure out creative ways for our pods to do candy scavenger hunts and fun activities at home and we can still do virtual Costume parades," Curtis said. "I will figure out a way to do a VIRTUAL Halloween costume parade on my Instagram all day long on Halloween, October 31. Stay tuned for details and stay safe and HAPPY Halloween."
Hopefully, her brother, Michael Myers, won't crash the event because he is a literal party killer. Although that might be a good thing for us to watch.

---
BTWF: Vanessa Hudgens for Reese's Puffs Cereal
September 21st, 2020 under Before They Were Famous, Halloween. [ Comments:

none

]

Before Vanessa Hudgens was all about watching basketball in High School Musical, she liked to play minature golf and eat Reess's Puffs Cereal. How cute was the 14-year-old actress in that 2003 commercial?

---